Byredo founder Ben Gorham initially never set out to be a perfumer.
Upon giving up professional basketball, the former athlete enrolled into arts school and graduated with a fine arts degree. It was a meeting with Swedish perfumer Pierre Wuulf that changed his life. Scent memories took a foothold for Gorham, particularly after his travels to his mother's hometown outside Mumbai where he was inundated with the aroma of spices and herbs. He started candling as a side project but realised he wasn't destined to be a perfumer. Wuulf introduced him to leading perfumers Jerome Epinette in New York and Olivia Giacobetti in Paris. And Byredo was born.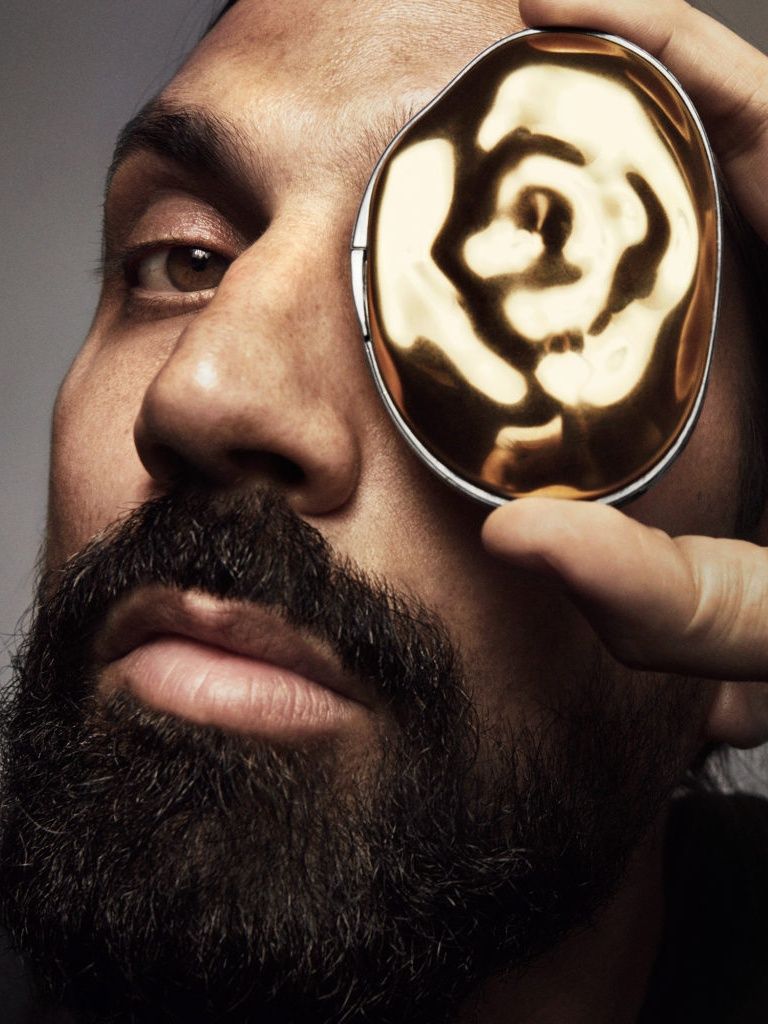 Gorham has since carved out a world of niche scents on the back of exquisite notes and slick, minimally designed bottlings. In an industry crowded with mass designer scents, Byredo arguably kickstarted a boom of indie fragrances when it launched in 2006.
Byredo's success is evidenced by its coveted status amongst luxury buyers and the fashion set. Having earned its place as a titan in the beauty industry, Byredo has since expanded to leather goods, home accessories, and even jewellery. Now Gorham is treading into a different market: makeup.
While this new foray may seem like a strange pivot to some, it's in line with founder Ben Gorham's fluid perspective on life and the same trait that shot Byredo to success. With art as his natural bedfellow, Gorham harnesses his affinity for the visual arts in the new cosmetics arm. He does however, admit that he knows nothing about makeup. "I've always had it in mind, but I didn't know how to go about it until two years ago because I don't wear makeup," says Gorham over a call. To help him in his new venture, he has roped in British makeup artist Isamaya Ffrench, whose repertoire — recognised for her ethereal, otherworldly aesthetic — includes editorials for the world's largest fashion publications and luxury fashion houses. She has styled the likes of Björk and Rihanna, Kendall and Kylie Jenner. Together, the duo have come up with a line that's set to be as covetable as its fragrances.
The makeup collection will be available in Hong Kong at its three Byredo counters at Lane Crawford IFC Mall, Times Square and Canton Road from October.
Objects of desire
The first thing you'll notice about the range is its design that breaks the mould of luxury makeup. "With most brands out there, all of the products have a unified look. Byredo's makeup collection is meant to look like art. Nothing is uniform," says Gorham.
The main commonality about them is their futuristic look, with metallic sheens coating the packaging. Gorham designed the products to resembles totems, or 'objects of desire' as he calls it. The mascara resembles a sturdy red paperweight while the matte lipsticks and balm are encased in curved, futuristic-looking cylinders. The five-colour eyeshadow palette resembles a misshapen golden oyster. "These objects are tangible, personal and sensual."
Much like Byredo's fragrances, the makeup is created from an emotional connection. Shade names like 'Divorce' and 'Commuter' are inspired by nostalgia. "Each name and colour has a story and comes from Isamaya and me." says Gorham.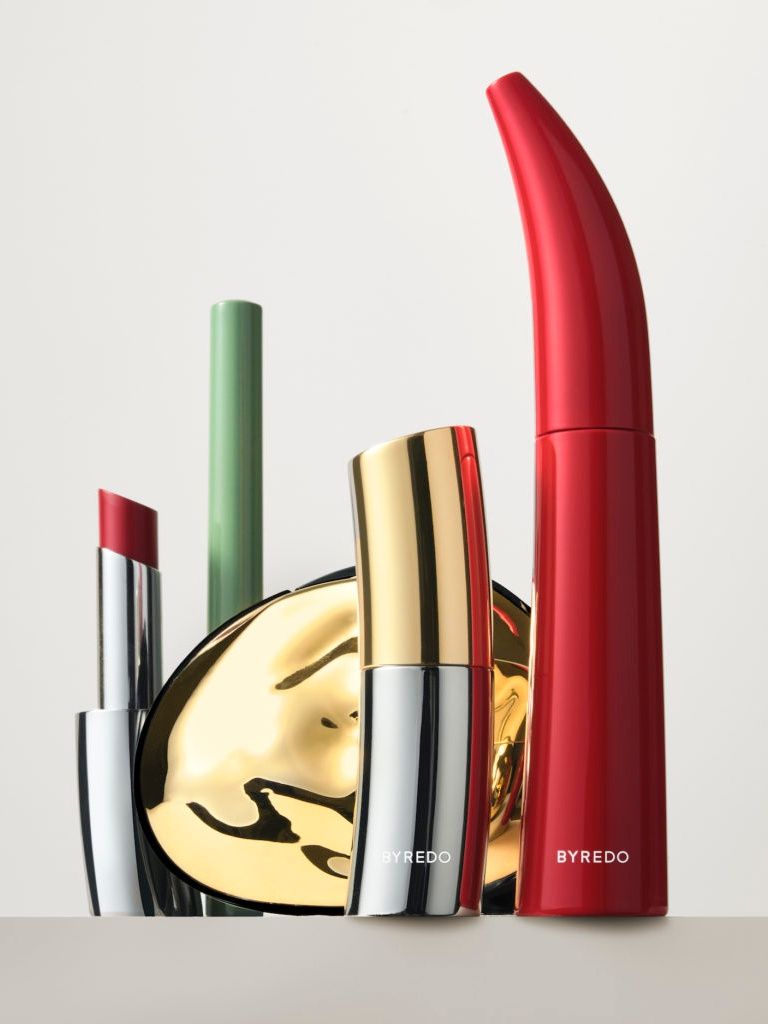 The new makeup line is not driven by trends or specific colours. The colour sticks come in 16 shades, ranging from everyday golds and bronzes to deep blues and emerald greens. "Just because they come in bright colours doesn't mean that they're just a simple red, or a blue. Each shade's sheen, shade, texture, or glitter was carefully selected," says Ffrench. It's also deemed the universal product, and meant to be worn in any way the wearer wishes, whether it be smeared on the eyes, applied on the lips, or blended on the cheeks. The finishes are matte, dewy, and creamy.
As for the Eyeshadow Five Colours palette, the shades are housed in an irregularly-shaped metal compact that represents a raindrop falling on water. These are available in three: the 'Necromancer,' 'Syren' and 'Corporate Colours.' The 'Necromancer' is a tribute to musician Yves Tumor and boasts deep, dramatic shades best for darker skin tones in metallic and glitter. 'Syren' takes inspiration from the Sirens of Greek mythology and has light shimmering shades. 'Corporate Colours' is exactly how it sounds, with neutral everyday shades in matte and shimmer. You're encouraged to apply the five shades with your fingertips. Ffrench has also drawn on her own wealth of experience for the launch. The applicator is designed for precise application as she knows the struggle many women have in achieving the perfect straight line. Likewise with the mascara, it has a precision silicone brush that can reach individual lashes to enhance and sculpt for a buildable effect or for a quick application. The lipsticks are an everyday luxury, meant to be carried a talisman of glamour.
For now, Gorham says he has no desire to launch face products such as foundation, concealer, or powder. "It's not about providing a solution. It's about self-expression," he concludes.
With the exception of the Eyeshadow Five Colours compact, all Byredo makeup is slated to launch in Hong Kong in October.
This article was first published on Prestige Singapore.