Margie Lombard's biggest skincare tip? Don't use any water. 
From skincare's recent obsession with glow attained by exfoliation and glycolic peels, the attention in the beauty world has slowly shifted back to products that help nourish and protect the skin's all-important hydrolipidic barrier. But of course, this isn't new science. 
While the buzziest brands these days tout product functions that detox, regenerate and heal skin from damage using various notions of 'clean' ingredients, Margie Lombard has already been doing those things — standing well ahead of the curve with products and an award-winning technique for over 40 years. "It is just logical", she explains to us in her musical Monegasque lilt.
It's no wonder her eponymous brand, Margy's of Monte Carlo, continues to be one of the most sought-after names in skincare today, with VIPs such as Tina Turner and Princess Charlene of Monaco allegedly flying by private jet just to get booked into her treatments.
Applying what is almost second nature — an innate understanding of the skin — to her clients over the years, Lombard also embraces the latest technology in her creations, whether it's an electronically-charged 24k gold mask that stimulates the cells at its basal layer, or using non-decaying apple stem cells in her newest creams.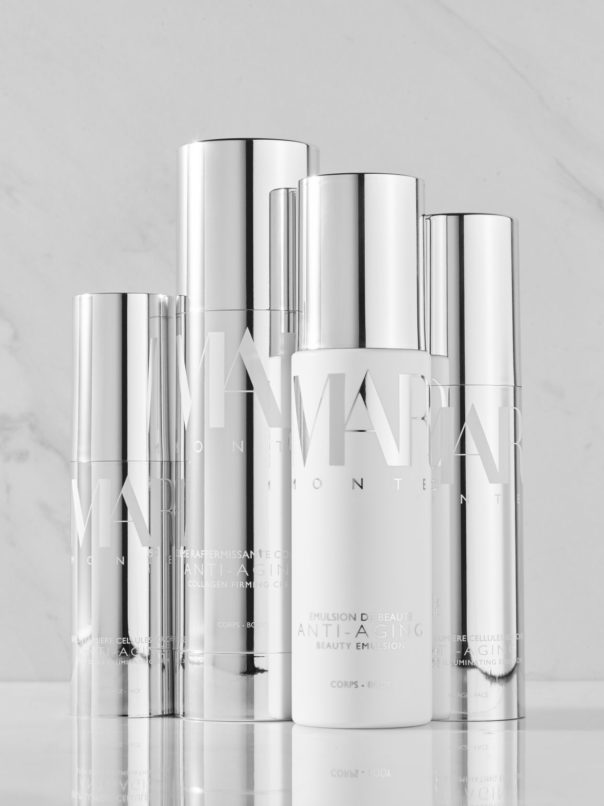 Her prestigious yet pared-down lines are carried by some of the most exclusive hotels in the world. Closest to us, you'll find her treatments, serums, masks and creams available at The Peninsula Hong Kong and Morpheus Macau. 
In recent years however, it's Margie who is flying around the world to train new beauticians in the craft that took her decades to perfect. Just fresh off of the launch of her latest Stem Cells Illuminating Facial featuring an anti-ageing Platinum Mask — an Asian debut at Morpheus Macau — we sit down to chat about her beauty philosophies throughout the years.
Can you share with us what's a core belief that you've stuck to in all the products and treatments you've created over the years?
All my products contain the same ingredients that we all have in our own bodies: collagen, sodium hyaluronate (or hyaluronic acid), vitamin A, vitamin E. Biomimetism is exactly my brand: you're not allergic to what you have in your own body. One other ingredient that I have added in my products is soya protein, which I have found a lot of results for firmness. There are no perfumes, only essential oils of sandalwood and geranium.
You have been outspoken about being against water for the skin, even in the way you apply a mask — can you tell us a little bit about why this is?
My Stem Cell mask is a dry mask that liberates peptides as it is activated by a liquid. It can be water, but I don't give water to my clients — water is the biggest enemy for our skin. My philosophy is 'clean your face, wash your body'. Water — with the climate change, imagine all the substances, the toxins they use to clean the water, the pipelines are old already, you can even find animals in the water. Water is not drinkable [in many places around the world], and if it's not drinkable, don't use it on your face. Especially when your pores are open, if you have damaged skin, you shouldn't use it. 
Lately there's been more attention in the spotlight on glycolic acid and acids in general. But seeing as your product line only has that one lotion with just 0.02 percent glycolic acid (The Lotion No. 2), what are your thoughts on this trending ingredient?
I am against [acids]. Again, it's aggression on the skin and we don't need that — we have enough going on outside, as they say, so we don't need to add more aggression. Unfortunately there's a lot of marketing on glycolic acid and [chemical] peels, even young women, they do peelings if they have two pimples, and this is very bad. So it's always a matter of education. It's logical: the more you destroy your hydrolipidic film, the worse your skin will be in the future.
What was your aim with designing the Stem Cells Illuminating Facial?
The effects of these products I have launched is really to improve and quicken cell regeneration, it really takes the cells at the basal layer. This is very important, you know, depending on the [client's] age, as it also softens and diminishes the appearance of fine lines. The more we go with age the more the cells are damaged, unfortunately for us. But that's natural. So we have to always find new processes to really get into the base and really stimulate everything.
And this is what your platinum chain mask, exclusive at Morpheus Macau, claims to do. How does it work to slow elastin and collagen breakdown?
First I had the 24k gold mask, right? I really wanted to upgrade it for Morpheus, and I thought to myself, what can I really do? I thought, let's do platinum because it's rarer. I did some studies with an engineer in Germany. He said, let's go with the platinum because rhodium, or platinum, is heavier than gold. For the skin structure it would be more powerful. The mask works with a special [software] programme I created for the platinum — it won't work even if I connect it to the gold mask — sending electro-acoustic waves to really detox the skin. 
The first phase is approximately 10 minutes, and then in the first three minutes, the programme really cleans up the skin by itself, to detox the cells. Number two, it would then stimulate the muscles to stay firm. And then the third effect is really the illumination of the skin — this is to improve the colour of the skin, the glow of the skin. But you can't do these steps alone. Always, you have to see the whole process. That's what I really want to insist, you can't just do this mask and that's it. We can also do it here as an add-on [at the Morpheus Spa], but I would suggest doing the whole facial.
How have you noticed skincare in the world has changed since you designed your very first facial?
It's a good question. With all the media, with all the press, with all this information, I think consumers still don't know what is in a product, how it acts, how they should use it. It's very funny because it's been a long time now that I've been in the industry — 42 years now — and basically what I noticed is that there is no evolution in the woman knowing how to use the products.
This is amazing, right? When I'm in my salon and I show them the way to massage, the way to apply products, the way to put the mask, and they are like "oh! We didn't know that!" Take one cream, let's say for moisturising, but then if you use it differently, you can use it as a mask: Apply it more thickly, you let it penetrate. You always have to feed your skin. And when they see that, it's so logical. It's intuition.
More people are paying attention to ingredients now, no?
I don't agree with you. [People] don't pay that much attention. There are a lot of brands — I will not name them — they have a lot of silicones inside and they sell tremendously. You know? And for me it's just like putting in plastic. [Consumers] think it's 'bio' — what is 'bio?' Biological, or organic, I don't trust all these things. With the pollution now, how can you be 'bio?' Let's say you plant a vegetable in your garden — I do it myself because I love gardening in my house. When I do that I cannot say it's bio just because I don't put any terrible substances to grow. [Even though] I leave it very natural, there is pollution. How can we avoid pollution? 
They say, don't use parabens. Soon, it's the same as the parabens but it's another name. It's a lot of marketing. With everything, you have to have the quality of the ingredients [for it to be] a good cream. It's like when you eat something, you want the best meat or you want the best fish just caught from the day (even then, the fish live in the sea, and the sea is not clean). You want the best ingredients. We can talk hours about it.
What are some common mistakes people commit when it comes to their skincare?
Using water! It's a very big thing. As I say, we clean our face and we wash the body. I start my morning with my lotion. Men, they should do the same.
If you had to bring only one skincare product with you when you travel, what would you bring?
For me, my Triple Concentrate Prestige. It goes with my age, goes with my lifestyle — I'm always in the plane. It's got hyaluronic acid, it's got this heavily concentrated serum; it's very compact, and it gives you everything I need to feed my skin. That's the product for me.