As our fight against the CoViD-19 outbreak wages on, many of us have been getting our sanitising habits down to a tee — thanks to essentials such as rubbing alcohol, household bleach cleaning solution and hand sanitising gel, not to mention with the advent of Hong Kong-made protective masks soon on the market. Yet, what if you could have your home and your belongings self-sanitise each day? Raze Technology has the answer.
Founded in 2018 by Vincent Fong and Dr. Shuyu Chen, Raze Technology is a local material science startup that leverages a pioneering scientific invention: a light-activated sanitising coating that can be sprayed on virtually any surface and rids them of pathogens and pollutants for up to three months.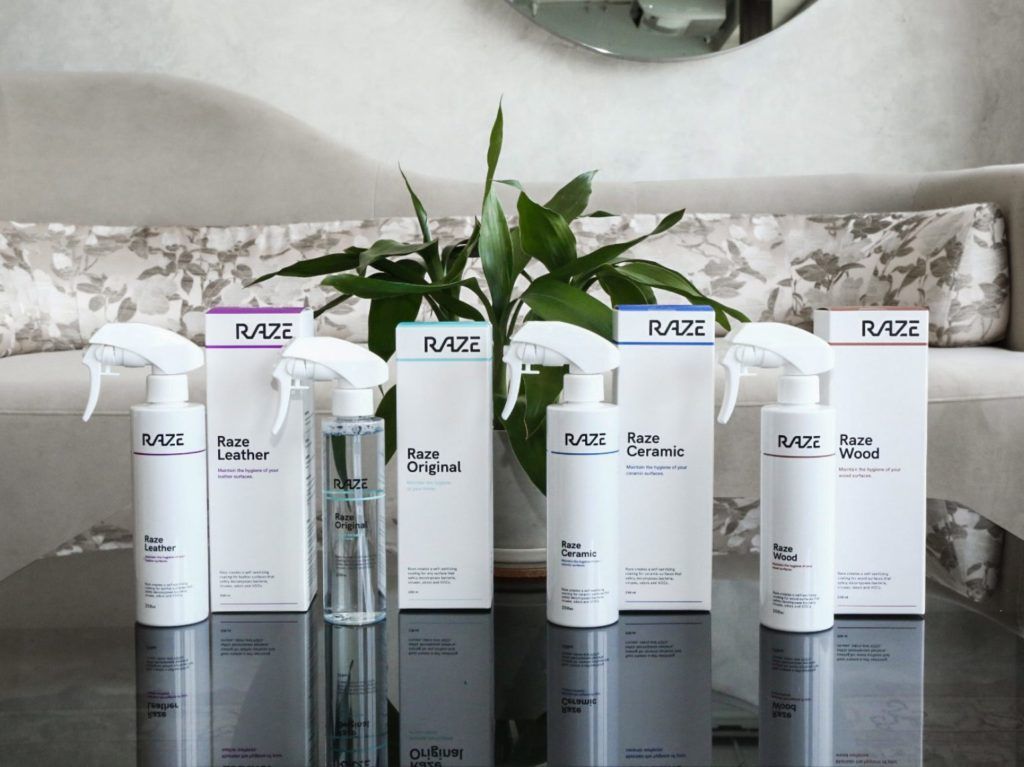 Raze's products address two stubborn issues when it comes to traditional household cleaning: One, ordinary sanitising agents may eliminate germs on surfaces once, but it doesn't prevent the reproduction of bacteria — you'll have to be wiping everything down non-stop to really ensure reliable health and safety. Two, if you use air purifiers, they can actually create a breeding ground for pathogens if dust and debris get mixed with moisture in the filters. They also consume a lot of energy.
Raze works by using light energy to decompose pollutants on surfaces, as well as purifying the surrounding air. Its products come in the form of household sprays which release a durable, non-toxic coating of photocatalyst nano-particles, which absorb into just about any surface. Once this surface is exposed to any form of light, electrons are released and this forms reactive oxygen, which wraps and binds to pathogens, decomposing them into water and carbon dioxide molecules.
The sprays Raze has created are effective in decomposing 99.99 percent of pathogens, which include but are not limited to influenza virus, Staphylococcus aureus, or E. coli, as well as harmful organic compounds such as formaldehyde, benzene, ammonia, and mold. Raze's technology is a result of 10 years of rigorous R&D, and is accredited by FSE Environmental Technologies Group Limited, Guangzhou Testing Center of Industrial Microbiology and Shanghai Weipu Chemical Industry Technology Service Company Limited. They've also received the Toxicological Risk Assessment from SGS Hong Kong. Its products are certified safe for humans and animals alike, does not contain toxins or poisons, and is environmentally sustainable.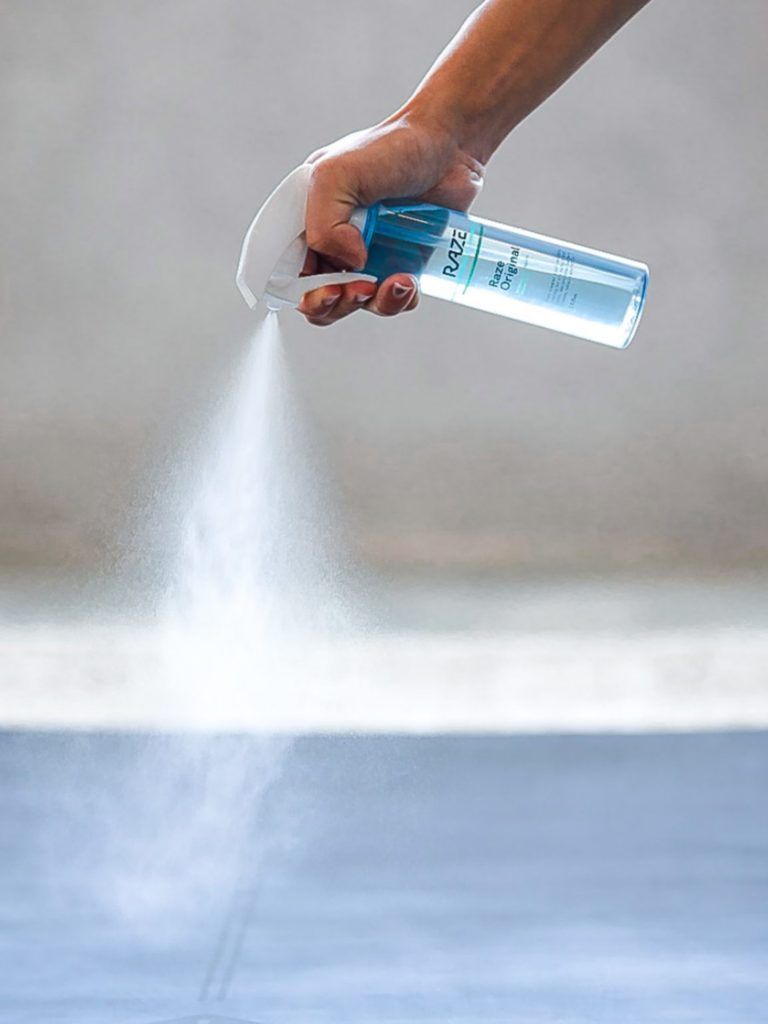 Raze's products activate with any type of light, whether UV or ambient lighting. After activation, Raze's nano-particles can continue working for up to eight hours even without continuous light exposure. So whether it's some time exposed in the sun with the blinds open, or just turning your lights on, a single coating provides ongoing protection for your home and personal belongings for up to three months!
Raze is able to keep your day to day routine cleanly covered with different products available that are made to cover a diverse range of textures and surfaces — from leather to ceramic to wood, on top of its all-purpose original spray. Whether you want to safeguard your clothes, handbags, wallets or even top up the protection of your surgical masks, Raze provides the most advanced solution yet. Single bottles are priced starting at HK$145, a starter set just at HK$388, and a travel size soon to be offered as well.
You may have even noticed that Raze Technology has amped up its presence in the city in recent months with a pop-up in Central showcasing their wares. A second brick-and-mortar pop-up is set to launch in Causeway Bay from 20 March to 5 April, where customers can learn more about Raze's products and try them for themselves, so if you're keen to shake up your household cleaning routine, you'll definitely want to check it out.
Raze Technology Pop-Up
When: 20 March–5 April, 10:30am–7:30pm
Where: Shop B, G/F, 54 Yun Ping Road, Causeway Bay, Hong Kong
Learn more at Raze