I've subjected myself to many strange treatments in the past, from massages submerged in water to facial acupuncture, but this one really takes the cake — or perhaps more aptly, cuts out all of the competition.
Available for only a limited time, from 19–28 July, at the Mandarin Oriental Hong Kong's Mandarin Spa is a very uncommon treatment, at least in Hong Kong: dao liao, or "knife massage," done by visiting specialist Xavier Garnier. A French native who has lived in China and Taiwan and studied Chinese healing arts for 20 years, Garnier started as a practitioner of Dao Liao in 2010 — he was recognised as the first foreigner initiated into the art in Taiwan — and also practices qi gong, yi jing (i-ching), traditional Chinese massage, osteopathy, as well as guang liao, a type of light energy healing using blessed coral stones that complements dao liao.
Dao liao itself involves using two butcher knives to rhythmically stimulate circulation and detox parts of the body, and is said to rejuvenate the body's deep tissue, combat aches and pains, enhance quality of sleep, and induce deep relaxation. Naturally, with the mention of "butcher knives", I became very nervous, as would anyone unfamiliar with the practice. I had come across dao liao just once in passing during a visit to Taipei, where I saw a man doing knife massage demonstrations in an underground passageway. Drawing quite a crowd, I was convinced it was a gimmick, some kind of phony street performance. Before meeting Xavier Garnier, I admit I was still quite wary — but this is the Mandarin Spa, and if there's anywhere to try it, it's here.
Before my treatment, Garnier explained a little about how dao liao can help with detoxing, which I was looking for. The metal in the knives and the motion of the massage are said to create conductivity, which helps draw out negative energies from the body. He perused my consultation form carefully, maybe a little perturbed that a little "lymphatic drainage" was all I was looking for.
That's because dao liao, as it turns out, is a lot more than that. Later, I learn in my post-treatment chat, it's a whole ancient school of thought dating back to the Zhou dynasty, which later re-emerged in the Tang dynasty before moving its centres of followers to Japan, then Taiwan; Garnier himself was taught by a master in Taipei. Deeper than a relaxation session, it's apparently a spiritual practice that closely relates to cleansing karmas for both patient and practitioner. Not only is the ridding of bad energies or tension in the body hard work, but it also requires the practitioner to be of good health. Garnier shared that to do this, he must keep a vegetarian diet, and practise qi gong exercises every day to keep his energies pure, in order to facilitate healing for his clients.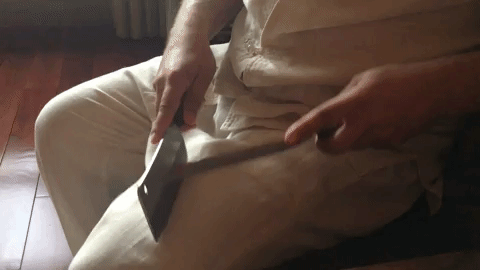 On to the treatment itself: I was presented with a set of loose Mandarin Oriental-branded t-shirt and shorts to wear. (I was quite relieved the knives wouldn't be hacking away at my bare skin! Garnier also reassured me that it would be done over a towel.) I wasn't sure at all what to expect, partly because it started with an exercise. Garnier first handed me two wooden sticks, called qian kun wands, while he held two blood orange-coloured, ancient coral stones. Standing barefoot, I followed him through two rounds of movements: one where my arms opened and closed in front of me, much like doing chest flyes at the gym; and the other, forward and backwards rotations with my arms stretched straight outwards like the butterfly stroke. We did 11 counts of each. My shoulder joints cracked furiously in the beginning, and by midway my upper arms were already feeling warm. This was to kickstart the circulation in the body, I was told.
Finally, I was told to lie face down on the massage table. Right after he draped a thick towel over my entire body (even over my head), he did a quick consultation. Most great masseuses can easily determine where your muscles are tight, but typically I've seen this done through graceful, fluid strokes of the hand. Garnier seemingly jumped right in at random, mussing up his fist loosely over my back as if it was a freshly proofed piece of bread, but within seconds, he tapped an incredibly tender spot on the right side of my spine. "This part has a lot of blockage," he told me. "This is linked to the liver, and the gallbladder, which makes bile. Too much and it gets blocked. This blockage also relates to too many negative emotions, to anger." I was stunned — admittedly, I had been in and out of arguments with my SO for months.
He zig-zagged down to my left calf, and immediately felt a ball of tension there — also linked to the aforementioned organs. He also pointed out centres of stress in my shoulders ("linked to the hips" and, by association, also the liver due to connected meridian lines). It was particularly interesting to learn the associations between pain and tension in the body and mind according to TCM: blockages in the stomach and spleen were due to overthinking, the lung and large intestines were linked to sadness, and the gallbladder and liver were closely related to anger and fear. Once we sorted out my diagnosis, Garnier got to work with the knives. In the first minute or so, the sensation of blunt blades chopping away at my back was rather alarming, but once I felt the metal begin to connect and help release those centres of tension, I quickly learned to relax. He proceeded to move from left to right: from arm to arm, leg to leg and hip to hip, then even up atop my head. It wasn't painful at all, and actually very soothing compared to the harsh pressure of typical deep tissue massages — which work, but you have to endure the pain first. I even almost drifted into a light, relaxing sleep, a feat I thought was impossible with the knives mincing away at my body.
After several minutes spent on my back, he revisited the points he identified in the beginning. To my surprise, the pain was gone — completely released in a matter of minutes. At about 30 minutes in, I was asked to lie on my side, and he repeated the process: Towel cocooned over me, Garnier would diagnose, then chop away. Along my right thigh where the IT band runs, he found particular tension and blockage along what he called the gallbladder meridian line, which felt like a dull soreness that I had attributed to my recent hard sessions at the Barre. Again, after cutting away for five minutes or so, almost like magic, the pain dissipated. Flipping on the other side, the same line felt a similar but lesser tension, and it too was sliced away by these enlightening cleavers.
I rotated to lie on my back for a front section massage, where Garnier focused on the areas around my knees that felt slightly sore and bloated, gradually tapping away up my sides towards the centre of my stomach, gentler than he did on my other body parts. Just as I began to doze off, I snapped awake as he began chopping away around my neck, then on my chin and face — trying the best I could to stay calm in those 30 seconds. It was relaxation with a light element of danger, I suppose. Then, to wrap up, attention went back to my back, where he diligently chopped away at the tension near my sitting bones (as they call them in yoga). The grand finale was when he brought back the coral stones he used during the initial exercise. This is not included in a typical dao liao session, but he thought I should give it a try. Hovering the coral stones above me without touching, he claimed that this guang liao, or light energy therapy, would help remove the negative energies within my body, replenishing it with positivity. Was I buying too much into the spirituality of it, or did my body really feel slight wiggles of energy graze my back? I want to believe it was real.
From being dubious to hopeful, I'd say in one session I got somewhat hooked to dao liao, thoroughly impressed by Garnier's true passion for his craft, particularly when he spoke piously about the higher purpose of his practice, "It's a kind of meditation for me… We use two knives because they represent yin and yang; one gives good energy and one takes the bad energy out. The knives, it's almost as if they bring me to where it's blocked."
After one session, I got the lymphatic drainage and better circulation I wanted — my neck and décolletage already looked longer and slimmer even just after stepping out from the changing rooms. But more importantly I felt absolutely lighter, more limber and as a result, happier. It's a feeling you just can't replicate from just simply working hard at the gym — it only comes from holistic healing.
Available through 28 July 2018, a 60-minute dao liao is priced at HK$1,300 on weekdays and HK$1,380 on weekends; a 90-minute session costs HK$1,650 on weekdays and HK$1,780 on weekends.
The Mandarin Spa, 24/F, Mandarin Oriental, Hong Kong, 5 Connaught Road Central, Hong Kong, +852 2825 4888