It was the books; the music; the table-reads on Youtube of your favourite classic film; the endless clicks on Netflix's 'Continue watching' button that got us through 2020. In short: Art and the artists that bring us such welcomed moments of reprieve.
Make a day out of supporting Hong Kong's breadth of art galleries and finish off the year with a straight shot of culture, humour and artistic inspiration.
Rules and regulation in light of COVID-19 restrictions are ever-changing. As usual, please contact the galleries prior to visiting.
Joan Cornellà: My Life is Pointless
When: 15 December 2020–29 January 2021 (By appointment only; RSVP here.)
This bleak, tumultuous year can only be endured with a healthy slice of humour; a point artist Joan Cornellà's satirised creations is in full agreement with. Cornellà's 'My Life is Pointless' exhibition — a collaborative effort between Sotheby's Hong Kong and AllRightsReserved — is the artist's third in Hong Kong; and, to date, his largest, with 48 presented pieces. Returning are his cheery colour palettes and smiling cartoonised figures making palatable darker undertones: A hand-gun, hoisted on a selfie stick. A man, seated cross-legged in Sukhasana while the world behind him lights up in flames. Bring with you a smile — or a grimace.
Sotheby's Hong Kong Gallery, 5/F One Pacific Place, Admiralty, Hong Kong, +2524 8121
Takis
When: Through 27 February 2021
Collect all preconceptions about 'sculpture' — static and still? Cast in marble and porcelain? Michelangelo, standing proud and tall? — and leave them at the door of the White Cube gallery. On exhibition is late Greek artist Takis's body of work; one that celebrates a wholly different but oddly complementary discipline: Science. Often appearing like scientific experiments or gadgetry from illusionists of centuries past, Takis's sculptures, while abstractly minimalist, conceal technological components like magnets and acoustic waves. Do not be alarmed if some of his totemic works move; they're meant to.
White Cube, G/F, 50 Connaught Road Central, Hong Kong, +852 2592 2000
Mit Jai Inn: Royal Marketplace
When: Through 15 January 2021
Named in relation to the youth-led protests currently still on-going in Thailand, Mit Jai Inn's Royal Marketplace — while not overtly political — subliminally honours resistance against normality and unchecked power via a striking use of colour and the myriad of ways from which the artworks can be appreciated. 'Scrolls' (2013) is one such example, with its strips of canvas painted double-sided and sat upright, materialised from painting to sculpture.
Rossi & Rossi, 3C Yally Industrial Building, 6 Yip Fat Street, Wong Chuk Hang, +852 3575 9417
Luke Ching: Glitch in the Matrix
When: Through 21 February 2021
Bring with you a sense of humour to Luke Ching's 'Glitch in the Matrix' exhibition, showcased and curated by Para Site. From cheeky audience-participation installations like a left shoe-prohibited exhibition space to more socio-politically charged pieces like 'Still Life,' which presents pencil-shaded mediations on the few everyday objects allowed to be brought in by visitors into Castle Peak Bay Immigration Centre — Ching's oeuvre is a timely commentary on the state of Hong Kong.
Para Site, 22/F, Wing Wah Industrial Building, 677 King's Road, Quarry Bay, Hong Kong, +852 2517 4620
Erik Parker: New Solitude
When: Through 9 January 2021
The mad, cartoonish world of Brooklyn-based artist Erik Parker feels like an acid-fuelled trip in diametric contrast to the dark, dreary year we've just had. An exhibition named 'New Solitude' in reference to the year spent in lockdown, this series of work is rebellious, youthful and chock-full of socio-cultural references; work that would feel as at home as graffiti as it does on pristine gallery walls.
Over the Influence, G/F and 1/F, 159 Hollywood Road, Central, Hong Kong, +852 2617 9829
Double Fly Awkward Pay
When: Through 23 January 2021
Lauded artworks, especially those made iconic after being seated behind museum glass, are often deemed priceless. Value, then, becomes a crucial end-game to an activity that does not necessarily begin as such; a paradox artist group Double Fly Art Center scathingly and humorously addresses in this exhibition. 'Double Love & Flied Currency' (2020) comprises cut-up paintings that once was a 33-metre-long piece. As lights flicker on and off, black-lit overlays light up, revealing the paintings itself as bank notes in the price the paintings are worth. On the other end of the spectrum, 'Double Fly Cut Piece' (2020) — cut, again from the same long piece — allows donations as minor as HK$1 for a little piece of the canvas to be cut and brought home.
De Sarthe Gallery, 20/F, Global Trade Square, 21 Wong Chuk Hang Road, Hong Kong, +852 2167 8896
Zhu Jinshi: Li Bai's Snow
When: Through 31 December 2020
Fervent brushstrokes and textured, heavily layered-upon paint that protrudes from the surface of the canvas define an aesthetic that evokes the style favoured by German Expressionists. Here, artist Zhu Jinshi — part of China's avant-garde cohort of dissident artists christened the Stars — was said to be influenced by his time spent in Berlin. The decisive, abstract smudges of paint by Zhu almost look like zoomed-in macro images of a work-in-process palette, mid-masterpiece.
Tang Contemporary Art, 10/F, H Queen's, 80 Queen's Road Central, Hong Kong, +852 2682 8289
Angela Bulloch, Josephine Pryde: Sky, Rocks & Digits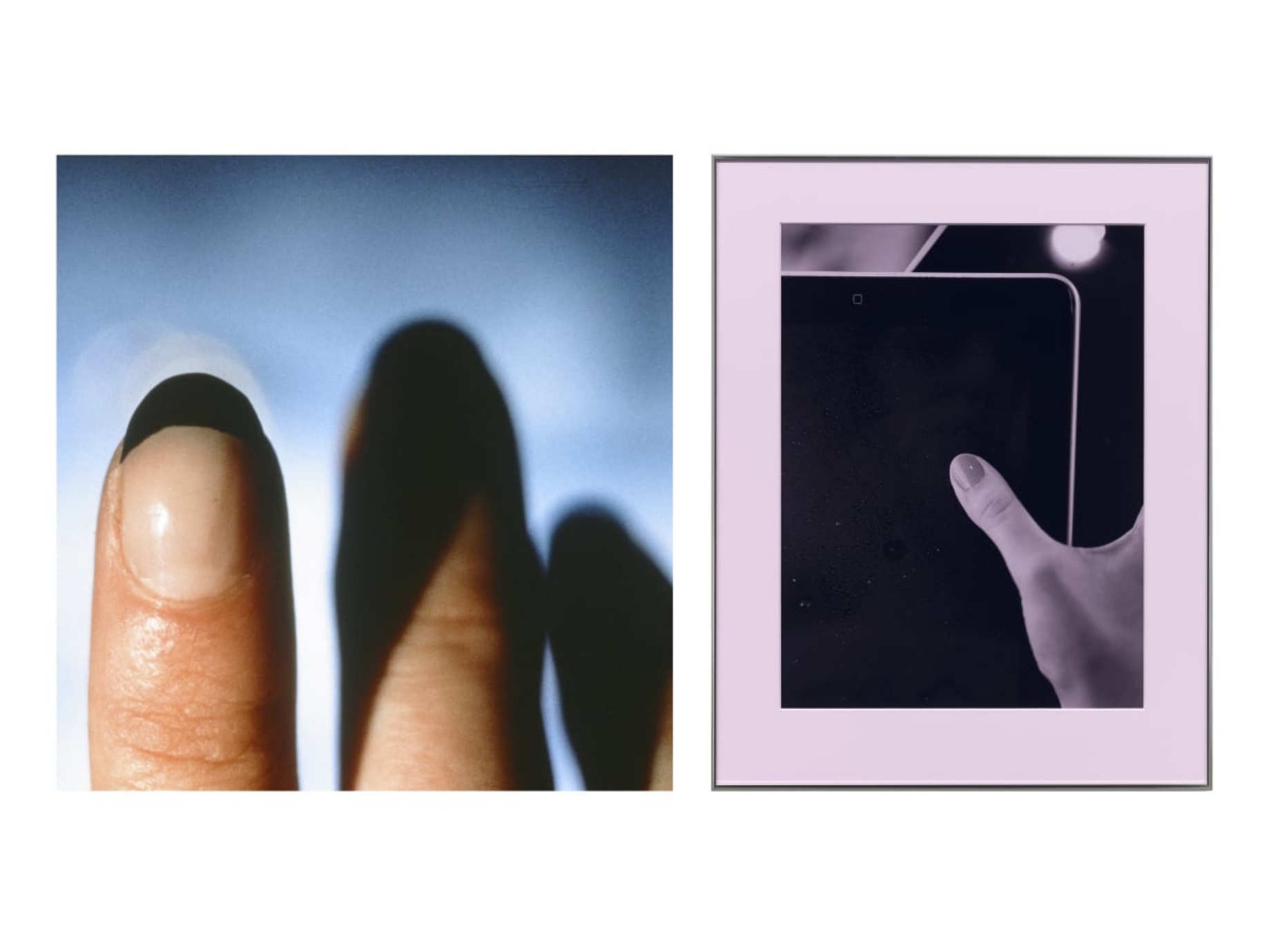 When: Through 9 January 2021
What do close-up portraits of finger-tips and blown-up images of constellations have in common? Contrasts between body and technology; the material and the immaterial; the physically tangible and the cosmically intangible collide in this joint exhibition of works by Berlin-based artists Angela Bulloch and Josephine Pryde. The divergent definitions of 'digit' offer an entry-point of discussion, as finger-tips and data-points converge in one single word. It's all about juxtaposition with this show.
Simon Lee Gallery, 304, 3/F, Pedder Building, 12 Pedder Street, Central, Hong Kong, +852 2801 6252
Edmund de Waal: Cold Mountain Clay
When: Through 9 January
Solitude is exacting. I read [the verses] out, wrote them, effaced them, worked on them, trying to find the amount of white space around a poem so that the words emerge… These works are my way of writing on a cave wall.
Edmund de Waal
A sense of silence should wash over you as you walk into Edmund de Waal's 'Cold Mountain Clay' exhibition. Drawing from the words of monk Hanshan, whom, according to Chinese legend, lived as a recluse in a state of monastic solitude, de Waal's series of paintings appear in drifts of hazy brushstrokes of graphite, oil stick and charcoal — almost like a physical attribution to bygone memories.
Gagosian Hong Kong, 7/F, Pedder Building, 12 Pedder Street, Central, Hong Kong, +852 2151 0555
Lau Hok Shing Hanison, So Wing Po and Zhang Ruyi: The Palm at the End of the Mind
When: Through 3 January 2021
An experiential treat for the senses, Hanison Lau Hok Shing, So Wing Po and Zhang Ruyi's joint exhibition at Blindspot Gallery births an atmosphere of pure cacophony. From floating orbs encasing flashing lights in cicadas to cyberpunk metal plates sounding-off against loudspeakers, this show is not one to miss for those interested in the intersection between metaphysics, organic nature and post-industrial cities.
Blindspot Gallery, 15/F, Po Chai Industrial Building, 28 Wong Chuk Hang Road, Wong Chuk Hang, Hong Kong, +852 2517 6238