The South African artist's works are on view from 22 to 25 March at the Yi Tai sculpture and installation projects section at Art Central Hong Kong.
Bev Butkow was 20 years into a successful professional career in finance when she and her husband decided to have their fourth child. Forced to accept that a full-time job in corporate would become unsustainable, Butkow was left to ponder her next steps forward. While fraught at the time, the decision to start afresh with her career turned out to be one of the best decisions in her life.
Her turn to art happened slowly – one art lesson, a small drawing, an investment in some good paint brushes, until one day, she threw herself in by renting a studio. "I've never looked back. My evolution has been a gradual blossoming of love and passion. Committed to ongoing learning, I've surrounded myself with the best teachers and mentors I could find to lead and guide me. I even returned to university after a 25-year absence to understand the context of my artmaking," says Butkow.
The contemporary South African artist is well recognised for her processes of weaving and painting to knot and entangle, creating networks of connections that are halfway between being held together and unravelling. Her knotted forms pull, knot and snag uncomfortably. They stretch, pucker and strain, holding an internal tension that seems to mirror the competing pulls, tensions and contradictory commitments held by women. Not only do her woven-painted forms, balancing precariously on the verge of collapse, reflect the complexity of our contemporary existence that confronts us with so many challenges, but these entanglements also give texture to Butkow's conflicting roles of career and mothering.
In conversation with Bev Butkow What was your first foray into art and how did that evolve into your career as a professional artist? When did you first realise you were going to become a professional artist?
Being an artist is a new way of being for me that was never in my life's master plan. Inspired and guided by my hard-working immigrant grandparents and mother who single-handedly supported three kids, I chose a first career that would guarantee my financial independence and self-sufficiency. The hardest part of changing careers was recalibrating who I was without the ego, salary, reputation and chic business suits. The most rewarding part is the constant support and encouragement I get, especially from my husband, kids and parents. Because of this, I have grown enormously as an artist. I can't imagine a better life.
Can you tell us the creative process behind reflective connections, which will be presented at Art Central 2023?
I started the works for Art Central as I always do — with anxious uncertainty about what I am going to do. I always start a new project with only a vague sense of direction, rather than working with an expected outcome. My process takes a bottom-up approach, starting with me 'sitting in the materials'. I immerse myself in the materials. I experiment, I play, I innovate and I destroy as much as I make. I often fumble around feeling lost and uncertain in my making. I embrace an instinctive and incidental way of working to develop an imaginative and exploratory playfulness. As I work intuitively with the materials through my body, surfaces, forms and objects come into being. I keep working until some kind of logic develops around what they are and how we relate to them.
Working from the bottom-up requires that I create the right working conditions. Before I start making, I need to separate the outside world from the magic of my studio; to clear myself of the stress, clutter and busyness of the world outside the studio so that I can experience the tranquillity, joy and unbounded creativity of the studio. I do this by performing a series of ritual acts, which start with lighting a scented candle, doing deep breathing exercises, gentle stretches or yoga and reciting affirmations. This process of clearing the chatter in my brain ends with me sipping a steaming mug of coffee as I allow my eyes to thoughtfully survey what is happening in my studio.
I wove the four forms making up the Yi Tai installation on disused painting stretcher frames given to me. They were huge! One was five metres long and three and a half metres high. Once complete, they were majestic and stood proud and powerful. I had to dismantle the looms to 'free' them and the process was nerve-wracking — I had no idea if I would ruin them, deflate them and thereby make them 'soft'.
Unstretching the weaves was a good move because the sense of fragility and vulnerability multiplied. I did a practice run in the sculpture studio of the University of Johannesburg, setting up my installation there. The installation consists of four large, net-like, woven fabric sculptures that are suspended from above, as well as reflective vinyl flooring that is based on the play of light and shadow through the semi-transparent sculptures. Installing them like this was an important step that allowed me to see and experience the installation. My friend played her vibrational alchemy singing bowls in the space, and we had a magical session in which it seemed that energies are at play within the weaves. Here is a video of the installation:
I transported the weaves to Hong Kong in my suitcase. This journey, and the folding, wrapping, being jiggled up and down of the journey now plays an important role in the appearance and provenance of the weaves.
What ideas and themes inform your Art Central installation? What do you hope your audience will feel or learn when they experience this artwork?
I have been thinking a lot about the journeys that the threads and scrap dressmaking fabrics that I work with have been on. I think of all the hands that have touched them. The vast majority of the materials would have been made in factories in Asia and then packed into boxes and shipped to South Africa. My dressmaker friend bought them, using them for her clothing creations. Her discards and scraps made their way into my artworks. In the studio, my hands and the gestures of my body, and those of my assistants, weave these scraps into the four woven surfaces and soft sculptures that make up the Yi Tai installation.
My installation is an invitation to audiences, to experience their textures through their bodies and hands. Enabling the viewer to meander through my installation gives them a sense of the tactility of the making process. Acts of slow-looking engage their whole body and create a stillness that allows different levels of awareness to arise from within. I'm interested in the changing role of the audience within aesthetic encounters. There is a shift away from merely viewing artworks with the eyes, towards immersive experiential encounters that the viewer feels with their whole body and senses. They are transported into a sensual world in which they become part of the artwork. These soft sculptures making up the installation form a space for reflection and for the viewer to engage in speculative associations with the weaves.
My deep hope is that my forms possess regenerative powers, possibly even healing powers. The forms certainly seem to come alive, holding energy, aura or maybe spirituality, however inexplicable this may be. This energy enables us to re-imagine alternative realities and a transformed world. Actual transformation always begins with the imagination.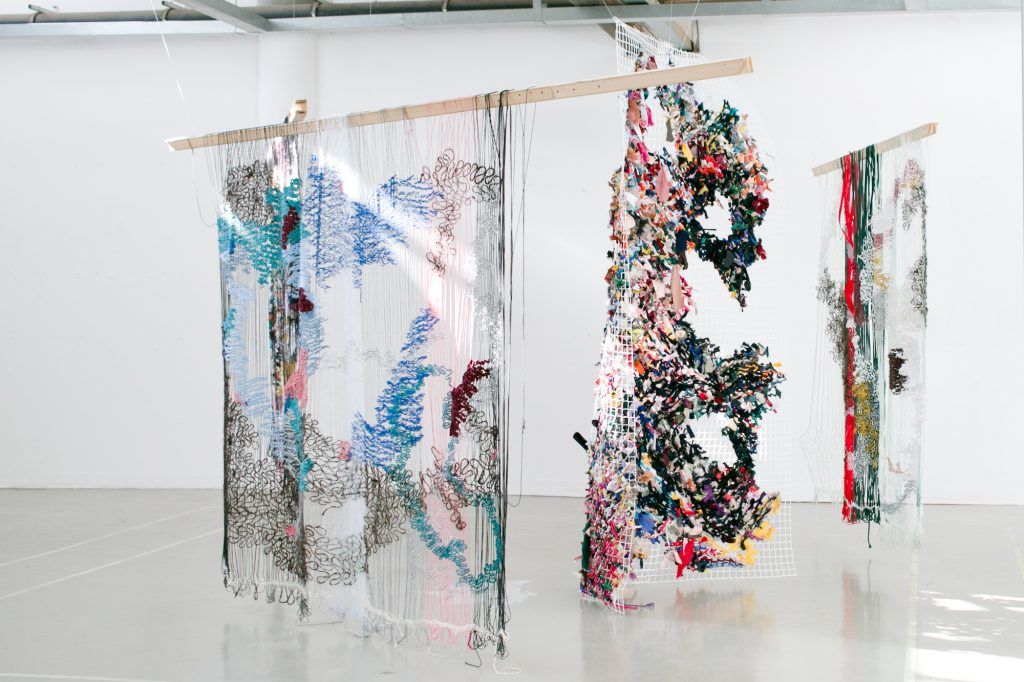 In your experience, is there a strong ecosystem for arts in Johannesburg; are artists well supported?
South Africa has a wealth of talented artists and incredible levels of creativity. This is strengthened by the extent of real social issues confronted by artists, which inspire great artworks that are materially, emotionally and intellectually challenging.
Our art ecosystem is strong but can tend to be mainly commercially driven, and thus provides few opportunities to expose conceptual, experimental and innovative creative processes that stand out of the mainstream. It also has relatively few institutional spaces and lacks meaningful structures for critique or publishing of art writing.
In addition, there is barely any financial support for artists. There are no local grants or artist salaries and little corporate support beyond sales. Even the government funds that were set aside to assist artists during Covid were mismanaged and taken, never reaching the intended hands. Sadly, these factors create an environment where incredibly talented people have few resources available to help them.
How did you conceive your unique style eg. weaving and painting to knot and entangle?
I started weaving because of the challenges I experienced with painting. I have an obsessive love-hate relationship with painting that has not changed since I took my very first art class at age 43. Once, I cut up a painting in frustration over the huge gap between what I had painted, and what I had expected to see on the canvas. This childish temper tantrum left me with a messy pile of canvas strips, which I intuitively wove together 'to make tidy'. From that moment, weaving captivated me… I became intrigued and entranced by the radical simplicity of the process of weaving, yet also the extreme complexity of its techniques. I was also fascinated by how weaving can absorb multiple materials into its surfaces. I am a self-taught weaver. I love how weaving materialises a network of interactions that connect multiple narratives and how it intricately links to the rhythmic gestures of my body and to women of all past times who performed repetitive tasks.
Because my weaving has always been so tied to painting for me, I consider myself a painter and my weaves as paintings. For me, my act of weaving is an act of de-disciplined painting, in which I use materials, colours and my body as my medium rather than traditional oil paint. I weave in an ever-expanding and fluid interpretation of what it means to 'paint', even painting in space through my installation practice.
Weaving is fundamentally about pulling different things together, by creating stable connections in which the horizontal warp crosses securely over and under the taut vertical weft. Weaving these surfaces is precious because it's so time-consuming. Nevertheless, afterwards, I move in the reverse direction by disrupting them — I unravel them, stopping at the point where the forms seem to fall apart yet just hold together.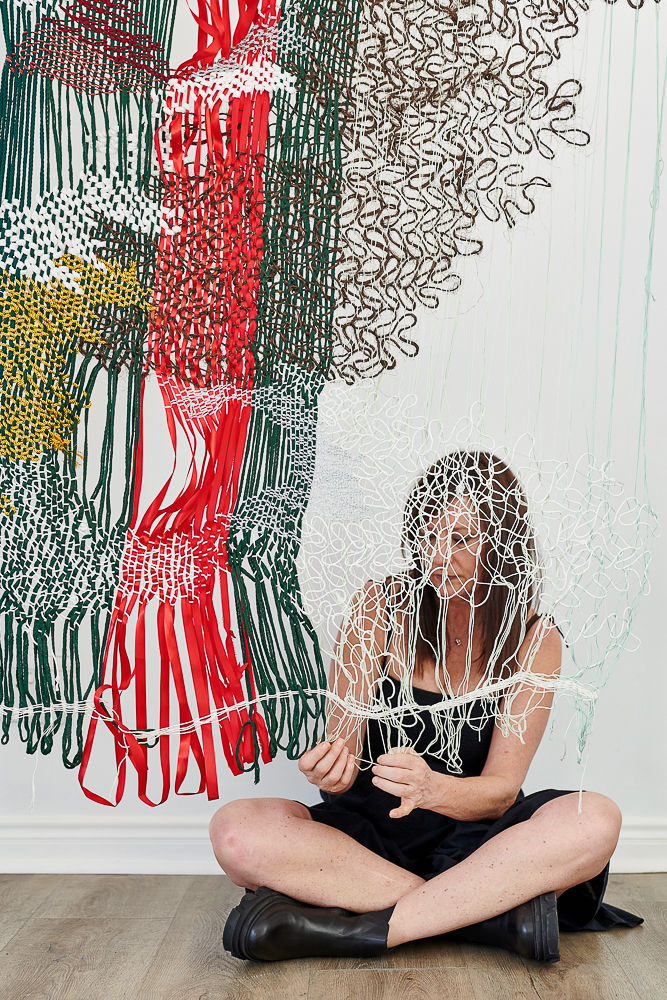 How do you explore expectations of women, women's labour and materiality through art creation?
The act of entangling is a surprisingly apt way of describing my life. Central to my daily existence is the tension between fulfilling the responsibilities expected of me as a woman-wife-mother-daughter and doing what fills me with personal satisfaction. Like many women, I'm constantly pulled in multiple directions and conflicted around allocating my time, energy and engagement to the multiple competing pulls and demands of work, motherhood, relationships, family, economic, social and communal commitments.
As a mother of daughters, I think a lot about how to create space for them to be strong, empowered and courageous women. I seek to liberate and unbind — even if it starts with just one thread — by destabilising flattened representations, identity markers and expectations of us as women. When I install my forms, they expand into space, asserting my right, our right, to claim space as women. I hope this inspires assertiveness in my daughters and other women.
Is there anything else that you would like to share about your practice?
I have immense gratitude for the ever-present support from my family, along with my gallerist Julie Taylor of Guns & Rain, who has supported me tirelessly by prioritising what's in the best interests of my career.