Oson, who has exhibited in major cities such as England, France and Dubai, pays tribute to Hong Kong's film industry in this new show "MOTLEY" in Harbour City.
Japanese artist Jun Oson had never been to Hong Kong before, but that didn't stop him from dedicating a whole exhibition to the city. "MOTLEY" features 15 new pieces in his signature pop art and manga style that document his fascination with Hong Kong's iconic action and comedy movies from the 90s. Finding inspiration from classics such as In the Mood for Love, A Better Tomorrow and Out of the Dark, as well as the powerful energy and vibrant nightlife of Hong Kong, Oson captures the city as one where all kinds of happenings and people come together.
"MOTLEY", curated by art curatorial team WAY, is on show for one month from the end of May to late June at Harbour City. As the exhibition opens to the public, Lifestyle Asia sits down with Osun to talk about his childhood in Japan, how he became a full-time artist and his future endeavours.
In conversation with Jun Oson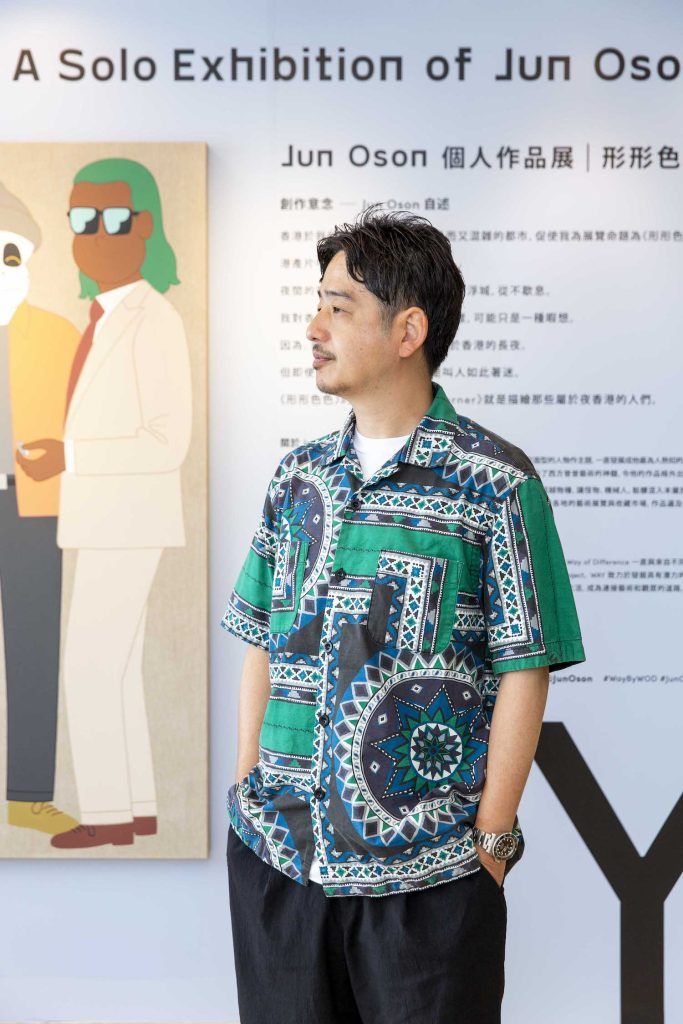 Can you tell us a bit about yourself and your background?
I'm Jun Oson, an illustrator and artist. I studied design at university and worked at a small graphic design studio. However, at the small studio, the client constantly had unreasonable demands, which was frustrating for me as a creative.
At the age of 23, I started my own business as an illustrator. I worked on book covers, cuts for magazines, animation drawings, collections for apparel companies and merchandise design.
In 2020, inspired by first solo exhibition at the Diesel Art Gallery, I decided to focus on my own art career.
When and how did your journey as an artist begin?
It was not until 2020 that I began to make a living selling my own artwork. But as you know, the coronavirus spread throughout the world that spring. I was initially disappointed because I'd planned an exhibition around that time. In retrospect, I think the stay-at-home situation turned people's focus on art worldwide.
When I announced my exhibition, I received a large number of inquiries through Instagram messages. It was something that had never happened before. That's when I knew my journey as an artist had officially begun.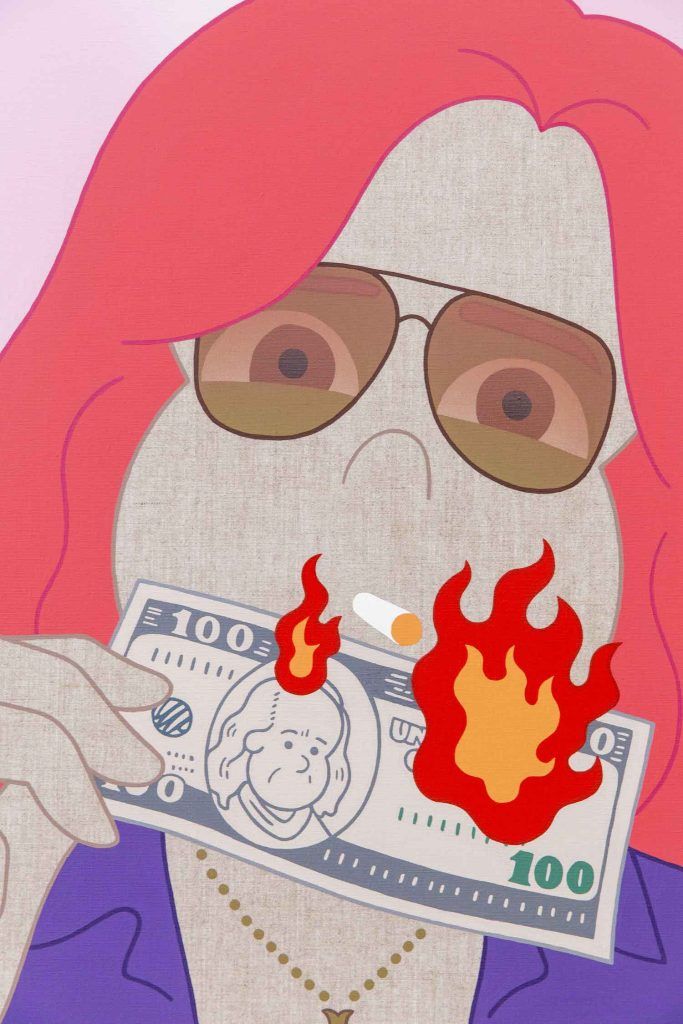 How does your culture influence your art?
I was born and raised in Japan. I grew up watching cartoons and anime. When something needs to be explained there, it's common for a character to take on that role, for example on TV or posters. Eventually, I began to draw my own characters.
How would you describe your art style?
I would call it "Japanese-style art".
Tell us about your exhibition "MOTLEY"?
I decided on the theme for this exhibition after discussing it with the curator, WAY. I think Hong Kong is a very interesting city with mixed energy. I got to know the city mainly through the news and movies, and the way it is portrayed on screen fascinated me.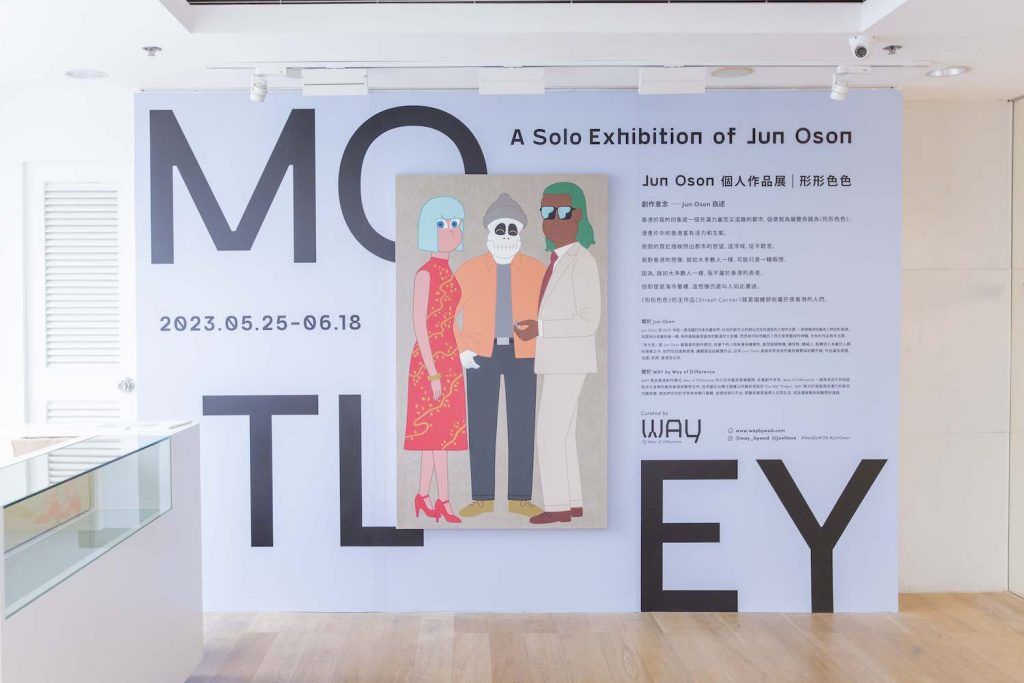 Why did you choose to exhibit in Hong Kong?
When I had my solo exhibition at Diesel Art Gallery, many of the inquiries I received were from Hong Kong. I was very happy to receive interest from outside of Japan and made it my goal to visit Hong Kong someday.
Favourite piece of art from the exhibition and why?
My favourite is Street Corner. It was the first piece I finished and it paved the way for the direction of the exhibition. In it, three mysterious characters are in discussion. The man in the beige suit seems to be holding something in his hand. Is this where the story begins or ends? I like this work because it allows me to imagine various scenarios.
What do you have planned for the rest of 2023?
This summer, I will be hosting an exhibition in Japan in collaboration with an apparel brand. In the winter, I will have a solo exhibition in France. I'm very much looking forward to both of them!
---
Catch "MOTLEY" from now until 18 June at Gallery by the Harbour, Shop 207, Level 2, Ocean Centre, Harbour City, Tsim Sha Tsui, Hong Kong.
(Lead and featured images courtesy of Gallery by the Harbour)