Get into the holiday spirit with Lifestyle Asia Hong Kong with our annual Christmas giveaway extravaganza. This year, we've lined up 12 days of spectacular prizes as our way of thanking our loyal readers with some well-deserved treats to round out one heck of a year.
Be sure to bookmark this page as you'll want to check back daily for our full list of prizes, unveiled every day at 10am, Monday to Friday from 7–22 December. Expect a fabulous roster of goodies ranging from luxurious staycations to delicious dining experiences; beauty gifts and stylish presents; not to mention some awesome wines and spirits to toast to the new year. There's no limit to entries, so the more friends you refer, the greater the chances of nabbing a prize! We will announce all the winning entrants on 23 December on Instagram. Winners will also be notified directly via email after they have been announced.
How to enter:
Follow Lifestyle Asia Hong Kong on Instagram.
Fill in the giveaway form below and answer the question.
Like our daily giveaway post on Instagram, and tag two (2) friends in the comments.
The Prizes:
Day 1: CircleDNA's Premium DNA test kit (valued at HK$4,990)
This year, we give the all-important gift of health with the world's most comprehensive DNA test from Circle DNA. The Premium DNA test kit — valued at HK$4,990 — uses advanced technology to generate the ultimate guide for your genetic profile, providing you the framework to eat healthier, detect diseases earlier and most importantly plan for your health in a way that is specific to you. This one-time test produces results that are relevant for your entire lifetime, allowing you to mitigate health issues before they even occur — which is more necessary than ever as the pandemic continues on.
Day 2: The Ritz-Carlton Hong Kong Spa's 'Unwind Body & Mind Experience' (valued at HK$3,050–HK$3,250)
Treat yourself or a loved one this holiday season to some much-needed TLC with The Ritz-Carlton Spa's Unwind Body & Mind Experience — a 120 minute non-stop treatment meant to nurture every bit of your body while casting away every ounce of stress. An antioxidant-rich pearl scrub accompanies a deeply reviving full-body massage, with added face and scalp reflexology to ensure that you get the chance to completely relax from head to toe.
Day 3: Eight bottles of G.H. Mumm Grand Cordon (valued at HK$3,184)
Be the hero of your holiday celebrations with G.H. Mumm Grand Cordon's signature red-ribboned cuvée. Characterised by its fresh, fruity flavour with a brilliant dose of caramel, it's a fabulous addition to any festive occasion. The best drinks are meant to be shared, so we're giving out eight bottles of this delicious champagne, valued at a total of HK$3,184.
Day 4: Date by Tate Connoisseur Gastronomy Box Sets for two (valued at HK$3,260)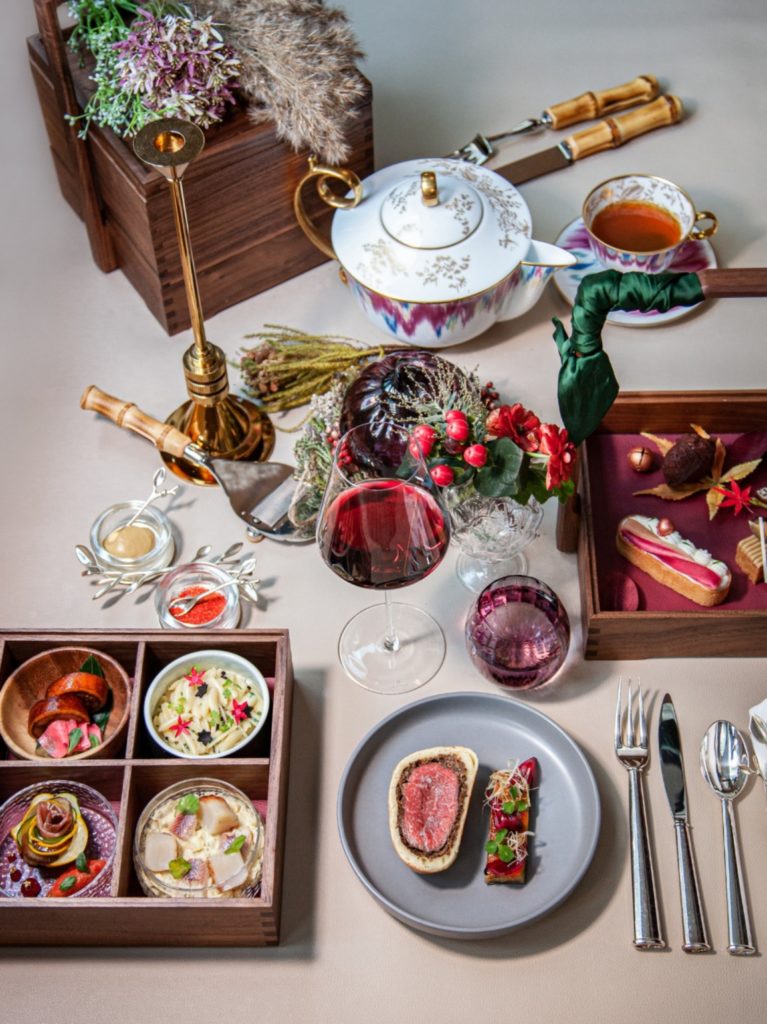 It's not often you can get the quality of a Michelin-starred menu in the comfort of your very own home, but Tate Dining Room's Date by Tate delivery programme is the solution to all your fine dining cravings. We're gifting two sets of the Gastronomy Box Set, each a three-tiered, zero-waste masterpiece elegantly showcasing a three-course meal helmed by chef Vicky Lau. Valued at a total of HK$3,260 including delivery charges, the set is valid for a year, with reservations made two days in advance.
Day 5: A tasting menu for two and a free-flow brunch from Pirata Group (valued at HK$3,712)
For the holidays, Pirata Group is giving the great gift of good food. Bringing together family and friends, the group is offering one lucky winner not just one but two delicious meals at its best-loved restaurants: a hearty wine-paired tasting menu for two at its spirited Indian hangout Chaiwala (valued at HK$1,520) and a boozy free-flow brunch for four at punk rock temakeria TMK (valued at HK$2,192). Both are available for redemption for the next three months, so you can rest assured you're dining safely once social distancing measures ease up.
Day 6: A Club Escape room package for two at Mandarin Oriental, Hong Kong (valued at HK$7,568)
The gift of some much-needed R&R is always happily received. Pamper your loved one (or yourself) to a luxurious overnight escape in the city at the Mandarin Oriental, Hong Kong. MO is offering the new Club Escape room package for two, valued at HK$7,568, which will be redeemable from February to the end of June 2021 when the hotel unveils its brand new overhaul. Naturally, the stay comes with an off-menu tasting for up to two adults at Man Wah, a signature drink on the house at The Aubrey, late checkout at 6pm, plus full access to the new Mandarin Club on the 23rd floor — with a slew of VIP privileges, as well as breakfast and afternoon tea.
Day 7: A 'Light Arbor Experience' tasting menu for two (valued at HK$3,274)
In the spirit of indulgence, an evening away at the one of the city's best fine-dining destinations will surely be an impressive way to celebrate. Helmed by chef Eric Räty, savour the sumptuous flavours of Nordic-Japanese cuisine with a delectable 'Light Arbor Experience' tasting menu for two at two-Michelin-starred Arbor (valued at HK$3,274 — blackout dates applicable). Served at the sophisticated H Queen's location, the nature-inspired restaurant uses the freshest produce possible, flown in from Japan. Celebrating with a loved one and exceptional food — that is the winning combination to a holiday worth remembering.
Day 8: Shanghai Tang's 'Hide & Seek' scarf (valued at HK$3,980)
Time-honoured Hong Kong brand Shanghai Tang is well known for its timeless contemporary designs that pay homage to its Chinese roots. Its 'Hide & Seek' scarf, valued at HK$3,980, is a fitting example of the brand's exquisite craftsmanship, hiding 12 Chinese Zodiac animals amongst the whimsical swirls of floral and paisley — a pattern created from a both hand-illustrated and digitalised techniques. It's made out a lightweight blend of wool and mulberry silk, perfectly suited for the unpredictable swings of chilly-but-sunny Hong Kong winters.
Day 9: Charbonnel et Walker's lavish chocolate hamper (valued at HK$3,064)
Calling all chocoholics: True cacao fiends won't want to miss out on this indulgent prize by London chocolatier Charbonnel et Walker. New to town this winter, this Bond Street chocolate maker brings its 145 years of expertise to Hong Kong, with its truffles and treats loved by everyone from royal aristocracy to stars on the silver screen. This hamper includes a Victorian sea salt caramel selection box, a festive 'Winter House' set, milk sea salt caramel thins, a dark sea salt caramel mini heart and the house's signature truffles galore in milk chocolate, peppermint cookie, dark and pink champagne flavours — all totalling to a value of HK$3,064.
Day 10: Calvin Klein top handle purse from The Outnet (valued at HK$10,390)
On the lookout for a stylish new bag to schlep around town? Check out this Calvin Klein treat courtesy of The Outnet, a sturdy claret-hued leather top-handle bag that will fit in with your daily commute and casual weekend adventures alike. With the practicality of the crossbody strap and the on-trend chunky chain metal detailing, you can wear this versatile bag multiple ways. There's enough space to keep all your essentials too, from wallet and hand sanitiser to even a tablet. Originally valued at HK$10,390, it could be yours to take home if you're lucky enough.
Day 11: A Deluxe Wine Gift from Toasst (valued at HK$3,100)
Looking to treat yourself to a great bottle of vino or in search of the perfect gift for the wine fiend in your life? This prize is for you: Toasst is a Hong Kong wine subscription platform tailored for wine lovers who want to explore new varietals and learn more about the winemakers behind them; discover new food pairing options and recommendations on what to pour next. The Deluxe Wine Gift, valued at HK$3,100, includes a 'Best of Toasst' selection including three whites and three reds, as well as a bottle of premium Champagne and a two-pack of highly coveted universal wine glasses by wine critic Jancis Robinson.
Day 12: An Upper Suite stay at The Upper House (valued at HK$18,000)
Eager for the ultimate gift to round off an extraordinary year? We look to one of Hong Kong's most coveted stays to treat our readers to some hard-earned R&R: The Upper House is offering the final gift for our '12 Days of Christmas' giveaway extravaganza with one night stay at an Upper Suite with breakfast for two — valued at HK$18,000. Be it for a romantic escape or a relaxing respite with your nearest and dearest, if you're keen to win this prize you'll want to act quick: the giveaway for all of our prizes ends tomorrow, 23 December at 11:59am HKT.