In this edition of 'How to Succeed', we speak to Laura Hammett, luxury interior designer and Creative Director of London interior architecture and design studio since its conception in 2008. Specialising in detail driven luxury residential projects for private clients and property developers throughout the UK and abroad, we speak to Laura about the inspiration behind her projects, interior trends to watch this year, and navigating through a global pandemic.
Boasting an impressive portfolio of clients and stunning luxury residences across Hong Kong, China, London, New York, Miami, Paris, India and the Middle East, Laura Hammett's passion for interior design and architecture shines through in her signature classic contemporary designs.
With a strong focus on bespoke design, each project has its own identity where Laura believes "that quality of life can be enhanced through exceptional design, with every detail, material, and element of space creating a luxurious whole, enhancing a property's value while still retaining a truly personal touch." We were given the opportunity to speak to Laura and learn more about signature style, the projects that she has currently been working on, as well as her predictions for this year's interior trends, tips for styling small Hong Kong homes and top tips for getting in to the industry.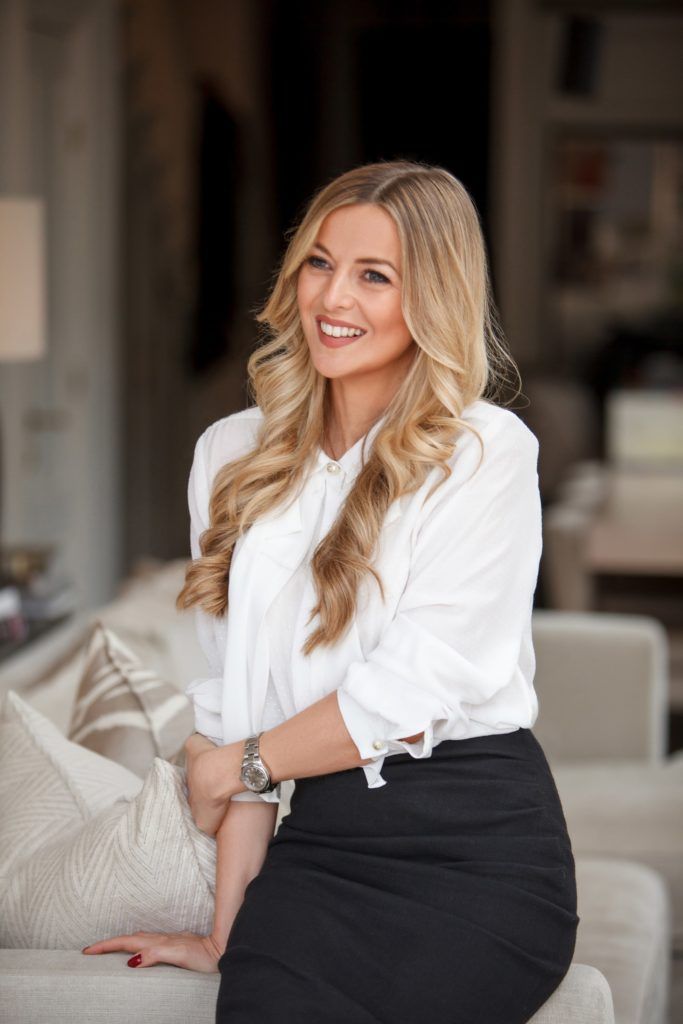 Tell us a little bit about your background. How did your passion for interior design pave your career path? Was there a specific moment that inspired you?
I trained as an interior architect at Brighton University and right after graduation I started working at high-end interior design agency, Godrich, where I was involved in the design of various high net worth and celebrity homes. Following an exciting stint with designer Suzy Hoodless, in 2007 I set up an online boutique Echo Interiors, where I curated art and luxury homewares hand-crafted by emerging designer-makers from across the world, such as Reynoldsware ceramics and as well as renowned brands like Johnstons of Elgin cashmere. The following year, in 2008, I launched my interior design studio, Laura Hammett, which I head up together with my husband Aaron.
Interiors had been a passion of mine before I even knew that it was a career opportunity. Despite being born into a family of artists, I didn't come from a world of Interior designed homes but as a teenager I visited the home of my mother's architect friend in France and remember being absolutely blown away by how unique it was. Clean lines and unusual room layouts with a very contemporary bath sunk into the floor. It was like nothing I'd ever seen before and felt more like an art installation than a home. That definitely ignited something in me.
To you, what's the most important aspect, trait or criteria for someone to succeed in the world of interior design?
You have to have an innate passion for design, fully immerse yourself in the world of interiors and have a hunger to evolve as a designer. You also have to be highly critical of your own work so that you are constantly striving to improve and develop your skills with each project. It's such a saturated market so you have to work very hard to stand out these days.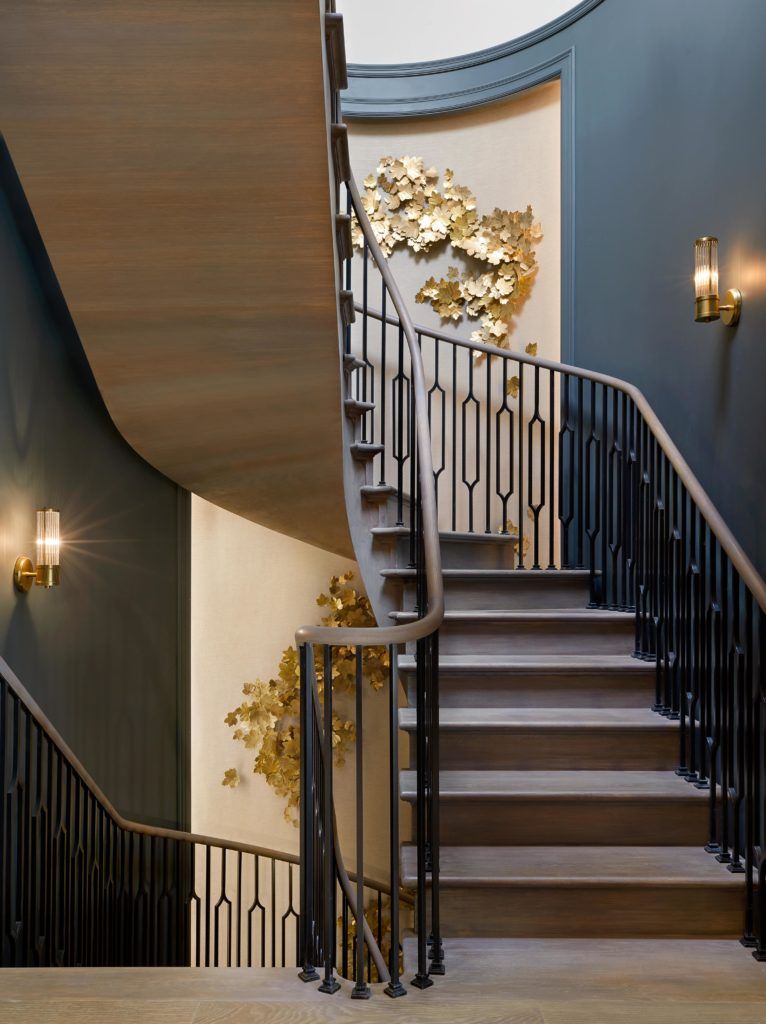 What do you do or where do you go to make sure you stay productive and creative?
Staying productive has never been an issue for me as anyone who knows me will know that I like to keep moving in my life, both personally and with the business, and it's inspiration that creates that drive to push forwards. Inspiration can be found almost anywhere, from set design, magazines, social media, but nothing beats seeing things in person, so hotel and restaurant design are a big one for me. There are two main things that I find gives me the most inspiration when I'm in a space or looking at an image – the 'feeling' and ambience, and then the material combinations, the contrasts and details that can create. These elements can ignite a whole room design in my head.
What would you describe as your 'signature style'?
My signature style is classic contemporary, but we pride ourselves on adapting to complement every architectural style and client, drawing inspiration from the location, building vernacular and the clients taste and lifestyle. Bespoke design is integral to our approach and every facet of a project can be custom made to exacting specifications, and that's what makes each one unique.
Talk us through your creative process when designing a home.
The briefing process is critical because we create fully bespoke homes, so we have to really get to know our clients. Their likes and dislikes but also, we need to know exactly how the live in their homes. Along with the property and location, this will then inform the concept design and space planning. Each project has a set of core design principles which will bring a cohesive thread throughout all spaces. This presentation will be made up of inspirational cues, details, finishes, textures that all come together to give the client a full picture of how each space will look and feel, along with a large selection of samples. We then take that concept and develop the detailed and technical designs, working through all architectural elements, kitchens, bathrooms, joinery right through to our bespoke furniture and curated styling.
What are some of the strongest trends to emerge this year and how can we incorporate these in to our home?
This year has made us rethink our homes as never before. The need of multi-functional spaces and separate areas that allow each family member to have their own space, has resulted in a return to separate rooms and zoning, leaving the open plan living behind. There is a growing trend for spaces that are connected but can also be closed with sliding and pocket doors to provide privacy and flexibility.
2021 will also be the year to support our local businesses. People are now buying more mindfully, supporting independent shops and small suppliers, especially when it comes to home accessories and artworks.
We will see soft, warm and comforting tones and textures. Living spaces are starting to reflect the current situation, and people are embracing calming colour palettes that create a sanctuary in their home.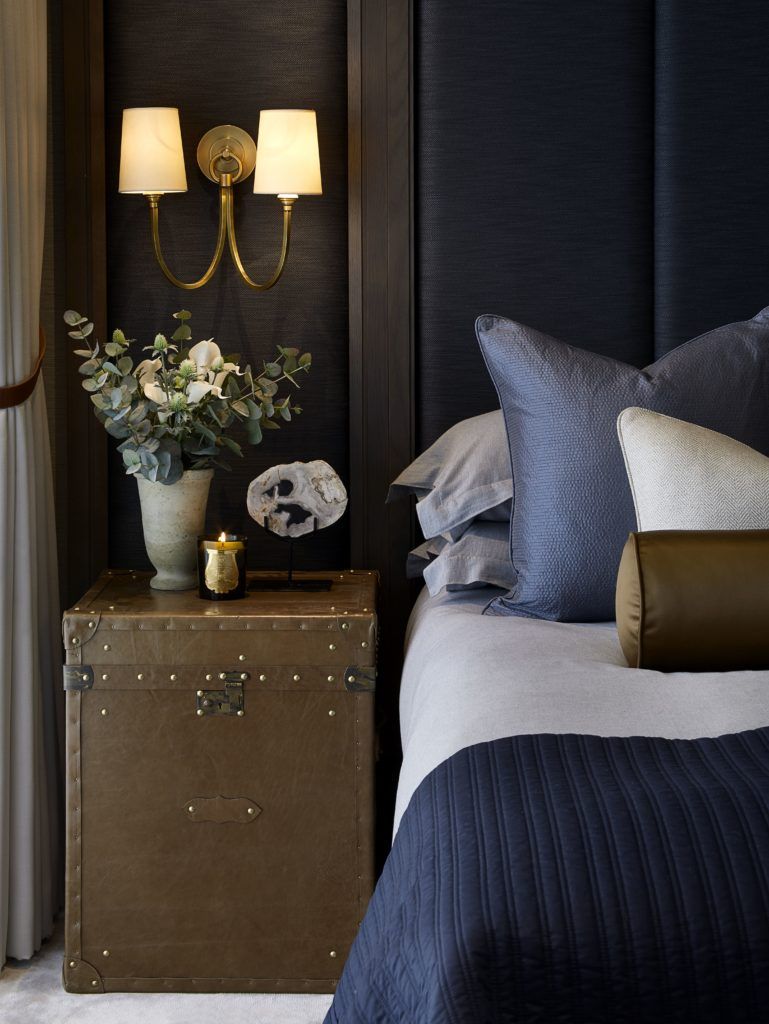 Can you help us with some do's and don't for decorating in Hong Kong's humid climate?
Our two ongoing projects in Hong Kong have reverse ducted air conditioning system throughout which removes any moisture from the interior climate, however we do still use as many natural fibers as we can, or opt for a performance fabric like Perennials which are mold resistant, and avoid dense heavy fabrics. Equally anything that is particularly delicate or fragile should really be avoided. Plants used in moderation can also help to reduce humidity.
What's a completed recent project that you are most proud of, and why?
That's a hard one because there have been so many that I love for different reasons. Sometimes it's the style and generous budget which allows us to really push the design further, such as our very masculine and luxurious Berkley Square townhouse project, but there are certain clients that really make this job so rewarding on a personal level. We worked for many years with a family in the Isle of Man to create their long-awaited dream home. They had come from quite a modest home and worked incredibly hard so as cliché as it sounds, there is nothing quite like helping to make people's dreams come true like that.
In your opinion, do you think that the current pandemic influenced interior trends of late?
Yes absolutely, we have noticed a big shift since the pandemic in many ways. Not just relating to Covid, but just a heightened consciousness when it comes to how people are choosing to live their lives in general and therefore spend their money. Sustainability and ethics of materials and products are now at the forefront of people's minds in a way we haven't seen before.
The lack of diversity within the interior design industry has also come to light for so many of us as a result of the Black Lives Matter movement dominating over the last year. I'm very proud to be involved with a fantastic new charity called United in Design and will be offering mentoring and an apprenticeship in 2022 within our studio, along with many other leading studios in London. It's all feeling very positive and I really hope it continues.
Hong Kong homes often have limited square footage and storage, what are your top tips for styling a small space?
It's a common misconception that small spaces mean small furniture. You obviously have to be mindful of not overcrowding a space and make sure there is optimal circulation space, particularly in social spaces, however I opt for fewer pieces rather than smaller items. We often design more compact homes with bespoke pieces that can be more versatile, such as a nest of tables that can be expanded when you have people visiting, or small stools that can be pulled out for additional seating but tucked away on a daily basis. Storage is absolutely key in small spaces so every inch needs to be maximized and everything must have a place. Our joinery and kitchen designs often have sliding pocket doors that allow you to close off any clutter for a more streamline look when not in use, which can really add to the sense of space.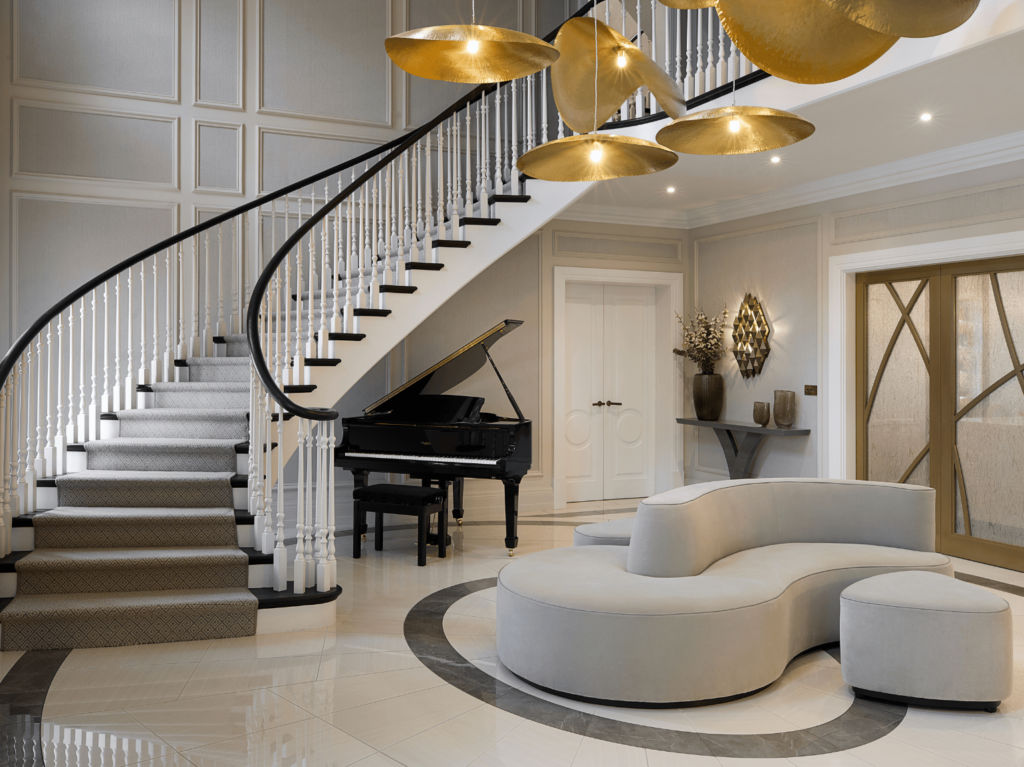 If you were designing your own home – name 5 [of your] must-have pieces or design elements.
I am actually designing my own home right now as we recently moved to a new house in the English countryside. Bespoke upholstery is a must for me using performance fabrics from Perennials because we have two young kids, along with beautiful plump cushions and high quality curtains throughout. I love lighting and I have filled the house with my favorite pieces from Visual Comfort which are giving a beautiful contemporary contrast to the more classic elements. I'm also very passionate about styling so curating the accessories and florals is always my favorite part, especially in my own home.
How do you stay true to your own style, whilst adapting to client needs and keeping it relevant to the design brief?
Whether the overall design aesthetic is classic, contemporary, masculine, or eclectic for example, you will always see our core design principles of proportion, balance and detail, as well as ensuring that each space is not only beautiful but livable. Those principles can be applied to any design style in my opinion and will naturally create a cohesive signature thread throughout your portfolio regardless of the clients brief.
You have taken on some incredible projects in Hong Kong, China, London, New York, India and the Middle East (to name but a few!), are you ever inspired by your travels?
Always! The variety of the locations of our projects these days is such a huge inspiration to us. Aaron and I almost always travel to meet the clients at the site right at the beginning of the process and spend lots of quality time with them to really immerse ourselves in the culture and experience it first-hand.
What is your number one priority when you first set out to design a project?
To create something perfect for that client. They are first and foremost our priority, because it's their home and often something they have dreamt of and worked very hard to achieve. Handing over a project to a delighted client is where we get our biggest sense of pride, because it's a great privilege to be invited into people's lives in the way we are.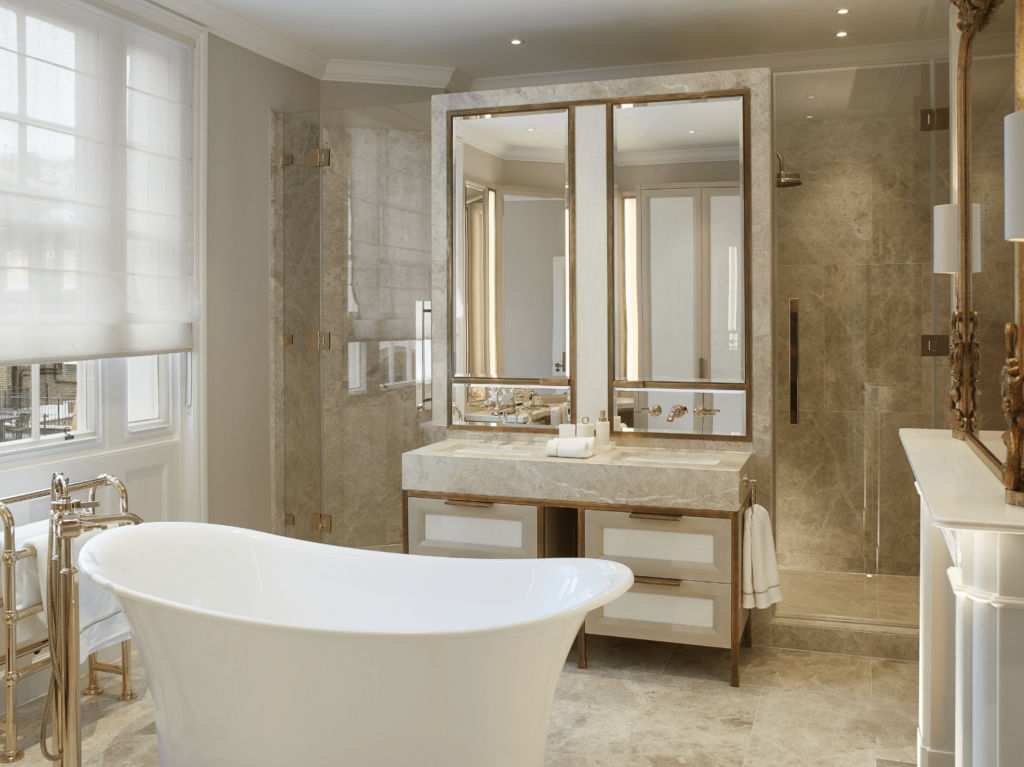 You've designed residential and celebrity homes, private apartments and even a private jet – what are your favourite projects to work on, and is there anything that would be your dream project?
Anything that is a first feels special to us because we love the process of developing our knowledge and pushing ourselves creatively. I am still dreaming of a ski chalet and have designed one many times in my head so we are poised and ready when that opportunity comes our way! We would also love to turn our hand at hospitality design but for a small boutique hotel so that we can retain our personal touch.
What did you wish you knew at the start of your career that you know now? What advice would you give to those looking to start a career in interior design and architecture?
I wish I had a bit more confidence in myself back at the start of my career. It took me quite a few years to really believe in my own design style and was too distracted by what I thought was expected of me, so often overthought things. There is of course a balance and learning need to be your key objective at the start of your career, but I always love to see junior designers come to our studio who clearly have an innate passion and confidence in what they love. That kind of passion is infectious.
What's next for you?
We have so many of great projects coming to an end as well as something very exciting launching. I can't say much more about it now but I've been working on it behind the scenes for a few years and it's been a real labour of love so I can wait to finally be able to share it!
All images courtesy of Laura Hammett