It wasn't all that long ago that you had to look hard to find anything other than Starbucks or Pacific Coffee to get a coffee fix in Hong Kong. Fortunately for the addicts among us, our city now boasts a thriving and very real coffee scene.
It's not only the coffee that's improved though, as the whole experience starts well before the first sip. The environment and ambiance is just as important — and local brewers know it, too, meaning that the way we drink coffee has been dramatically redefined. It's in that vein that we've compiled this list — the coffee spots here don't just serve a good cup (however you take your java), but are each doing their bit to add to our increasingly diverse coffee scene.
18 Grams Concept: Foodie law stipulates the inclusion of 18 Grams on any Hong Kong coffee crawl, as one of the first to bring barista coffee to the masses. From an unassuming corner in Causeway Bay, John So and his team have created a thriving mini-empire, with seven branches altogether (including the most recent opening at Wan Chai's Brim 28), encompassing the original 18 Grams and its more experimental, interactive offshoot, Coffee Roastery Lab.
What to order: The flat white at 18 Grams (HK$38) is as good as you'll get around town, and they do a fine piccolo latte (HK$32) as well. Their iced options are almost as good as their hot selections — we love their iced cappuccino (HK$47) for those lazy summer afternoons.
Why you'll be back: 18 Grams is nothing if not consistent. The relaxed, non-affected vibe of each of the stores belies the quality of the coffee on show — each site has its own house blend, which is selected according to the demographic. Causeway Bay's Black Sheep roast is smooth and creamy, while the Underdog at Sheung Wan has a good kick to it.
18 Grams Specialty Coffee, 1-3 Mercer Street, Sheung Wan, Hong Kong, +852 2327 5557
Elephant Grounds Concept: Starting off from a small coffee counter at the back of SoHo's WOAW! concept store, Elephant Grounds has expanded to become one of the trendiest coffee stops around. Locally sourced ingredients and fine Brazilian and Sumatran java are the go-to at this polished yet chilled coffee bar, while the outlet in Mid-Levels (pictured above) boasts a sophisticated brew bar to cater to coffee aficionados. On the dining side, their ice cream sandwiches need no introduction, but it's also worth exploring the all-day dining menu of breakfast items, salad, main courses and pasta.
What to order: The smoke milk affogato (HK$60) comes with a double shot of espresso and is a favourite caffeinated summer go-to. House-churned vanilla ice cream is offset by a subtle smoke infusion, meaning it's light, not too creamy, and oh so refreshing. Their latest outlet in Wan Chai also expands upon EG's frozen novelty creations, with American-style ice cream, soft serve, ice cream sandwiches, and the newest 'EG Flurry' with Hokkaido sweet cream ice cream whipped with customisable toppings.
Why you'll be back: Browse the store's super cool range of accessories and lifestyle gear while waiting for your brew — best enjoyed in Elephant Grounds' sunny alfresco spaces at both the Mid-Levels and Admiralty locations.
Elephant Grounds Mid-Levels, 61 Caine Road, Mid-Levels, Central, Hong Kong; additional branches here
NOC Concept: Originally opened on Graham Street, popular roastery NOC has since grown to seven locations around the island and counting. An acronym for "Not Only Coffee", founders Benny Leung and Sam Chan envisioned this as a space where anyone could enjoy a fantastic cup of coffee paired with hearty all-day food offerings and friendly hospitality. Minimalist, clean lines dominate each space — think smooth concrete, natural light wood and white — allowing for the focus to remain on the coffee and the food.
What to order: The house-roasted coffee is excellent, or opt for the fizzpresso — a carbonated jolt of double espresso, passionfruit, lemon juice and tonic water — for something out of the ordinary. Feeling peckish? A full brunch menu is served in The Roastery in Sai Ying Pun and the recently opened Mercury store (try the avo toast and the colorful acai bowl), with a limited menu available at the Gough Street and Graham Street locations.
Why you'll be back: Friendly staff, a fine cup of coffee and a satisfying all-day food menu to pair.
NOC, G/F, 23 Mercury Street, Tin Hau, Hong Kong, +852 3619 7500; additional branches here
Colour Brown x Phvlo Hatch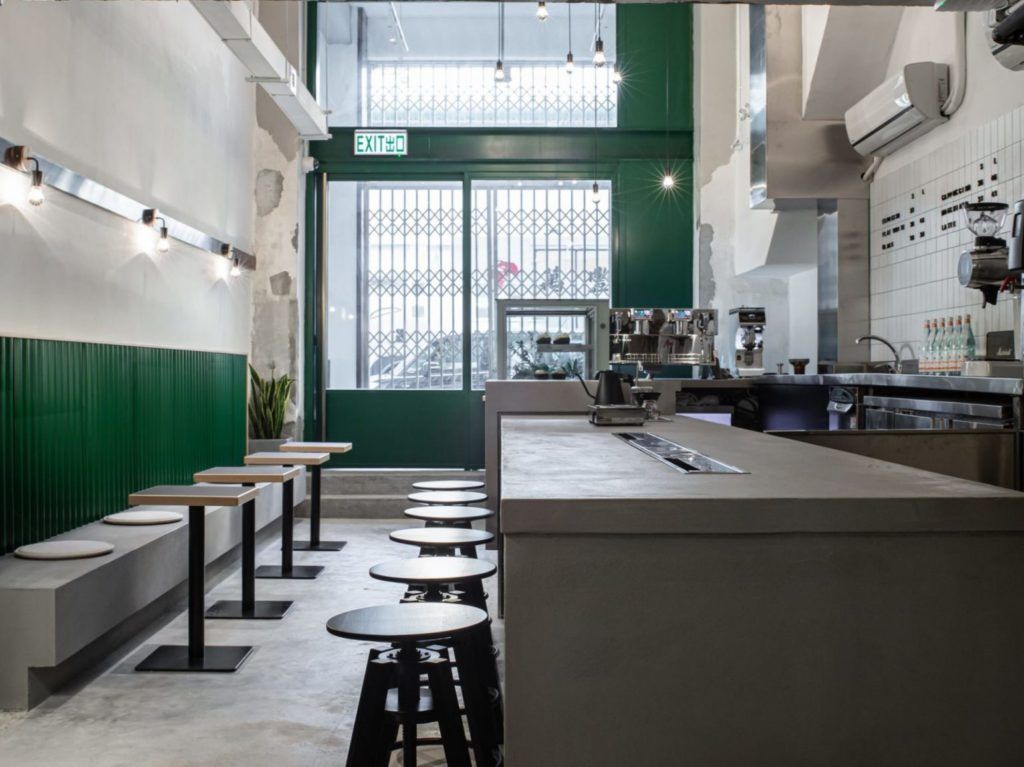 Concept: In Hong Kong, the capsule store is an essential fixture of consumer culture, with fashion brands big and small often tacking on complementary experiences involving art, music and of course coffee. The latest collaboration between Colour Brown and Phvlo Hatch does things a little differently: repurposing much of the latter's showroom space as a permanent outpost for sustainably sourced coffee and food. Clients who are visiting the remainder of the Phvlo Hatch atelier are actually obliged to pass through the cafe, which makes the most of the surrounding industrial building's towering ceilings and a photogenic postal-green staircase.
What to order: The venue's enlarged kitchen and drinks-making capacity allow for a menu that is extremely broad in terms of influence. Beyond your typical assortment of eggy breakfast food and espresso-reliant coffees, Colour Brown do a popular sideline in Hong Kong-inspired fare: this means you're able to order red bean-topped iced coffee (HK$48) with as much ease as you are the usual assortment of pastries and espresso.
Why you'll be back: Though it has a tendency toward crampedness during weekends, few venues dip their toe into as many genres of beverage as Colour Brown does with such pleasing results. Most of the drinks — from 'steamed' ice coffee to your classic pourover — are equally well-made, suggesting an experience that was intentionally designed to be weird and wonderful; and not the product of arbitrary gimmickry.
Phvlo Hatch, 9-13 Wong Chuk Street, Sham Shui Po, Hong Kong, +852 2791 7128
Omotesando Koffee Concept: It may have closed up shop in Tokyo, but Hong Kong now boasts its own outlet of the Japan capital's famed hidden coffee shop, Omotesando Koffee. A tranquil oasis to get your java fix while wandering Lee Tung Avenue's quaint pedestrian street, Omotesando exudes Japanese-style minimalism from the clean design to refined craftsmanship in the details.
What to order: Omotesando's baristas take pride in the prime ingredients and processes that go into each cup, whether it's the pour-over coffee, matcha lattes or espresso macchiato. Drinks err on the less sweet side, but you can still treat yourself on a sweltering summer day to an iced matcha cappuccino or iced cafe mocha topped with whipped cream and espresso powder.
Why you'll be back: Like other aspects of Japanese culture and cuisine, coffee brewing is an art form here, which means you're guaranteed care and craftsmanship in every cup. Plus, who could resist the famous baked 'kashi' custard squares for a sweet snack on the side?
Omotesando Koffee, Shop 24-25, Lee Tung Avenue, 200 Queen's Road East, Wan Chai, Hong Kong, +852 2601 3323
Hazel & Hershey Concept: Established in 2009 with affiliates across China and Taiwan, Hazel & Hershey is your one-stop shop for everything roaster-related: barista tools, aprons, coffee cups, and beans from boutique roasters across the region. Hazel & Hershey works directly with key brands including Kalita, Bonavita, Hario, Mahlkonig, Ditting, Anfim, Mazzer and Nuova Simonelli, and is also a training centre for aspiring baristas.
What to order: The black coffee here is on point — rich, nutty and full of flavour. The latte art is beautifully presented, and Hazel & Hershey also do one of the best versions of matcha lattes in town, without any of the overly sweet, artificial flavour.
Why you'll be back: A central location, alfresco vibes, free wifi, and plenty of coffee-related paraphernalia and tools of the trade should keep you entertained for hours at this one-of-a-kind shop.
Hazel & Hershey, Shop 3, 69 Peel Street, Central, Hong Kong, +852 3106 0760
Detour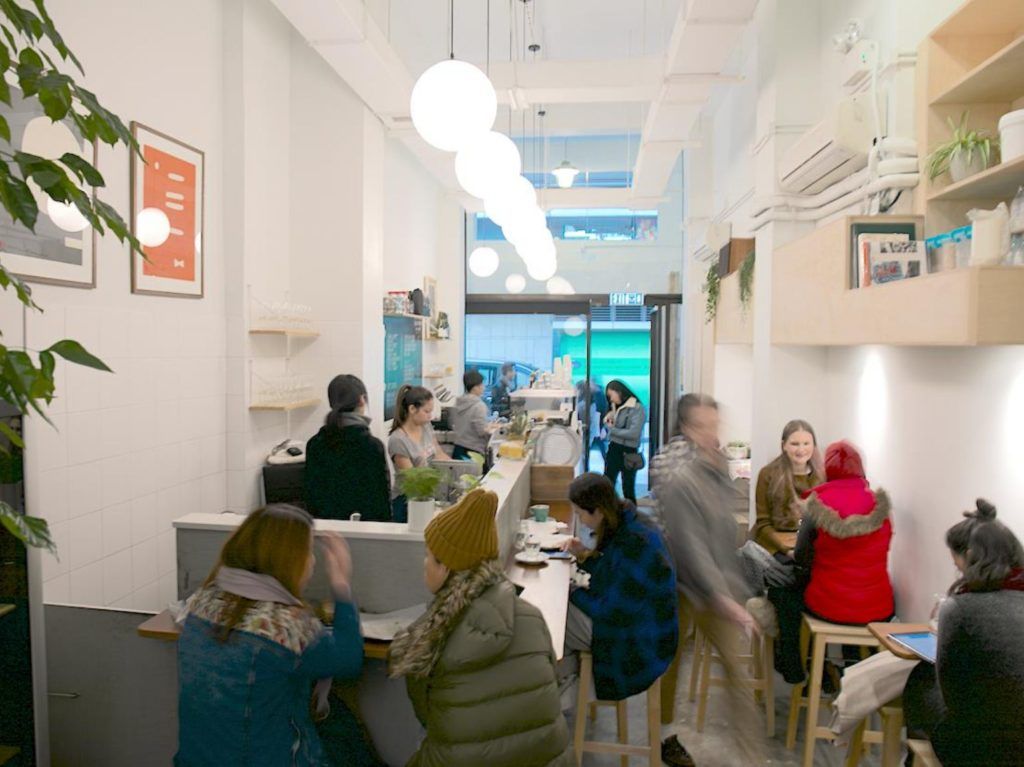 Concept: Despite having just opened an outpost (for coffee) on Queen's Road Central, we're still big fans of the original Detour — an all-day cafe and natural wine bar in Sai Ying Pun which wouldn't look amiss on the edgy streets of Hackney. Head barista Matt Cousins trained at the now-iconic Allpress Espresso in London, and is supported by his wife (and co-founder) Karen Leung, who is responsible for the shop's simple, blond wood interiors.
What to order: Cousins's resumé means you'll definitely want to give any of the espresso-based beverages a go, though we think the best vehicle for showcasing all of his accumulated expertise is something simple like a double espresso (HK$30). Coffees characterised by such leanness of form seldom give bad baristas a place to hide, whereas even the most basic properties (i.e. heat, viscosity) are brought to the fore.
Why you'll be back: Chalk it up to credentials or Matt and Karen's tireless work ethic, but Detour takes a now-cliched concept in Hong Kong hospitality (the cafe-slash-something else) and, on sheer execution alone, turns it into something satisfying. Like its wine list, Detour's food and coffee programme adheres to a simple rule that all too many cafes forget — "leave well enough alone" — and is all the better for it.
Detour, G/F, Shop A, 35-37 First Street, Sai Ying Pun, Hong Kong, +852 2759 1872
Halfway Coffee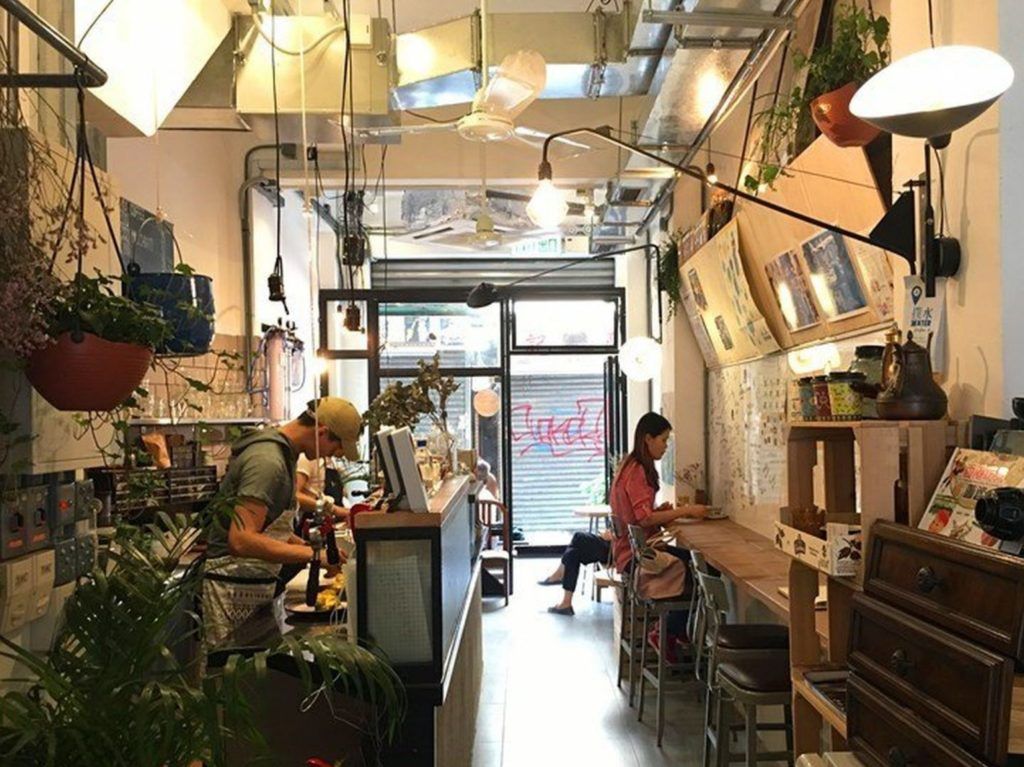 Concept: If not for the graphic presence of a huge, ever-steaming La Marzocco machine and diminutive porcelain cups — often warmed by Hong Kong's most photogenic crema — you'd be hard-pressed to even notice Halfway Coffee. The tiny hole-in-the-wall cafe is wedged into an unassuming nook of Cat Street, sharing scant real estate with the area's antique sellers and a cha chaan teng. Founder and head barista Tommy Chui is an impassioned advocate for small, independent business; and you'll see this unbridled enthusiasm for 'building a community, through coffee' in every nook and cranny at Halfway. Between bites and sips, diners are encouraged to peruse hand-written correspondence plastering the walls and a selection of literature (in English and Cantonese) showcasing memories of old Hong Kong.
What to order: We can comfortably say (without an ounce of hyperbole) that Halfway's white coffees are 'Top 3' on Hong Kong island. Chui and his baristas deftly nail the delicate balance between milk fat and coffee oil, resulting in a Flat White or Cappuccino (HK$40) that always has the requisite, immaculately-poured top that is rich in flavour but silken in mouthfeel. A couple of simple well-executed food options are also available — avo toast (HK$128) being the most substantial.
Why you'll be back: Whether you prize ambience or a high-quality coffee, Halfway Coffee is amply supplied with both. On weekdays, wait times seldom exceed 15 minutes, making this a useful spot for a midday pick-me-up; while weekends provide you with the opportunity to really soak in the area's fusty charm over brunch and a brew.
Halfway Coffee, 12 Tung Street, Sheung Wan, Hong Kong, +852 9511 7197
Knockbox Coffee Company Concept: Knockbox's mission is simple: to recreate traditional coffee house culture. Stylistically, you could describe Knockbox as utilitarian, but, for founder Patrick Tam, that's sort of the point: "We don't have comfortable sofas, we don't have plugs, we don't have wifi — we encourage people to talk and to communicate in the old way, to enlighten each other."
What to order: The Knockbox brew delivers every time, no matter your preference, and the range of beans on offer is one of the most impressive in town. Their weekly Friday night coffee premiere is a bustling and social evening where the week's new roasts are displayed — for HK$80, you get a shot glass, unlimited speciality coffee, and a more sophisticated alternative to after-work drinks.
Why you'll be back: Tam is an advocate of direct trade — ask him about his trip to Nicaragua, where he spent a week on his supplier's farm. He's even documented his travels in a self-published, hardcover photo essay, the proceeds of which, of course, go straight to the farm itself.
Knockbox Coffee Company, 21 Hak Po Street, Mong Kok, Hong Kong, +852 2781 0363; 50B Stanley Street, Central, Hong Kong, +852 27811255
% Arabica Concept: The sleek design of this spot is enough to draw in curious passers by, and once you've tried % Arabica, you'll know exactly why it has such an ardent following in and outside of Hong Kong. Their coffee comes by way of their own farm in Kona, Hawaii, thanks to owner and coffee enthusiast, Kenneth Shoji. Together with world latte art champion, Junichi Yamaguchi, and architect, Masaki Kato, he opened % Arabica's Kyoto flagship; since then, they've expanded to numerous locations worldwide, including five outlets in Hong Kong (the TST Star Ferry branch, pictured above, is a popular pre-sail stop).
What to order: Why wait patiently for your coffee when you can get to making it yourself? Choose the 'Barista Experience' (HK$50 for latte and HK$30 for espresso), and follow along as they teach you the tips and tricks to the trade.
Why you'll be back: Stylish and elegant, % Arabica is more than just a coffee shop, it's a lifestyle brand. If you love art and design as much as you love your coffee, this one's for you.
% Arabica, Shop G08, G/F, DB North Plaza, 92 Siena Avenue, Discovery Bay, Hong Kong, +852 2885 1312; more locations here
Common Ground Concept: One part indie design store, one part coffee brewer, Common Ground's eclectic, upcycled, organic vibe (check the magazine rack) has become a favourite hang out for the Mid-Levels set in the know. Founders and twin brothers Joshua and Caleb Ng are well-respected in the industry, and for good reason.
What to order: Reward yourself for the trek up the stairs (it's just below Caine Road) with a selection from the tidy little menu of comfort food, and enjoy it with a great brew — big ups to the Americano (HK$36) here.
Why you'll be back: Quality product, indie products to browse, and a perfect spot for people watching. Need we say more?
Common Ground, 19 Shing Wong Street, Central, Hong Kong, +852 2818 8318
Artista Perfetto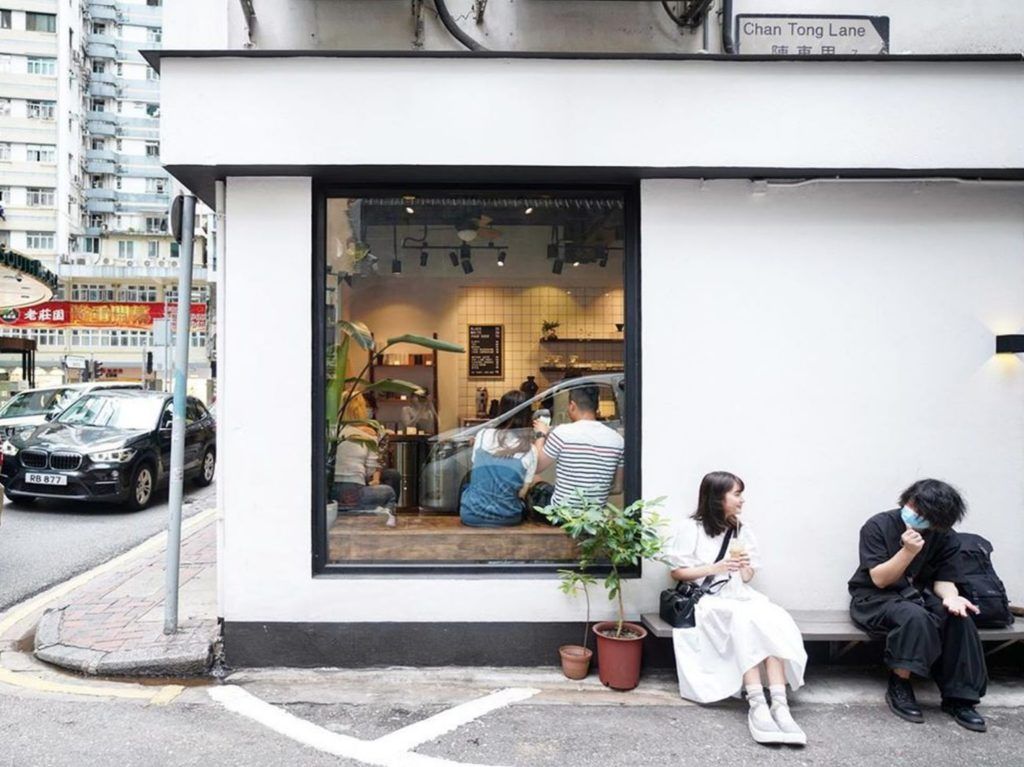 Concept: Part lifestyle store, part cafe and all hole-in-the-wall, Artista Perfetto is another in the canon of Causeway Bay's frustrating (but lovable) caffeine-based gems. Located a stone's throw from the Bowrington Road Cooked Food Centre, it's hardly the sort of joint where you'll stay for lunch and a long chat — unless, perhaps, you're one of the 100 pint-sized teenagers who pile in unceasingly at the weekend. Despite the shop's diminutive size, it's clear that the Artista team has gone big on product development, offering a substantial variety of coffees that fill the gaps between espresso, drip and pourover you never knew you needed.
What to order: If you're as incensed as us by the sugar-coated treachery of chain coffee joints (the Starbucks 'Iced Macchiato' comes to mind), then the Blackccino (HK$40) might just be the beverage to wipe the slate clean. As close as one can get to a doppio macchiato in frigid form, this Artista signature combines the clean bold flavours of an iced long Americano with the velvety texture of freshly-pulled cappuccino foam — for those days when you can't decide between black or white.
Why you'll be back: At Artista, 'serious' coffee enthusiasts who still have an intact sense of humour can have their cake and eat it too (note to self: order the burnt cheesecake). The essential black and white coffees are all undeniably good; but it's the signatures that are a little less well-defined (in stylistic terms) that tend to leave an impression.
Artista Perfetto, 3A Sharp Street West, Causeway Bay, Hong Kong
Brew Bros Concept: The coffee at Brew Bros is made with passion and delivered with care by Japanese Head Barista Hikaru Ono. A self-proclaimed professional coffee geek, Ono has been working in Japan and Australia for years, and consistently impresses with his high-quality coffee. Their beans are brought in from Market Lane, a specialty Melbourne-based coffee roaster.
What to order: Their espressos – particularly the long black (HK$28) have been well lauded. The Prana Chai tea (HK$45) is also a specialty, a blend of Ceylon black tea with cinnamon, Australian honey, herbs, and other fresh spices. They're loved for their breakfasts as well, including the smashed avocado with feta, bacon and perfectly poached eggs over toast.
Why you'll be back: Their perfectionist approach across the board, from brewing coffee to poaching eggs.
Brew Bros, Shop F2, LG/F, 33 Hillier Street, Sheung Wan, Hong Kong, +852 2572 0238
Rest Coffee Gin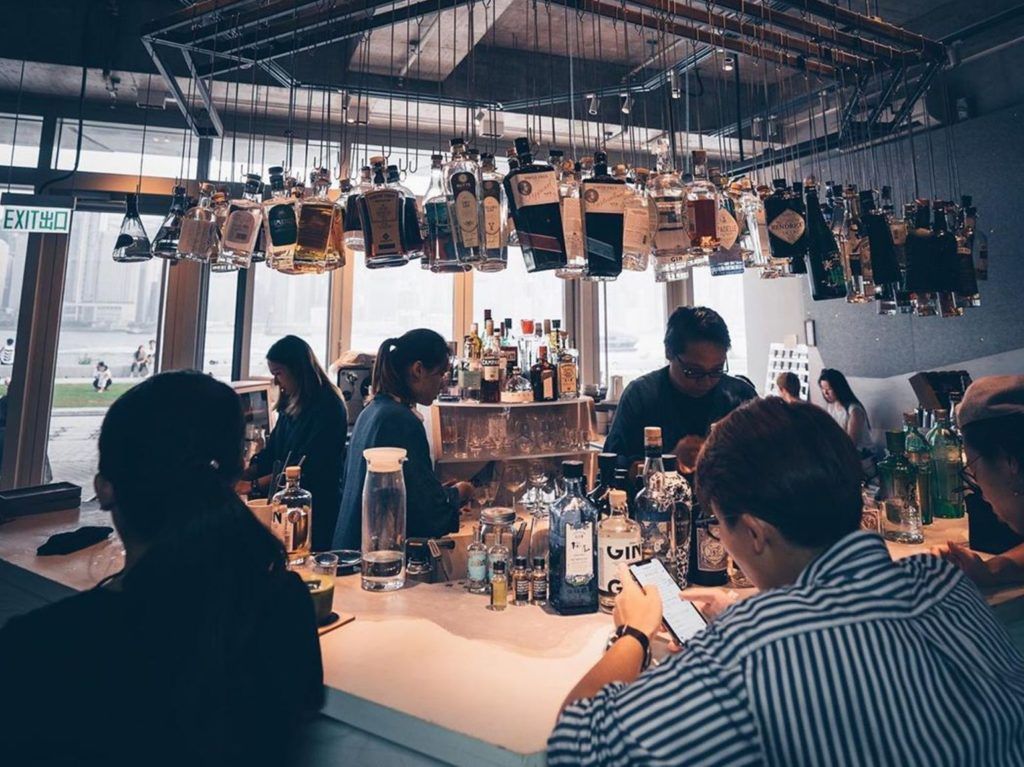 Concept: A stone's throw from M+ Pavilion and the unfolding West Kowloon Cultural District, Rest Coffee Gin is an appropriately hip union of coffee house and cocktail bar. Its founder, the noteworthy local bartender Wallace Lau, wears his predilections on the sleeve: offering specialty coffee in a tranquil harbourside setting. Come sunset, he transitions into making modern riffs on classic gin-based cocktails (i.e. the 'Moondrop', which adds a welcome dose of Taiwanese tea to the typical 'White Lady' recipe).
What to order: Beverages which navigate the intersection between coffee and mixology are a no-brainer (why try coffee or a G&T when you can have both simultaneously?). Surprisingly, the venue also offers a fairly substantial food menu: with intensely flavoured bites like the Iberian cutlet sando (HK$198) or Thai-style fried prawns (HK$88) designed to complement an evening of leisurely sipping.
Why you'll be back: Between its unbesmirched waterfront location and the surprisingly thought-out food options, Rest Coffee Gin possesses plenty of allure for those who want a compelling all-day dining option — particularly at the weekend.
Rest Coffee Gin, Shop GF-04, Art Park, West Kowloon, Hong Kong, +2697 8938
Barista Jam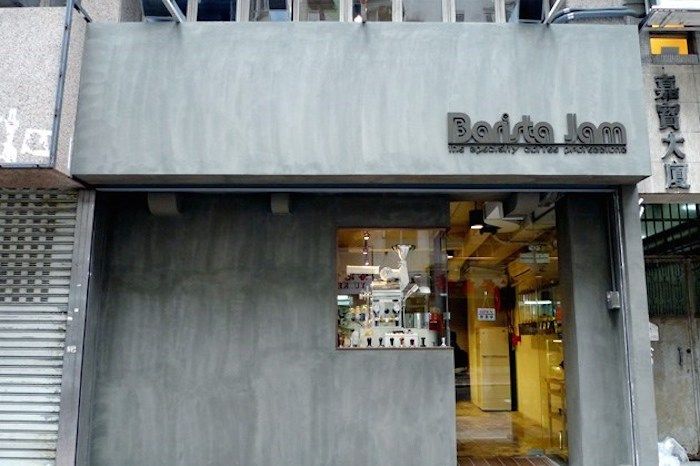 Concept: Many claim Barista Jam to serve one of the best cups of coffee in town, and we agree that it's certainly very, very good. From machine grinders to aero presses and siphon coffee makers, Barista Jam is serious about their stuff, and has the trade tools to prove it.
What to order: The latte (HK$36) is about as good as it gets, made with Barista Jam's house blend and the perfect ratio of milk to coffee. The coffee itself is rich and nutty, subtly sweet yet boasting a strong kick. Barista Jam's food offerings are also worth digging into, from creamy pastas to decked out sandwiches and sophisticated desserts on the menu.
Why you'll be back: A new two-story venue gives plenty of room for lingering and enjoying Barista Jam's worthy food and drink offerings (plus shopping the range of professional coffee equipment upstairs). With a great ambience and low prices to boot, it's no surprise that Barista Jam is one of the most popular coffee shops in town.
Barista Jam, Shop 1, G/F, 97 Jervois Street, Sheung Wan, Hong Kong, +852 2854 2211
Ralph's Coffee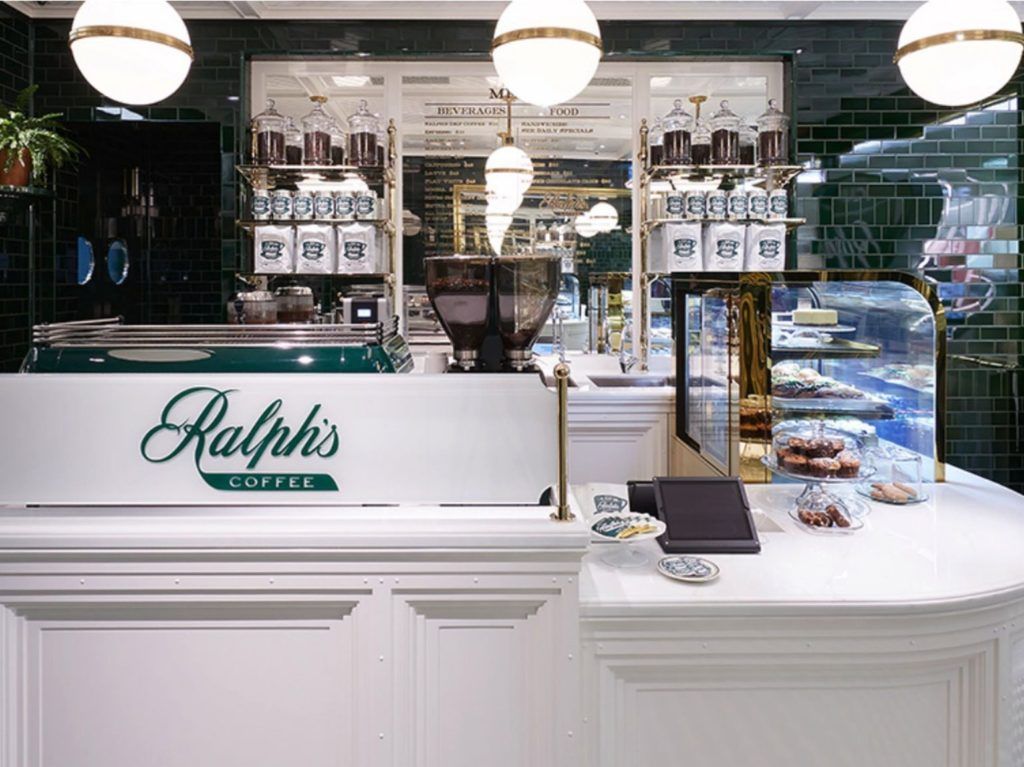 Concept: Whether it's a full-service restaurant in New York or a plummy London cocktail lounge, there's no denying that Ralph Lauren's universe is one which melds seamlessly into a variety of retail concepts that go beyond the pale of high fashion. That synergy is on full display at Ralph's Coffee Hong Kong — a diminutive outpost of the eponymous luxury brand's coffee house, inside Ocean Terminal. Given its location within Harbour City, patrons can expect little more than standing room; though the space is decorated in the signature Ralph's Coffee livery (a mixture of green tiling and patterned white floors) that should prove sufficiently entertaining for however long you're queuing.
What to order: Featuring beans by La Colombe, a variety of regular espresso-based suspects such as the latte (HK$45) are available. Ralph's make theirs on an original roast constituted from equal parts South-American and Southeast-Asian beans: these have been farmed organically and are treated especially with drip-brewing in mind, creating a cup that is balanced, silken and extremely gentle in its acidity. We're big fans of the drip coffee — that staple of North American coffee culture (if film and television is to be believed). Pair a cup alongside an assortment of cake (HK$60), pastries (HK$20) and daily sandwich specials.
Why you'll be back: If you're shopping in the neighbourhood, it's a great place to pick up caffeinated beverages that are made quickly and to a reliable level of quality; whilst fashion lovers will get a kick out of the branded coffee-making merchandise.
Ralph's Coffee, Shop OT313, Ocean Terminal, Harbour City, 3-27 Canton Road, Tsim Sha Tsui, Hong Kong, +852 2376 3936
Why 50 Concept: Exactly how many coffee beans are used in a single espresso shot? The answer lies in the name of this hipster coffee shop with soul. Their beans are roasted by coffee scientist Keith Fong of Bloom Coffee House in Macau, and made with a Slayer coffee machine – legendary in the industry for setting a new standard for craft espresso. At the entrance of Why 50 is a cement wall inviting HK artists to express their creativity, contributing to the local scene through a programme called "Book Your Wall".
What to order: The much-loved flat white "Slayer Coffee" (HK$40) – get a double shot for good measure. Also, the spicy chai latte (HK$42), which is properly made from scratch with house almond milk. Healthy eats have been much raved about include the char siu egg toast (HK$94) and the 'Rawnola' fruit yogurt (HK$58).
Why you'll be back: Their vast and unique coffee and tea selection featuring flavours from lavender and rose to lychee and berry.
Why 50, Shop E, G/F, 27 Hillier Street, Sheung Wan, Hong Kong, +852 6532 4161
Cupping Room Coffee Roasters Concept: One cannot speak of coffee in Hong Kong without mentioning The Cupping Room. Its homegrown talents have bagged multiple awards, including 2nd place in the World Barista Championship in 2014, and 1st place in the Hong Kong Barista Championship a year later. With several locations across Hong Kong (plus a charming new wine bar crossover venue overlooking SoHo, Doubleshot by Cupping Room), The Cupping Room is best known for their espressos and single origin filter coffees, which rotate weekly and are brewed to order.
What to order: The perfectly balanced filter coffee (HK$50-100) has been dubbed as one of the best in Hong Kong. Their single origin (HK$50) and competition selection espresso (HK$100) are fantastic — albeit pricey — pick-me-ups, the likes of which you'll be hard pressed to find anywhere else in Hong Kong.
Why you'll be back: Aside from their wide range of beans and standout pour-over, the range of breakfast dishes and pastas are legitimately delicious.
The Cupping Room, G/F, 18 Cochrane Street, Central, Hong Kong, +852 2511 3518
The Coffee Academics Concept: One of Hong Kong's leaders of third wave coffee, The Coffee Academics is 100% about the customised blend. Since it opened in 2012 as a sister brand of Caffe Habitu, TCA now operates a whopping 11 Hong Kong outlets (the newest is slated for August in K11 Musea), in addition to branches in Singapore, Beijing, Shanghai and Bangkok, a roasting academy and certified training centre. Needless to say, they take their coffee very, very seriously. They've been listed on The Telegraph's list of the world's best coffee shops and named one of the best cafes in Southeast Asia by various publications.
What to order: The Agave Latte (HK$55) is a must-order, served piping hot with a kick of spice. It's made with raw agave nectar from Mexico and ground black pepper – incredibly smooth and bold minus the bitterness. Another crowd-pleaser is their ice-drip coffee, which is served unusually in a wine glass along with an informational brochure – after all, isn't it all about the education here?
Why you'll be back: The creamy yet strong aromatic coffee of all kinds, from espresso to pour-over. In addition, the industrial-chic Brooklyn feel, complete with high ceilings, a hipster crowd, and that distinct air of coffee snobbery – if you're an avid drinker of the bean, you'll slot right in.
The Coffee Academics, 38 Yiu Wa Street, Causeway Bay, Hong Kong, +852 2156 0313; more locations here
Winston's Coffee Concept: Bearing a bright old school cinema sign just steps away from the Sai Ying Pun MTR, Winstons Coffee is unmissable. This friendly neighbourhood joint serves more than just excellent coffee — there's fresh-baked breads, avo toasties and even cocktails, including a smooth-as-silk espresso martini. Keep an eye out on the changing sign, which ranges from the specials of the day to cheeky phrases such as "coffee is the new black".
What to order: The chai tea latte is the real deal, bearing the unmistakable hum of ginger, cardamom and cinnamon in a richly aromatic drink. Surprisingly, these guys also make a mean cocktail — if you're in need of a stronger pick-me-up, skip the coffee and go straight for the espresso martini or the Whisky Sweet & Sour, well-balanced with a frothy white cap.
Why you'll be back: Come for the coffee, but stay for the sumptuous range of sandwiches and sweet baked goods, cocktails, late-night service and friendly vibes. Their second branch in Kennedy Town is just over a year old now, and really starting to hit its stride, easily accessible just a few minutes' walk from the MTR.
Winstons Coffee, 213 Queens Road West, Sai Ying Pun, Hong Kong, +852 2559 5078; Shop 8, The Hudson, 11 Davis Street, Kennedy Town, Hong Kong, +852 2697 1878