Got an afternoon to spare? A special someone to impress this Valentine's? Here are some of Hong Kong's best afternoon tea sets to savour.
Taking part in that decadent ritual of enjoying afternoon tea — long, blurred hours spent chittering, full of laughter over shared anecdotes with close friends — is one of those moments that imparts a glamorous feeling of luxury, found in either newfound bonds, savouring tiny, bijouterie-like patisseries, or both. Fortunately, this little life's luxury has mostly been undeterred by wavering dining restrictions, with the pleasure of homemade scones and delectable parcels abound at our fingertips.
With that, pinkies up and take a smooth sip out of that pretty china teacup, here are the best afternoon tea sets to spend slow afternoons.
The Ritz-Carlton x Qeelin Jewellery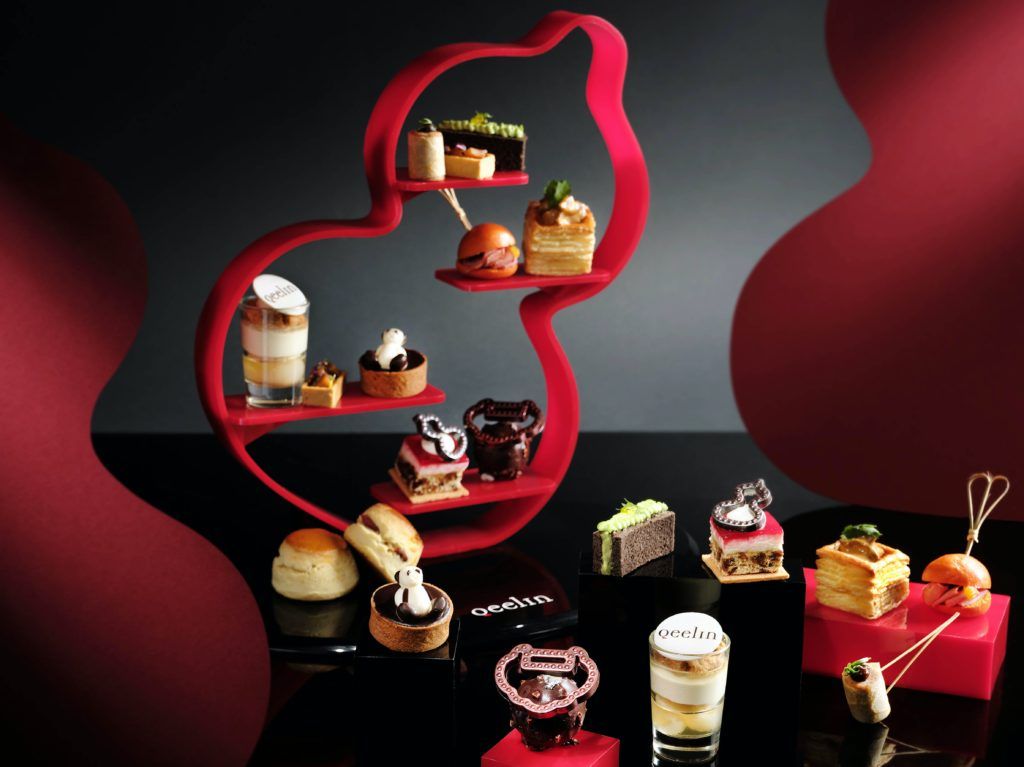 Sharing a similar sense of appreciation for Chinese culture and arts, Qeelin Jewellery — purveyor of tradition art-inspired pieces — and The Ritz-Carlton Hong Kong — home to an impressive archive of traditional Chinese art, including a 'Horse Galloping Across the Sky' painting in the hotel's reception — comes together for a 'Red is for Romance' afternoon tea set (HK$698 for two) in celebration of both Chinese New Year and Valentine's Day. 10 delectable finger-sized bites take after typical Chinese dishes, including abalone and mushroom tartlet, red date cake and chilli chocolate red bean tart. Decorated upon sculptural stands, which also doubles as a steadfast dedication to the jeweller's popular Wulu collection with a gourd-like structure or the newly designed Yu Yi collection in a longevity lock shape.
Details: The 'Red is for Romance' afternoon tea set (HK$418 for one; HK$698 for two; prices vary from 12 February to 15 February) will run from 1 February to 31 March at The Ritz-Carlton Hong Kong's Café 103.
Café 103, Level 103, The Ritz-Carlton Hong Kong, 1 Austin Road West, West Kowloon, Hong Kong, +852 2263 2270
K11 Musea 'Terrasse de Verre'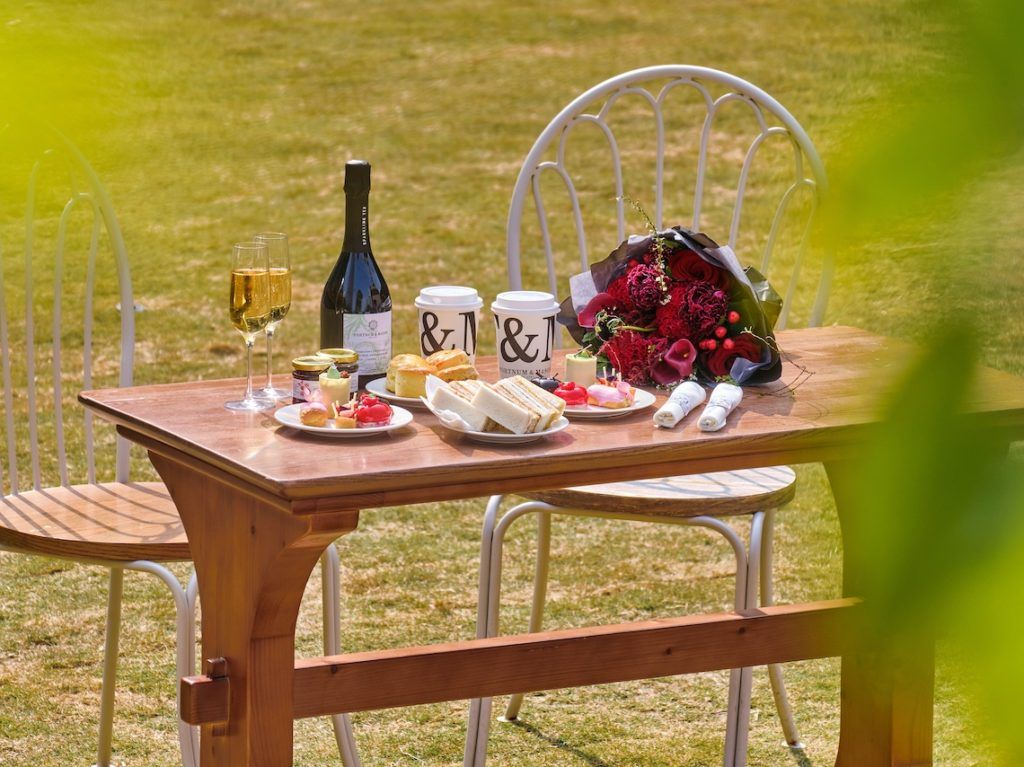 Afternoon tea under the sun is delightful. But afternoon tea on a photogenic French terrace is truly magical. Forever memorable. Forget the red-eye flight and ferry over to Tsim Sha Tsiu instead, as K11 Musea has transformed the Bohemian Garden into an elegant Terrasse de Verre. Stroll around the scenic greenery, pop into the floral greenhouse run by Blooms & Blossoms and fully play the part of a well-travelled Parisian with al fresco dining, bistro-style. Serving a Fortnum & Mason afternoon tea set, sip and savour a delicious sparkling tea, savoury finger sandwiches, sweet patisseries and the brand's celebrated scones — clotted cream with classic strawberry preserve included. The perfect backdrop for romantic first dates, tête-à-tête with dear friends, and a sweet escape from the city.
Details: The Terrasse de Verre al fresco dining (HK$1,980 for two) will run from 2 February through 14 March every Tuesday to Sunday. Bookings can be made here.
Bohemian Garden, 7/F, K11 Musea, Victoria Dockside 18 Salisbury Road, Tsim Sha Tsui, Kowloon, Hong Kong, 3892 3890
Kowloon Shangri-La x Crabtree & Evelyn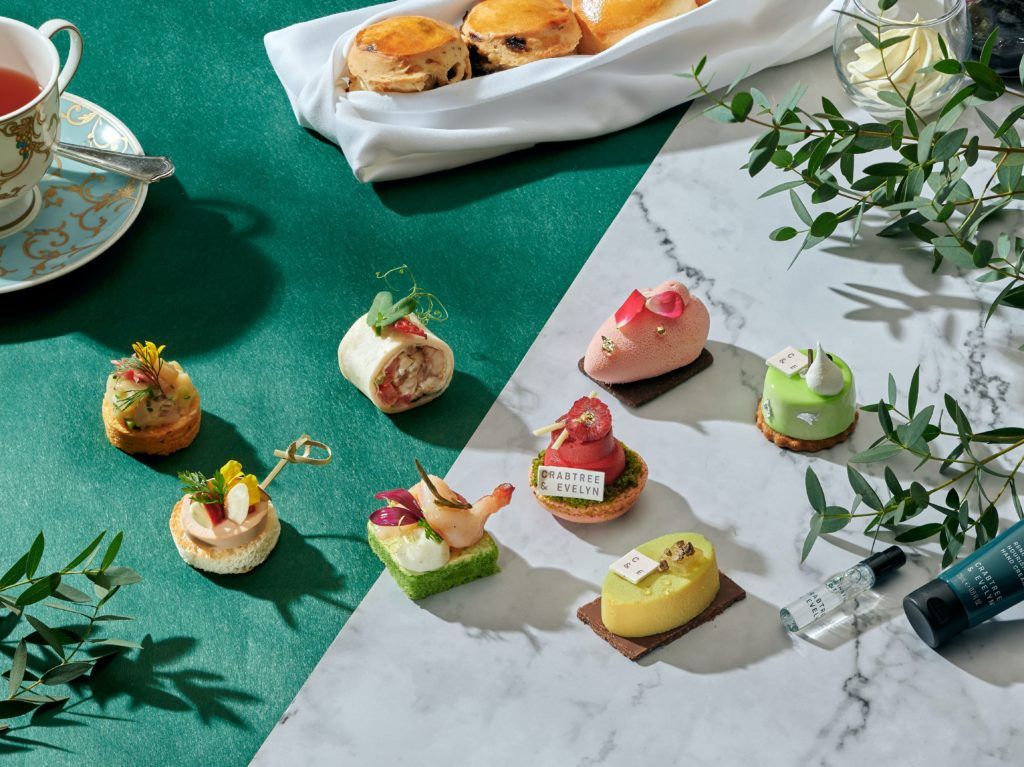 Upcoming festivities aside, there always a moment spared for a well-deserved prim and pamper. At the Kowloon Shangri-La, the 'Dare to Be Different' afternoon tea (HK$638 for two) will be a delightful way to recharge. Created with and inspired by Crabtree & Evelyn's signature skin-rejuvenating products, the set is a considered selection of sweet and savoury bites made with antioxidant-rich ingredients — rose, apple, bergamot, açai, goji, coconut, and sandalwood, the exact ones also infused in the body-care brand's 'Evelyn Rose', 'Crabtree' and 'Bali' collection. Try the vanilla rose macaron or rose lychee quenelle, a most light and delightful midday treat.
Details: The 'Dare to be Different' afternoon tea set (HK$638 for two) will run from now through 31 March at the Kowloon Shangri-La's Lobby Lounge.
Lobby Lounge, Lobby Level, Kowloon Shangri-La Hong Kong, 64 Mody Road, Tsim Sha Tsui East, Kowloon, Hong Kong, +852 2733 8988
The Butterfly Room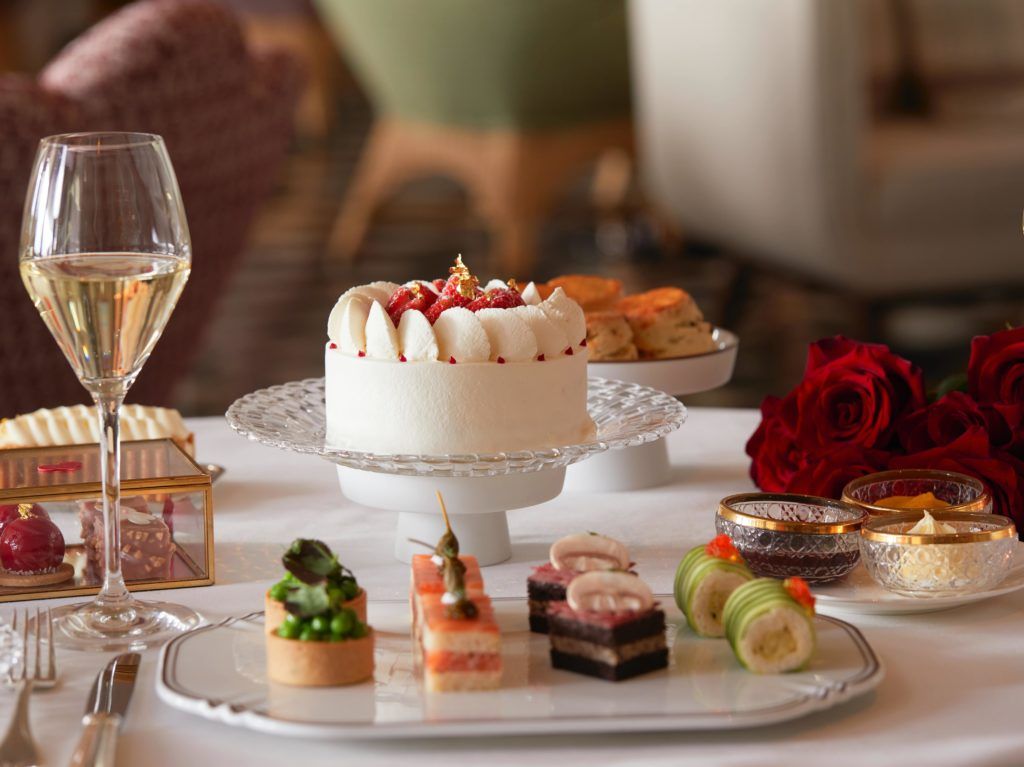 Rosewood Hong Kong's The Butterfly Room is a location steeped with such elegance that upon first sight hearts will flutter and visitors will swoon. The true intentions of Valentine's Day. With the location already setting the right mood, the tea room's refined bites will then be the proverbial cherry on top of a most romantic celebration. The delectable afternoon affair features a glamorous set-up of decadent savoury sandwiches and vol-au-vents along with delicate sweet confections — the vanilla mille feuille and grand Japanese strawberry chiffon cake are amongst our favourites.
Details: As of writing, dine-in reservations for The Butterfly Room Valentine's Day afternoon tea set is at full capacity. A takeaway set with a similar offering is available (HK$728) in limited quantities here.
The Butterfly Room, Rosewood Hong Kong, Victoria Dockside, 18 Salisbury Road, East Tsim Sha Tsui, Kowloon, Hong Kong, +852 3891 8732
Hue Since the first afternoon tea debut last April, modern Australian restaurant Hue has become a raving afternoon tea hotspot — courtesy of the sweeping harbour-side vantage. A brand new revamp on the menu (HK$680 for two), the renewed selection continues an honest showcase of the eatery's classic Australian-inspired flavours. Among house-made scones, sample an exciting sweet-and-savoury selection that features Furikake-seasoned octopus skewers, Gruyère custard puffs, devilled quail eggs on toast, lemon curd tartlets and matcha lamingtons. For Chinese New Year celebrations, a limited selection of chorizo-loaded radish cake and a red velvet cake with red dates and cream cheese will also be available.
Details: Hue's afternoon tea set (HK$680 for two) is available on weekends and public holidays only.
Hue, 1/F, Hong Kong Museum of Art, 10 Salisbury Road, Tsim Sha Tsui, Kowloon, Hong Kong, +852 3500 5888
Ying Jee Club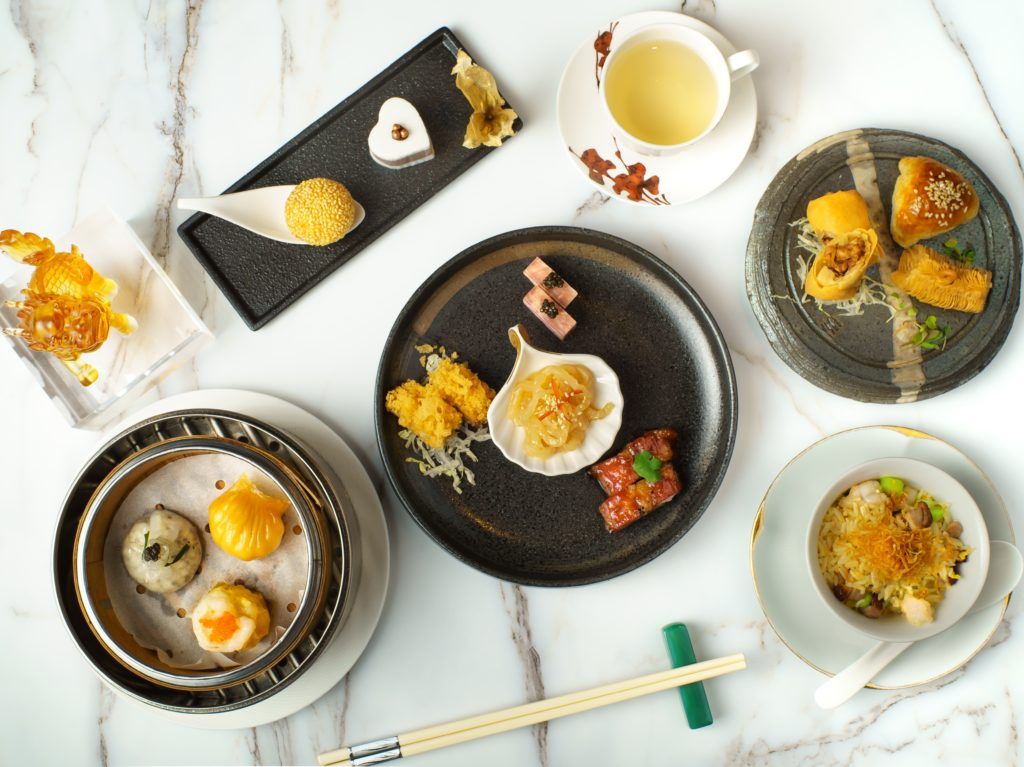 Persisting 6pm dinner restrictions has rendered many new and innovative dining alternatives, in many cases, moving menus up to mid-afternoon. Two Michelin-starred Ying Jee Club follows suit with the launch of an afternoon tea set showcasing the Cantonese fine-dining's culinary finesse. An elevated edition of the traditional Sunday dim sum, the menu (HK$328 for one) is curated selection of fried and steamed dim sum, crowd-favourite appetisers, a choice of mains and two desserts.
Details: Ying Jee Club afternoon tea set (HK$328 for one) is available from Monday through Sunday.
Ying Jee Club, G05, 107 & 108, Nexxus Building, 41 Connaught Road Central, Central, Hong Kong, +852 2801 6882
Four Seasons Hong Kong x Miyazaki Prefecture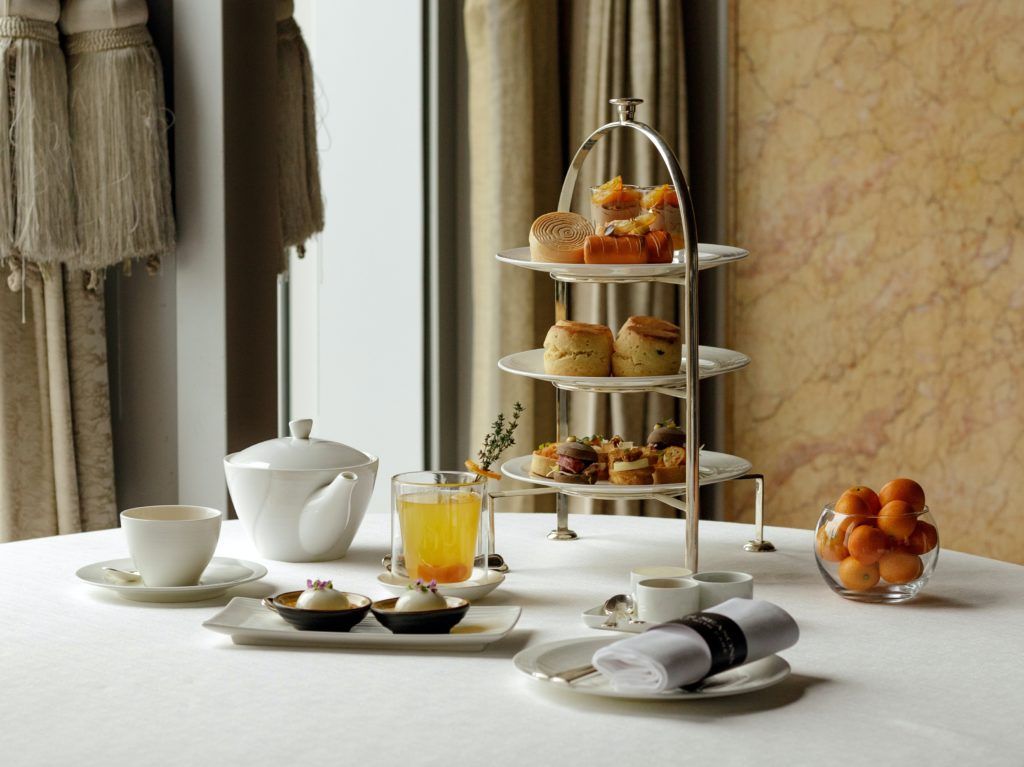 It's an ode to the prized Tama Tama kumquats native to Kyushu's Miyazaki prefecture at The Four Seasons Hotel Hong Kong. Under the discerning direction of executive pastry chef Ringo Chan, the seasonal Japanese fruit is thoughtfully infused into an afternoon tea set serving a myriad of small bites that complement the sweet-tanginess of the golden fruit. Begin with the signature scones served with kumquat jam, and continue through the sweet and savoury platter of kumquat parfait Monaka, foie gras and kumquat-yuzu jelly mille feuille and a Balik salmon tartare shaved with kumquat zest.
Details: The 'Kumquat Afternoon Tea' set (HK$308 for one; HK$588 for two; prices vary for weekends and public holidays) will run from now through 28 February at The Four Seasons Hong Kong's The Lounge.
Update: The afternoon tea set have been extended to the Executive Club with free-flow prosecco (HK$888 for two).
The Lounge, G/F, Four Seasons Hotel Hong Kong, 8 Finance Street, Central, Hong Kong, +852 3196 8820
Madame Fù x Paul & Joe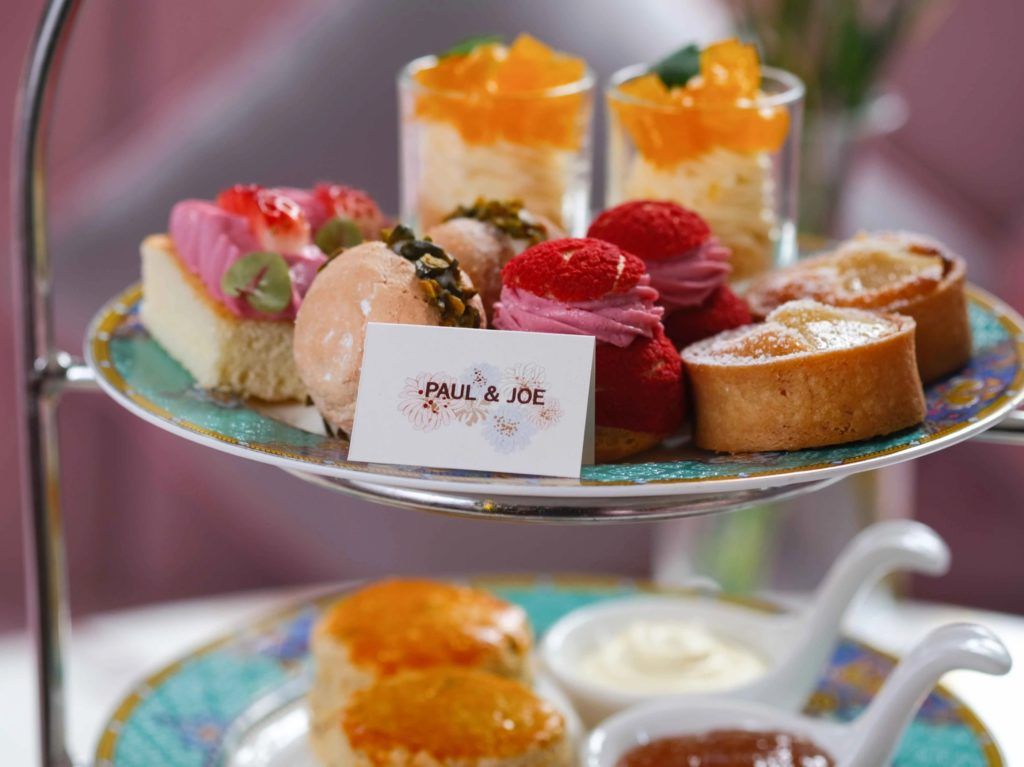 Daydreaming of springtime in Paris, Madame Fù joins Parisian brand Paul & Joe for a luxurious rendition of the traditional 'Le Goûter' — the French alternative to British afternoon tea. Settled in the Cantonese eatery's elegant surrounds, the 'Picnic in Spring' menu is a decadent selection of French-inspired sweet and savoury petit fours. Nibble on the framboise-rose choux, pear tartlet and lemon pistachio dacquoise with sips of the speciality 'Afternoon Sunshine' cocktail — a vodka-based tipple blended with oranges and osmanthus — in between. All in all, a wonderful time spent for lazy afternoons.
Details: The 'Picnic in Spring' afternoon tea set (HK$338 for one; HK$550 for two) is available from Tuesday through Sunday.
Madam Fù, 3/F, Block 3, Tai Kwun, 10 Hollywood Road, Central, Hong Kong, +852 2114 2118
Fortnum & Mason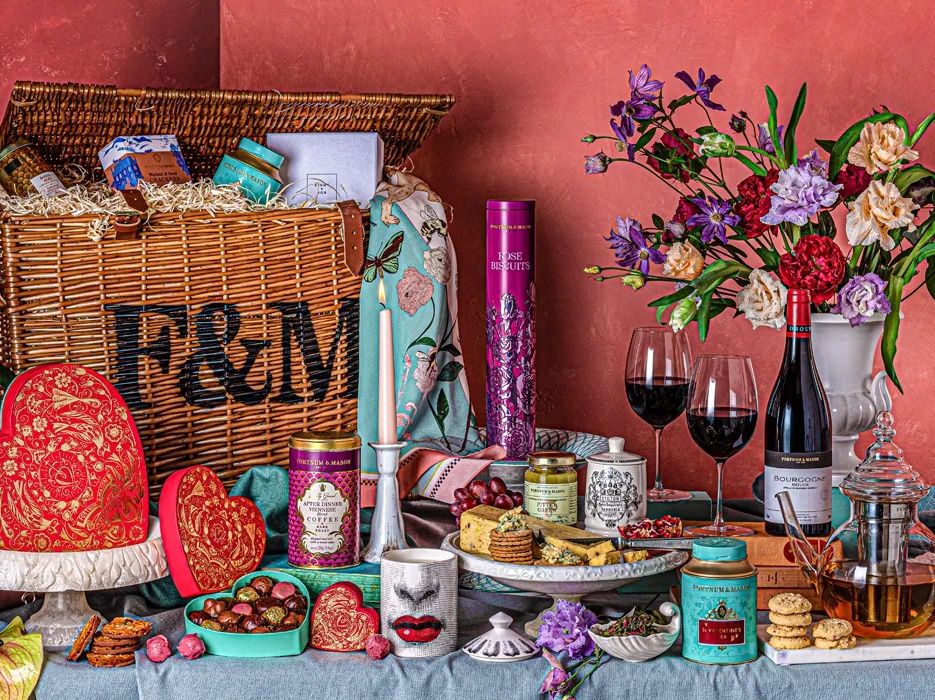 Should your idea of a perfect afternoon tea consist of being outdoors, in the sun and on a pretty checkered picnic blanket, then Fortnum & Mason's renowned hampers is the set for you. Choices are aplenty, options endless. For Chinese New Year, the British luxury foods brand curates a range of bespoke hampers for the Year of the Ox with feng shui designer, Theirry Chow. Each of the baskets are designed to address four prosperous wishes, so should you be hoping for love, family, career or friendship in the upcoming new year, these are ones to pick. Alternatively, if you're looking to impress for Valentine's Day, a plethora of hampers customised down to every nuance is arranged to celebrate all kinds of love — infatuation with chocolates, a passionate dedication to fine wine, or simply, adoration for a loved one.
Details: See the Chinese New Year hampers available here and the Valentine's Day selection here.
Fortnum & Mason, Shop 022, G/F, K11 Atelier, Victoria Dockside, 18 Salisbury Road, Tsim Sha Tsui, Kowloon, Hong Kong, 3916 8181