Pen and paper at the ready, here are the Christmas dinners and takeaways worth noting down for the upcoming holidays no matter how you're planning to celebrate — staying in or dining out.
All we want for Christmas is a little time to unwind from this year's trials and tribulations — hopefully knee-deep in hot chocolate and mulled wine. However, with ever-changing dining restrictions and a yet unstabilised pandemic situation, our plans for the warmest celebratory dinner of the year remains a question mark, until now.
In this leviathan of a list, there's something for every craving: We cover everything from classic Christmas spreads to something different, to excellent takeaway options to lighter, feel-good options thrown in for good measure.
Rules and regulation in light of COVID-19 restrictions are ever-changing. As usual, please contact the restaurants prior to visiting.
Takeaway Menus
Yakunikumafia Swap the roasted bird for Ozaki Wagyu this holiday season with Yakinikumafia's signature grilled morsels at home, with a takeaway menu fit for two (HK$2,080) or four (HK$3,280). The menu features fatty, medium and lean cuts and a full rib-eye from the restaurant's premium selection. Accoutrements include fresh Goma sesame salad, truffle salt edamame and a refreshing Yuzu IPA to help offset the well-marbled meat. An Iwatani gas grill can also be included at an additional HK$600, which guests can keep afterwards.
Delivery/Takeaway details: A limited takeaway bundle including the 'Chateaubriand' long-sleeved T-shirt are available for both the menus for two (HK$2,080) or four (HK$3,280), while stocks last.
Yakinikumafia, 2/F, Hollywood Centre, 233 Hollywood Road, Sheung Wan, Hong Kong, +852 3015 1250
Smoke & Barrel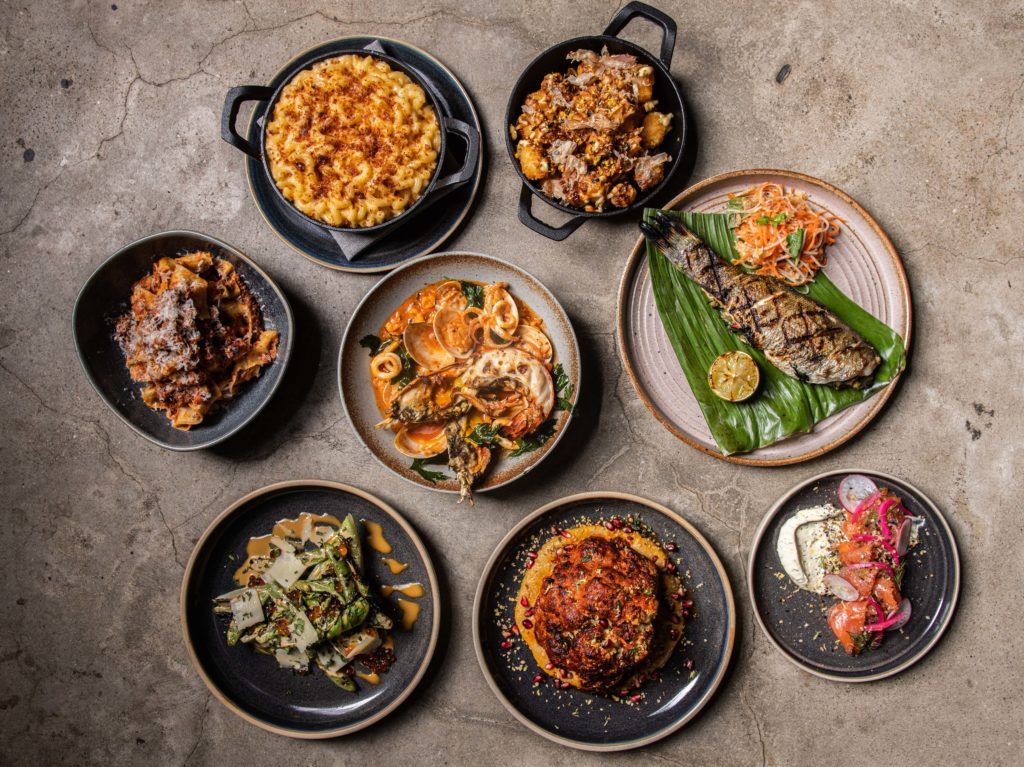 In this season of giving, American barbecue smokehouse Smoke & Barrel is delivering the gift of a hassle-free Christmas dinner with a takeaway turkey menu (HK$1,888) fit for six to eight people. The 5-6kg bird is smoked in-house in the restaurant's signature wood-fired, 'The Beast' smoker and comes with a selection of sharing sides including mashed potatoes and honey roasted pumpkin. Top it all off by digging into classic pecan pie and a sip of the complimentary bubbly.
Delivery/Takeaway details: The takeaway menu (HK$1,188) serves six to eight people and is available now till 26 December. Orders must be placed 48 hours in advance at hello@smokeandbarrel.com.
Smoke & Barrel, 1/F & 2/F, Wyndham Mansion, 32 Wyndham Street, Central, Hong Kong, +852 2866 2120
Black Sheep Restaurants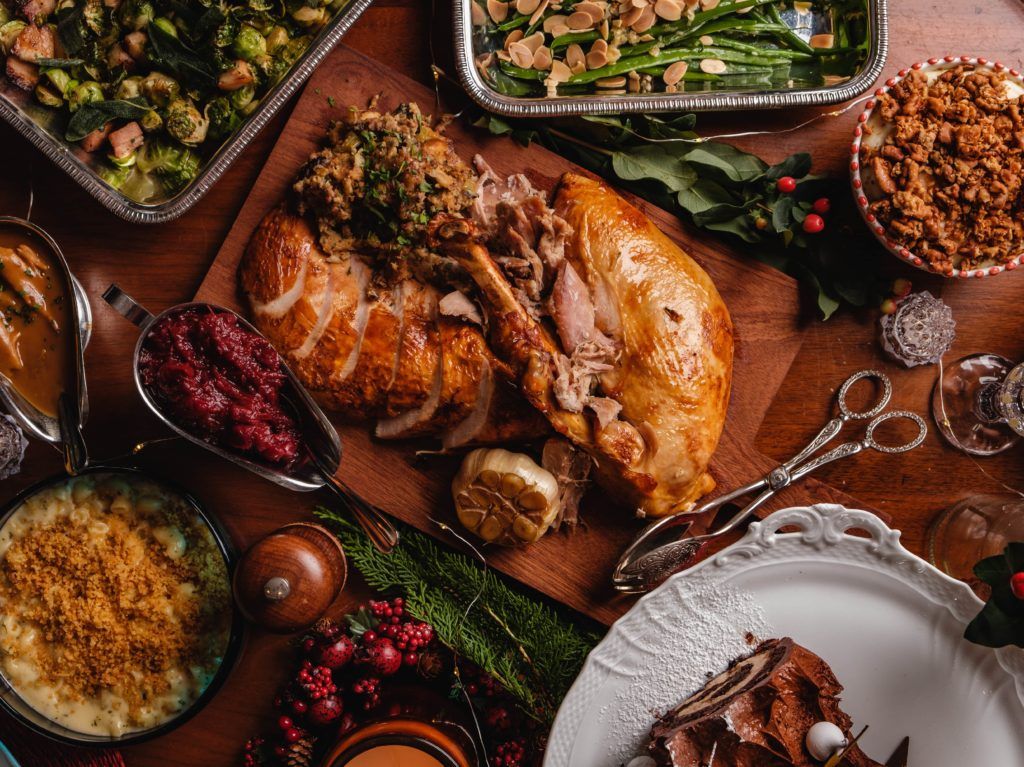 For those planning a holiday feast at home, Black Sheep Restaurants is offering 'Christmas Delivered' a menu curated by Carbone's chef Braden Reardon, with customisable portion sizes — feeding groups as small as two. Priced at HK$498 per person, it's a rather generous feast, featuring either sliced oven-roasted turkey breast with spiced cranberry sauce and gravy, or spice-glazed Christmas ham. Served with all the fixin's such as roasted Brussels sprouts with bacon and sage; green bean almondine; fontina and provolone mac and cheese, mashed sweet potatoes; root vegetable gratin and Parker House rolls with maple butter. For dessert, baked apple crumble or a rich chocolate and chestnut Yule log round off a merry meal.
Delivery/Takeaway details: The at-home menu (HK$498 per person) is available 24–26 December. Orders can be placed at delivery@blacksheeprestaurants from now until 18 December.
Bayfare Social Gastro-market Bayfare Social has whipped up a festive takeaway menu transporting the lively atmosphere of the Rosewood Hotel mainstay into your home. The menu is prepared with tasty tapas-inspired bites made to be shared, including bourbon-cured salmon with fennel, pickled apple and sour cream (HK$180); lobster linguine with plum tomato and fragrant XO sauce (HK$320); and a bone-in ribeye, served with roasted garlic buds and watercress. For after-meal sweets, the Pavlova with berries and vanilla orange cream (HK$110) will be a refreshing finishing touch after a hearty feast.
Delivery/Takeaway details: Orders can be placed at hongkong.restaurants@rosewoodhotels.com
Bayfare Social, 5/F, Rosewood Hong Kong, Victoria Dockside, 18 Salisbury Road, Tsim Sha Tsui, Hong Kong, +852 3891 8732
22 Ships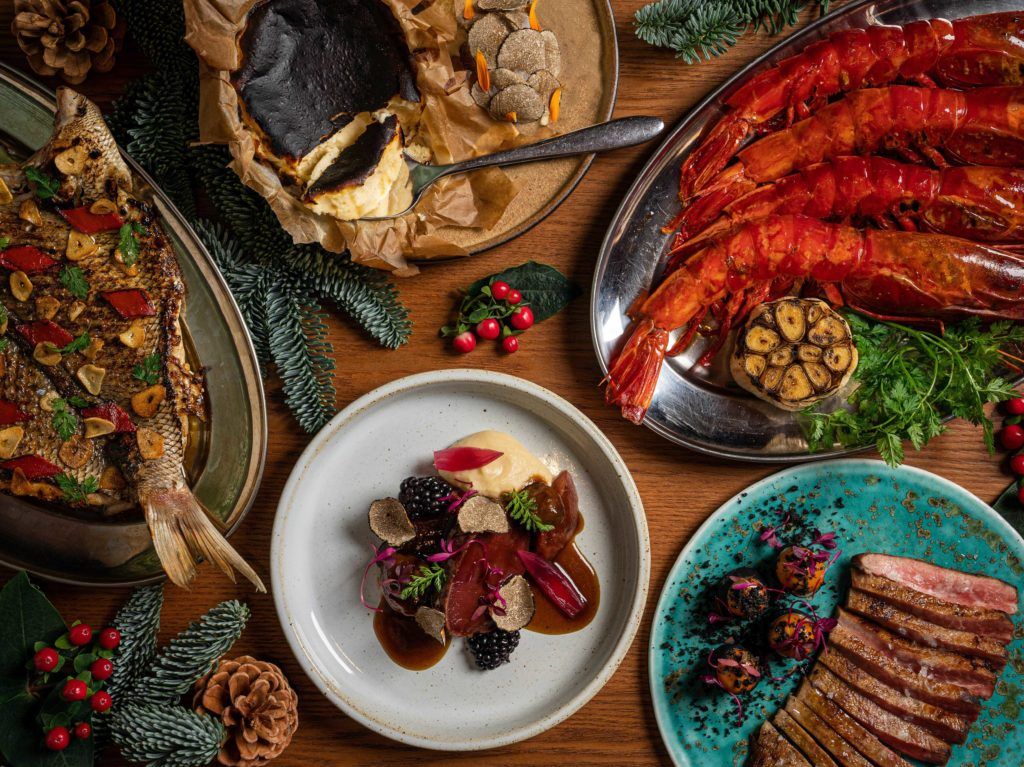 When it comes to feeding a picky bunch, small plates of lots of everything is a surefire way for a successful Christmas meal. Recently revamped tapas bar 22 Ships offers a solution with its holiday takeaway menu (HK$3,098), designed for a party of four and packed with flavours for everyone. Dig into the tender Manchego lamb shoulder; besugo red snapper with piquillo peppers, and grilled XXXL carabineros shrimp, before finishing off with the season's most popular burnt Basque cheesecake. Add-ons including a whole suckling pug are also available for extra-hungry guests.
Delivery/Takeaway details: The festive set for four (HK$3,098) is available through 31 December and can be ordered via Jia Everywhere delivery service.
22 Ships, 22 Ship Street, Wan Chai, Hong Kong, +852 2555 0722
Classic Christmas flavours
Chesa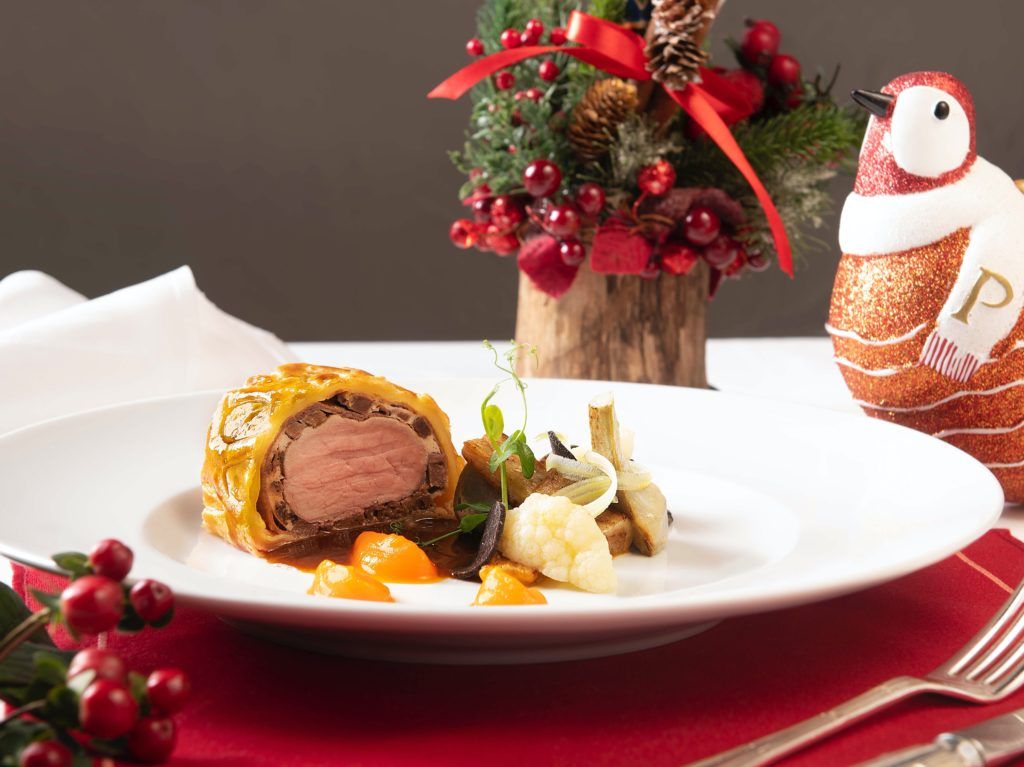 Instead of cycling through the mood-dampening reality of no overseas travel again, set your sights on local escapades — especially ones that point you towards superb dining. At The Peninsula, the holidays are always set full swing with its beautifully ornamented Christmas tree and decadent gingerbread village. Top off the merry mood with an intimate meal at Swiss eatery Chesa, fashioned after a cosy ski chalet tucked under snow-capped mountains. The Christmas Eve dinner (HK$1,888) and Christmas Day lunch (HK$648) dishes up a series of steadfast holiday classics: Milk-fed veal Wellington stuffed with mushroom and truffle, traditional Christmas pudding drizzled with Cognac sauce and served with a dollop of vanilla ice cream; rounded off with chestnut and cranberry log cake with Swiss meringue and rum-raisin ice cream.
Chesa, 1/F, The Peninsula, 19-21 Salisbury Road, Tsim Sha Tsui, Hong Kong, +852 2696 6769
Harbourside Grill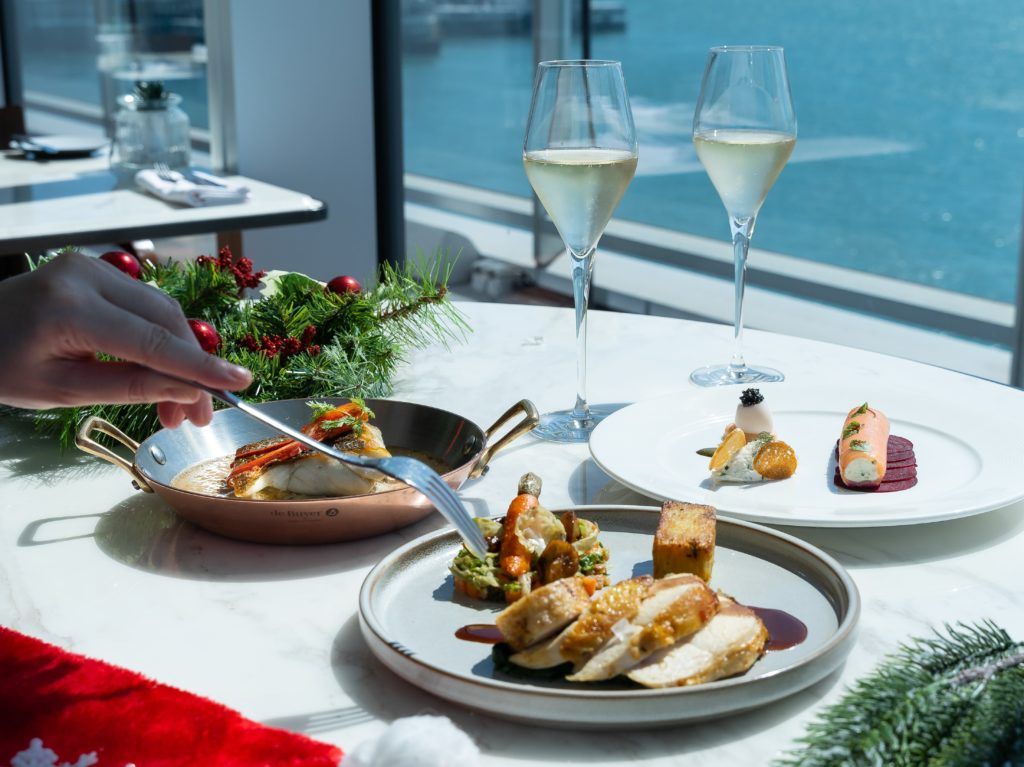 Over at Harbourside Grill, the Christmas menu (HK$448 for lunch, HK$648 for dinner), available from 24 to 26 December, is served along the unbeatable panoramic vantage point over Victoria Harbour. It's packed with all the festive delights: Seared foie gras and confit duck leg with poached quince, lobster bisque, and executive chef Armand Sablon's most-memorable Christmas dish from his childhood — classic French roasted capon chicken served with Koffman's cabbage and truffle sauce.
Harbourside Grill, Shop OTE401, Level 4, Ocean Terminal, Harbour City, 3-27 Canton Road, Tsim Sha Tsui, Hong Kong, +852 2619 9100
208 Duecento Otto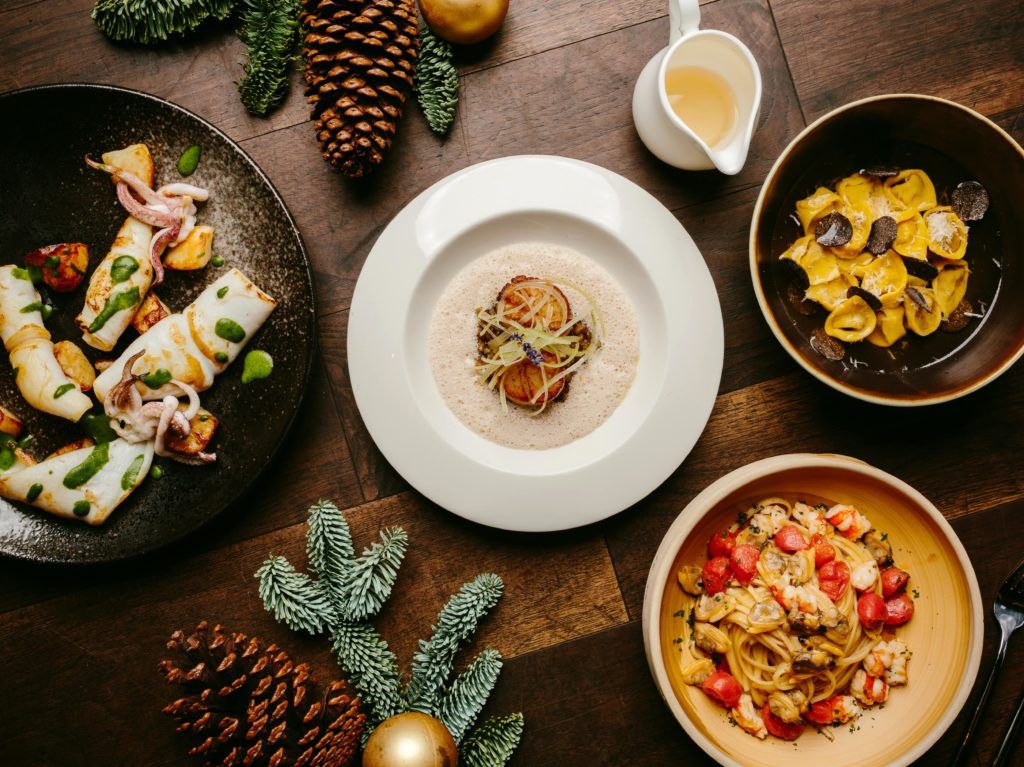 Celebrating its 10 year anniversary, 208 Duecento Otto unveils a brand new look to accompany its hearty and homey Italian fare. The special Christmas menu is a showcase of the many traditional meals shared and eaten by Italian gastronomes on the particular holiday, and features familiar dishes like small cappelletti pasta cooked in chicken broth and sprinkled with generous helpings of Parmigiano Reggiano and black truffle (HK$198), as well as pan-fried squid served with a fresh herb sauce (HK$378).
208 Duecento Otto, 208 Hollywood Road, Central, Hong Kong, +852 2549 0208
Prohibition Grill House & Cocktail Bar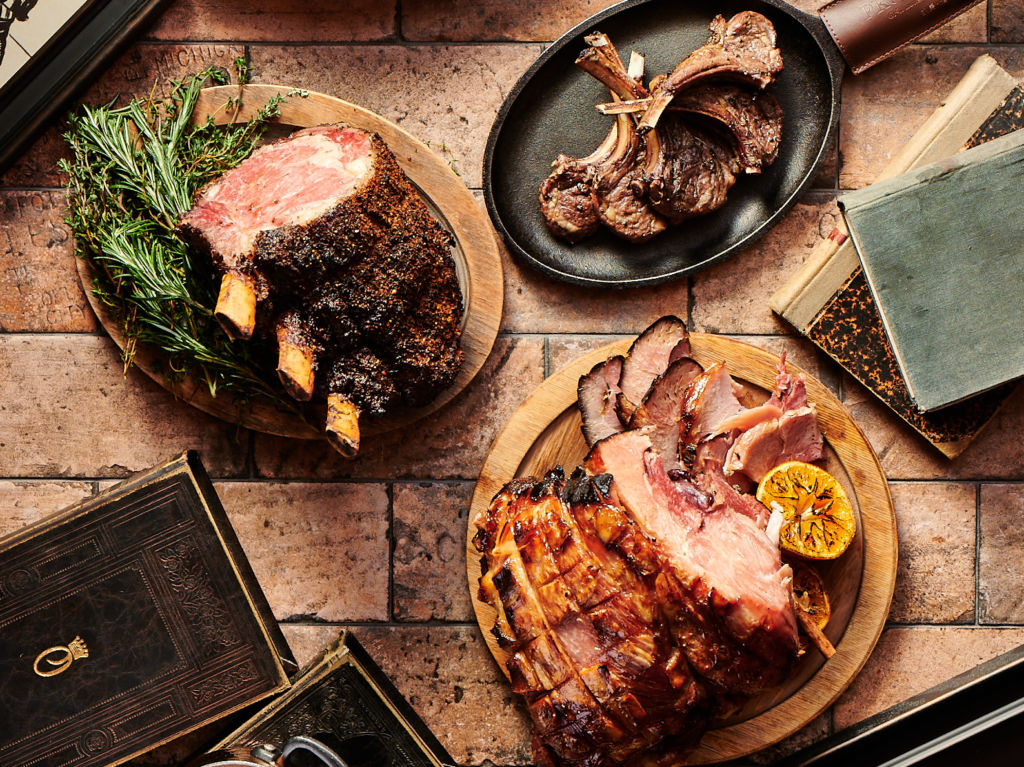 Holiday season brings together all kinds of diners, but to satisfy all palates, check out Prohibition Grill House & Cocktail Bar's classic holiday buffet (HK$588 for lunch, HK$998 for dinner), available from 24 to 31 December. Starting with a seafood platter stacked with fresh Maine lobster, mussels and more, the menu also includes a carving station with a selection of roasted and seared meats including USDA prime rib and Christmas ham. Continuing onto dessert, the chef's seasonal picks will surely round off a delightful festive meal.
Prohibition Grill House & Cocktail Bar, G/F Club Wing, Ocean Park Marriott Hotel, 180 Wong Chuk Hang Road, Aberdeen, +852 3555 1900
Something different
COBO House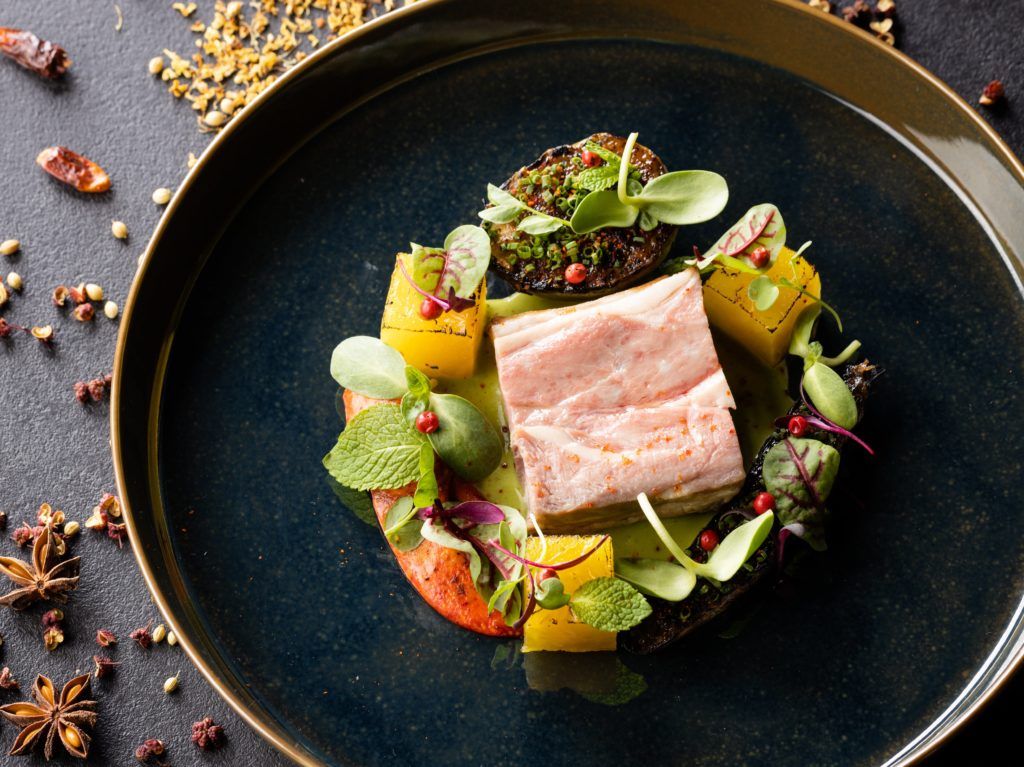 No time like a major holiday to tempt tastebuds with new and unfamiliar menus — COBO House is offering exactly that: A chance for adventurous diners to sample chefs Devon Hou and Ray Choi's second instalment in the Knife & Spoon series, named Spices and Aromas. Sample a flavourful showcase of handpicked fresh herbs and exotic spices from across the globe in either a four- (HK$880), six- (HK$1,380) or eight-course (HK$1,880) format, available from now until 31 December. Sea-fresh cod fish served with soupy laksa and a 10-spices lamb rump are notable mentions, as is the masala treacle gateau which blends the spicy ginger aroma with the sticky sweetness of the traditional British dessert.
COBO House, Shop 602, 6/F, K11 Musea, Victoria Dockside, 18 Salisbury Road, Tsim Sha Tsui, Hong Kong, +852 2656 3088
Caprice In true holiday tradition, indulge in a taste of luxury at one of the city's tip-top, fine-dining establishments, Caprice at The Four Seasons Hong Kong. For the holidays, the thre-Michelin-starred restaurant showcases its precise and innovative take on French cuisine with a spectacular eight-course menu, available for Christmas Eve (HK$3,988) and Christmas Day (HK$2,988). Savour the most exalted flavours of the season, alongside seasonal twists on some of Caprice's most beloved dishes, including Brittany Scallop with Oscietra caviar; Racan pigeon with pear and vanilla marmalade; lobster bisque with sea urchin Royal; Alaskan king crab and beef Wellington. Take a look at the hotel's festive menus here.
Caprice, 6/F, The Four Seasons Hong Kong, 8 Finance Street, Central, Hong Kong, +852 3196 8860
Amber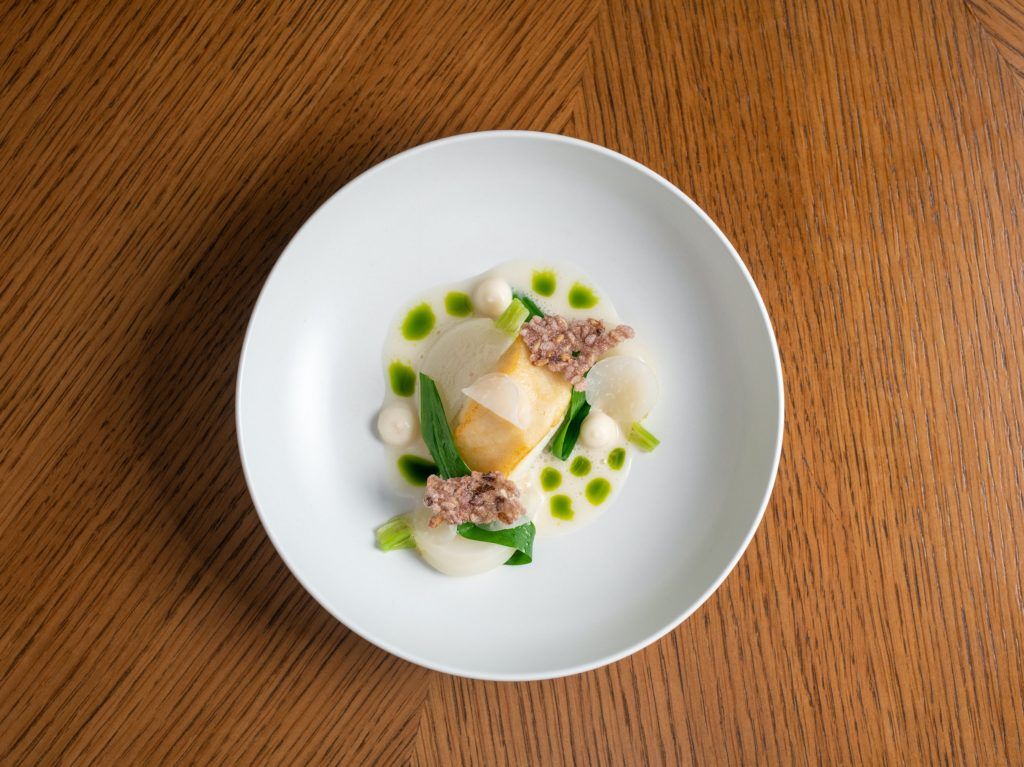 For the most spectacular of holiday celebrations, a luxurious dinner at one of the city's exclusive institute is only fitting. Book in for a meal for two at two-Michelin-starred Amber then, The Landmark Mandarin Oriental's prized culinary gem, which is celebrating the holidays with an extensive festive programme — ranging from Christmas Eve dinners (starting from four courses with a glass of Dom Perignon 2010, HK$1,988) to Christmas Day lunch (HK$1,888 including free-flow wines) and dinners (four-course HK$1,688; eight-course HK$2,498). Spotlighting all of the sleek French restaurant's refined creations and chef Ekkebus's attention to sustainability, the decadent meal will truly be one worth remembering this holiday.
Amber, 7/F, The Landmark Mandarin Oriental, 15 Queen's Road Central, Hong Kong, +852 2132 0066
Lee Lo Mei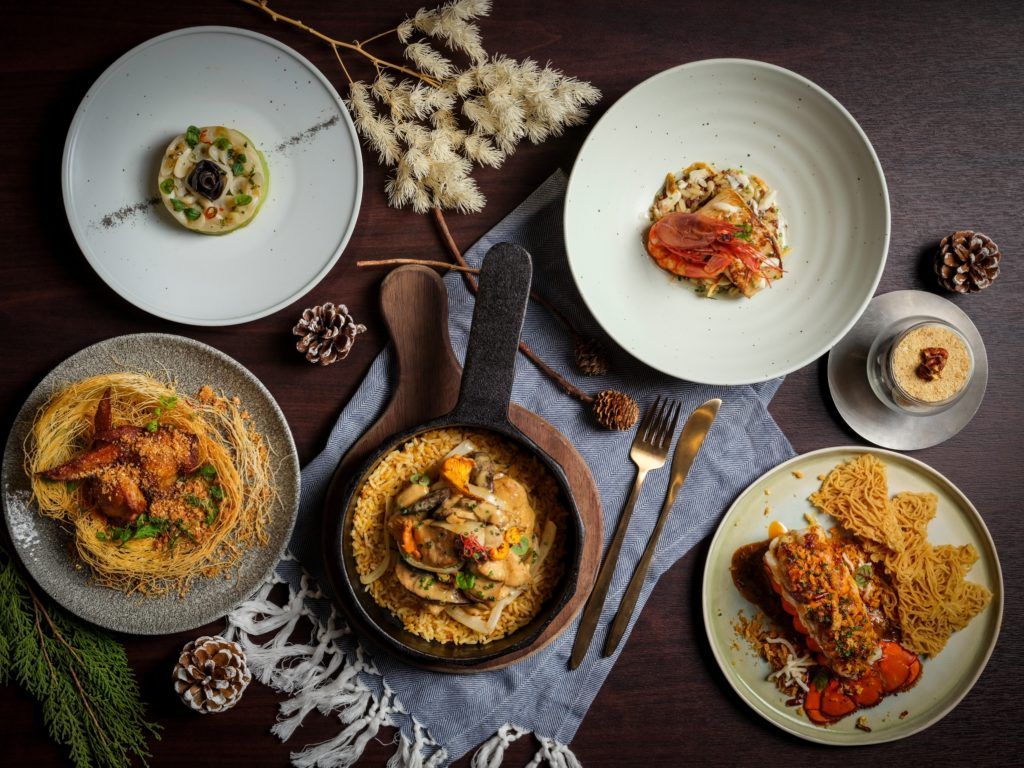 Cheeky Cantonese-inspired eatery Lee Lo Mei is adding nostalgic Hong Kong fare to festive radars with a dinner tasting menu (HK$680 per person; available from 21 December to 1 January) inspired by the ancient Chinese myth, 'Classic of Mountains and Seas.' With dishes aptly named to resemble auspicious characters, particularly fascinating ones are 'Love Birds', or chicken wings and abalone sticky rice sprinkled with gai zai beng biscuit crumbs; 'Winged Dragon,' a roasted lobster tail seasoned with a secret black pepper sauce on a bed on crispy rice noodles; and 'Phoenix' a turkey braised in Chinese wine with seasoned mushroom and matsutake XO sauce.
Lee Lo Mei, 8 Lyndhurst Terrace, Central, Hong Kong, +852 2896 7688
Ciao Chow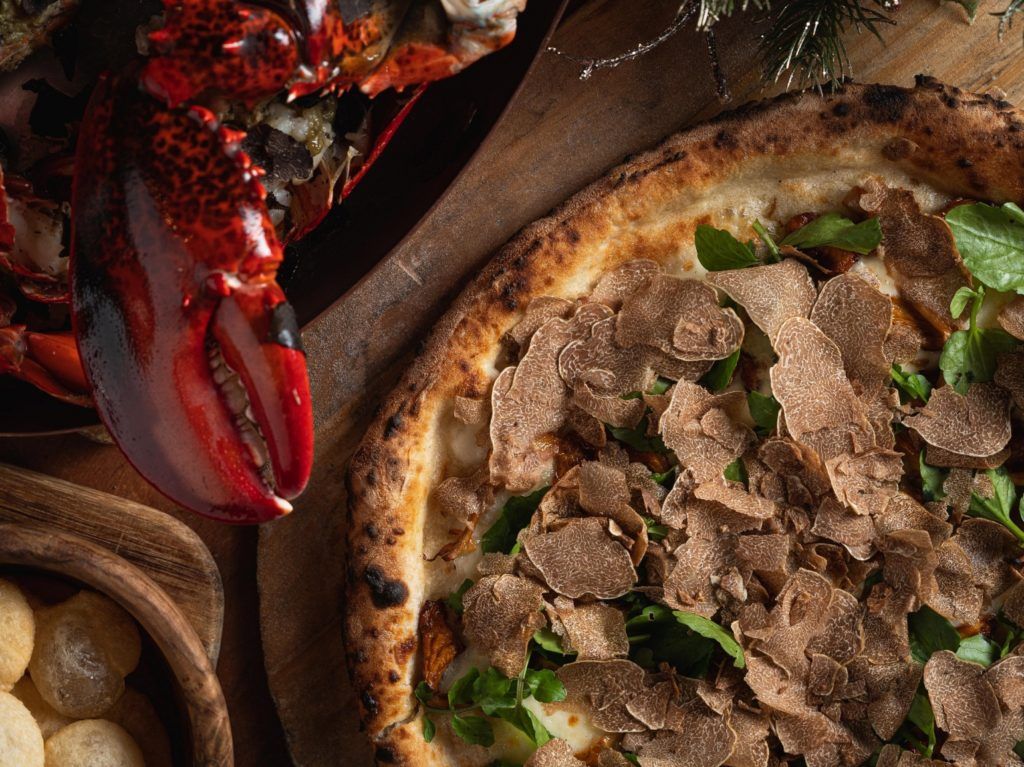 Wishing for a white Christmas? Head to neighbourhood-favourite pizzeria Ciao Chow, which is offering the 'Bianco Natale Ciao Chow' seasonal white truffle menu from 21 to 31 December — celebrating the seasonal delicacy with plenty of hearty Italian fare. Fork in mouthfuls of 'Burrata al Tartufo' (HK$268), a burrata cheese with truffle cream, and beef carpaccio (HK$198), in between swirls of 'Tagliolini Al Tarfuto', signature butter sauce tagliatelle sprinkled generously with white truffle shavings (HK$598); ending with mascarpone gelato topped with Italian espresso and shavings of white truffle (HK$298).
Ciao Chow, various locations including G/F, California Tower, 30-32 D'Aguilar Street, Lan Kwai Fong, Central, Hong Kong, +852 2344 0005
Castellana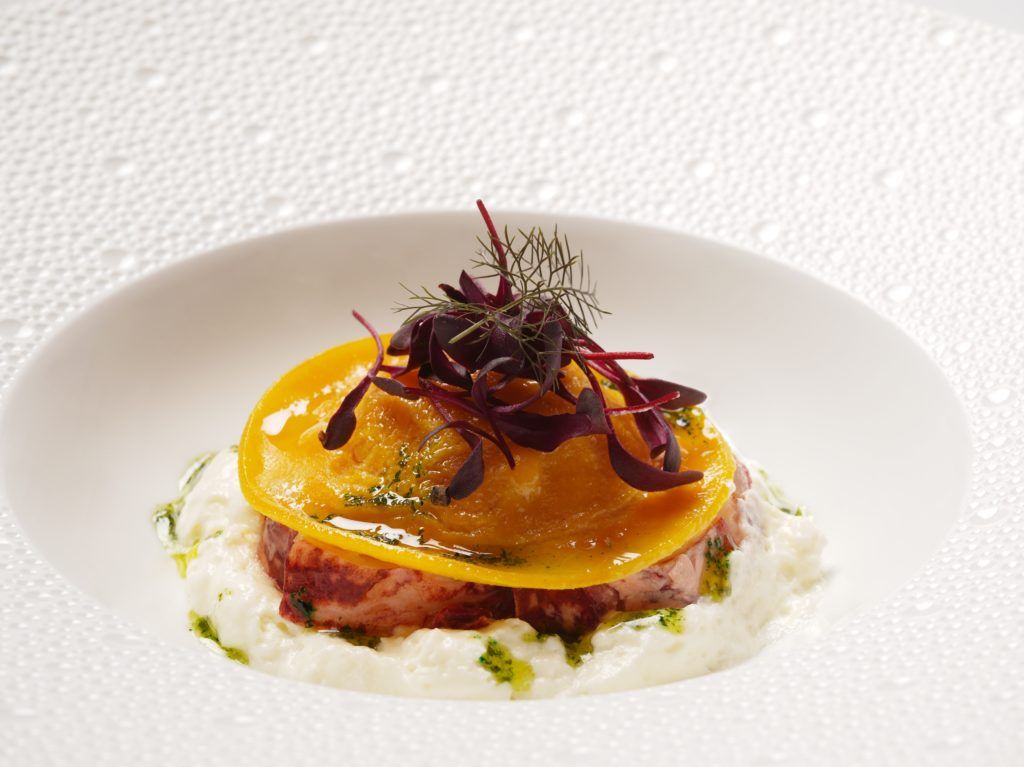 If you prefer your holiday meal to lull you to sleep swathed in blankets of truffle shavings — rather than the de facto turkey-induced coma, you'll want to head to Castellana. Fully showcasing the season's 'white diamonds,' Castellana's Alba white truffle menu is available either in a four-course (HK$1,880) and seven-course (HK$2,280) format, with the option of wine pairing. The extravagant menu dishes up a Brittany blue lobster ravioli, Italian Fassona beef 'Terrine,' and artisanal tagliolini noodles, all topped with three grams of aromatic truffle.
Castellana, 10/F, Cubus, 1 Hoi Ping Road, Causeway Bay, Hong Kong, +852 3188 5028
Feel-good feasts
Soil to Soul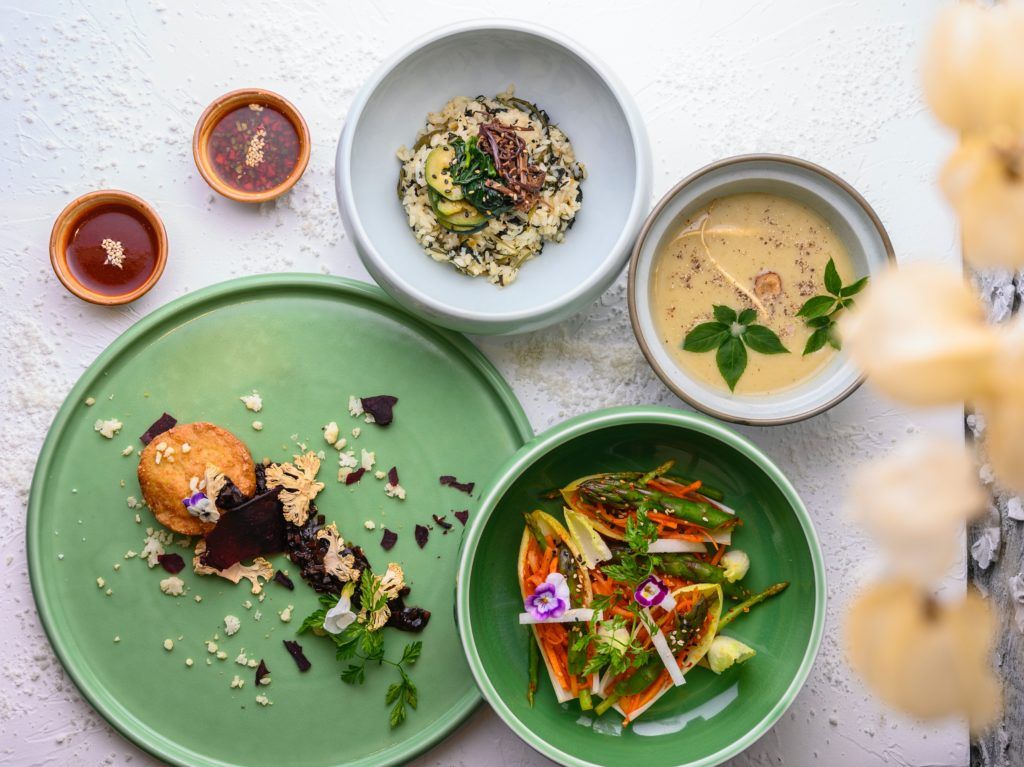 An ode to the innovative techniques found in Korean temple cuisine, Soil to Soul is serving up its first festive menu, 'Christmas Present to the World,' dedicated to showcasing its contemporary vegetarian fare. The green eight-course menu (HK$998 for lunch, HK$1,388 for dinner) is available from 16 to 31 December and features popular dishes like Korean ginseng and chestnut soup, crowd-favourite lightly battered sweet and sour mushrooms as well as new additions like the Korean radish dumpling, featuring fermented winter radish at its finest. Premium makgeolli (Korean rice wines), biodynamic and organic wines as well as cocktails are also available, should you wish to imbibe for holiday celebrations.
Soil to Soul, Shop 704, 7/F, K11 Musea, 18 Salisbury Road, Tsim Sha Tsui, Kowloon, Hong Kong, +2389 9599
Miss Lee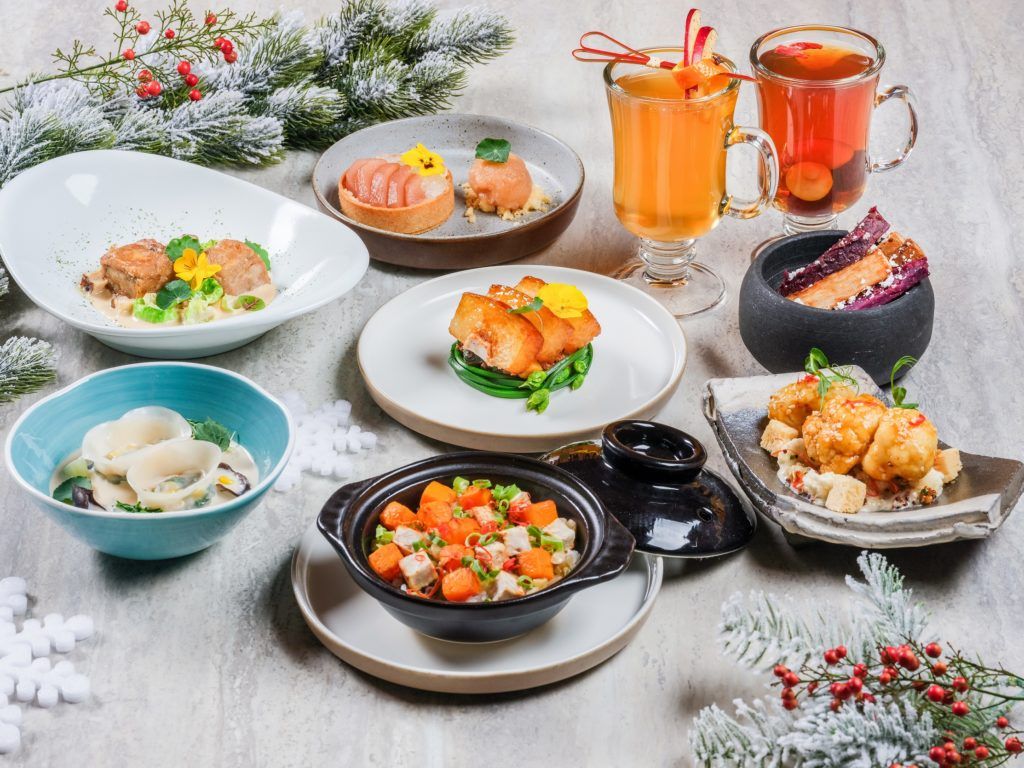 Modern Chinese vegetarian hotspot Miss Lee is giving indulgent holiday feasts a health-conscious kick with its seasonal 'De-lee-cious Winter Vegan' menu. Conceptualised by chef Siu Hin Chi of two-Michelin-starre Ying Jee Club, the Chinese seven-course menu (HK$598) stars a slew of remixed Cantonese favourites. Think mushroom and taro patty served with tender shiitake slices and Brussels sprouts soaked in morel mushroom broth; braised winter melon stuffed with taro puree; and a winter warmer of multi-grain claypot rice with pumpkin, taro, mushrooms, and preserved turnips. The menu is available from 24 to 26 December, and in line with the gifting season, each guest will also receive a complimentary festive potted plant.
Miss Lee, G/F, The Wellington, 198 Wellington Street, Sheung Wan, Hong Kong, +852 2881 1811
Avobar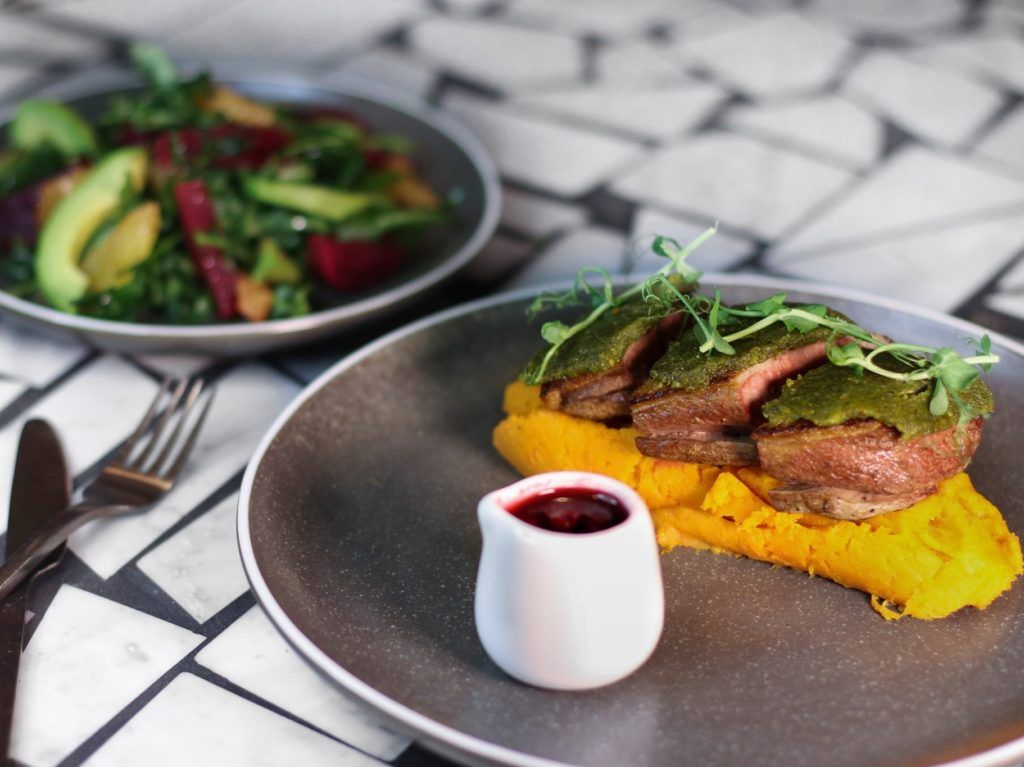 Avobar's all-avocado menu is a great option to get your superfoods in during the season of indulgence. For the holidays, the London-imported eatery is introducing Christmassy specials available from now through to 31 December, like the pulled turkey brioche (HK$118): a brioche sandwich featuring tender braised turkey on a bed of avocado slices, wild berry compote, wasabi mayo and salsa verde, and topped with a turmeric-poached egg. Also new is the herb-crusted duck breast, served with sweet potato mash, avocado and a side of beetroot-citrus salad as a nod towards the classic flavours of the festive season.
Avobar, B210, Unit 4, 18 Salisbury Road, Tsim Sha Tsui, Kowloon, Hong Kong, +852 2611 9900
Asaya Kitchen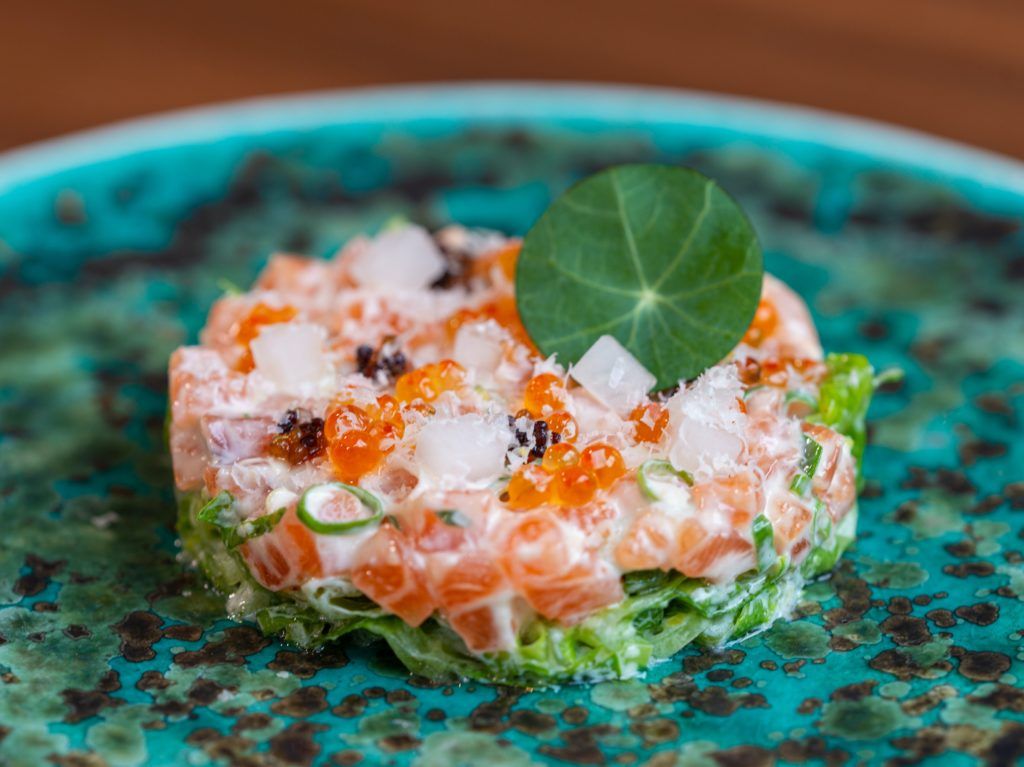 Get ahead of the January health craze with this feel-good holiday meal from Rosewood Hong Kong's wellness-minded kitchen, Asaya Kitchen. The exclusive Mediterranean-pescetarian menu will be available for Christmas Eve (HK$985 for dinner), Christmas Day (HK$895 for lunch, HK$795 for dinner) and a Boxing Day lunch (HK$755). The menus are dotted with the restaurant's nourishing 'farm-to-table' bites, with ingredients all sourced locally, paired with signature sustainable cocktails and biodynamic farmed wines.
Asaya Kitchen, 6/F, Rosewood Hong Kong, Victoria Dockside, 18 Salisbury Road, Tsim Sha Tsui, Hong Kong +852 3891 8732
Ma…and The Seeds of Life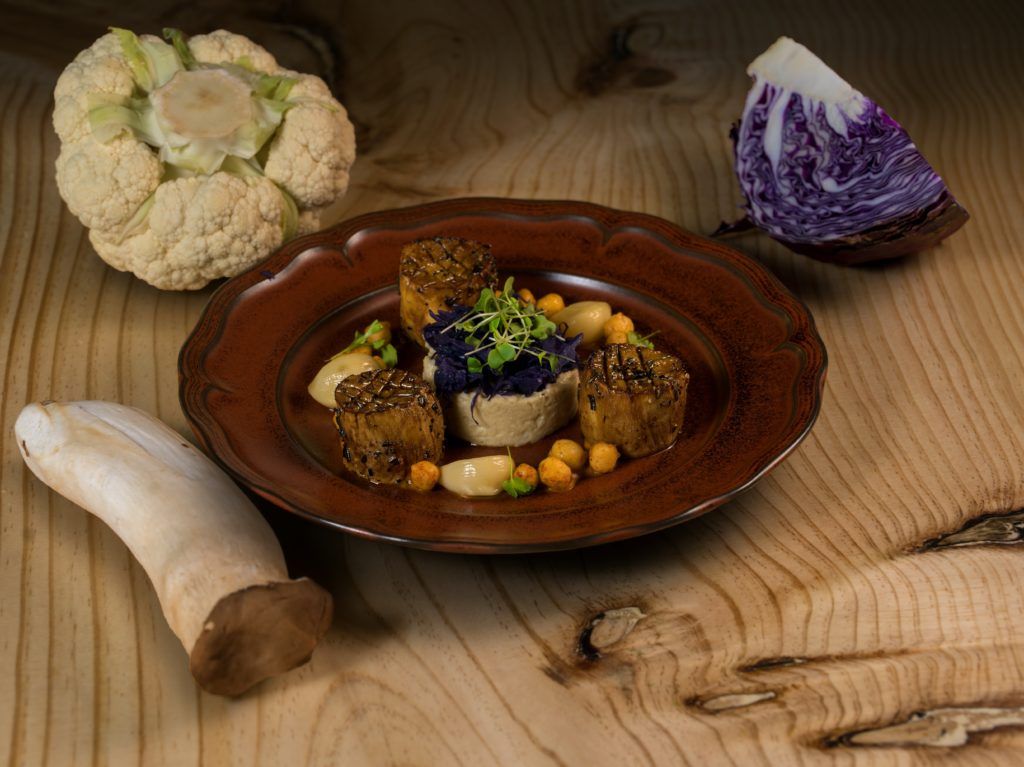 The latest arrival to SoHo's buzzy blocks is French raw-vegan concept Ma…and The Seeds of Life. Helmed by Tina Barrat, jewellery designer turned vegan food maestro, the restaurant harnesses the natural flavours of plant-based ingredients with innovative no-heat cooking techniques to retain maximum nutrient density. For the Christmas season, the restaurant is rolling out a special five-course menu (HK$688 per person), available from 15-31 December, featuring signature the faux-gras (a plant-friendly foie gras) redone with apple crunch, roasted grapes and drizzled with red wine reduction, and the king oyster scallop (king oyster mushroom medallions) served with truffle cauliflower mash and topped with champagne foam.
Ma… and the Seeds of Life, Shop 11, 1/F, H18 Conet, 23 Graham Street, Central, Hong Kong, +852 3165 1717