The Korean street snack hybrid that might be even better than the cronut. You'll see. Introducing: Croffle.
Whether you're aware or not, this is a city that loves a new foodie fad, especially when it comes to pastry hybrids with catchy portmanteau names. And especially when it looks photogenic enough to warrant a single post on carefully curated Instagram grids. There was the cronut (croissant-doughnut) and newly released croissant-toast — both wonderful crispy, buttery goodness courtesy of Dominique Ansel, then the brookie, which frankly didn't get as much air-time as it probably deserved but you can still find the brownie-cookie creation at Richard Ekkebus' Freshly Baked 2.0 pop-up in Landmark Mandarin Oriental. And now, the croffle — the wonderful meeting of croissant dough and searing hot waffle iron. The familiar flaky pastry finding popularity as a delicious anytime-of-the-day summer snack.
Now, with any modicum of naivety, the croffle, upon first notice, would come off as a one-time, ingenious creation by an inspired cafétier in search of inventive alternatives for an old waffle maker; but in fact, the original croffle was ideated by Louise Lennox, a discreet pastry chef based in Ireland, circa 2017. But that was just the average butter croissant pressed down on the steaming metal plate, garnished maybe with sliced avocados or strawberries as a renewed breakfast serve. In this evolved edition we're speaking of, the one that has enrapture all our attention, is of the hyped Korean street snack variety. It's interesting. Exciting. Some would even say a considerable abstract masterpiece. Dipped in melted chocolate. Encrusted in sprinkles. Glazed with a sugary, crystalline coat. Piped with perfectly neat cream swirls.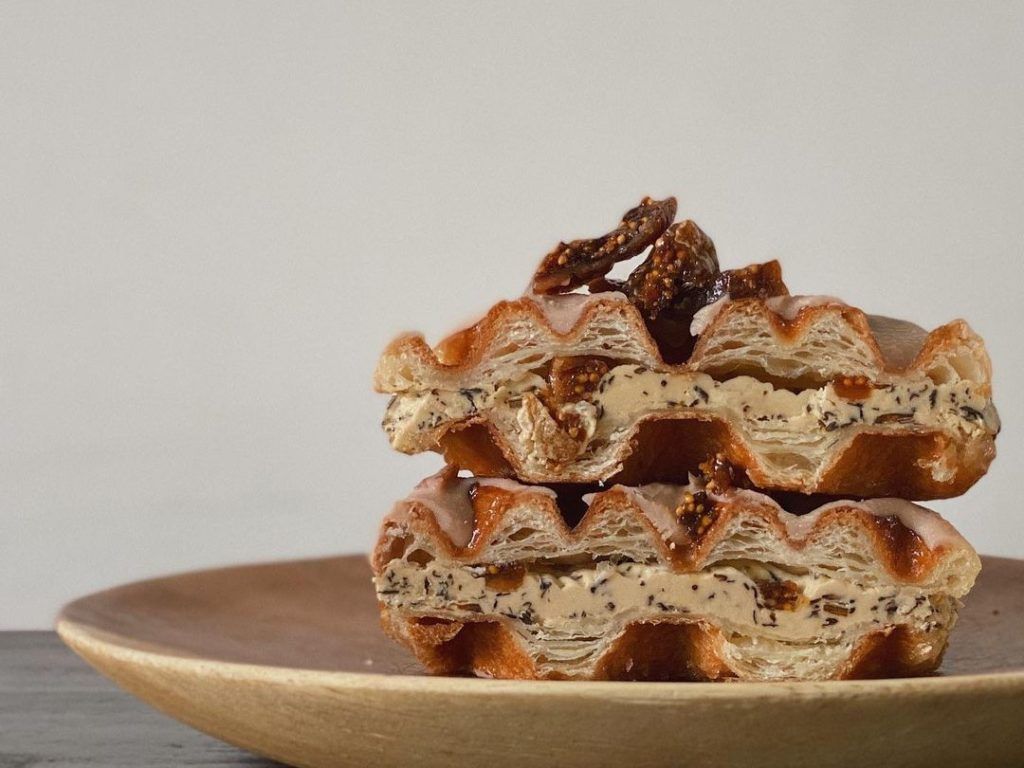 And a great thing about the croffle is, apart from being essentially a crispier, flakier, crunchier version of a croissant — which, what's not to love? — is its simple, easy-to-make construction that can be emulated right at home. Even in a groggy Monday morning state. All you need: croissant dough (the pre-rolled, frozen-aisle ones work perfectly, too), a waffle maker and a condiment cart with all your select breakfast spreads — a tub of nutella of course, or, in my opinion an all-time winner, the crunchy Lotus biscoff, and you're on top of this next great craze. A five minutes squish on the machine, and done. A weekend luxury made even better for weekday mornings. We'd presume that the satisfaction in whipping up a breakfast serve as indulgent as a croffle will be the kind of motivation that gets you going for the day, if not as far as into the office to brag about your newest kitchen trick. It'll be an impressive one.
To inspire your croffle discovery, below is a straightforward schedule curated for a day of dedicated devouring the versatile pastry. But should you prefer something less orderly and more I'll-see-how-I-feel whim, head to a nearby café, they're likely to have a version of their own.
Header image courtesy of CroffleChronicles/Instagram
Jump To / Table of Contents