Coming off a long weekend packed with of traditions and celebrations, we're feeling just about well rested and in the mood for something new and something different — anything other than another slice of egg-washed, pan-fried leen goh. Maybe an innovative new dish? Or a reminder of a familiar dish once loved? Here are the limited-time menus and new pop-ups worth visiting this week.
Casa Cacao at the Cupping Room Harbour City
The opening of the Cupping Room at Harbour City brings a new chocolatier to town: Casa Cacao of the famed three Michelin restaurant El Celler de Can Roca by pastry chef Jordi Roca. A sustainable bean-to-bar concept, the Spanish confectioner introduces a mindful chocolate-making process with the cacao beans sourced from six location including Colombia, Peru and Ecuador. Each bean is hand-sorted at a workshop in Girona, then roasted, cracked, winnowed and combined with raw cane sugar and cocoa butter before conching, implemented for a smoother texture, up to 48 hours
The result? Unadulterated chocolate bars that honours the beans' roots, regions and nuanced notes. We're particularly impressed by the chocolatier's ingenious efforts to reduce waste; each of the bar's packaging are wrapped in its own discarded cacao shells — pressed and remade into 'cacao paper'. Of the delectable range of chocolate bars worth sampling, a milk chocolate bar made using sheep's milk is fascinating in flavour. But perhaps the most decadent would be the signature hot chocolate, a thick, velvety profile of rich 72 percent single-origin cacao cultivated from Kerala, with fragrant notes of dry raisins and apricots.
Casa Cacao pop-up, Cupping Room, Shop 309, 3/F, Ocean Centre, Harbour City, 3-27 Canton Road, Tsim Sha Tsui, +852 9446 8699
Maison Libanaise 'Plats Anniversaire'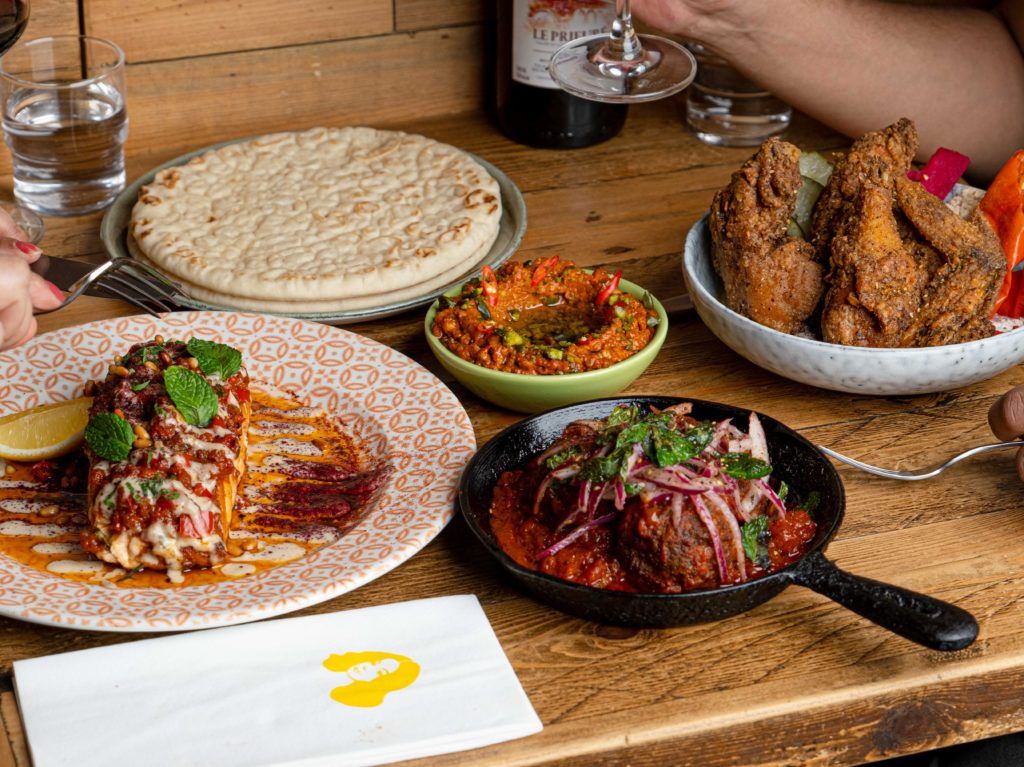 SoHo's neighbourhood Middle Eastern spot, Maison Libanaise, loved for its delicious house-made mezzes, is turning five! To celebrate, a five-day limited menu with dishes that have become stalwart Maison Libanaise favourites are arranged for a nostalgic retrospective. The 'Plats Anniversaire' à la carte includes ZFC, crispy za'atar fried chicken (HK$198) served with cucumber labné and pickles, spice-baked salmon tarator (HK$248) with tomato pepper and tahini drizzle, the sweet and smoky Muhumara dip (HK$98) of chargrilled red bell peppers, best enjoyed with hot and fresh pita pillows, and lastly, lamb kofta meatballs, Danwood Basah (HK$188), coated in a saucy tomato ragu. A one-day-only 'Wine Feast' (HK$518/person) will also be hosted, spotlighting pours from the Lebanese region with a slew of mezzes to share.
Details: The 'Plats Anniversaire' à la carte menu is available 18-22 February, with the 'Wine Feast' (HK$518/person) running for one day on 21 February from 3-6pm. Reservations can be made here.
Maison Libanaise, 10 Shelley Street, Soho, Hong Kong, +852 2111 2284
Épure x The Old Man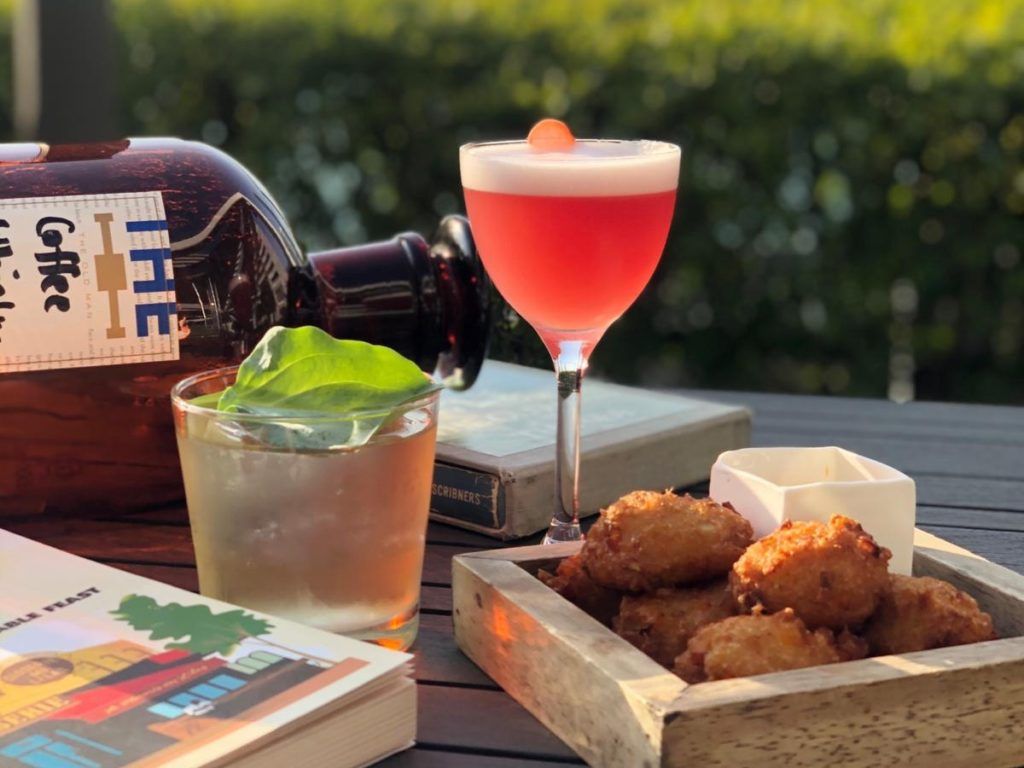 A collaboration of great food, great drinks and an even greater view, The Old Man's Nikita Matveev leaves the underground drinking den on Aberdeen Street in exchange for fresh air atop Epure's alfresco rooftop. Joining chef Nicholas Boutin for a dine-and-drink experience like no other, the two respectively renowned spots put together a decadent afternoon of Hemingway-inspired tipples and elegant French hors d'oeuvres.
Ten experimental cocktail named, as usual, after classic Hemingway novels, with three infused with local flavours like calamansi, pandan leaf and coconut. We've particularly drawn to 'To Have and Have Not #1937', a wood-fused Havana 3-year run shaken with cola, lime juice and topped with vanilla foam — a twist to the classic rum and coke. Or perhaps an interesting libation for intrepid drinkers: 'A Movable Feast #1964'. A palette twister, it teases with spicy and savoury notes from its unconventional mixture of seawater, Absolut vodka, tomato juice, coconut syrup and lemon juice, garnished with cheese-wax oyster. Fortunately, Épure's high-brow take on bar-snack classics is taste of familiarity with authentic golden-fried crab fritters, ham & cheese 'croque' and homemade smoked salmon.
Details: The exclusive Épure x The Old Man collaboration will run until the end of February from 2:30 – 6pm daily.
Épure, Shop 403, 4/F, Ocean Centre, Harbour City, Tsim Sha Tsui, Hong Kong, +852 3185 8338
Royal Caviar Club at Lane Crawford Pacific Place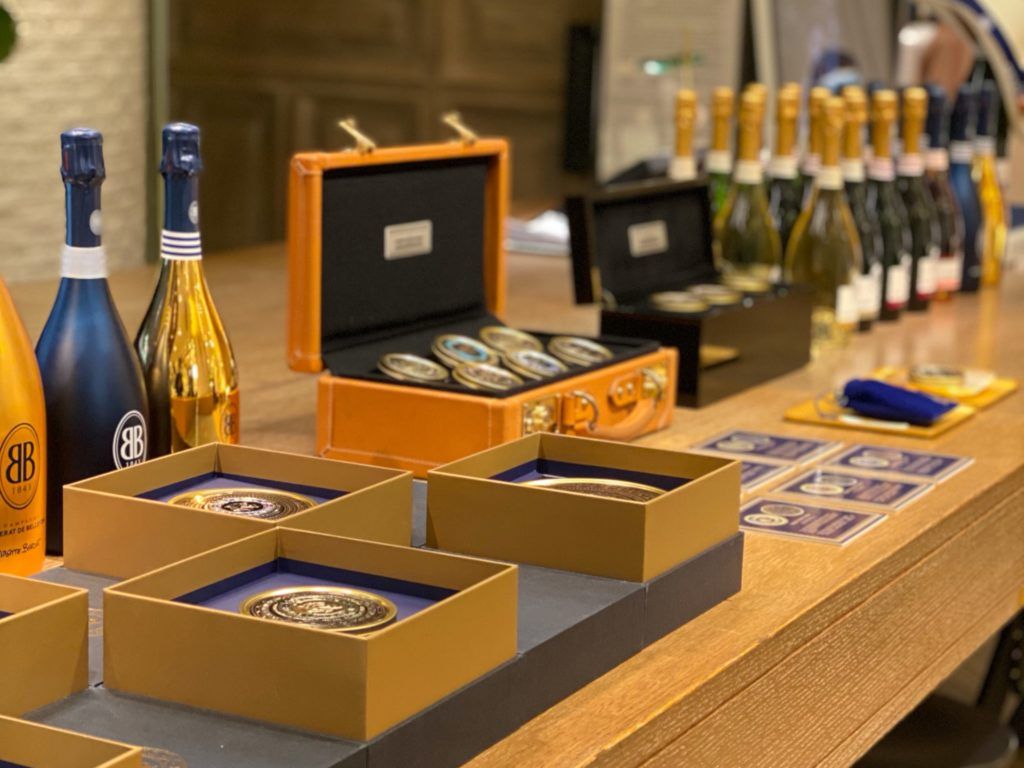 As the Royal Caviar Club first pop-up, the Lane Crawford at Pacific Place setting is a warranted location, being the luxury retailer's designated home store. The exquisite selection of decadent caviar and exclusive Besserat de Bellefon Champagne fit right in with the impressive porcelain plates and crystal glassware. A chance to learn about the signature offerings from Royal Caviar Club, the pop-up showcases crowd-favourites including a soft Superior Sturgeon Caviar known for its fresh and creamy flavour, or firmer Royal Cristal Caviar that leaves a buttery aftertaste. Those well in-the-know will delight in the availability of rarer selections, like the Royal Beluga Caviar, and golden grains of the Royal Cristal Gold.
Details: The Royal Caviar Club pop-up will run from now through 7 March from 10am – 8pm daily.
Royal Caviar Club pop-up, Lane Crawford Home Store, One Pacific Place, Level 1, Landmark Atrium, 15 Queen's Road Central, Central, Hong Kong, +852 2118 3668
Maka Hiki Lounge at The Upper House
There's always something wonderful about an escape; via a rooftop bar with an unbeatable view or an immersive virtual journey. At The Upper House, it's a jovial tiki bar by Honi Honi Tiki Cocktail Lounge standing in the austere, marbled interiors, decadent staycations notwithstanding. Maka Hiki Lounge is the latest hideaway spot for brief respites from the quotidian routines. Island time. Colourful cocktails. Anything-goes attitude. Inspired by vibrant Polynesian cultures, the menu is evocative of a good time spent under the sun with salt-laced air — the tipples, refreshing; bar snacks, comforting. We're especially drawn to 'Tik Tok Tiki' (HK$130) a tequila-based drink with lemon and grapefruit juice, agave and a kick of Thai red chilli, or the 'Bounty Hunter' (HK$130), shaken up with Baileys, bourbon, coconut waters and a dash of chocolate bitters. As for finger-foods, we're heeding towards favourites on lazy weekends, especially: Cuban pulled-pork sandwiches (HK$180), mini BBQ pineapple beef burgers (HK150) and poke miso cones (HK$150)
Details: Maka Hiki Lounge is open from now through to 31 May from 8am-6pm. Cocktails are served from 12pm onwards.
Maka Hiki Lounge, Level 6, The Upper House, Pacfic Place, 88 Queensway, Admiralty, Hong Kong, +852 9836 7462
Header image courtesy of Maison Libanaise