Put on those flashy 2021 frames and dig out the glittery party hats and tassel-tipped party horns. It's finally time to bid this strange year adieu.
Difficult dining restrictions have not dampened celebrations entirely. Rather, we are looking forward to toasting towards the end of the year with hopeful wishes, crossing fingers that 2021 will be a better one. Celebrate with great friends and even greater food, courtesy of the menus below.
Tokyolima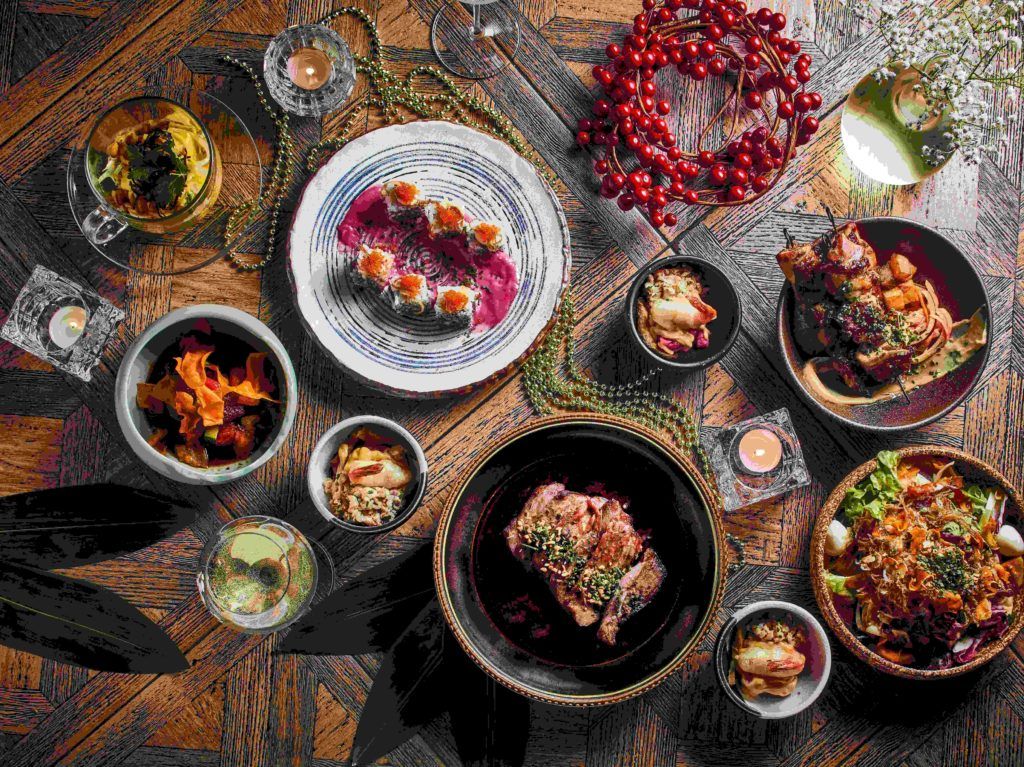 Sending off a year that spent the better part grounded with a gastronomic journey is the most fitting. Tokyolima brings the fine flavours of Peruvian and Nikkei cuisine in small izakaya-style plates. A sea-fresh selection of dishes set the table from a salmon tartare laced with ginger mayo to the 'Ceviche Clasico' made with a sea bass marinated in spicy, citrusy tiger's milk. Wash it all down with the accompanying free-flow bottles; a few pops of bubbly will surely help wave a delightful farewell. Here's to hoping for lift-off in the new year.
Tokyolima, G/F, 18-20 Lyndhurst Terrace, Central, Hong Kong, +852 2811 1152
Morton's The Steakhouse
Trust Morton's The Steakhouse to know a thing or two about a meal of indulgence; the all American spot dishes up a surf-and-turf holiday treat for end-of-year celebrations. The three-course Steak & Lobster menu (HK$688) is geared towards indulgence with a 6oz filet mignon and various 'surf' dishes of your choice. Top it all off with the restaurant's legendary hot chocolate cake, which will hopefully be the sweet finish needed to wrap up the year.
Morton's The Steakhouse, Fourth Level, The Sheraton Hotel Hong Kong, 20 Nathan Road, Tsim Sha Tsui, Hong Kong, +852 2732 2343
La Rambla by Catalunya
No better way to kick off a new beginning than with a table of good food. La Rambla by Catalunya's New Year's Day brunch, El Mercado (HK$780), celebrates its market-style menu with a colourful selection of sharing snacks including unlimited cheese and charcuterie boards, four pans of made-to-order paellas and five types of Spanish tapas including jamón croquettes and white anchovies marinated in vinegar oil. Pass it around the table along with shared laughter and promised resolutions for the new year.
La Rambla by Catalunya, 3071-3073, Level 7, IFC Mall, 8 Finance Street, Central, Hong Kong, +852 2661 1161
Zest by Konishi
French-Japanese establishment Zest by Konishi marks a most fervent farewell to the last 12 months with a menu designed for opulence and extravagance. Available in either four- (HK880) or five-courses (HK$1,180), the Festival Gourmet menu is topped with restaurants favourites including the Ping Yuen Chicken and a special holiday treat: Mont Blanc. A meeting of the two cuisines, the classic dessert blends down a fine, silky chestnut cream that is served with spiced gingerbread ice cream and meringue.
Zest by Konishi, 28 & 29/F, 18 On Lan Street, Central, Hong Kong, + 852 2715 0878