The Hong Kong diner subsists mostly on a regular rotation of Chinese, modern European, Spanish and Thai food, which is why we're always excited when an international chef brings something new to the mix. With its influences from Palestine, Syria and Lebanon, modern Eastern Arabic cooking incorporates an exotic mix of flavours and ingredient combinations rarely seen in our city.
As local "culinary incubator" Test Kitchen prepares to team up with chef Gal Ben-Moshe from the acclaimed GLASS Berlin for a four-day pop-up this weekend (you can still purchase tickets here), we sat down with the Israeli chef to discuss the common misconceptions surrounding Arabic cooking, and whether the cuisine is destined to take off on the world stage.
Can you tell us a bit about your background in cooking?
I grew up in a very food-oriented family, and from a very young age food was a very important part of my life. My parents love to tell stories about me ordering a 'Forelle with shrimps' in a French bistro when I was three — no kids' menu for me! I was cooking from when I was old enough to reach the counter. When I was 15, my parents divorced and none of them had enough money to continue raising me, so I had to go work in a fish factory. I was fortunate that the owners also operated a restaurant, so I sneaked into the kitchen to do a few shifts a month.
When I was 22, I got disillusioned from the Israeli restaurant market and moved to London. I worked for two and a half years at Maze (under Jason Atherton), Marcus Wareing at the Berkeley's and Hibiscus. I've also had the great opportunity to train at Alinea in Chicago. In 2012, I moved to Berlin [from Israel] and in 2013, I opened GLASS.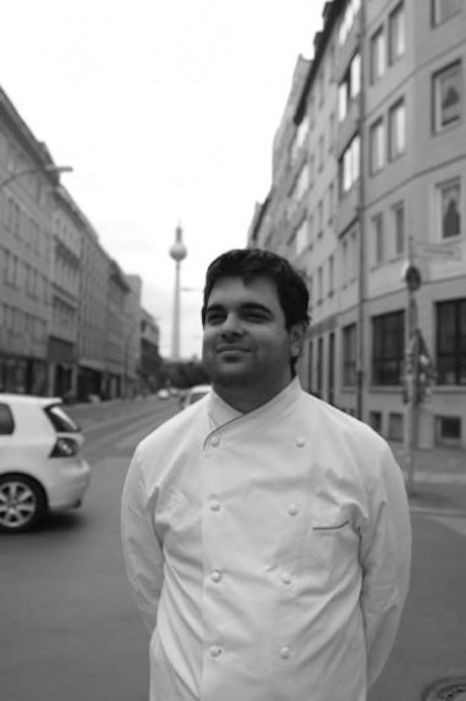 How did you become involved in this style of cooking?
I came across this idea two and a half years ago. I was reading an article about the Muslim golden age, and they spoke of food descriptions in One Thousand and One Nights ('Arabian Nights') that are very similar to modern-day food blogs, and that was 700 years ago. I started digging into it, coming across articles about cookbooks from the 13th-14th centuries from that area and was just amazed by the level of ideas, the richness of the kitchen, and mostly by how untouched these ideas are in the modern-day kitchen, whether Arabic or Western. What are the key ingredients and cooking methods in Arabic cuisine?
This East Mediterranean kitchen, like every historical regional kitchen, is very connected to the terroir and local herbs. A lot of herbs foraged in the region, vegetables that fit the climate, spices that came through trade routes passing the region (i.e. the 'Silk Route'). The cooking methods include a lot of preservation (hot climate), grilling (mostly on charcoal) and long-cooked stews. I try to channel all these methods with modern interpretations.
Tell us about some of your favourite dishes to make.
I am very proud of our mutton tartare. For one, I think mutton is a seriously under-appreciated meat. I think we outgrew, as a society, the search for soft-textured, weak-flavoured meats (veal fillet) and moved on to look for more potent flavours. We spend a lot of money on getting Black Angus beef or Wagyu but continue eating lambs that are tender but hardly taste of anything. I like the mutton [sheep harvested at more than 1 year old] for its strong distinct flavour and how well you can balance it. I think that once we start exploring these avenues, the options are endless. We are going to try working with older cows, grown-up game meat and matured poultry.
Where do you see Arabic cuisine on the world stage? Do you think it is under-represented?
Arabic cuisine is definitely under-appreciated. It's typically perceived as a fast food kitchen (hummus, shawarma, falafel). I think that's wrong. It is a rich and intensive culture that suffers from really bad PR at the moment. I think Western intervention hasn't done the Muslim world any good (very similar to Africa), but we tend to forget that it is a fascinating culture, with timeless literature, poetry, art and also cuisine. I was surprised to discover that I am probably one of the only chefs touching this. I hope that I can help shed more positive light on this culture, and open people's minds to new ideas. What inspired you to choose Berlin as the location for your restaurant GLASS?
When I first visited Berlin I saw a cosmopolitan city, immersed in ideas of arts, culture and free thought, with a developing restaurant market that in no way was reaching its potential. In my four and a half years in Berlin, I think it has developed immensely. I love the city, I think that it is very open to immigrants and I really feel at home there.
What is your personal definition of good food?
I think it is about honesty. I think that as long as someone is trying to do tasty food, from good ingredients, he or she is likely to come up with good food. It can be a breakfast place, a gastropub or a fine dining restaurant. I think that the world has seen enough of over-engineered fast food trying to be extremely profitable, or of conceptual molecular restaurants selling ideas and concepts without giving you any food. The secret is in the balance, not losing sight of the fact that it still has to be nurturing and tasty before you decide to serve up a concept.
What are the common misconceptions when it comes to Arabic cuisine?
It is mostly perceived as overseasoned/spiced, which is derived from the common Arabic fast foods around the world. There is a lot of finesse in classical Arabic cooking, a lot of clean flavours. I think it's also perceived as a poor kitchen, which couldn't be further from the truth. Food is a central part of the Arabic culture, their festivities are amazing and they have a very rich kitchen. What do you hope to bring to the Test Kitchen pop-up? Can we expect any new and unusual ingredients?
I hope to showcase what I am doing as honestly as possible. I've done my best to source the ingredients that I need from the local markets, but also bring along some items that I wasn't sure we could find here. You can expect to have your first taste of freekeh, which is green Palestinian wheat, harvested before it is completely dry and then roasted on charcoal, giving it a distinct smokey flavour. We also brought along sumac, a spice from the berries of a dessert bush with a very interesting sourness.
I am also very proud to present wines from the region. We have a very special wine from Chateau Musar in Lebanon, who are one of my favourite winemakers, and an Israeli blend of Syrah and Viognier, in the style of the Northern Rhone valley, offering a different view of the fascinating terroir of the Middle East and its potential to be the next up-and-coming wine region.
Tell us about a few dishes.
We will be of course serving the mutton tartare, with smoked Israeli couscous, compressed cucumber, yoghurt, pine nuts and pickled onions with sumac. Our dessert is called 'Beirut Nights', which is a classical Arabic dessert of a semolina cake served with cream on top. We reinterpreted it to be served with rosewater pudding, orchid root ice cream, local mulberries, crystallised roses and salted pistachios. The main course will be a lamb saddle, marinated with mint and 'rumaniya mukhatara', which is a sauce inspired by a recipe from a 13th-century cookbook by Muhammad Bin Al-Hassan El-Baghdadi that's based on lamb broth, pomegranate juice and roses.
Test Kitchen x GLASS Berlin Pop-Up Dinner
When: 12–15 January 2017, 7pm & 8:15pm seatings
Price: HK$1,280 for 10-course tasting menu with wine pairing; tickets available here.
Test Kitchen, Shop 3, 158A Connaught Road West, Sai Ying Pun, Hong Kong, +852 9032 7628, testkitchen.com.hk