The long, five-day Easter weekend could not come any sooner. While we sit waiting on our hands in desperate anticipation, maybe making a quick list of what to do and where to go will make the time speed by quicker. We'll cross on our fingers and toes to hope. Egg hunts are a must. Perhaps an afternoon tea? Or a staycation in between? Maybe a long period of undisturbed bliss? In any case, good food is sure to be on the agenda, especially while we're stuck land-bound in the city.
The Daily Tot Great tunes and even greater tipples, Hollywood Road's rum experts The Daily Tot celebrates Easter weekend with a possibly prophetic Blackout Brunch (HK$550 per person). The four-course menu, topped with newly revamped finger-foods and an unmissable rum cake slice, will be a delicious pair to the endless stream of three-hour free flow House wine and spirits and the bar's signature Peel St Spritz — their own twist on the classic coastal Aperol Spritz — which you can excitingly watch it be shaken and served here.
Reservations for Blackout Brunch: Easter Edition can be made via email info@thedailytot.com or WhatsApp +852 5226 9382
The Daily Tot, G/F, Felicity Building, 58 Hollywood Road, Central, Hong Kong, +852 2366 6836
Mr & Mrs Fox Refurbished in soothing sage greens and creams with luscious foliage surrounds, Mr & Mrs Fox's freshly renovated space is a spot you'd want to be on slow mornings. While the interiors are stripped and renewed — especially the new collection of colour-strewn contemporary artworks — expect similar Euro-centric plates on its Saturday-only brunch menu that will no doubt satisfy: eggs Benedict, quiches, burgers and steaks. The free-flow menu is just as extensive with the addition of a delicious-sounding peach or berry sangria, especially on a hot summers' day — to be enjoyed out in the restaurant's ground-floor terrace, no less.
Mr & Mrs Fox, 23 Tong Chong Street, Quarry Bay, Hong Kong, +852 2697 8500
Henry American steakhouse is celebrating two years at the Rosewood with the launch of a new menu: Sunday Brunch (HK$598 per person), prepared Southern style. It would not be an authentic dedication without the smoky barbecue classic — 7 pepper beef brisket — and fried chicken served with cornbread and biscuits. Generous portions of sharing sides keep the experience tried-and-true, with barbecue beans with smoked bacon and charred corn making an appearance. The Sunday Brunch also features two cocktail specials, one of which, the Peach Boulevardier (HK$120), sounds delicious and delightfully peachy. Bring a friend and a huge appetite.
Reservations can be made via email at hongkong.henry@rosewoodhotels.com or by calling +852 3891 8732
Henry, Level 5, Rosewood Hong Kong, 18 Salisbury Road, Tsim Sha Tsui, Hong Kong, +852 2891 8732
Ciao Chow There's a reason why Ciao Chow remains a neighbourhood go-to favourite; the selection of pizzas and pastas is just so comforting to have. Weekend brunches and mid-week evenings. The Easter brunch serve will be no different, featuring classic Italian plate in bright spring-inspired flavours: roasted leg of lamb, clam and mussels stew and traditional Italian colomba, an Easter special, panettone-style bread shaped in a dove. Watch the Ciao Chow chefs in action over at the various stations and pop by the dessert corner for a sweet treat. It's a menu that will delight all.
Ciao Chow, G/F, California Tower, Lan Kwai Fong, Central, Hong Kong, +852 2344 0005
Zuma Zuma's Easter brunch (HK$888 per person) is no new spot. In fact, it's well-visited and well-loved across the city. For Easter, the contemporary Japanese restaurant returns with its signature selection of izakaya-inspired plates and a very special Easter-themed dessert platter, a rainbow explosion of freshly cut fruit, chocolate eggs and a Japanese Hokkaido milk cheesecake. Don't miss the grilled chicken wings with sea salt and sliced yellowtail doused in yuzu truffle which are amongst our favourites. Also a beloved part of Zuma's brunch, the free-flow menu, now extended to a joyous three hours and includes a selection of reds, whites, bubbly and the best (in my view) Aperol spritz. Cheers!
Zuma, Level 5 & 6, Landmark, 15 Queen's Road Central, Hong Kong, +852 3657 6388
La Rambla by Catalunya We have previously mentioned La Rambla by Catalunya as a fantastic outdoor spot for Happy Hour courtesy of its stunning harbour-front vantage. Now, the Catalan-inspired restaurant's Easter brunch (HK$780) has given us another reason to visit the jovial Spanish restaurant. Celebrating Pascua de Resurrecion, or Resurrection Sunday, the menu features a jet-fresh selection of seafood including grilled 3XL Spanish red prawns and a traditional Bacalao a la Catalana cod stew. Of course, the made-the-order paellas are not amiss, thankfully, nor is the 2.5 hours free-flow package.
La Rambla by Catalunya, 3071-973, Level 3, ifc mall, Central, Hong Kong, +852 2661 1161
Buenos Aires Polo Club It's always a great time at the Buenos Aires Polo Club. Not just for delicious tipples but one for when you're craving a satisfying slab of well-charred steak. The Argentinian steakhouse introduces a new prime rib brunch (HK$498 per person) for the Easter season; a three-course menu starring the restaurant's crown jewel: General Pico grass-fed black Angus prime rib, which, as per tradition, is grilled Asado style and dramatically carved table-side. Fancy. A bright and zingy sorbet rounds out the decadent meal.
Buenos Aires Polo Club, 7/F, LKF Tower, 33 Wyndham Street, Central, Hong Kong, +852 2321 8681
Taqueria Super Macho Take a trip to the tropics. We surely would love to. A visit to Taqueria Super Macho it is, then, for the taco joint's signature Baja Beach Brunch (HK$488 per person) where everything runs on chilled-out, Island time. Relaxed moods. Breakfast-style plates like the Huevos Divorciados, which throw together a delectable combination of USDA ribeye, hash brown, salsa verde, salsa roja and a fried egg all onto one plate — in classic Sunday 'pre-grocery shop' serve. Wash it down with free-flow margaritas and don't forget to bring along a laid-back attitude. It's the only way at Taqueria Super Macho.
Taqueria Super Macho, 33-35 Bridges Street, Central, Hong Kong, +852 2333 0111
Duck & Waffle Perhaps the concept of brunch is most accurately executed at Duck & Waffle, a name that derives from two favourites from breakfast and lunch respectively, duck and waffle. For the Easter weekend, the casual eatery features two brunch menus — à la carte or a curated set — topped with the restaurant's signature plates. Best believe the signature confit duck leg with buttermilk waffle will make an appearance, in all its crispy, crunchy, sweet and savoury goodness. No all-day breakfast menu is without the signature eggs Benedict, and a moment here to advocate for Duck & Waffle's own take: ox cheek Benedict with hollandaise and a dash of hot sauce.
Duck & Waffle, Shop 1801, Level 1, ifc mall, 8 Finance Street, Central, Hong Kong, +852 2267 6338
Chaiwala Hearty food and a convivial atmosphere mark Chaiwala as a go-to favourite for Sunday brunch. Or birthdays, anniversaries, celebrations of all types. The experience will always guarantee fun. Make this Easter weekend no different and head to the lively Indian enclave for delicious street food classics that have since earned badges as all-time favourites. The Pani Puri with Jal-Jeera is one, and the Murg Malai Tikka, boneless chicken cooked straight from the tandoor, is another. They're made for sharing, so be sure to bring a friend or two. What's seeming like the most intriguing part of its brunch, however, is the lassi free flow. Will anyone ever say no to lassi?
Chaiwala, Basement, 55 Wyndham Street, Central, Hong Kong, +852 2362 8988
The Pizza Project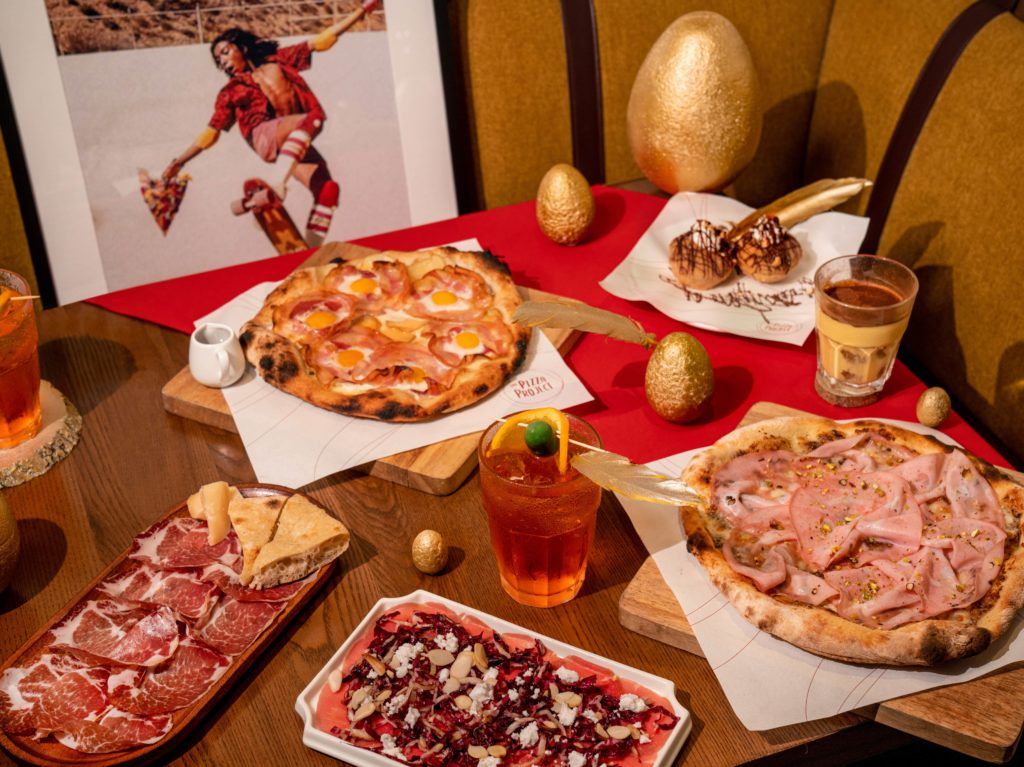 Pizza? Why not. An Easter pizza brunch? Even better. For a weekend of a simply good time, good food is sure to have a playing part. The Pizza Project, then, is the place to go. No fuss, no gimmickry; just you, friends and a satisfying slice of cheese and tomato sauce slapped on a chewy oven-fired dough. Yum. The four-course menu (HK$185 per person) will include a starter, salad and dessert to finish, but our eyes are set only the perfectly seared pies with an incredible combination of toppings. Don't mind us while we grab a slice from the breakfast carbonara and the truffle mortadella.
The Pizza Project, G/F, 26 Peel Street, Central, Hong Kong, +852 2311 1815
Header image courtesy of The Pizza Project