From classic Neapolitan pies to high-cal low-fuss takeaways, we plate up eight of the best pizza slices we've sampled in Hong Kong — and tell you where to find 'em.
Alvy's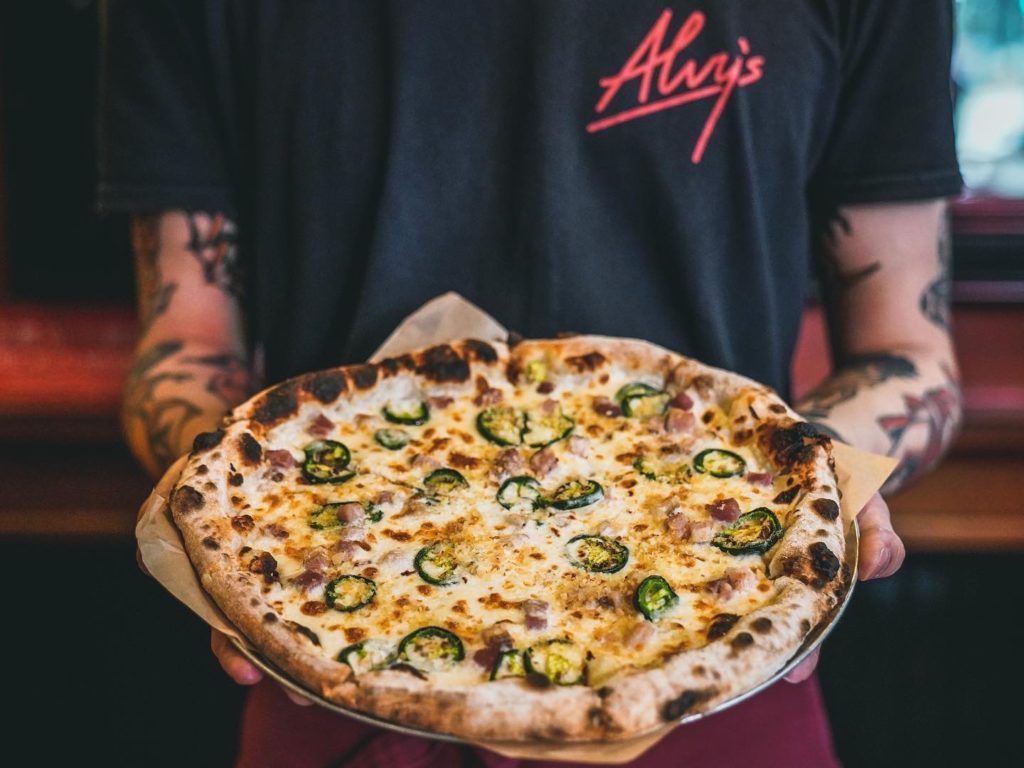 Helmed by Young Master Ales founder Rohit Dugar, this neighbourhood pizza joint prides itself on pizza pies made using brewer's yeast as well as a stellar list of craft beers on tap. With warm, cosy interiors, Alvy's makes for a convivial after-hours space to imbibe on beers and sample platters of Hong Kong-inspired snacks and pizzas. Think Buffalo wing-inspired Yu Kwen Yick hot wings (HK$96) with blue cheese dipping sauce, or the Ma-La-Di-Da pizza (HK$168), topped with Sichuan pepper tomato, salumi picante, 'nduja and bocconcini mozzarella. A list of classics are also available for those less decidedly adventurous with their pizza toppings, perhaps preferring instead to explore the breadth of the craft beer menu.
Alvy's, 8 Holland Street, Kennedy Town, Hong Kong, +852 2312 2996
La Camionetta In the grand tradition of SoHo eateries, La Camionetta is a 'blink and you'll miss it' pizzeria located in a pint-sized shophouse on Elgin Street. Operated by the husband-and-wife team of Giuli and Benito, the pizzas here strike a balance between tradition (La Caprese) and novelty (La Goat Cheese). For our money, regional Italian specialties are where La Camionetta really shines. The La Montagna (HK$158) for instance, is an exploration of the dairy-centred cuisine of South Tyrol: a fantastic, unapologetically calorific, pizza loaded with speck, potatoes, raclette and caramelised onion. Perfectly suited to those days when you just simply have to 'eat your feelings'.
La Camionetta, 12A Elgin Street, Central, Hong Kong, +852 6717 0536
CIAK — In the Kitchen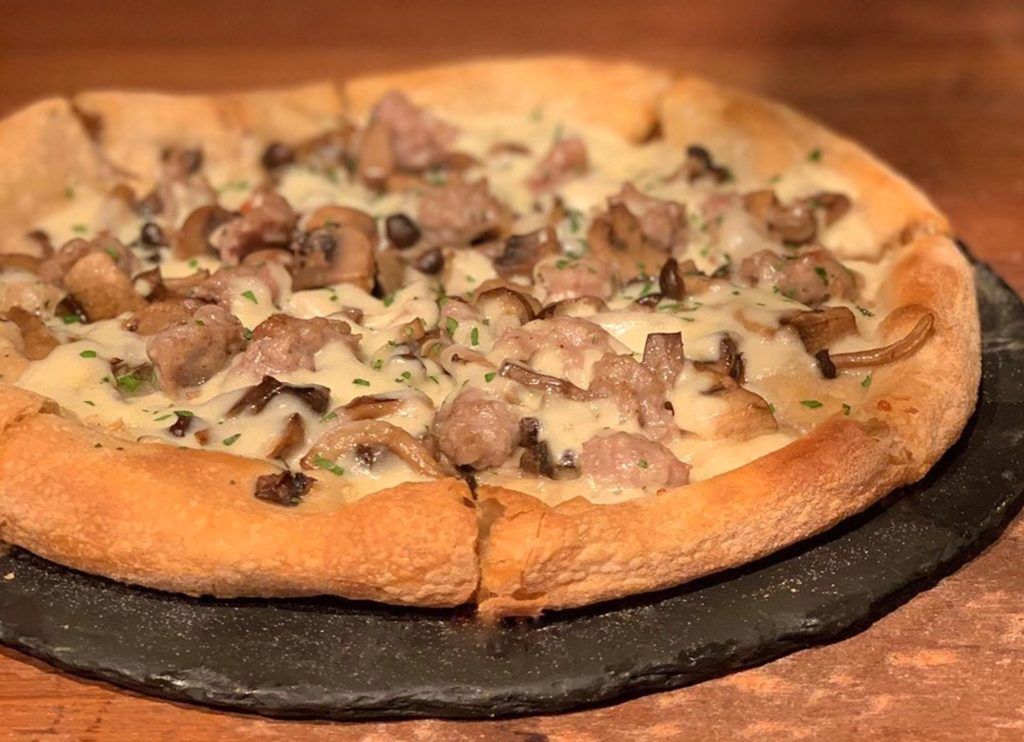 At CIAK — Lai Sun Dining's unceasingly popular casual Italian eatery — the pizza is crafted with a decided lack of gimmickry. No tricks, no twists, just good ol' fashioned Neapolitan-style pies, baked to order in a custom oven. Working from a foundation of naturally fermented dough (left to rise for 36 hours), most of CIAK's toppings are scrumptious no-brainers: built around the best Italian produce, prepped right before serving. For the ultimate comforter, the Norcina always gets the job done (HK$240): a simple medley of home-made pork/veal sausage and mushrooms, layered over the traditional pizza bianche base.
CIAK — In the Kitchen, 327-333, 3/F, Landmark Atrium, 15 Queen's Road Central, Central, Hong Kong, +852 2522 8869
Emmer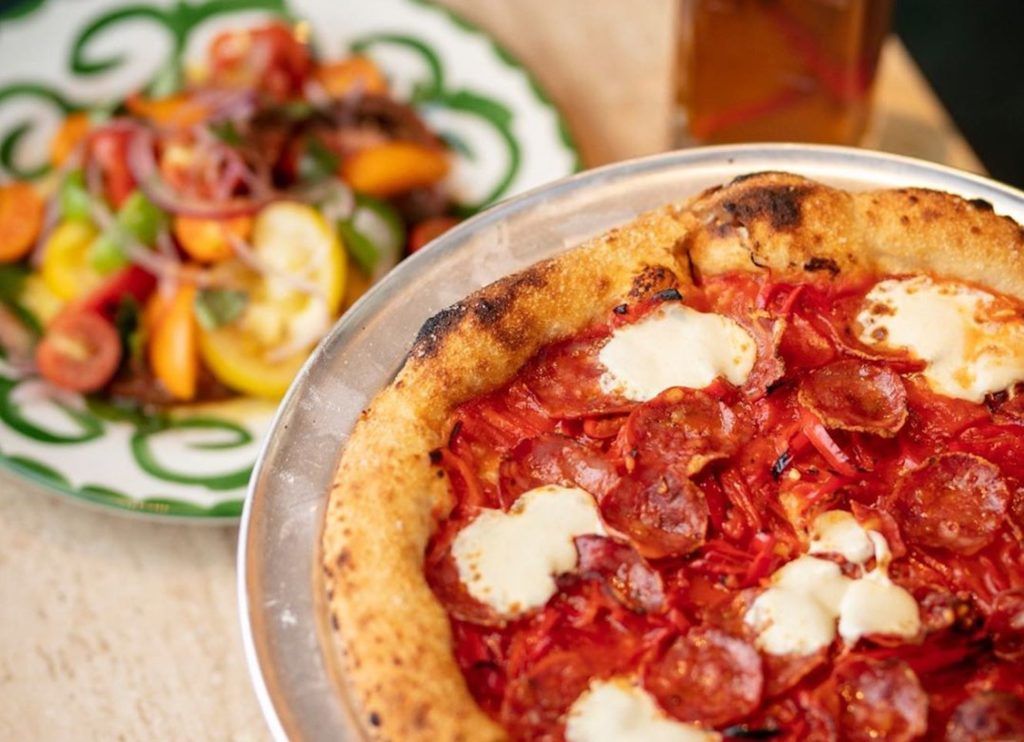 Diners with even basic knowledge of nutrition have always been wary of the (seemingly oxymoronic) "guilt-free pizza". Thankfully, the pies at Emmer aren't advertised as such, even though they're a good deal healthier than your average Pizza Hut order. All of the restaurant's pies are made with the eponymous emmer: an ancient heritage grain (rich in antioxidants, lower in gluten) that is blended with rye and white flour, then allowed to leaven naturally for two days. When baked, this pizza base creates a finely attuned balance of crunch and chew — best experienced alongside simple flavours like the Diavola (HK$152). The Emmer pizzaiolo go the extra mile by fire-roasting the red peppers called for in this topping — adding a blistered, sweet, slightly caramelised flavour.
Emmer, Shop No. 407, 4/F, Pacific Place, 88 Queenway, Admiralty, Hong Kong, +852 2780 1110
Babacio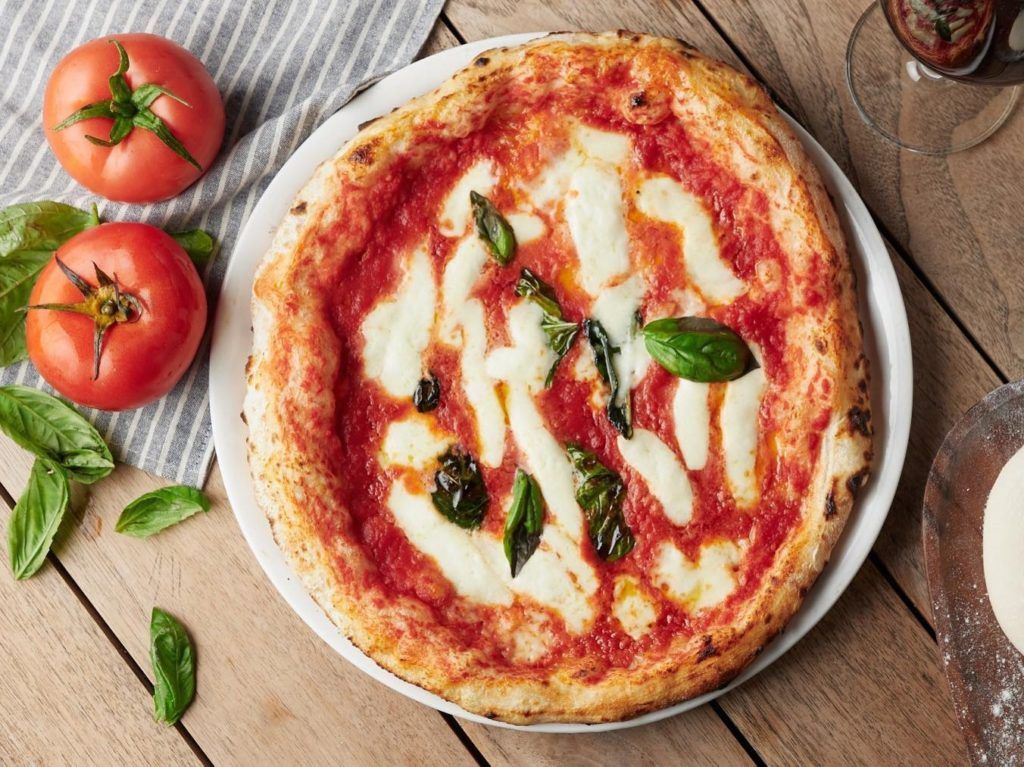 Borne out of slight controversy — it stands on the hallowed ground that used to be Kytaly, Franco Pepe's former Hong Kong outpost of his world-renowned pizzeria — Babacio continues to dish up delicious traditional Neapolitan pies atop the airy terrace that has become a firm favourite among Hongkongers over the past few years. Presumably with the same discernment for its pizza oven and attention paid into its dough, Babacio offers regular red-sauce and white-base pizzas, as well as deep fried pies. The signature Babacio features 18-month aged Parma ham, Mozzarella di Campana DOP, dried tomato, pesto and a heap of burrata to finish (HK$268) — order one to share alongside other hearty Italian bites like baked gnocchi and tiramisu. With great views overlooking Tai Kwun, it's become a popular after-work hangout for a slice and a few beers, as well as a selection of cigars and shisha later in the evening.
Babacio, 5/F, Carfield Commercial Centre, 77 Wyndham Street, Central, Hong Kong, +852 2808 1961/6595 9727
Dough Bros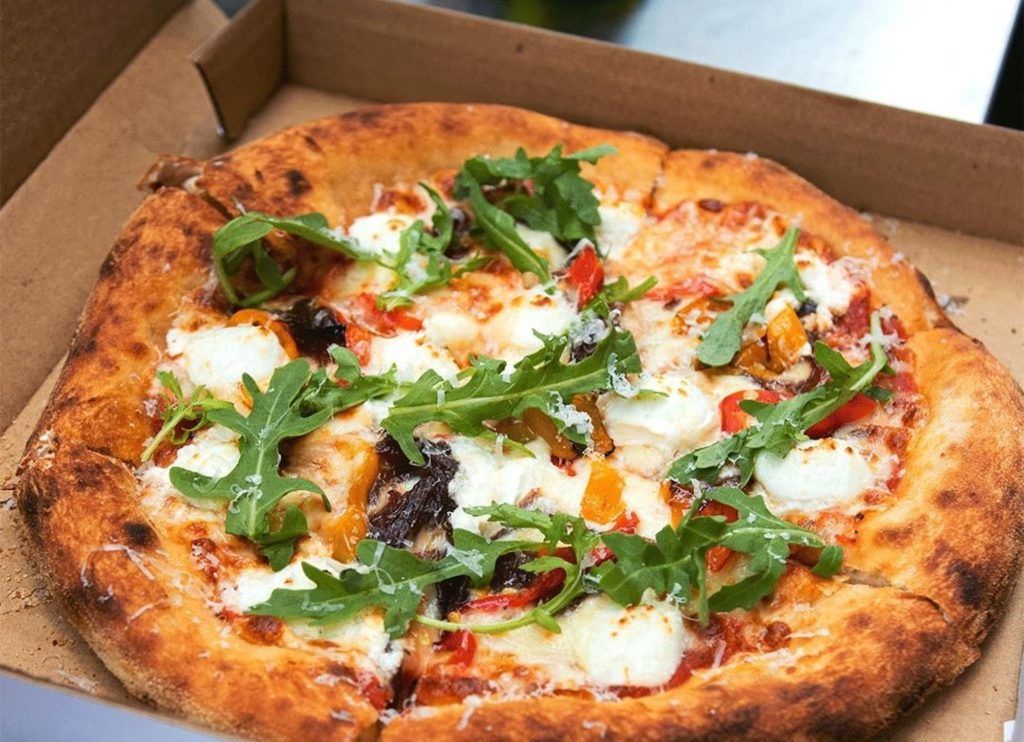 If there were any lingering doubts as to Hongkongers' collective appetite for sourdough, allow Dough Bros to put those decisively to rest. From locations in SoHo and Happy Valley, this casual eatery serves up a comforting mix of pizza and doughnuts, both using the same sourdough 'starter' (a naturally leavening mixture of lactobacilli and yeast) that is a top secret formulation of the restaurant's founders. The resulting puffed and chewy dough base — rolled fresh to order — is best enjoyed with fresh and fresh ingredients prepared à la minute. Contrary to its name, 'The Sophisticated' (HK$118) represents pleasure in its most linear form: contrasting the sourdough crust's mild tang with sweetness and acidity from the many vegetarian ingredients sprinkled overhead.
Dough Bros (multiple locations), 68-70A Hollywood Road, Central, Hong Kong +852 2398 9042
Mother of Pizzas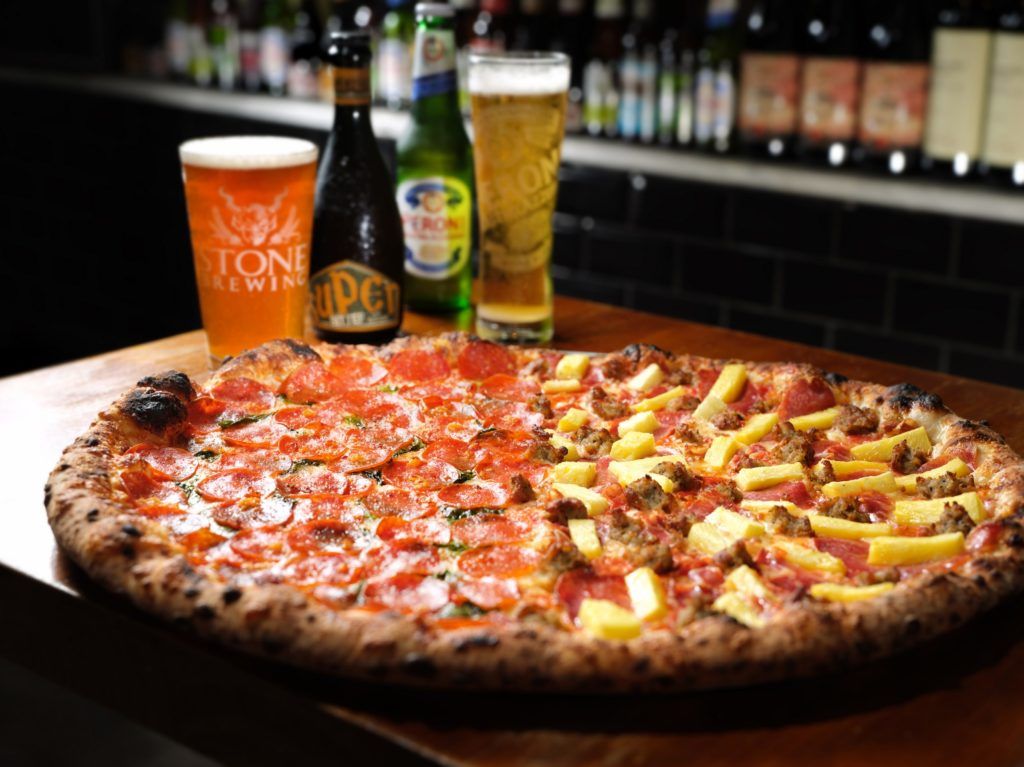 With a fervent love for the Toronto Raptors and delicious pizzas, founder Ricky Yuen and his team fire up their pies in a Wood Stone oven. Thanks to a 48-hour rise and a rapid-fire roast, Mother of Pizzas boasts a chewy, satisfying crust with just the right 'leopard-spotted' char. Their pizzas are made in a style that crosses classic Neapolitan-style pies — with its puffy crust and cheesy, 'soggy' centre — and creative, New York-style toppings, so you get the best of both worlds. We love the Canadian (HK$228/13 inches) — which keeps it simple with a pure and delicious San Marzano-based tomato sauce, large and juicy Portobello mushrooms and classic pepperoni — topped with a generous helping of mozzarella and savoury Grana Padano. Pineapple pizza naysayers just might want to give its Summer of Love 1967 a try — featuring fresh pineapples, chilli-infused honey, Capicolla and Italian sausage for a groovy rendition of the controversial style.
Mother of Pizzas, G/F, 13-19 Leighton Road, Causeway Bay, Hong Kong, +852 2891 2221
Motorino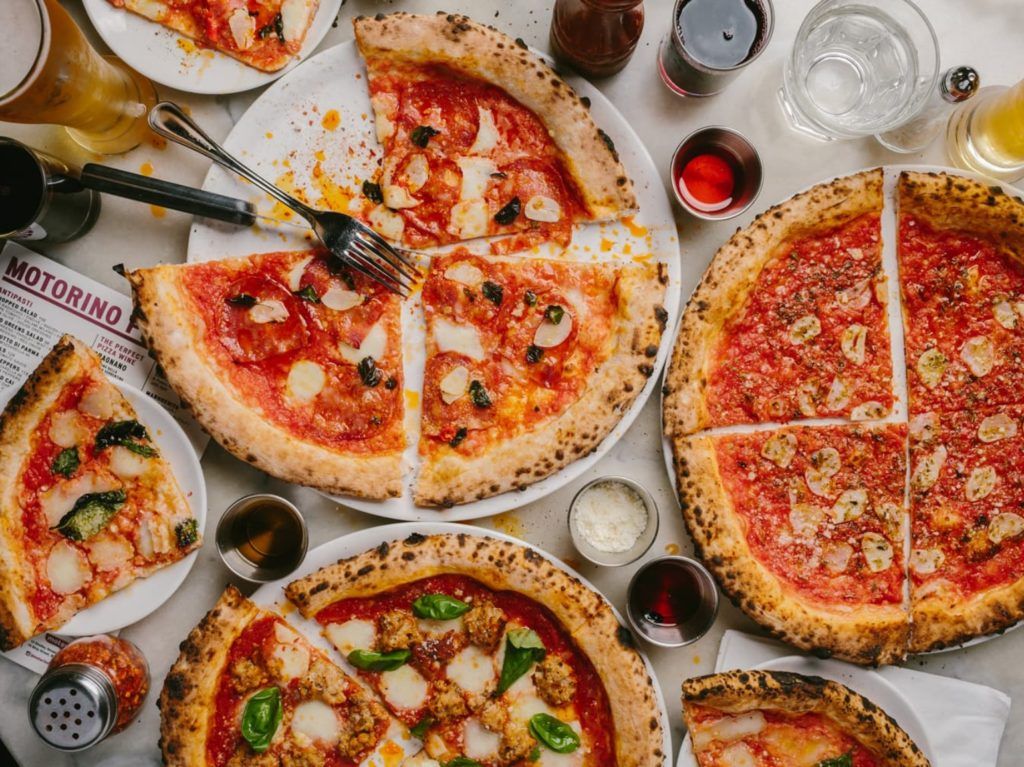 Arguably what brought on the whole Neapolitan pizza craze in Hong Kong when it opened in SoHo in 2013, Motorino is a direct New York import from chef Mathieu Palombino's first venue in Brooklyn. Under Black Sheep Restaurants, the pizzeria boasts two locations now in SoHo and on Wan Chai's Ship Street, each firing up consistent pies loved for its pillowy crust, portable sturdiness, reliable flavours, not to mention that signature, subtle char. Aside from red sauce classics, some of our favourites include its Brussels sprout and pancetta pizza (HK$198) or its indulgent quattro formaggi (HK$198) drizzled lightly in chilli oil.
Motorino; various locations including 14 Shelley Street, Central, Hong Kong, +852 2801 6881