Slow afternoons and a nice warm cuppa tea. A perfect plan for a long Easter weekend.
Dashing around laborious egg hunts and sampling seasonal spring menus, this Easter break can get pretty hectic. Wondering what to do in moments between when you could really do with a quick 90-minutes, do-not-disturb solace? Take a pause for yourself with a decadent afternoon tea set, then — best served with sweeping harbour views and animated chit-chat with a good friend.
K11 Artus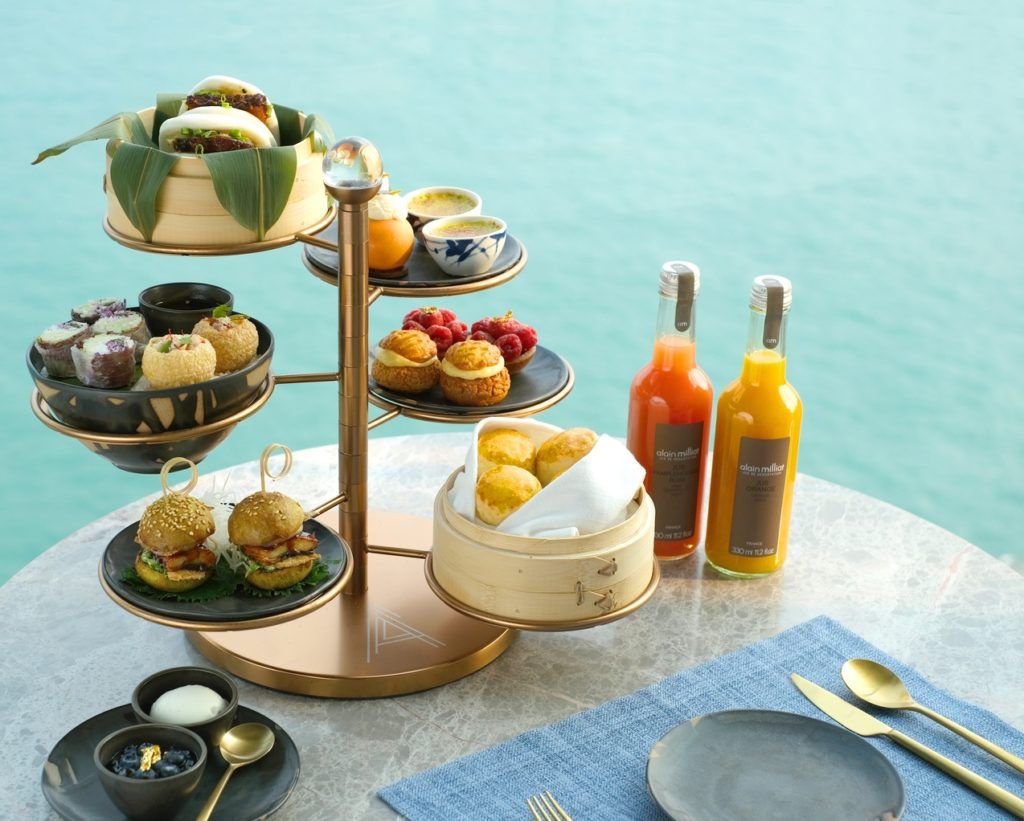 Housed on the 10th floor at K11 Artus, it's not just a panoramic view that gives The Commune a well-deserved edge, but a beautifully designed interior by André Fu and a decadent menu to match. The high-brow residence opens up it's all day dining room with a new afternoon tea menu, 'Tea by the Harbour'. Encompassing a signature selection of tasters from the all-day menu, it's an apt showcase of The Commune's hybrid 'East meets West' ethos with treats like the pineapple bun choux, Pandan crème brûlée, and baked scones served with tea-infused jam. Highlights are most certainly the artisanal tea blends, curated with the local tea purveyor Teacha. As a celebratory treat of its launch, guests who visit from 3-6 April will receive a complementary box of chocolates and Easter-inspired decorations.
The Commune, K11 Artus, Victoria Dockside, 18 Salisbury Road, Tsim Sha Tsui, Hong Kong, +852 2107 3388
Four Seasons Hong Kong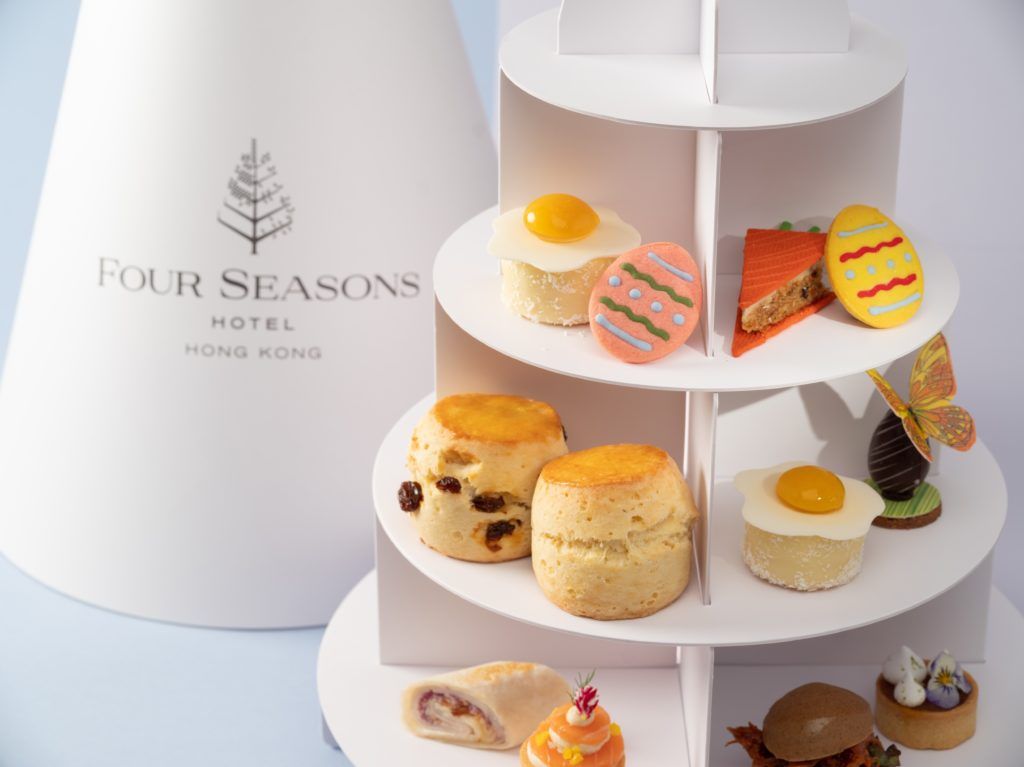 The age-old adage, "The more the merrier" is a concept which The Four Seasons Hotel Hong Kong's 'Egg-cellent Easter' afternoon tea set (HK$488 per person) fervently adopts. An endearing dedication to the holiday with a tasty selection of treats, there's egg-shaped sugar cookies in a rainbow array of pastel shades, a traditional cream-cheese carrot cake, hot cross buns, and a lemon-verbena ice cream sandwich to quell the warming temperatures. Should you crave for a larger variation of Easter sweets, executive pastry chef Ringo Chan unveils a decadent selection from a popcorn sheep cake and giant easter cookies to bolster the merry mood.
The Lounge, G/F, Four Seasons Hotel Hong Kong, 8 Finance Street, Central, Hong Kong, +852 3126 8820
Island Shangri La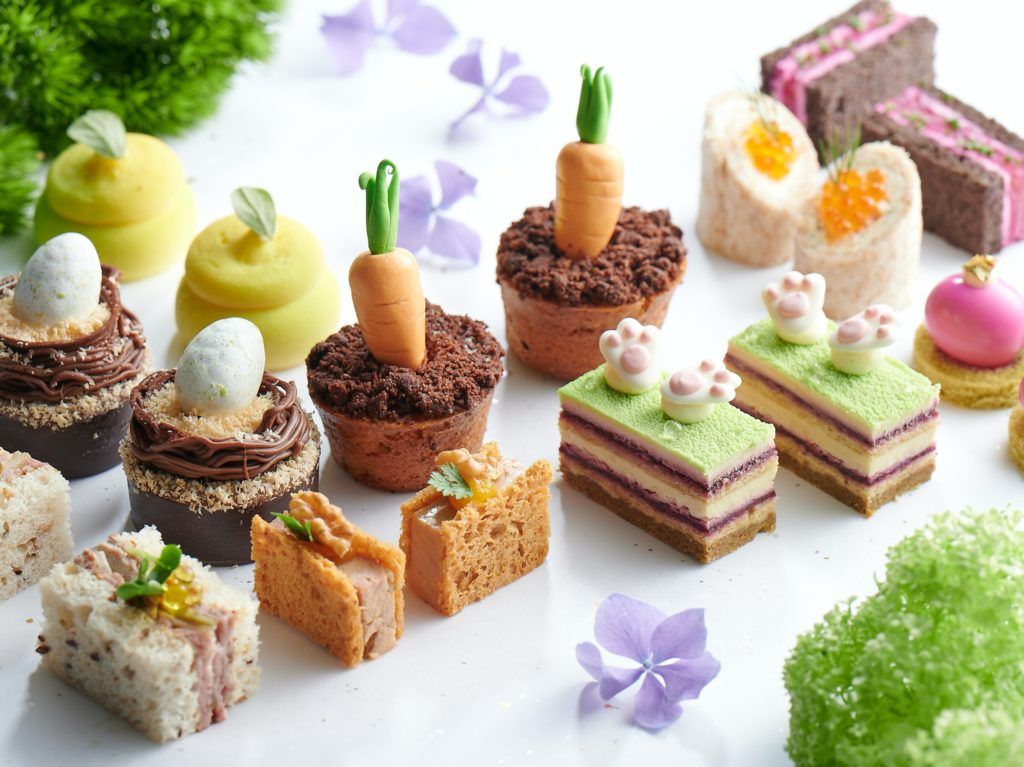 A full-blown dedication to the jovial Easter season, Island Shangri-La's 'Egg-ceptional Easter' afternoon set (HK$558) is not simply just a well-placed pun, but an endearing tribute to the best of Easter: pastel palettes, chocolate eggs and signs of an elusive Easter bunny. Beautifully created and suited for quick snaps for the 'gram, each finger-sized bite is as delectable as they appear to be — especially the coffee chocolate bird's nest topped with a gleaming egg and the Easter carrot cake, distinguished by the half unearthed root vegetable.
For a tribute less ostentatious and more decadent and delicate, the pastry team at Shangri-La, inspired by the timely sakura season, has also created a stunning range of Easter Goodies, featuring classic Japanese characters moulded entirely from Valrhona chocolate. There's an elegant chocolate Geisha and Samurai as well as a darling Easter tribute: Sumo Bunny. A sculptural piece that is as delicious as it looks for table-spreads at home.
Island Shangri-La Lobby Lounge, Level 6, Island Shangri-La, Supreme Court Road, Central, Hong Kong, +852 2877 3838
Kerry Hotel Lobby Lounge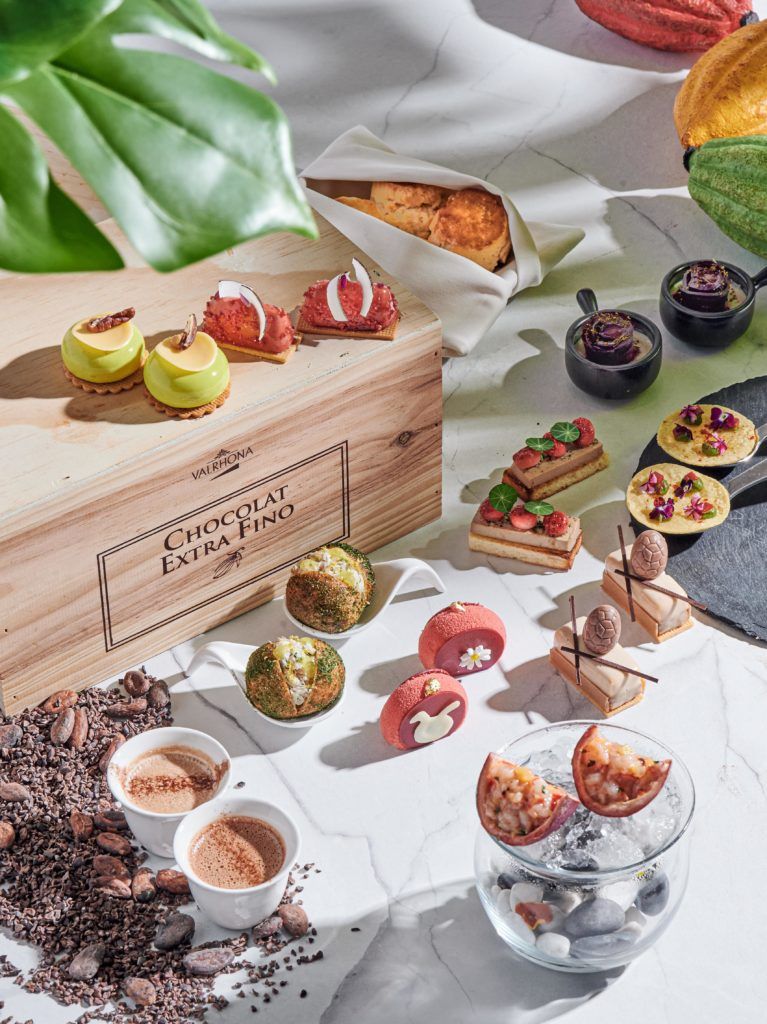 In any capacity, the mere mention of chocolate brings to mind a treat of decadence; a self-indulging moment pure joy. Since we are all in need of a cheer-up, Kerry Hotel has tapped into this guilty pleasure with an afternoon tea created in collaboration with French chocolatier Valrhona. The 'Colour of Inspiration' afternoon tea set (HK$668 for two) highlights the brand's celebrated fruit couvertures with five flavours: yuzu, almond, raspberry, strawberry and passionfruit. Savour the rich and natural profile through delicious, bijouterie-like vehicles, like the almond mousse, crab and yuzu doughnut or the passion fruit and Sicilian red prawn 'ceviche'. Look closely and spot the subtle nods to the season in the sculpted Easter bunny and the vibrant spring blooms.
Kerry Hotel Lobby Lounge, Level 1, Kerry Hotel, 38 Hung Luen Road, Hung Hom Bay, Kowloon, Hong Kong, +852 2252 5237
The Ritz-Carlton Hong Kong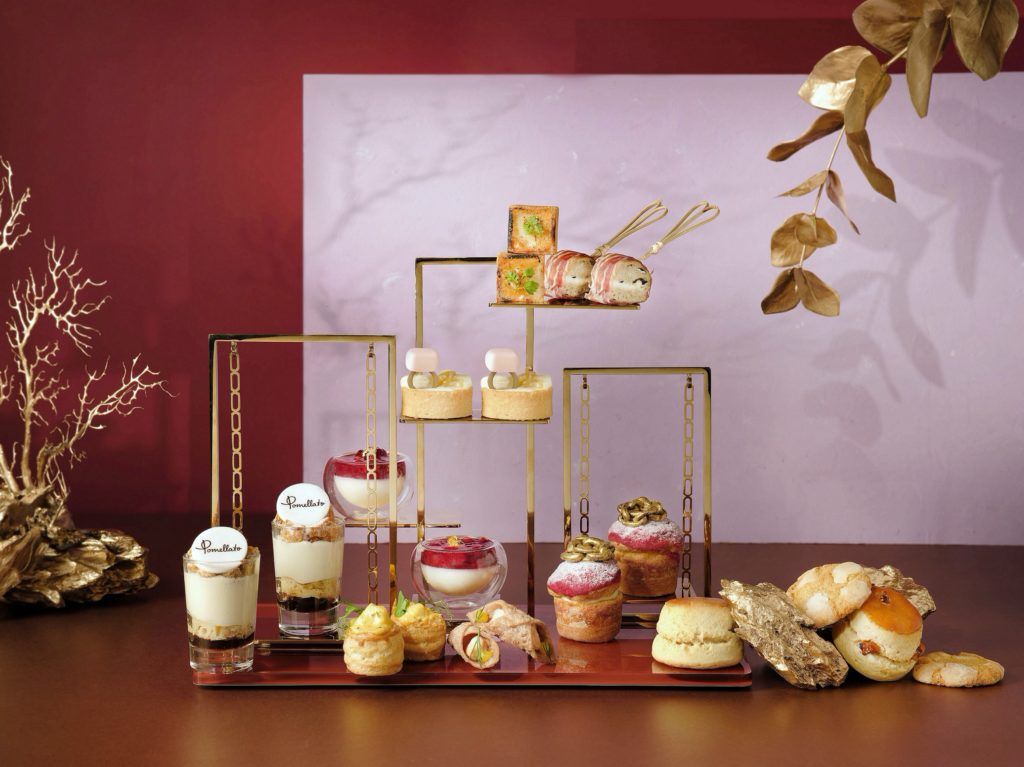 An afternoon spent at the sunny Italian coast? Most certainly, yes please. Head 103 floors up The Ritz-Carlton Hong Kong at the Lounge & Bar, then, where an 'Art of Italian' afternoon tea (HK$728 for two), created with fine-jeweller Pomellato, is currently calling all miserable non-travellers. The jewel-adjacent range of sweet and savoury treats pay homage to the cobblestone streets and quaint borgos doing around the peninsula with classic flavours like the smoked salmon cannoli with lemon curd, olives and rosemary bread slathered with pesto mayonnaise, and the most alluring (in our eyes), a raspberry balsamic compote panna cotta — sweet with a satisfying tang. Flavours so fit for the springtime, and so evocative of la dolce vita. Buon appetito!
The Ritz-Carlton Hong Kong Lounge & Bar, Cafe 103, Level 103, The Ritz-Carlton, Kowloon, Hong Kong, +852 2263 2770
The Cakery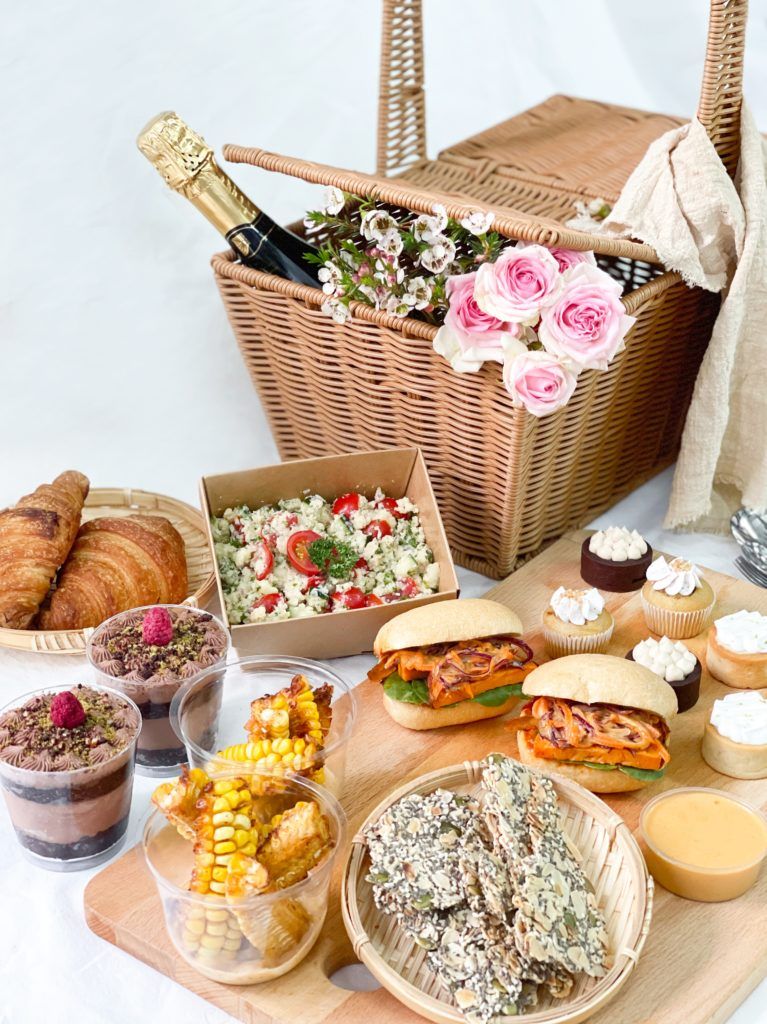 With the springtime chill seemingly set to linger (here's to hoping!), take advantage of capricious fresh spring breeze and glorious 5-day weekend with an outdoor picnic under the sun, minus the overindulged food coma. The Cakery introduces a new vegan basket (HK$618) packed to the brim with guilt-free treats from its beloved vegan portfolio: red pesto sweet potato sandwiches, roasted corn with spicy mayo and mini peanut butter chocolate tarts. Wash it all down with the accompanying organic sodas. Or a bottle of vegan wine. Cheers!
The Cakery, various locations including Shop 303, The Landmark, Central, Hong Kong, +852 6683 3833
Madame Fù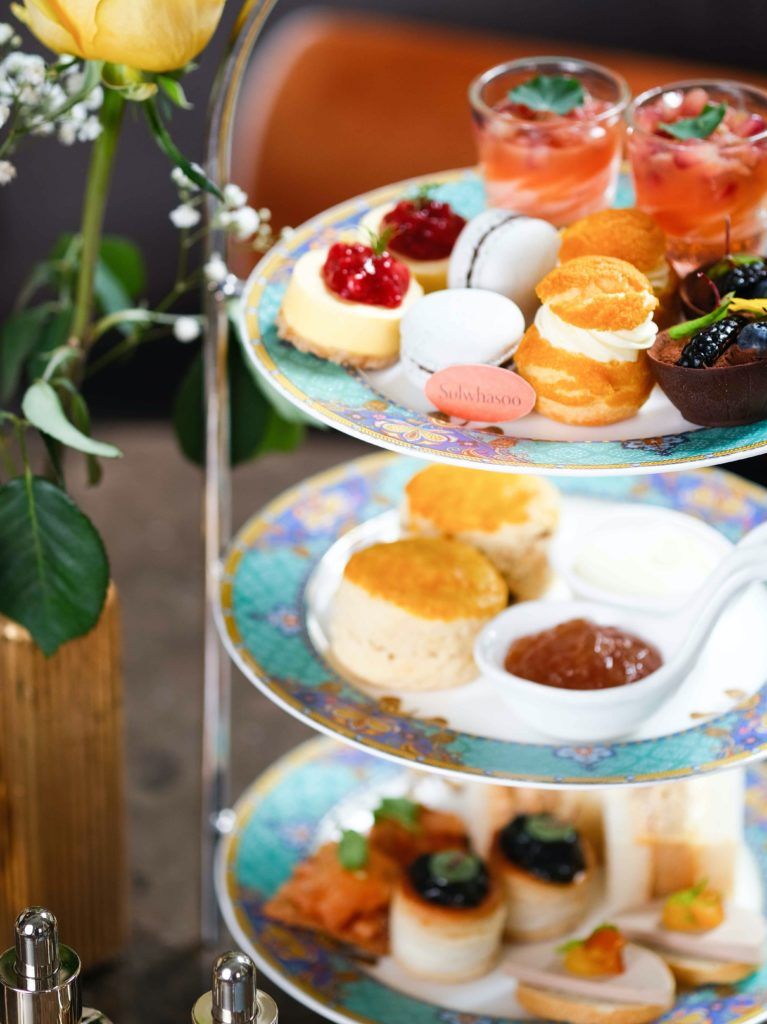 Truth be told, some of us are just looking to unwind this long Easter weekend. Between rolling up in blanket burritos and endless Netflix marathons, head to Madame Fu for a lazy afternoon with the new 'The Best of Me' tea set. Lounge upon tea-room's photogenic terrace and savour deletable Korean-inspired bites ideated with its latest collaborator, Sulwhasoo. There's a kimchi cracker and foie gras crostini with Jeju mandarin coulis on the savoury menu, while the pomegranate and blood orange delight stars on the sweet version. Snag an exclusive gift from Korean beauty brand as you leave — perfectly timed for a lovely afternoon of facials and bubbles baths followed right after. In any case, you deserve it.
Madame Fù, Shop 03-101, A Block, 3 No. 10 Hollywood Road, Central, Hong Kong, +852 2114 2118
The Mira Hong Kong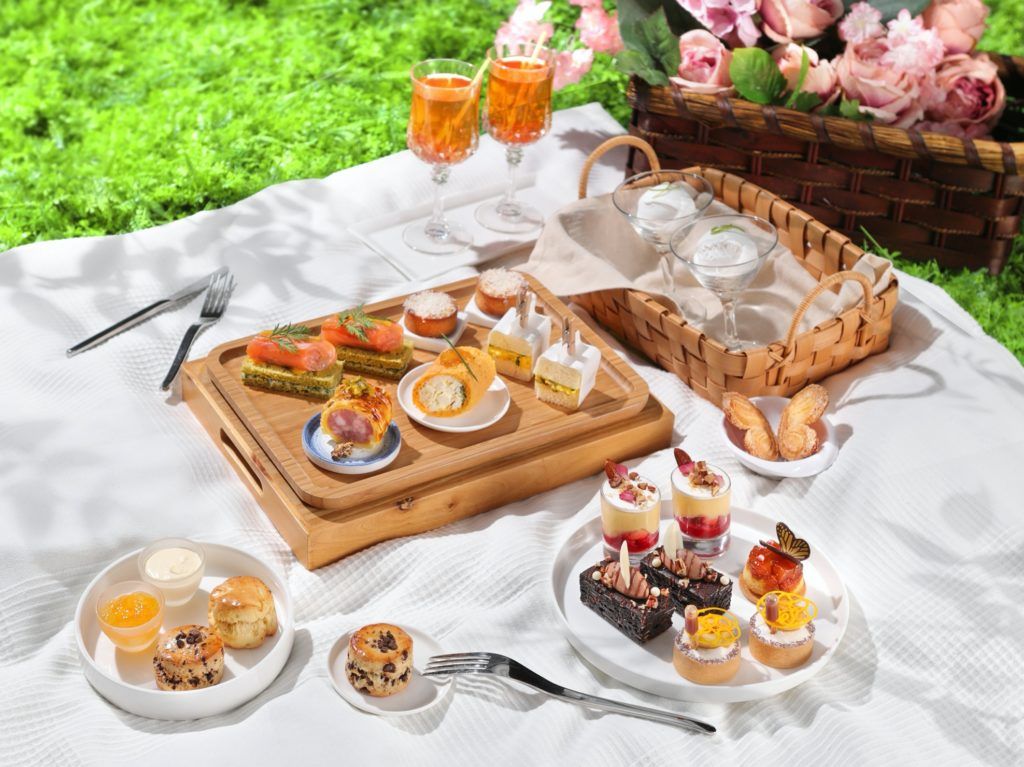 It's a respite from the big bad city. Coco's Picnic in the City' afternoon tea set (HK$468 for two) at The Mira Hong Kong is a delightful selection of picnic basket staples. You may be smack-bang in the middle of busy Tsim Sha Tsui, but it doesn't hurt to shut your eyes for a moment to imagine: fresh spring breeze and dainty finger sandwiches laid out on the classic red-and-white checkered blanket. Sip a fragrant cuppa between bites of the coronation chicken in curry bread or delectable spoonfuls of the fresh summer berry trifle. Finishing with a refreshing citrus sherbet, it looks a relaxing afternoon is near in sight.
Coco, Ground Floor, The Mira Hong Kong, 118 Nathan Road, Tsim Sha Tsui, Kowloon, Hong Kong, +852 2315 5566
181 at Fortnum & Mason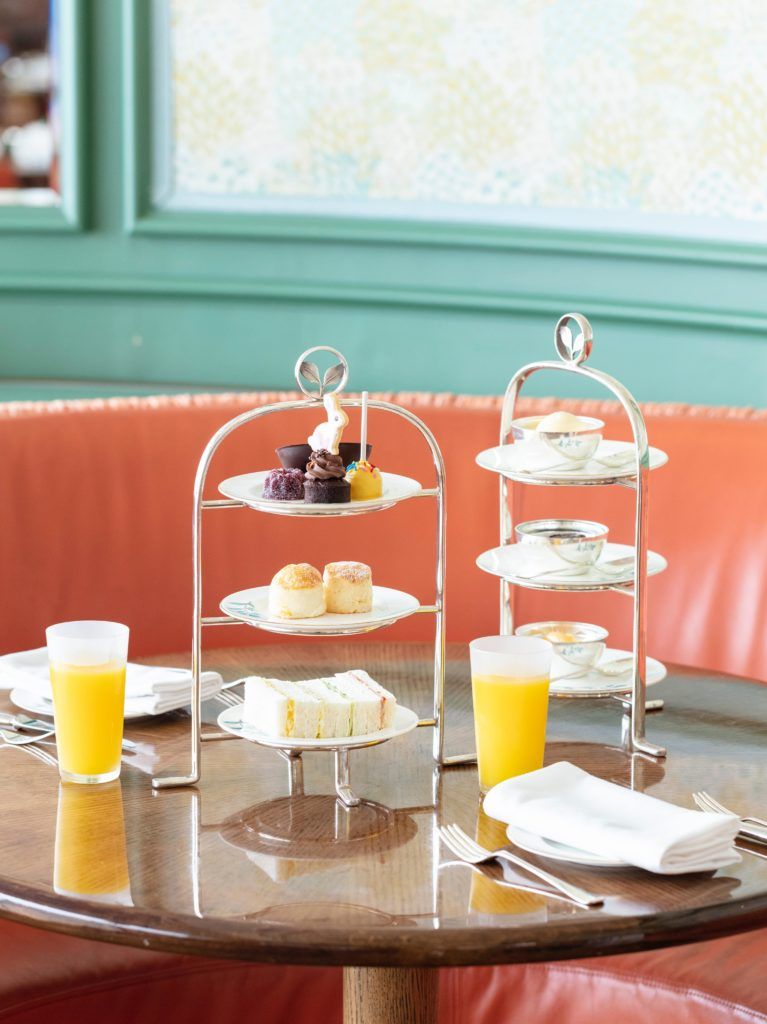 At 181, afternoon tea is enjoyed in the most decadent, archetypal way; a sweeping vantage of the Victoria Harbour view, a luxurious selection of fine foods, and long, undisturbed afternoons with dear friends. The tea house itself is an ode to tradition too, being named in honour of Fortnum's address in London's Piccadilly. Tuck into the limited-time Easter special, a line-up all of the celebrated favourites from Fortnum & Mason's extensive collection: perfectly glazed hot cross buns with a selection of preserves, sweet desserts and of course the signature loose tea blends.
181 at Fortnum & Mason, Shop 022, G/F, K11 Atelier, Victoria Dockside, 18 Salisbury Road, Tsim Sha Tsui, Kowloon, Hong Kong, +852 3916 8181
Aqua Luna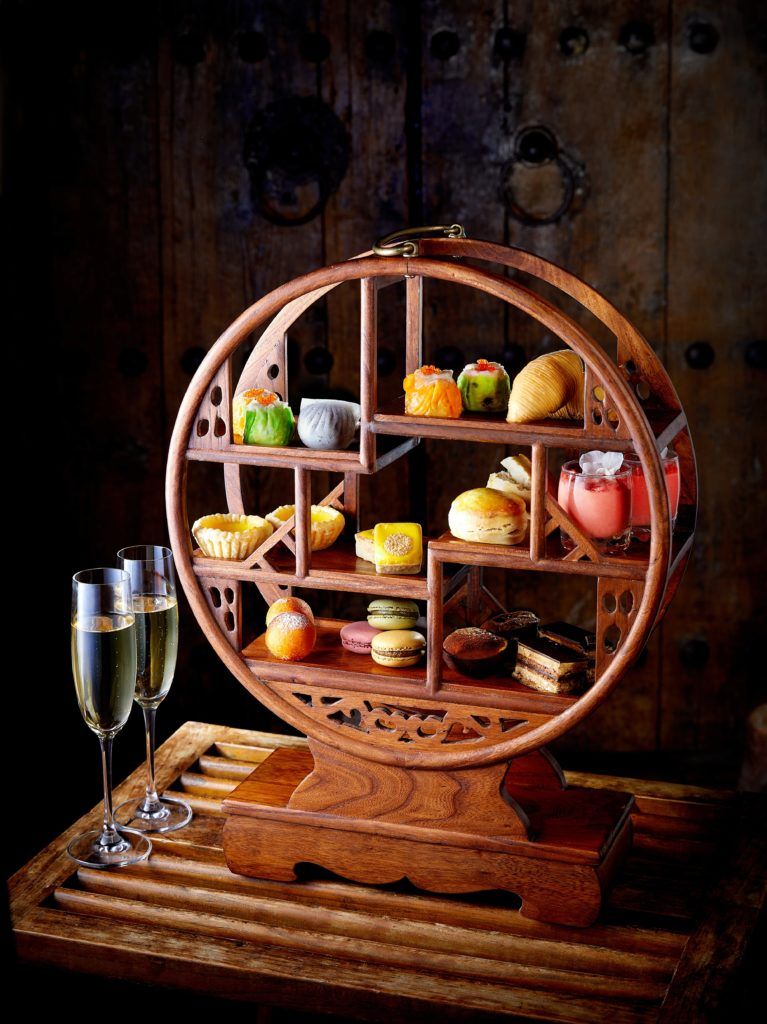 We're going to have to live without that ritualised week-long Easter getaway this year, but perhaps a hour away at sea basking in the photogenic Hong Kong cityscape can be a considerable alternative? Aqualuna, the postcard-ready Chinese junk boat that sails between Victoria Harbour, has launched a special afternoon tea at sea (HK$798 for two) featuring stalwart sweet Easter staples (read: chocolate) and a selection of yum cha classics from Dim Sum Library, including a tempting black garlic siu mai. Delicious. There's of course scones and a bottle of bubbly — would it even be considered afternoon tea without?
Aqua Luna, pick up & drop off at Tsim Sha Tsui Pier 1 or Central Pier 9, +852 2116 8821
Header image courtesy of Coco at The Mira Hong Kong