The team behind Brut! wine bar and Blacksalt restaurant have joined forces for a sherry-led, seasonal menu that fuses Indian and French cuisine.
Opened a few months, Pondi is the newest enterprise of chef Taran Chadha, of BlackSalt fame, and co-founders of Brut! wine bar Camille Glass and George Kwok. The trio have concocted something truly unique at the Sai Ying Pun cul-de-sac, led by a passion for sherry and an idealistic version of Pondicherry cuisine.
Pondicherry in South India was once a French colony but, after a summer sojourn to the seaside town, Camille and Taran quickly realised the untapped potential of its cuisine. Yes, a French bouillabaisse is sometimes tinted with turmeric, and coconut milk is added to local curries for the mild French palate but, by and large, the envelope for 'fusion' food was never really pushed.
Who better, then, than Hong Kong's own independent restaurateurs, with Indian and French heritage respectively, to create an entirely new culinary narrative? The "could-have-been" or the great "what-if" of Pondicherry is uncovered at Pondi, with such excitement that it's almost as palpable as the food entering your mouth.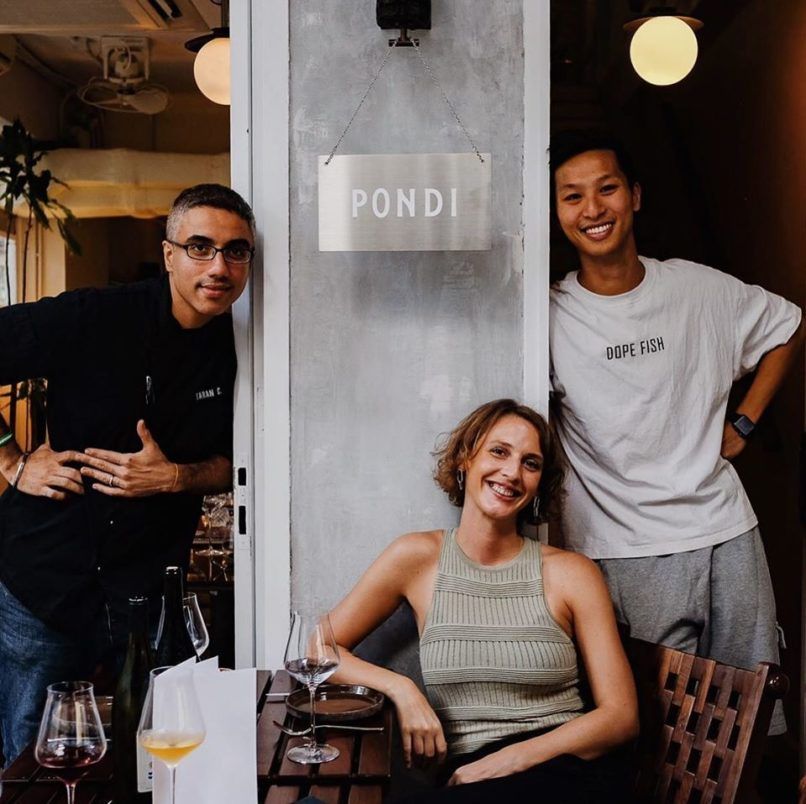 Ambience
To be clear, Pondi is a small space. Taking over the original home of BlackSalt by chef Taran, the first floor fits no more than twenty diners. Upstairs, a private room is set up for larger parties. As such, reservations are definitely recommended.
Barside gets you up close and personal with chef Taran and his sous chef, expertly dancing around each other in their tiny open kitchen. Closer to the entryway are the main tables, spilling out onto the patio for al fresco dining.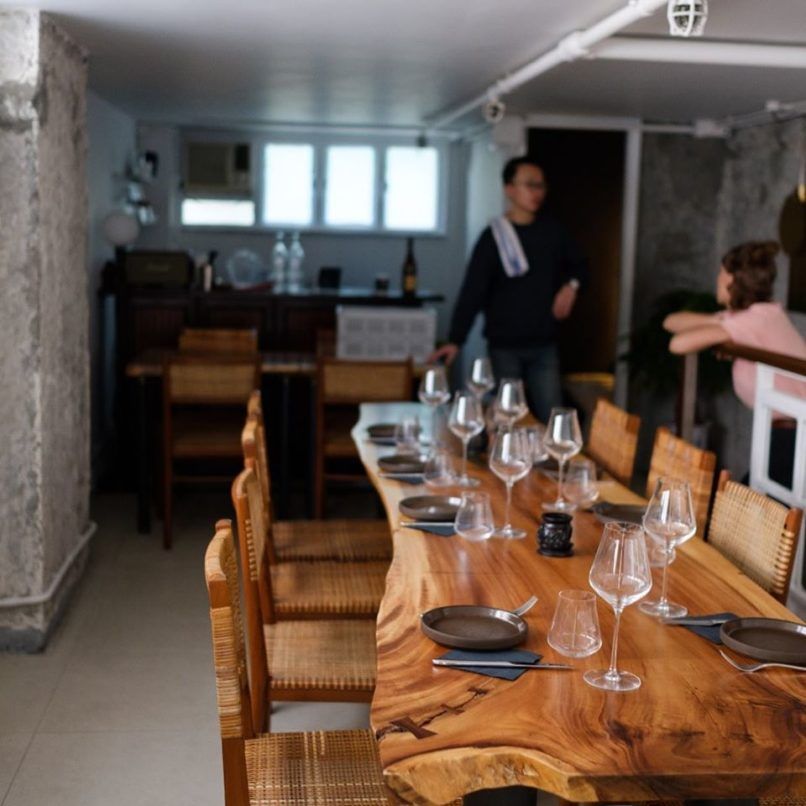 Honouring Pondicherry's history is furniture sourced from the mustard-coloured town, but with a few caveats. Designed by the award-winning Daniel Kamp, whose portfolio includes BoConcept and Pata Negra House, Pondi marries an almost 'wabi-sabi' aesthetic with the rich handcrafted woods of its namesake's artisanal heritage. The result is laidback and cosy cool; Pondi is a place where neighbours can hunker down, chatting into the breeze for hours, with nibbles in between.
Food & Drink
For our evening, we started with a glass of the Xeco Fino, with notes of salty olive brine and pickled lemon. The food menu, thoughtfully labelled with gluten-free tags, is designed so that dishes pair with the sherries and natural wines on offer. Four or five dishes should do the trick between two people.
We started with the gougeres. The savoury French cheese puffs were soft and hearty. Spread with a light, whipped goat's cheese and just a hit of cracked pepper, you could imagine yourself tucked away in a French cottage with a few of these. But the added element of an anchovy sambal sent us right back to Asia, with its heat and punch making it resilient against the creamy cheese and dough.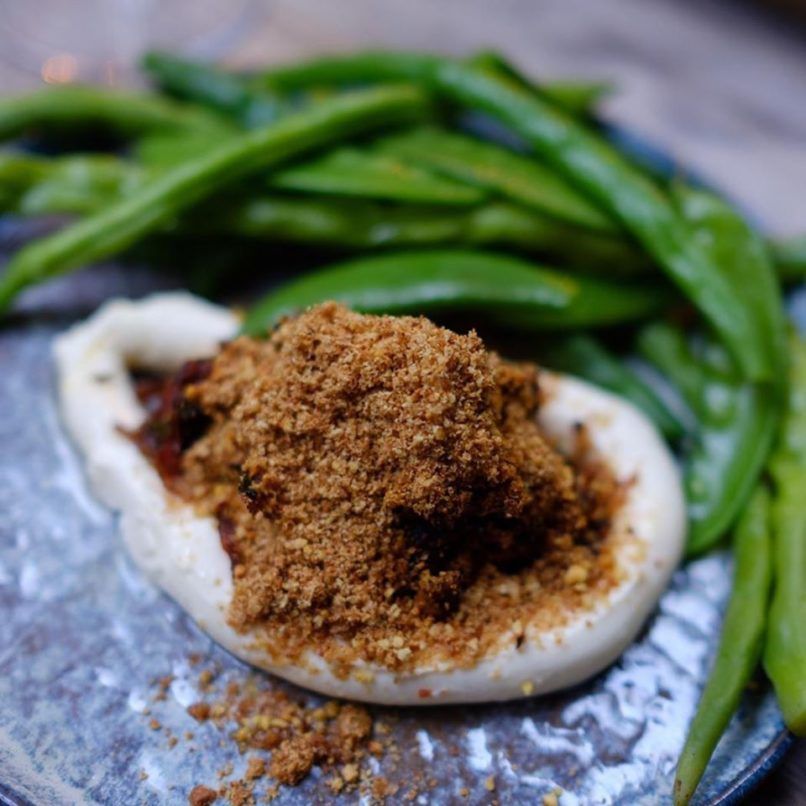 Chef Taran's wife, we are told, is Nepalese and, at every Nepalese wedding, Taran bee-lines to the buffet table where a load of anchovy sambal has patiently waited for him.
For signatures, nothing screams French Indian fusion quite like the butter chicken liver terrine. It is a chilled loaf of chicken liver layered with the mildly spiced butter chicken, perhaps better suited for a summer picnic than a nighttime nibble. That said, it paired well with the salsa of green mangoes, red chillies and slightly bitter green peppers, and a pickle of cucumber and confit lemon which reminded us of a classic chutney.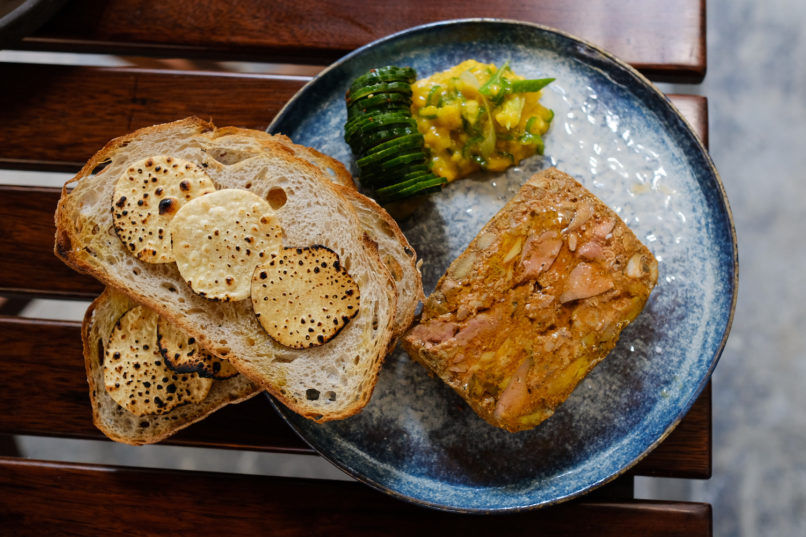 The calamari, stuffed with pancetta and pork mince, is generously piled in a bowl of amber broth, featuring even more pancetta and fresh clams. Celtuce soaks up the salty, earthy flavour that imbues the liquid but flatbread, finished with subtly sweet coconut oil, is also conveniently offered for you to mop up the rest.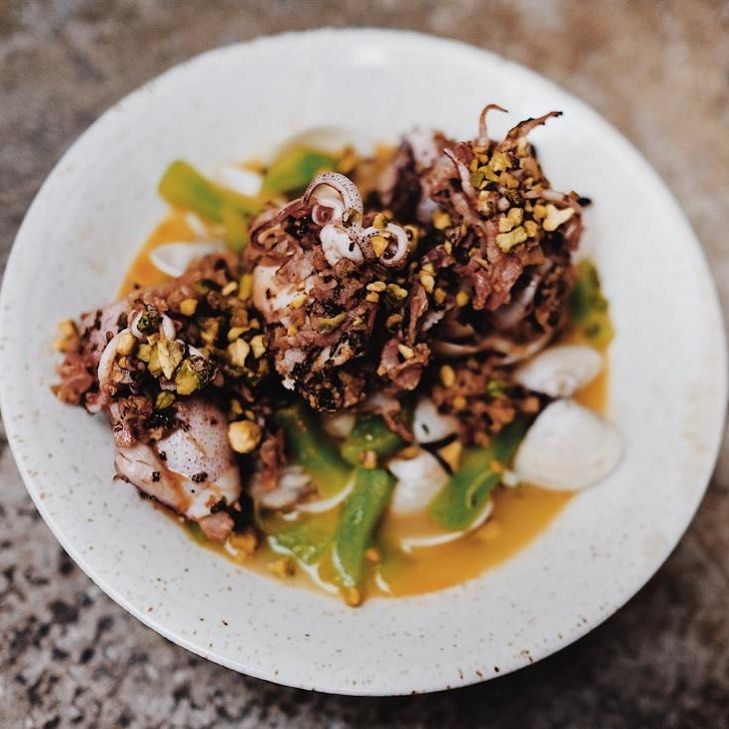 For dessert, we fell in love with the passion fruit and mango vegan ice cream, served in a dosa cone with coconut and caramel syrup.
Verdict
Pondi is no place for the culinary purist. But that doesn't mean the dishes are no less storied. Rich with the founders' personal memories and anecdotes of what they conceive to be French-inspired, Indian-inspired cookery, the food is inventive, thoughtful and distinctly their own.
Pondi also teaches us that sherry isn't just for Spanish tapas, just as champagne is not just for French food. Think past the lines drawn in the sand, and you'll find yourself in better spirits — quite literally.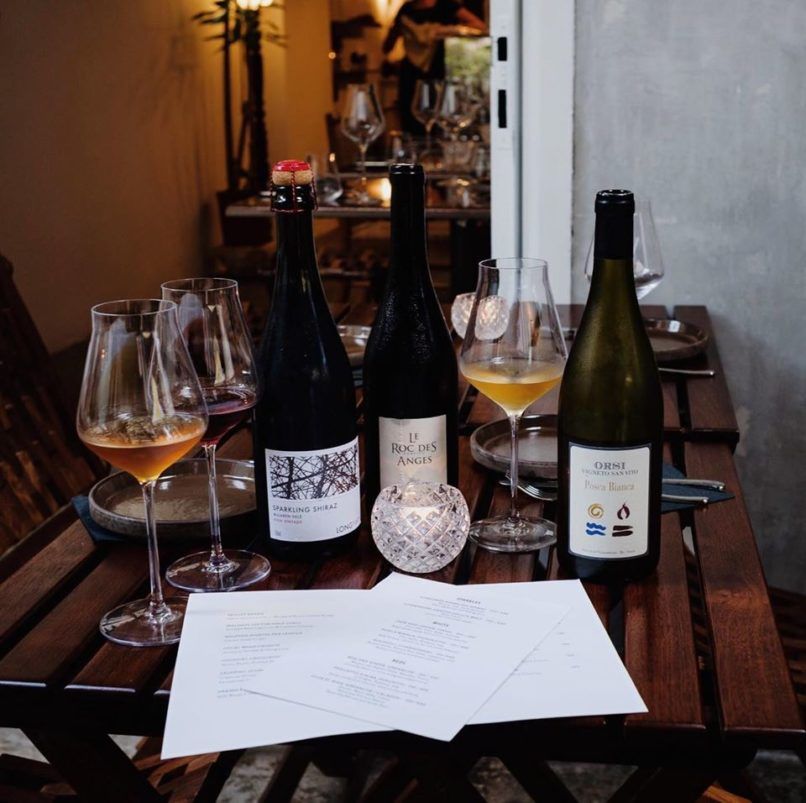 We predict that Pondi will be the place in Sai Ying Pun to lay back and indulge, if it isn't already. It has been meticulously curated as a space — by decor, service and menu — to forgo the high-hat and hoity-toity for the luscious and laissez faire.
Perhaps just as pronounced as the flavours was the sense of community. This is your local haunt, where neighbours rub shoulders, where Camilla waxes lyrical about the natural wine movement, and where the servers will remember you by name. And, frankly, we need more of them in Hong Kong.
Opening Hours: 6–11pm, Monday to Saturday (final orders before 10:30pm).
Recommended Dishes: Gougeres, baby calamari, passionfruit and mango vegan ice cream.
Price: From HK$300–500 per person.
Noise Level: Medium.
Service: Friendly, diligent and well versed.
Pondi
Address
14 Fuk Sau Lane, Sai Ying Pun, Hong Kong