February marked an exciting month at the Mandarin Oriental, with the reopening of the newly revamped esteemed Chinese eatery, Man Wah, the unveiling of the new Mandarin Club Lounge and the grand opening of a new izakaya experience, The Aubrey.
Perched on the 25th floor, The Aubrey takes up the space previously belonging to French fine-dine establishment, Pierre. Controversial, sure, considering the two-Michelin star spot is dearly missed by many. But the arrival of The Aubrey marks a brand new precedent for dining experiences at the time-honoured hotel; something surely worth celebrating — not to mention the interiors are phenomenal.
A project completed in collaboration with Maximal Concepts, the group also behind popular dining spots Mott 32 and John Anthony, The Aubrey extends the same relaxed, laid-back ambience coupled with delectably well-crafted plates. It's the destination to be for those seeking "the journey of a hungry mind", or those hungry in general and longing for an escape as we continue to remain land-bound.
The Ambience
As you turn the corner into the dimly-lit entryway of The Aubrey, the portrait-lined walls — worth a browse if you have the time — are indicative of a unique dining experience within; a world's difference from the austere, zen and minimal décor so prototypical to Japanese fine-dines housed within hotel establishments. The space within is an eclectic one, eccentric, even, much like stepping into the exuberant residence of an avid traveller — an intentional tribute to the Mandarin Oriental's storied history and international presence. Separated into different segments, each part of The Aubrey is evocative to a room in any home: there's the main bar surrounded by bottle-stacked cabinets and hanging stemware that looks the look of a fully stocked kitchen, before moving down wood-panelled corridors towards a drawing room and curio lounge, carefully decorated to match the mise-en-scène in which it plays. It's also the reason why The Aubrey feels so welcoming and homey upon entering, too; a meet-up spot for close friends to get lost in conversation in — not to mention the panoramic views of Victoria Harbour at night set a most photogenic ambience.
Inspired by Japonisme, a 19th century art movement that focuses on Japanese-inspired Western art, various details within the restaurant pay tribute towards the genre, including a sizeable wall mural of rare red-crowned crane within the Curio Lounge. The aforementioned portraits dotted along the front hallway are part of a 140 collection of artworks inspired by the era and are meticulously hand-picked, sourced and scattered artfully throughout the space.
The Food
At the helm chef Yukihito Tomiyama, a 25-years experienced sushi and sashimi master formerly at the one-starred Shinji by Kanaseka in Macau. Expect an honest, familiar take on Japanese cuisine here finished with a delightful twist (and surprise in certain courses), with an extensive menu that ranges from sushi and sashimi to the more fragrant robata and tempura. Short note: We hear that a bento box filled with the restaurant's best hits will be served during lunch time, a rewarding pick-me-up for the Central lunch crowd perhaps?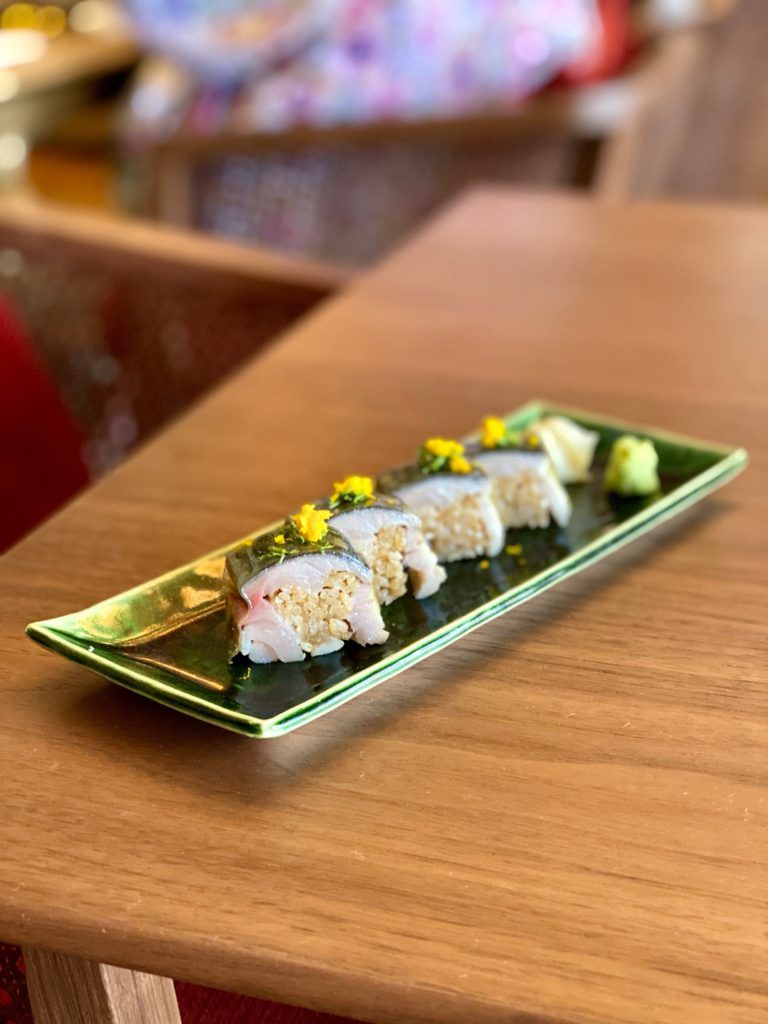 If it's sushi that's your Japanese cuisine kryptonite, then The Aubrey is the right place to be. It's chef Yukihuto's speciality, having being specially trained in traditional Edomae sushi-making, each bite is an authentic dedication; the overnight marinade on the fish means each piece is flavourful enough to be enjoyed without the soy sauce dip. A fantastic, sea-fresh selection from delicate maki rolls to the nigiris, popular salmon, luxurious uni and otoro. If choices are difficult to choose, an omakase platter (HK$688 for nigiri; HK$988 for the premium platter) option is available too and will feature six of chef's expert selection.
From the robata — and on traditional binchotan, at that — the Sakiyo miso sablefish (HK$418) was pleasantly aromatic, inclusive of a glistening surface and perfectly charred crust. The use of sablefish, a more sustainable farming option, is The Aubrey's alternative to the archetypal cod fish, albeit not missed, and gestures towards Maximal Concept's dedication to sustainable practices. It's soft and buttery, and flavourful.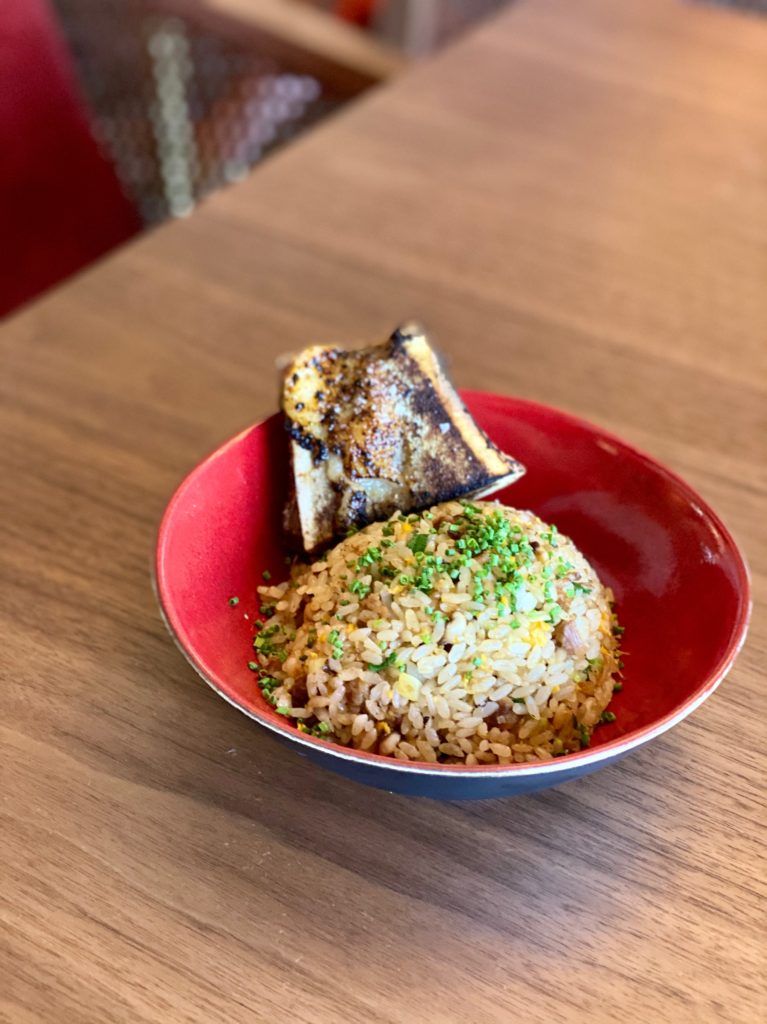 Instead of placing focus on another main, a delicious wagyu oxtail and bone marrow fried rice (HK$278) and tasty palette openers in the starter section (the agedashi tofu with mushroom ankake HK$158 is a recommendation), I'd rather shift focus towards the dessert that were undeniably more on. the exciting, innovative edge. Hokkaido milk ice cream served adorably in cones (HK$68), yes. But in particular, the white miso soufflé (HK$118). Served with a light dusting of matcha powder, it's savoury, with a faint lingering of sweetness, ever-so-light, airy and a welcomed end to a most indulgent meal. A must-order no matter how full you might feel. There's room for it.
The Drinks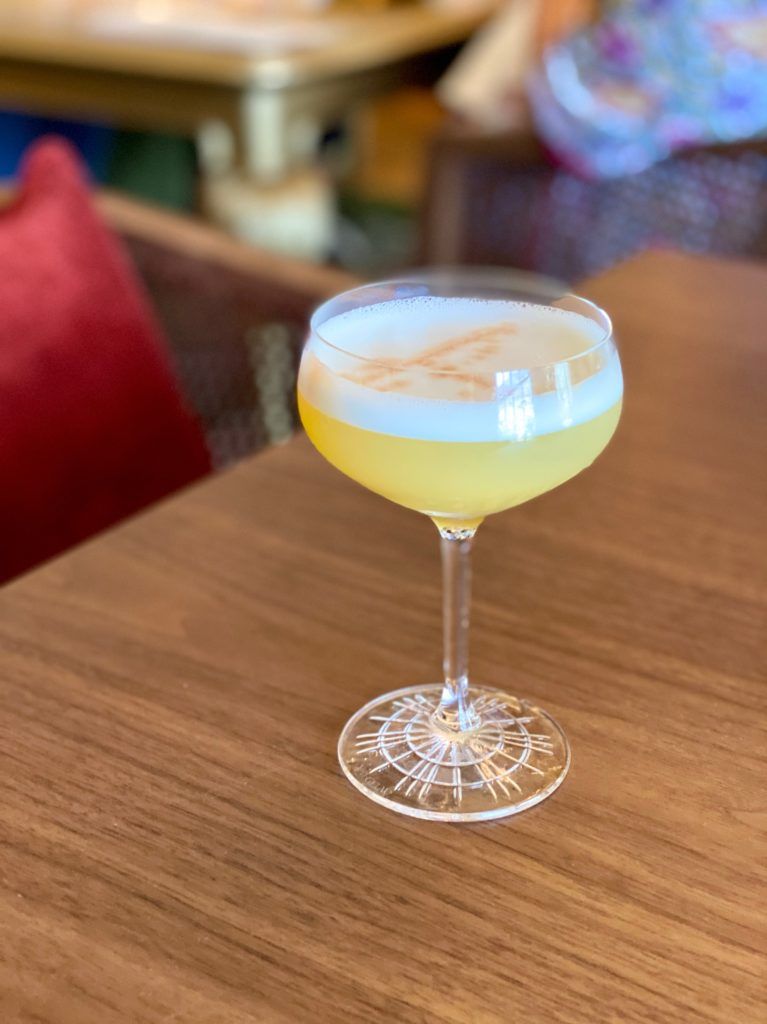 With a drinks program that's just as prolific as the à la carte, it's evident that beverages are taken seriously at The Aubrey. Renowned mixologist Devender Sehgal, formerly of 81/2 81/2 Otto e Mezzo Bombana, leads the extensive experience. The current signature cocktail menu — slated for six rotations in the year — picks chess plays as its first theme, with tipples like 'Queen's Gimlet', light and refreshing with roku, citrus, chamomile and cardamom, or the 'Archer's Rokh', a delicious gin-based refresher with citrus and honey, amongst well worthy others.
In short, it's an impressive three-part program: There's the Main Bar for highballs and chuhai cocktails; the spot also for The Aubrey's seasonal cocktails which spotlight a a singular ingredient for every rotation; for the first, the Japanese strawberry. A four-person omakase cocktail bar that offers a guided journey with personalised drinks centred around Japanese spirits and flavours, and finally a champagne and sake bar, if you managed to meander your way through, serving bubbly with oysters on the side. Salute.
The Verdict
A respectable standard and a great appreciation for quality and ingredients set the menu at The Aubrey apart from neighbouring eateries hidden within pristine hotels. Not to mention there's a world of choice when it comes to drinks and cocktails. This is a spot that's fitting for any kind of dining, be it extravagant celebrations or just another casual dinner on a Wednesday night, if you manage to snag a booking, that is. It's cosy, with large cushioned sofas for intimate tête-à-tête with friends, and a wonderful, wonderful Happy Hour spot, with a live DJ booth scheduled to play some head-bopping tunes. No doubt we'd be back soon enough.
Opening Hours: Lunch, 12pm — 2:30pm; Dinner,6pm — 10pm, Monday to Sunday.; Cocktail, 12pm – midnight, Sunday to Wednesday; 12pm – 2am, Thursday to Saturday. Reservations can be made here.
Recommended Dishes: Wagyu oxtail & bone marrow fried rice, White miso soufflé, Sakiyo miso sablefish.
Price: À la carte ranges from HK$200 – HK$1100; cocktails from HK$160 – HK$180
Noise Level: Convivial.
Service: Professional and friendly.
The Aubrey, 25/F, Mandarin Oriental, Hong Kong, 5 Connaught Road Central, Central, Hong Kong, +852 2825 4001
The Aubrey
Address
25/F, Mandarin Oriental, Hong Kong, 5 Connaught Road Central, Central, Hong Kong