The long-anticipated second chapter of Belon, helmed by Baltimore-native Matthew Kirkley, is here with a brand new look and a tale of its own.
In the grand ritual of passing batons — or wooden spoon — in well-established kitchens, I'd like to believe that there's a whole spectrum of emotions that one experiences; excitement and intrigue coupled with high expectations and a mammoth-sized responsibility. One thing's for certain — it's no mean feat. Especially when the kitchen in question is one that is as beloved and adored by many. A kitchen like Belon.
It's not just the new space, having moved down to lower Elgin Street into a tucked away spot above and between its fellow Black Sheep siblings, Ho Lee Fook and Fukuro. Nor is it simply the welcoming of new hosts, husband-and-wife duo Matthew and Lauren Kirkley who are both well-versed in the history of the restaurant. But rather, it marks a brand new era for the Neo-Parisian restaurant. A chapter that is yet to be told. While Belon retains much of its old, well-loved character — from its moniker to signature dishes and distinct 'French-ness' — there is an air of newness; of refined elegance. Elevated finesse. It's different. Again, it's a tale of its own.
The Ambience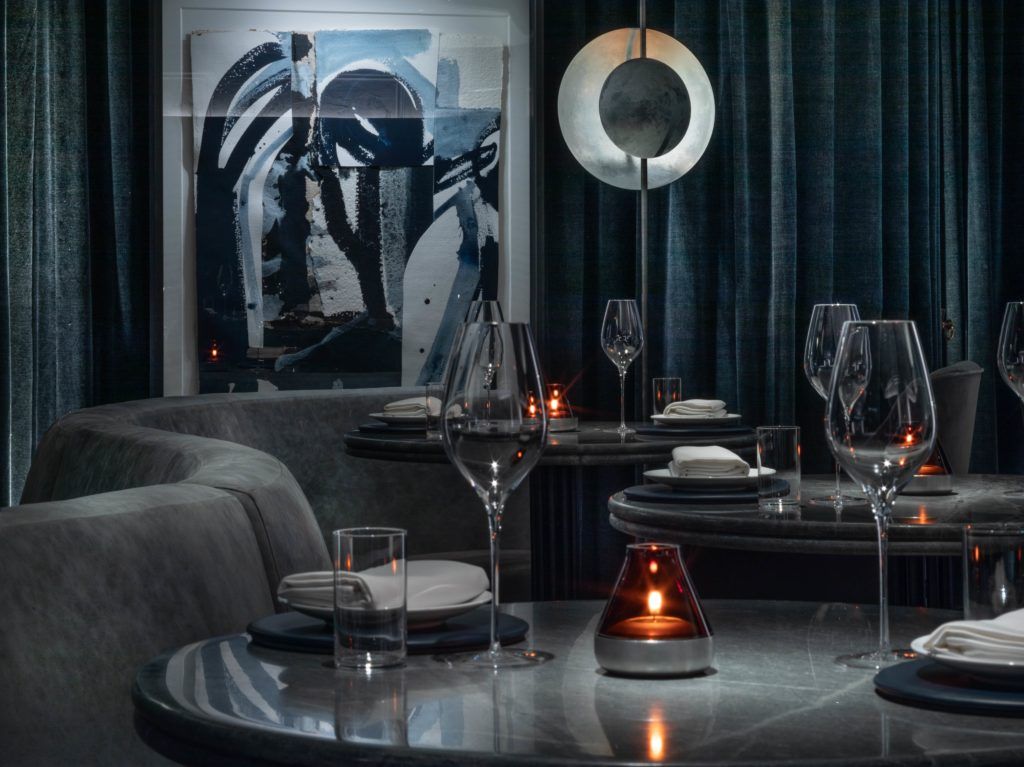 Rather than a literal take on 'Parisian bistro' with the airy, light-oak setting as decorated in the previous post, the new location traverses a trajectory more contemporary with deep, monochrome tones and wavy, sinuous strokes. The closed-off space may feel intimate, but the 800 square-foot area fills a similar space to its predecessor, and instead lends more footage to a brighter, more open-view kitchen. It marks the debut of an inaugural Chef's Counter, for up-close-and-personal glimpses of rare behind-the-scene moments.
Conceptualised by Joyce Wang Studios, the interior is modelled after the "meditative and calm quality of water." It's a fitting muse, considering Belon's designated moniker takes after a specific type of French oyster. As you spy the warmly lit, wave-like façade that flows from Fukuro across to Ho Lee Fook and make the climb up the nondescript staircase, you're welcomed with a gentle wash of calm. The space is soothing, sanctuary-like; an underwater air-pocket immediately devoid of noise and bustle from surrounding neighbours. The poetic dedication to the restaurant's integral concept is complemented by shades of grey, sculptural banquettes and meandering details from the ceiling to the placing of tables. Walls are finished with a treated salt-water coat that is rough and coral-like to the touch. The front desk is a cast from a heavy block of Irish pewter. It's a deep dive into the depths of the ocean, if you will.
However, subtle moments from the old interior remains, too. In saturation, brushes of the classic cerulean blue appear in the selection of artworks to the fabrication. In design, spotted upon the traditional wall moulding and plasters, including a framed outline on the textured walls that nod towards a classic Parisian décor. It's a tangible evidence of the renewed concept; a nod towards the restaurant's new-found sophistication. An honest depiction of tradition, elegance and modernity — much like the concept of chef Matthew's delectable plates.
The Food
In step with the renewed Belon concept, the menu adopts a similar 'old-but-new' gist. Longtime fans of the previous spot will be delighted to know that stalwart favourites will remain, except finished a renewed touch. The pigeon pithivier, is accompanied with a new garnish and jus, while the light and flaky millefeuille is updated with a delicate layer of tangy mikan jam.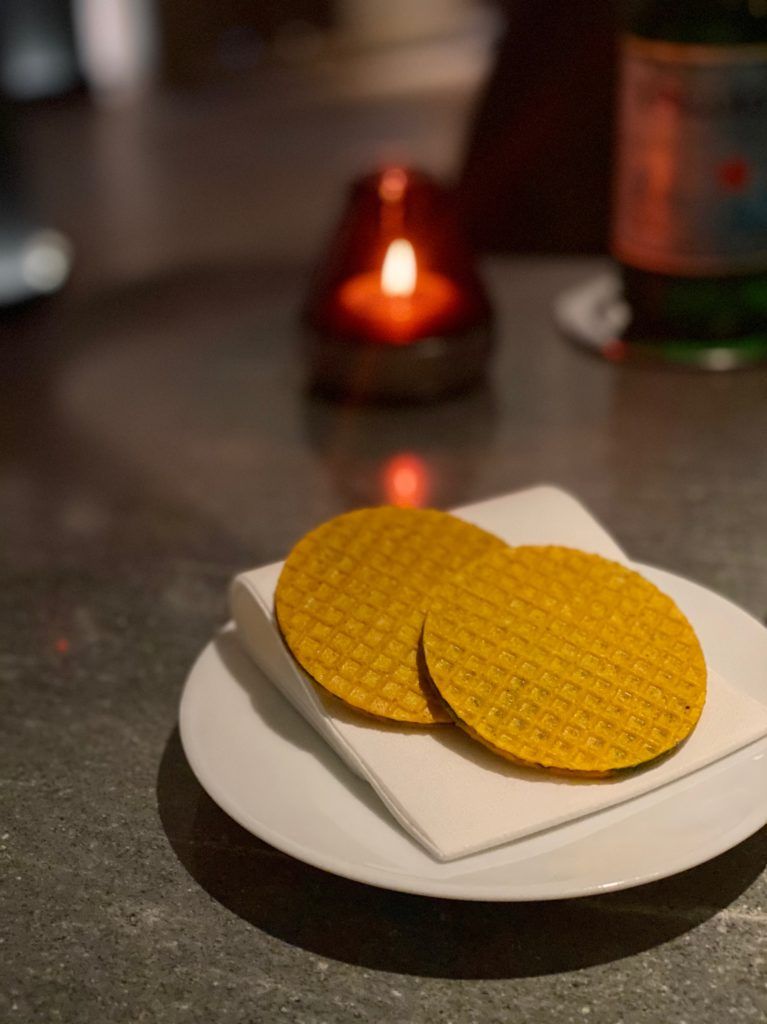 Onto the menu of the evening: A classic Belon opener, aged comté cheese gougère begins. It's delicious, of course, essentially a crispy puff pastry ball of melted cheese. Then, an influx of delicate bite-sized hor d'oeuvres follows. Miniscule and jewel-adjacent, it's our first brush with chef Matthew's decadent plate-work that is visually a masterpiece. There's a black truffle polka-dotted foie gras tartlet that marries the unctuous texture of French duck liver with heavy cream with a tinge of Sauternes, a sweet wine from Bordeaux. It's an oddly satisfying combination that left us intrigued for more. The pig's trotters were toasty and warm with crispy, crunchy exterior, lightly salted, just enough to counter the sharp tang of the horseradish mustard dolloped on top. Also a stroopwafel, not of the sweet caramel iteration, but one made from a carrot-blended wafer shell and sandwiched with dill pistou — it's aromatic and refreshing, with bright notes of garlic, parmesan, butter and dill.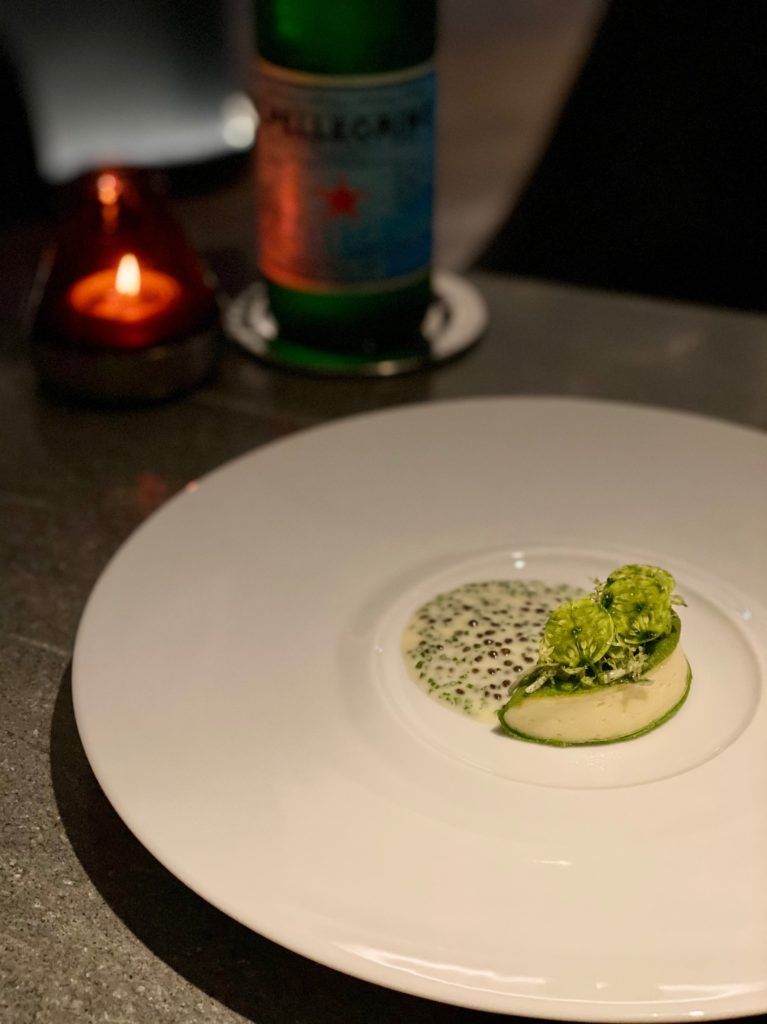 The main plates are where chef Matthew's extensive resume and dedication to precise technique comes into full display. Each as decadently presented as the next; each a skilful showcase of the exceptional ingredients. Seafood is chef Matthew's comfort, so I'll begin with the two turbot dishes: The crêpes soufflées (HK$398) and turbot with beurre cancalaise. The former, one so prettily plated that it resembles a dessert more than a main, is a half-circle creation tucked within a folded over spinach crêpe. Underneath, the elegant turbot is blended with eggs, heavy cream and butter, then steamed for a mousse-like texture. It is as it appears to be — soft and velour-like in texture, featherlight on the palette and in perfect symphony with the caviar-laced beurre blanc.
The latter, the star of the evening, the crown jewel in chef's Matthew's portfolio: Turbot with beurre cancalaise (HK$888). It's a personal creation; a culmination of chef Matthew's journey thus far and inspired by the lineage of chefs that shaped his refined culinary calibre. The traditional, squared-off slice impresses visually with a multi-coloured layer of tactile scales placed artistically with root vegetables — carrots, leeks, and watermelon radishes — à la Joël Robuchon. The creamy bed of beurre canclasise, modelled after Philippe Rochat side dish with diced vegetables and an apple, lime, chives and dill seasoning. It's rich and comforting in every bite, the way which only a quintessential duo of fish and butter can do. They're simple ingredients brought up to an impeccable standard only by a chef who's well-attuned to the nuances of fine French dining.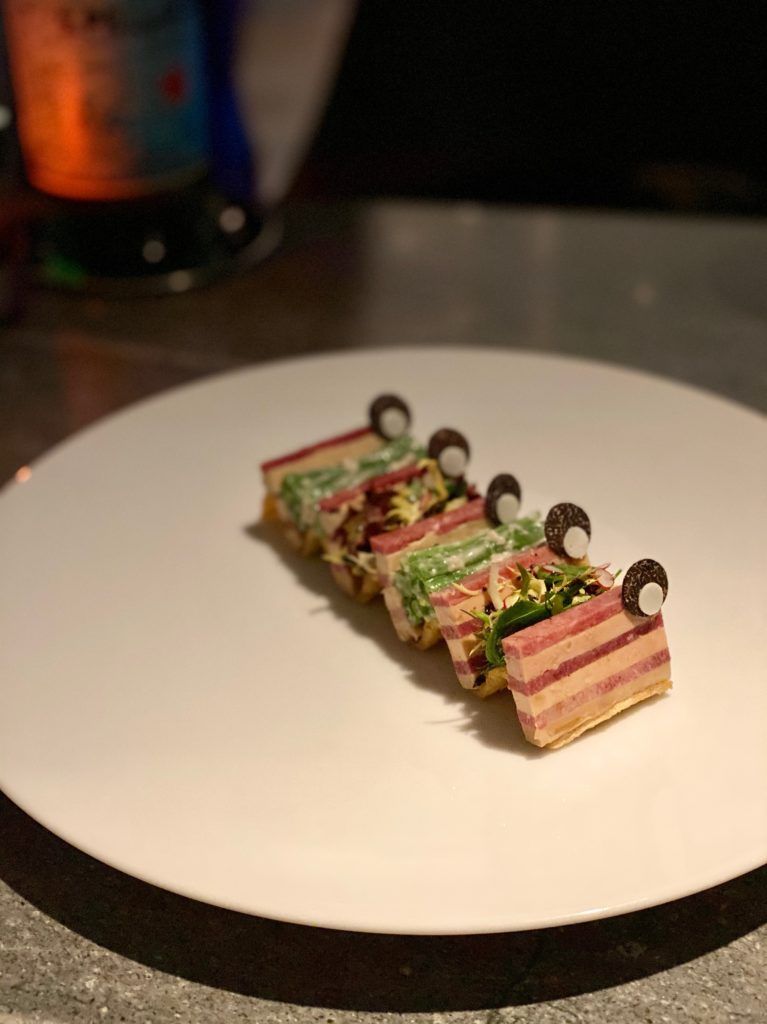 Earlier on, one of the first debuts was the salade gourmande (HK$528). A new addition to the menu, it also serves as a nod towards traditional French techniques from the 70s, most particularly towards Michel Guérard, one of the founders of Nouvelle cuisine. It's a complex execution: meticulous layering of ox tongue and foie gras in neat, orderly fashion. Interspersed by alternating julienned haricot vert in creamy truffle vinaigrette and a combination mix of salad leaves and herbs (changes seasonally) dressed in truffle vinaigrette, each bite was invigorating with the fresh greens imparting a cooler contrast to the otherwise rich and indulgent terrine.
There were many other delicious plates, including an asparagus dish that first debuted at COI and made a return at Belon with caviar and yuzu anglaise, but the cervelas en brioche (HK$298), another new addition is worthy of an in-depth mention of its own. Ideated after Belon's storied history, the traditionally French dish is renewed under the same modern-traditional guise. Deceivingly simple, it spotlights two main characters: sausage and brioche. Except this is Belon and things are executed with utmost precision. The cervelas, inspired by a speciality sausage originated from Lyon, is made in-house with a measured mix of pork belly, pistachios, black truffle and madeira that is ground, shaped and then poached. Wrapped around with a soft, buttery brioche dough, it's then baked for a crispy exterior and silky interior. Drizzled with a dose of truffle jus, the dish is considered lesson of balance between two textures and two differing ingredients tied perfectly into one delicious bite.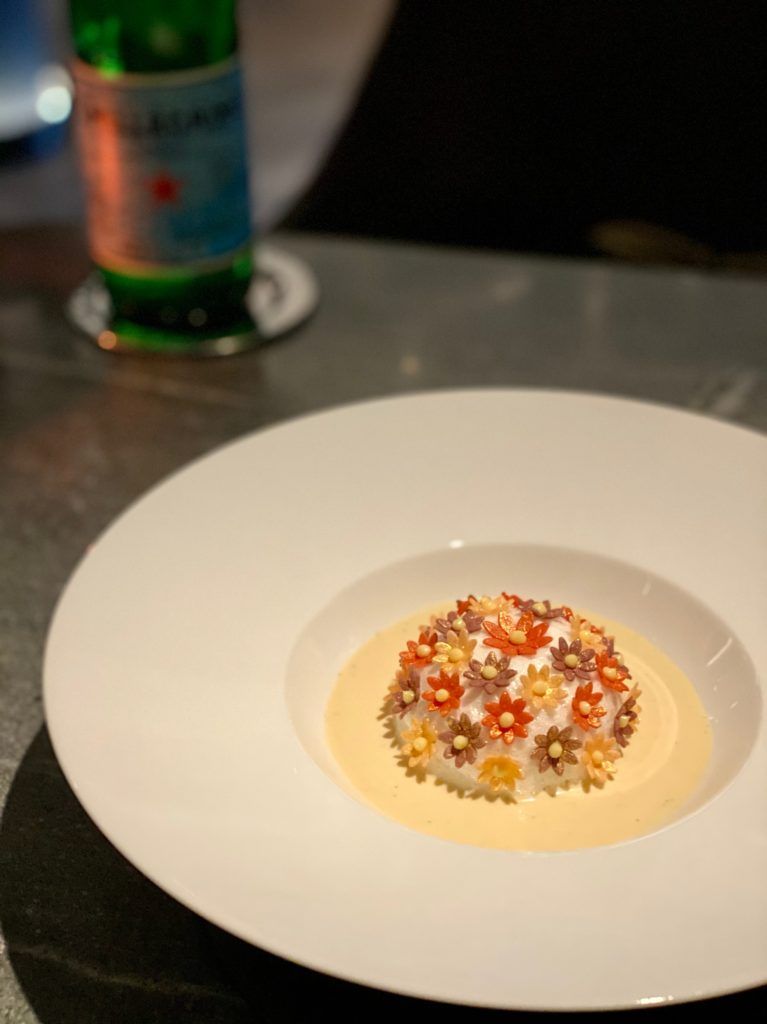 As for dessert, the chocolate hazelnut cake was most surely a treat, but it was the Ile Flottante with almond and caramel (HK$188) that was the most impressive, in my view. Visually, it's stunning; an enthusiastic exemplar of chef Matthew's delightful and photogenic plates. Once again, it's an age-old recipe, taken from the 1651 Les Cuisinier François cookbook, and revitalised for modern palettes. And how pleased we are to see it resurrected at Belon. A pillow soft, Swiss meringue with a molten caramel centre, the fluffy, cloud-like confection is coddled by a brandy-infused crème anglaise. Simple it may seem so, but the snow white dome is studded with a vibrant array of almond tuile flowers in various sized buds, finished with gold dusting that shimmers in dimly lit restaurant. A magical moment. Far too delicate and decadent to dig it; but rest assured, the exquisite, aerated mouthful is certainly worth it. The meal rounds off with a choux cream pastry, the very same that began the menu, expect sweet. A 'full circle' moment that I definitely appreciated.
The Verdict
Sure, there are lingerings old Belon; in quiet moments hidden within the interiors, to the menu and personable service. However, maintaining Belon's own identity is a detail chef Matthew has made clear to keep intact. He is after all, evolving, not revamping the menu. In any case, Belon's new reopening is not a cookie-cutter replica of its predecessor and should not be expected as such. Rather, it's a renewed, refreshed entity of its own with elevated, exceptional plates that are incredibly detailed and delicious, all while paying tribute to the particularity of traditional French cuisine. This is a spot made for decadent dinner dates or evenings reserved for brilliantly executed plates. That's said, rumour has it that bookings are out the coming two months. Fingers-crossed for a spot on the waitlist, then. One thing's for sure, it's a guaranteed breathtaking experience at 'New' Belon, from chef Matthew's keen attention to detail to Lauren and her friendly team. They kindly left me with a warm lemon poppyseed madeleine for my journey home, and best believe I nibbled on them all the way through.
Opening Hours: Wednesday to Sunday, 6-10pm
Recommended Dishes: Crêpes soufflées with caviar and frisée lettuce (HK$ 398), Cervelas en brioche (HK$298), Ile Flottante with almond and caramel (HK$188)
Price: Around HK$2,200 for one including drinks
Noise Level: Comfortable. With a great soundtrack.
Service: Informed, warm and very friendly.
Belon
Address
1/F, 1-5 Elgin Street, Soho, Central, Hong Kong,