Following a long stifled period for dining out in the city as a result of the pandemic, Yakinikumafia is part of a spate of restaurants racing to open its doors to make up for lost time.
Officially launched this month at the newly face-lifted Hollywood Centre in Sheung Wan, Yakinikumafia is Leading Nation's latest collaborative venture together with beef experts Hisato Hamada and Takafumi Horie, following Wagyumafia, home of the famed Chateaubriand cutlet sandwich — albeit now at a more wallet-friendly entry point thanks to the hands-on approach of yakiniku grilling.
The Sheung Wan opening is also the restaurant's first outpost outside of Tokyo, and comes in the midst of an uplifting '#RideItOut' campaign launched by its founders — in an effort to thank and support their suppliers and partners who have helped the business grow over the years.
Ambience
Whereas Wagyumafia's dramatic Causeway Bay dining room is a cave of hedonism for flame-grilled Ozaki beef and the occasional smattering of caviar, Yakinikumafia — when we visited during a mid-week lunch — is a much more sobering affair — fashioned after the Copenhagen airport, of all places.
A little back story is in order to understand this interesting design choice: Wagyumafia's founders Hisato Hamada and Takafumi Horie were originally in the beef export business before creating their first member's only restaurant in Tokyo in 2016. Prior to this, their largest chunk of sales from Hamada's inventory went to Copenhagen, which is why at the newly minted Yakinikumafia, you'll find motifs reminiscent of the sleek Kastrup International Airport — complete with airport signage, high beamed ceilings, and even magazine caddies to hold the menus. A mixture of clean white surfaces, warm-toned wood flooring, stainless steel and dark hardware adds to a vaguely Scandi-cool atmosphere.
Upon entering, daily specials are showcased at the split-flap display, commonly used to announce departures and arrivals. Here, it can also be customised for special messages for a unique photo op as you leave the restaurant. Walk-ins will be directed to the standing Chef's Counter where you can watch your beef getting prepared, whilst lucky diners who were able to nab one of the few 250 bookings per month will be sat at one of the long green booths or private areas.
Food & Drink
First things first, you'll want to order one of the dangerously quaffable 'shari' shaved ice cocktails — we loved the lemony Shochu Sour Tower (HK$80), the perfect thing to quench your thirst after a hot trek up Hollywood Road. There's also a sizeable list of highballs, wines, sakes, Champagnes and beers on offer, put together by beverage director John Nugent, who's behind the group's other drink programmes at The Diplomat and Wagyumafia.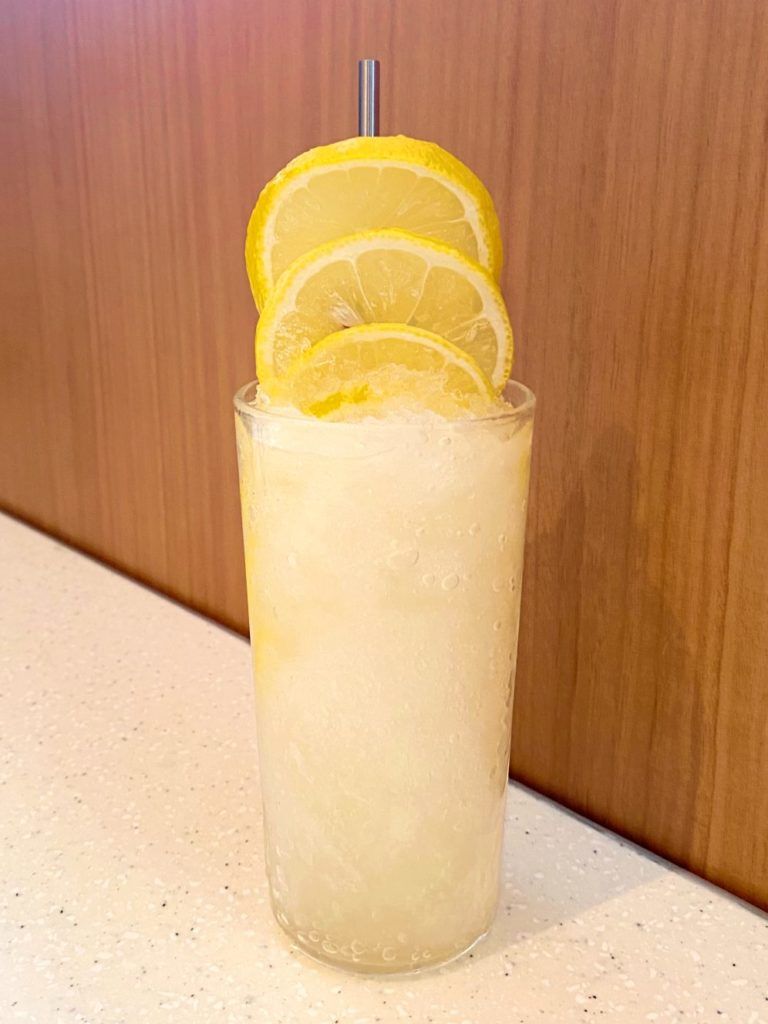 A signature Yakinikumafia BBQ Plate Set Combo (HK$480) comprises a platter of 150g Ozaki Wagyu, with four slices each of Fatty, Medium and Lean cuts. To go with your meal, there's a bowl of cast-iron prepared Koshihikari rice — a strain of rice venerated for its plumpness and slightly sweet taste — pickled cucumber, crushed daikon with ponzu sauce and a Wagyu bone broth. Silky and gelatinous thanks to all the boiled down collagen, this is a lip-smackingly good soup that'll make you want to ask for seconds.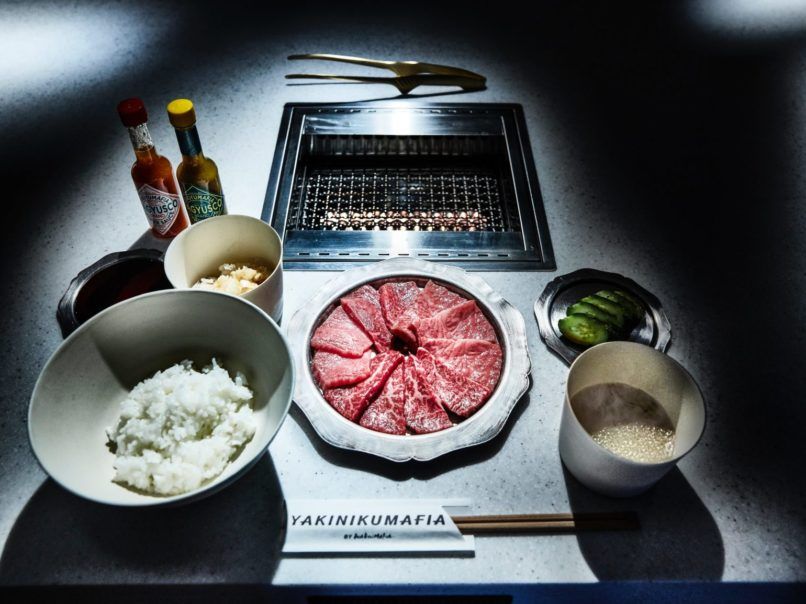 The Ozaki beef is sliced thickly: You'll want to start with the lean cut and work your way around. Interestingly, the cuts with the most fat lend better to longer cooking (about a minute or so per side) as the fat renders out to give it not only a crispier touch, but it also allows the beefy flavour to develop. With leaner cuts, I preferred them as well to cook just a tad longer than the recommended time of 10-15 seconds — with up to 20-30 seconds per side lending a nicer char.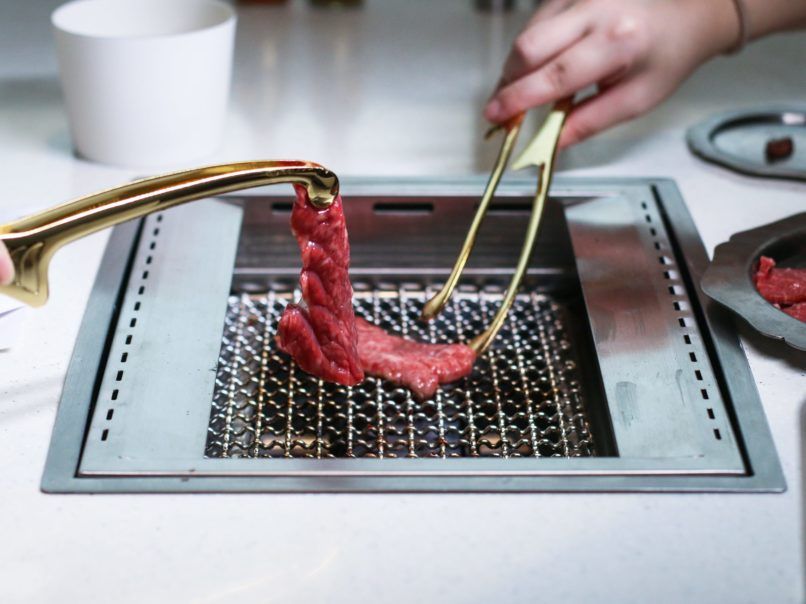 If you've tried Ozaki beef before (such as at Mashi no Mashi, the brand's sister tsukemen noodle bar), you'll recognise the silky, buttery flavour and texture of the beef immediately, which carries through nicely in this exploratory platter — elevated even more by the delicious Japanese egg and tare soy sauce mixture at your disposal. For yakiniku, the cuts I typically enjoy are those large swathes of wagyu, sliced cloth-thin, that are just flame kissed before satisfyingly mopping up the aforementioned sweet egg sauce — or eaten just with a tiny dab of salt.
The whole time we were grilling, while the room got a little warmer, it's worth noting that the exhaust system is incredibly efficient. Where Japanese barbecue joints often leave your clothes and hair smelling like smokey grilled beef, I later emerged from the restaurant totally unscathed.
Indeed, if the HK$480 combo still leaves you feeling a bit peckish (it won't), you can opt for add-ons such as Ozaki rib-eye or striploin sold by the 200g (HK$680), which is a good option for sharing. We tried the striploin, grilled by the chef at our table, which definitely showcased more of the flavourful marbled fat of the beef — it was almost sweet on the tongue and incredibly tender.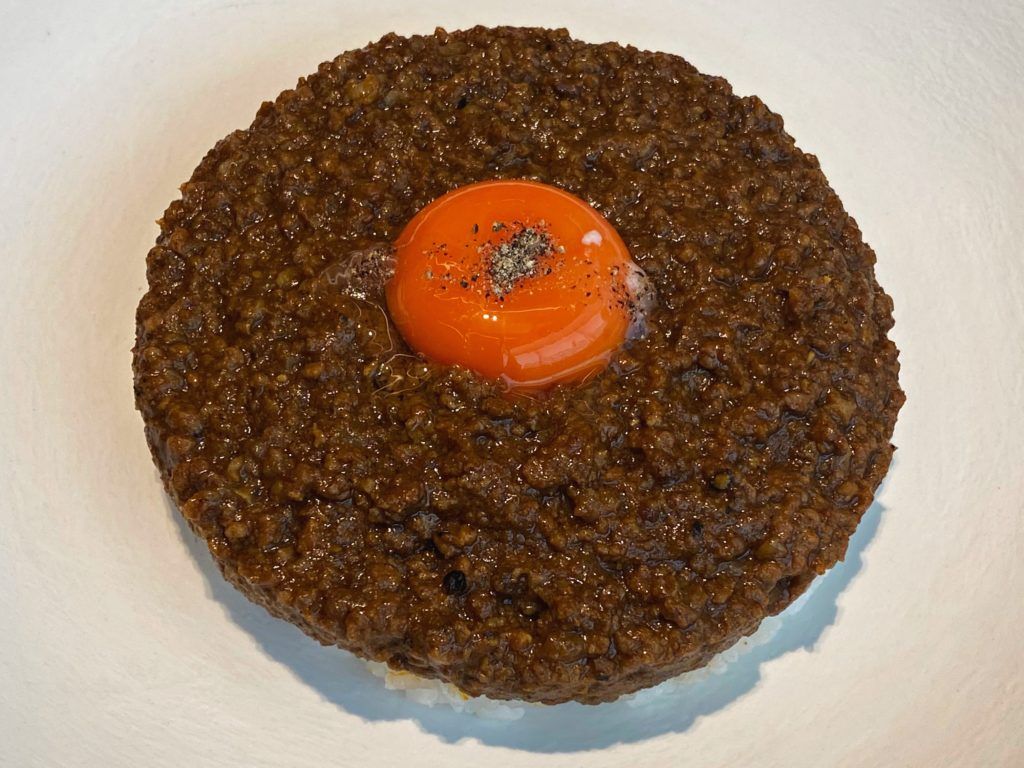 You'll want to leave some space to share the Wagyu Keema Curry (HK$280), a lovely minced beef Japanese curry with an addictive level of heat, served over that same Koshihikari rice. A fresh kale salad tossed in crowd-pleasing sesame goma sauce (HK$150) helps to round out the meal with some extra greens. And of course, to end — a milky soft serve cone (HK$100) was the perfect dessert for a hot day, bringing fond memories of Japan's ubiquitous convenience store soft serves, albeit at a much steeper price point.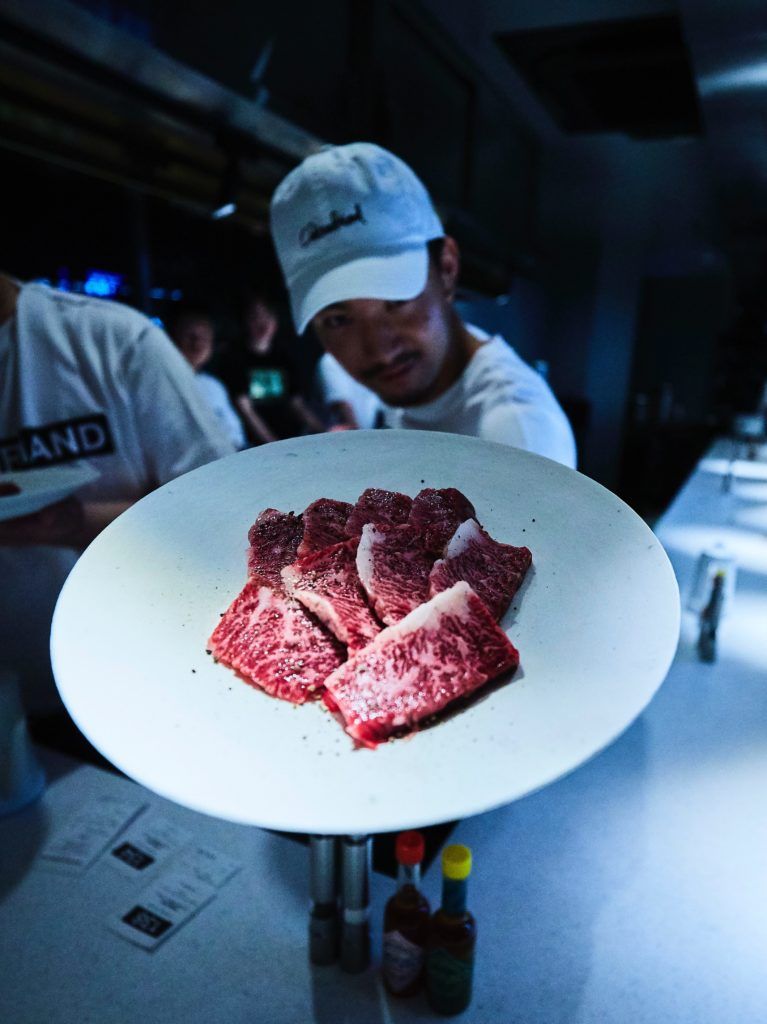 Service is on brand with Yakinikumafia's sister venues: You're getting efficient, knowledgeable staff who will present each platter of beef in their signature dramatic fashion: meaning lots of intense shouting in Japanese. Thankfully they're good natured about it, because it's likely your fellow diners will be making them do it again and again in front of their cameras — and for better or worse, you'll be hearing flashes of the catch phrase all throughout your meal.
Lastly — and I'm being rather finicky here — I'd try to go in a group of four at most. If you go as a party of five or six, the poor soul who gets sandwiched in the middle of your sofa booth will be rather awkwardly positioned just a little too far from the two grills on either side, yet with four people to a side it's also too cramped. As the booth tables are designed a little on the long side, finished drinks and dirty plates on the inside of the booth can also tend to get neglected throughout your meal.
Verdict
If you've ever wanted to sample prized Ozaki beef but haven't yet dropped the dollars to make your visit to member's only Wagyumafia a reality, Yakinikumafia makes the experience a (slightly) easier task. With more reasonable prices and a pared down menu that hits all the right notes, this will be the ideal spot for a raucous evening of fantastic grilled meat and cocktails — providing you manage to nail one of the elusive 250 bookings a month, that is.
Opening Hours: Monday to Sunday, noon–3pm; 6pm–10pm
Recommended Dishes: Yakinikumafia BBQ Plate Set Combo, Wagyu Keema Curry, Ozaki striploin.
Price: HK$480-720 per person exclusive of drinks.
Noise Level: Moderate — until it's full house, that is.
Service: Quick, knowledgeable and spirited.
Yakinikumafia by Wagyumafia
Address
2/F, Hollywood Centre, 233 Hollywood Road, Sheung Wan, Hong Kong