Turkey Day is almost here. Kick off the festive feasting season with our round-up of the best Thanksgiving menus — catered to both stay-in and dine-out celebrations.
With how unpredictable 2020 has been, we are grateful for the one of the sole constant in our lives and this city — great food. Come a holiday that is centred around an indulgent spread of roasted meat and sweet pies, it's the perfect occasion to get together with friends and family to stuff our faces silly.
This year, Thanksgiving falls on 26 November, while it may not feel as authentic as seasons past with the ever-changing dining restrictions, these delicious roasted bird options from the city's best restaurants will hopefully be able to ease some minds (and bellies).
Henry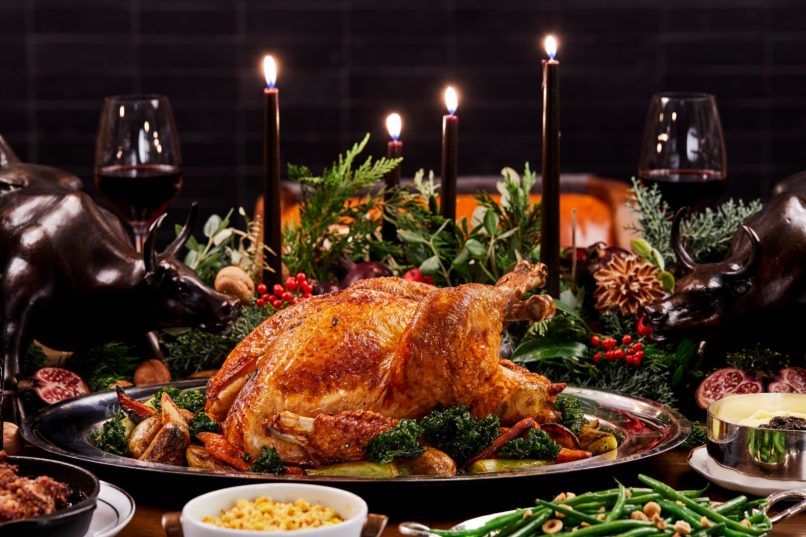 For those looking to dine out for the festivities, all-American steakhouse Henry is offering the ultimate Thanksgiving feast for one night only on 26 November. Here's a peek on what the limited three-course menu (HK$1,198 per person) entails. Refreshing starters the likes of smoked steak tartare and Fine de Claire oysters that pave the way for hearty mains, including smoked turkey with cranberry stuffing, prime USDA steak and red prawn tagliatelle. All are served with family-style sides of mashed potatoes with winter truffles, collard greens and parmesan grilled corn. In true tradition, pumpkin and pecan pies make up the perfect sweet ending.
Delivery/Takeaway option: Orders for a 5kg turkey and side dishes enough for 8 pax (HK$2,500) can be placed here for delivery between 24 to 26 November. Pre-order before 15 November for a complimentary pumpkin pie.
Henry, 5/F, Rosewood Hong Kong, 18 Salisbury Road, Tsim Sha Tsui, Hong Kong, +852 3891 8818
Mandarin Oriental Hong Kong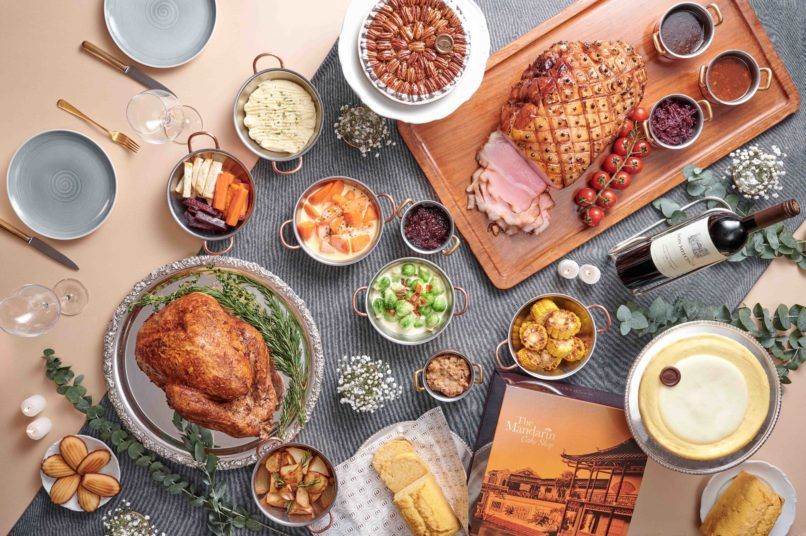 Mandarin Oriental is serving up its own Turkey Day menu for at-home celebrations this year. Arriving in the hotel's famed 'Top Hat' box, the US roasted turkey is portioned at either 7kg (HK$2,928) or 10kg (HK$3,528) and served with traditional sides: stuffing, cranberry sauce, pumpkin wedges, mashed potatoes, sweetcorn on the cob, cornbread, and giblet gravy. Amp up the feast with a prime rib roast or honey-glazed ham that has been slow-cooked to delicious perfection. Round off the meal with a classic pumpkin pie or salted butter pecan pie for a perfect ending.
Delivery/Takeaway details: Orders can be placed here from now till 22 November 2020.
Mandarin Oriental Hong Kong, 5 Connaught Road Central, Hong Kong, +852 2825 4008
Ammo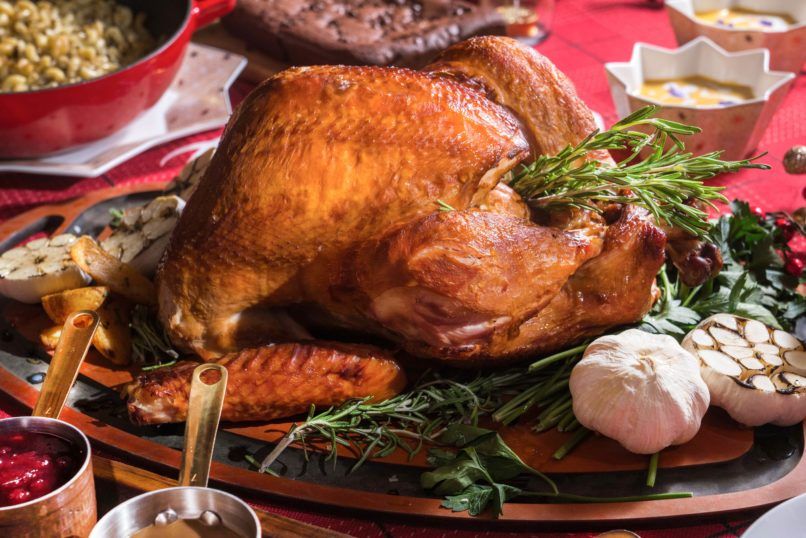 For a homey, hearty Thanksgiving, Ammo's Party Turkey Set (HK$2,180) is a comfort feast for eight, specially designed for those celebrating at home. The 4.5kg turkey is brined overnight, stuffed with a fragrant mix of onions, Italian sausage, and herb and paired with classic cranberry sauce and gravy. Sharing sides include both vegetarian-friendly dishes and holiday favourites, including maple purple potato mash; three-cheese brown butter truffle baked macaroni; and roasted Brussels sprouts in a maple balsamic glaze. For non-traditionalists, the restaurant is also offering a la carte plates and a garlic-rosemary prime rib party set.
Delivery/Takeaway details: Orders can be placed here from 13 to 30 November 2020
AMMO, Asia Society Hong Kong Centre, 9 Justice Drive, Admiralty, Hong Kong, +852 2537 9888
Black Sheep Restaurants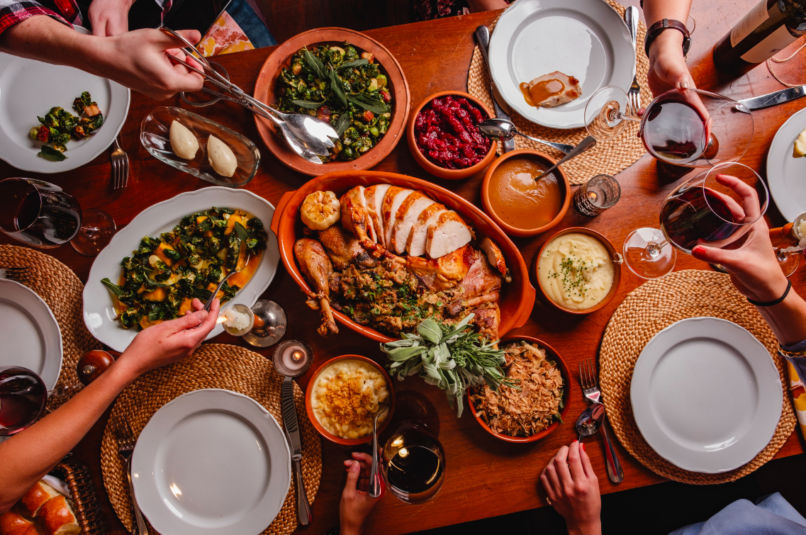 Thanksgiving isn't quite right without the perfect roasted turkey as the centrepiece. Now you can tuck into a restaurant-quality one even while at home with Black Sheep Restaurant's special delivery this year. A creation by chef Braden Reardon of Carbone and Buenos Aires Polo Club, the at-home menu (HK$498 per person) is a delectable list of holiday classics, including a roasted turkey breast and confit dark meat, served with spiced cranberry sauce and rosemary gravy; fontina and provolone mac and cheese; pumpkin pie with vanilla Chantilly cream; and a choice of wines by the bottle. Portion sizes are adjustable, with minimum orders for two. Looking for a restaurant feast instead? Tuck into the menu at Buenos Aires Polo Club on 25 and 26 November, from 6pm.
Delivery/Takeaway details: The at-home menu (HK$498 per person) is available 23–27 November. Orders can be placed at delivery@blacksheeprestaurants.com from now until 20 November.
Buenos Aires Polo Club, 7/F, LKF Tower, 33 Wyndham Street
Central, Hong Kong, +852 2321 8681
Kinship
Kinship's homey setting makes it ideal for celebrating Thanksgiving the way all friends and family should — intimate and full of conversation. The SoHo restaurant is serving both dinner (HK$488 per person) and a weekend brunch (HK$388 per person) menu, with plates made to be shared. Among the nostalgic list of traditional sides, not to be missed are the smoked turkey served with hazelnut-cauliflower puree and cranberry jus, also a delicious apple pie crumble topped with roasted almond ice cream and vanilla crème.
For those who prefer a cosy meal in, the restaurant is also offering a takeaway dinner package (HK$1,888), available from 26 November for one month. A 5-6kg whole turkey served with homemade cranberry sauce is fit for 6-8 people, along with a train of sides, traditional key lime pie and a bottle of sparkling wine that will surely deliver.
Kinship, 3/F, 2-4 Shelley Street, Central, Hong Kong, +852 2520 0899; Takeaway orders can be made at hello@kinshiphk.com
Duck & Waffle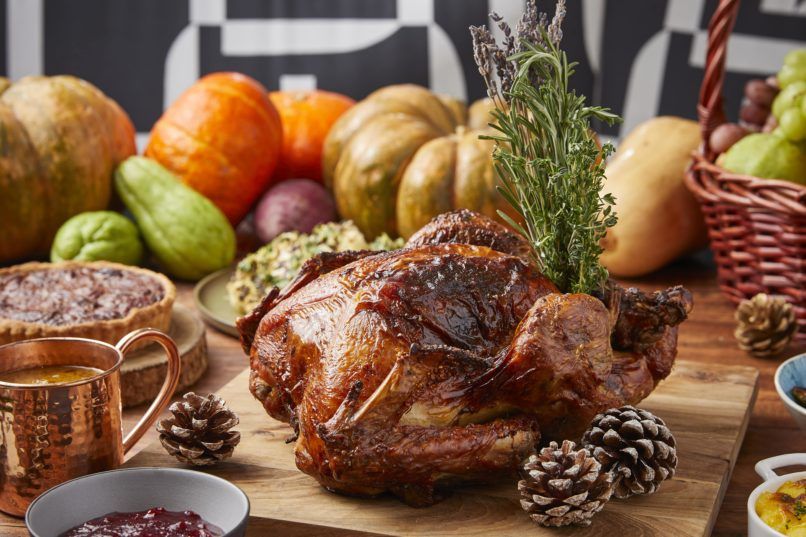 At Duck & Waffle, a full Thanksgiving feast (HK$2,300) makes festive planning easy, with both dine-in and takeaway options available from 20 to 26 November. The star of the show is the hefty 3kg New Zealand roasted-whole turkey stuffed with chestnuts, and is paired with gravy and cranberry jelly. Serving four to six people, it can be enjoyed with a selection of sides: maple-glazed cornbread, roasted cauliflower with gremolata, glazed carrots with star anise, mashed potato, and creamed greens. Conclude the feast with a slice of the restaurant's Southern pecan pie (HK$280 for whole) topped with lime creme fraiche, a perfect mix of warm gooey sweetness and tarty zing to end the meal.
Delivery/Takeaway details: Place your takeaway order at reservations@duckandwaffle.com.hk or +852 2267 6338; pre-order is required at least three days in advance.
Duck & Waffle, Shop 1081, 1/F, IFC mall, 8 Finance Street, Central, Hong Kong, +852 2267 6338
La Rotisserie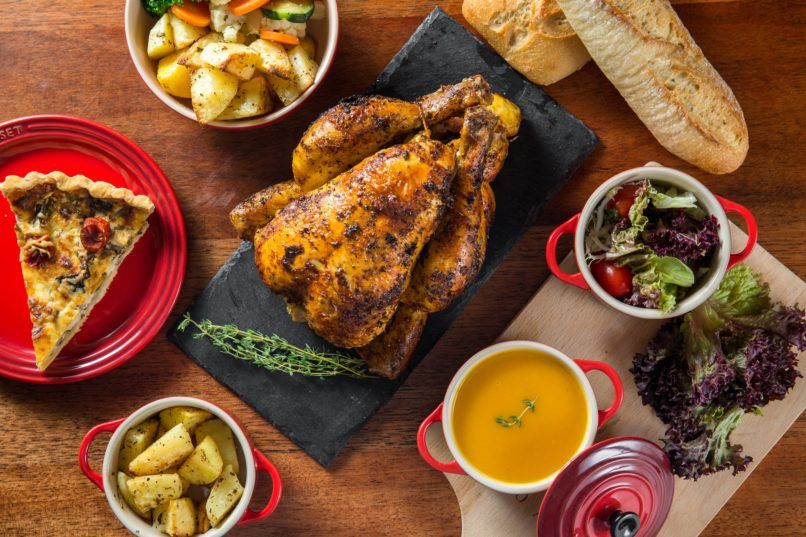 Famed for their Gallic roasted birds, La Rotisserie has curated festive menus with package offerings and a la carte options alike, for both dine-in and takeaway. Choose from a tasty selection of roasts including chicken (HK$548), Barbarie duck (HK$438), capon (HK$698) and free-range turkey (HK$598), all paired with a zesty cranberry, orange and ginger sauce. Add on complementing sides to fill up your plates, with selections including truffle parmesan mashed potatoes, sautéed French beans and a decadent chocolate cake sprinkled with flaky sea salt.
Delivery/Takeaway details: Be sure to order at least three days in advance from La Rotisserie online.
La Rotisserie, various locations including: G/F, 19 Amoy Street, Wan Chai, +852 9791 9051
Big Sur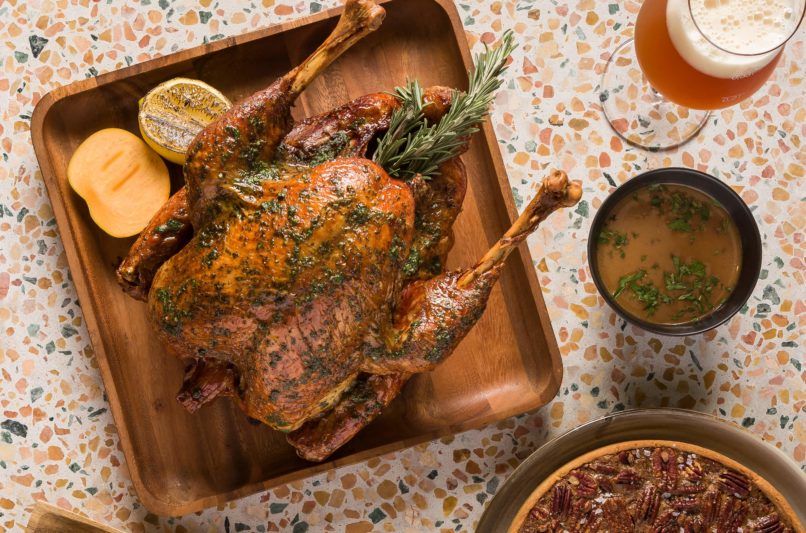 West Coast-inspired Big Sur has created a turkey takeaway set (HK$2,100), which will also be available for dine-in from 26 to 29 November (HK$2,500). Made to feed six to eight diners, the set includes a 4.8kg brined and herb-smoked turkey, served with sourdough gravy as well as plum and cranberry sauce on the side. For sharing, grilled Brussels sprouts with creamed spinach; smoked garlic and chive mashed potato; honey roasted heritage carrots and parsnips; and cheddar and jalapeño cornbread complete the hearty Thanksgiving menu.
Delivery/Takeaway details: Orders can be placed here until 19 November, available for pickup in Central or Tsim Sha Tsui at Woolly Pig Restaurant outlets.
Big Sur, G/F, 22 Staunton Street, Central, Hong Kong, +852 2529 3001
Smoke & Barrel
Hong Kong's newest smokehouse Smoke & Barrel is preparing a holiday bird according to their forte – a great American barbecue. Dining options for either dinner (HK$488 per person, 26 and 27 November) or weekend brunch (HK$388 per person, 28 and 29 November) are available, and include heaps of sharing sides, starters and desserts, such as crayfish salad, 'Grandma's Baked Stuffing', and Brussels sprouts with ponzu sauce. The highlight of the meal, of course, is the smoked turkey, slow-cooked for eight hours. For those opting to dine at home, a takeaway dinner package (HK$1,888) for six to eight people is also available, and features the smoked turkey, all the tasty sides, and a bottle of sparkling wine.
Delivery/Takeaway details: Takeaway orders can be made at hello@smokeandbarrelhk.com at least 48 hours in advance. More info here.
Smoke & Barrel, 2/F, Wyndham Mansion, 32 Wyndham Street, Central, Hong Kong, +852 2866 2212;
Madame Fu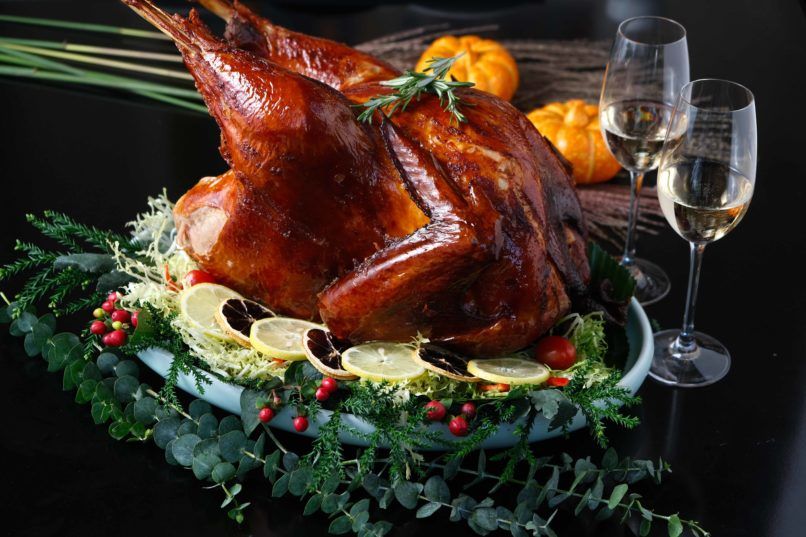 Like its chic, Insta-famous pink dining room, Madame Fu's Thanksgiving menu is a refined and elegant creation that reflects the restaurant's contemporary Cantonese cuisine. Perfect for those looking for a non-traditional twist to their turkey feasts this year, Madame Fu is offering a turkey (HK$1,900 for whole; HK$900 for a carved turkey platter) that has been slow-roasted in a Chinese barbecue oven for over 12 hours for a crispy finish. Sides include Brussels sprouts stir fried in a fragrant XO sauce. The meal rounds off with a classic pumpkin pie as a nod to tradition.
Madame Fù, 3/F, Barrack Block, Tai Kwun, Central, Hong Kong, + 852 2114 2118
Morty's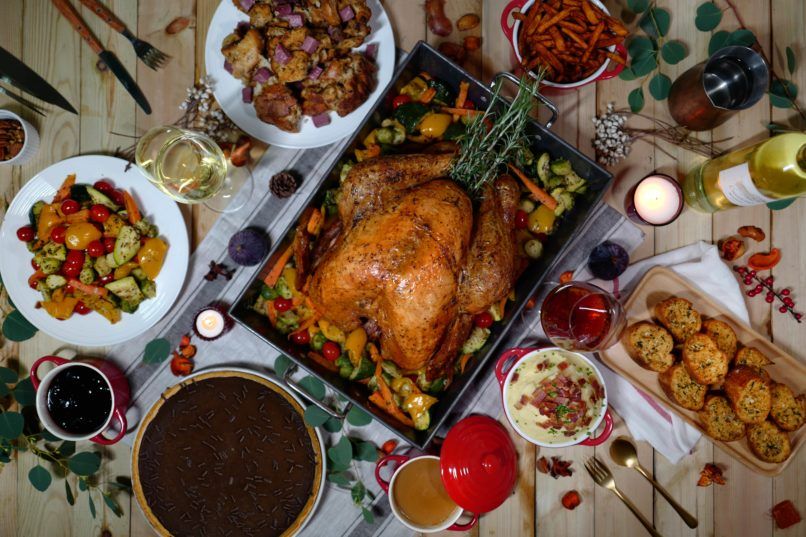 Hong Kong's premier New York-style deli Morty's has created a Thanksgiving Festive Feast (HK$2,388) for gobbling up at home. The whole-roasted turkey is cured with dried spices and stuffed with the restaurant's own smoked pastrami, accompanied with sides such as cheesy garlic bread and honey cinnamon roasted sweet potato. For a sweet finish, choose from the quartet of pies and tarts — the walnut frangipane, in particular, has caught our eye. If you happen to be feeding more than eight, add-on plates like a honey-glazed ham (HK$1,680) are also available.
Delivery/Takeaway details: Orders can be placed here, and can be picked up before noon at Morty's Pacific Place or Jardine House, or delivery can be arranged after 3pm. Orders must be accepted five days in advance.
Morty's, various locations including: Shop 8-10, Wing Fung Street, Wan Chai, Hong Kong, +852 3665 0900
CRFT-PIT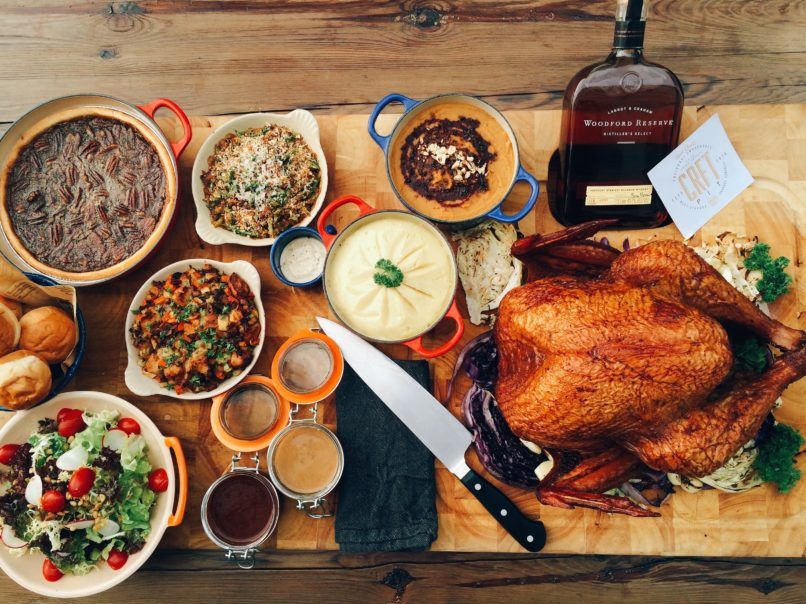 CRFT-PIT (Craft Pit), a Southern-style barbecue joint tucked away in an unassuming industrial building in Ap Lei Chau, channels their smoky flair into a Thanksgiving turkey takeaway set (HK$2,688). The 6kg hickory- and oak-smoked turkey (available roasted) is basted in butter and stuffed with bread pudding for a traditional rendition, served with mouth-watering sides including a honey-glazed pork with pineapple; sweet potato and fall squash. Dessert options include two types of pie: a must-have bourbon peach cobbler or the pumpkin pecan crumble. Those with larger appetites can indulge in the restaurant's a la carte menu featuring honey-glazed ham, smoked brisket and charcoal chicken that top off the well-rounded spread.
Delivery/Takeaway details: Fill in the order form here and send it to info@crft-pit.com. Delivery charges are HK$200 for Hong Kong Island, HK$350 for Kowloon, and case-by-case for New Territories. The restaurant will also be teaming up with Deliveroo for city-wide delivery.
CRFT-PIT, Unit 2, 3/F, Harbour Industrial Centre, 10 Lee Hing Street, Ap Lei Chau, Hong Kong, +852 2476 2800