Dine-out spots for those still pushing through healthy January.
Clean eating has been the top of many New Year resolutions of late. Luckily, plant-based alternatives has taken a turn for the better this past decade with many of Hong Kong's vegan and vegetarian spots creating innovative veggie menus of its own. No longer 'dull', they are instead tasty and pumped with health benefits that all add to leading a more sustainable lifestyle.
Branching out into different cuisines, we round up some of the city's best vegan and vegetarian spots from dedicated tasting menus to quick, pick-me-up snacks below.
Asaya Kitchen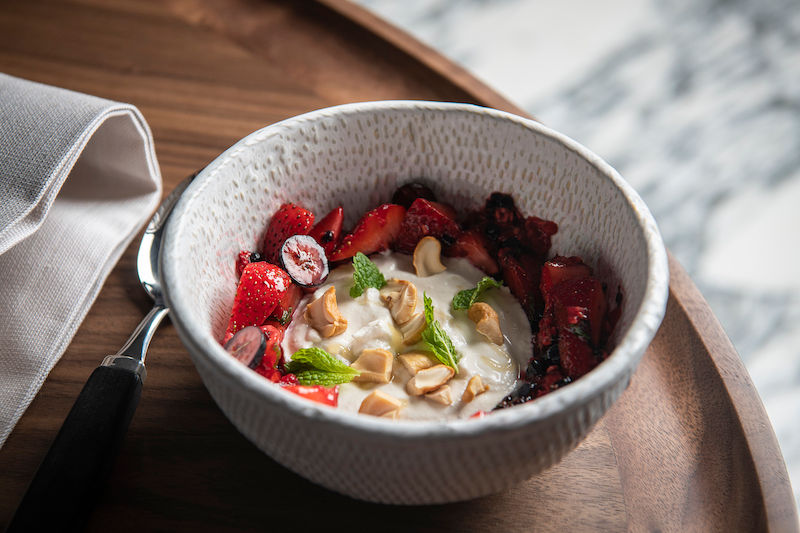 As far as health and wellness goes, luxury hotel Rosewood Hong Kong can be trusted for all things catered to your wellbeing needs — from holistic pampering to its fitness facilities throughout the property. Following suit, the in-house, sustainably-minded Asaya Kitchen offers nutritious plant-based meals (with optional pescatarian dishes) sourced only from the sea and soil. The 120-seat dining concept focuses on healthy, wholesome meals, executed under the experienced hands of veteran chef, Renaud Marin. 
Asaya Kitchen, 6/F, Rosewood Hong Kong, Victoria Dockside, 18 Salisbury Road, Tsim Sha Tsui, Hong Kong, +852 3891 8732
Sakti Elixir at Fivelements Habitat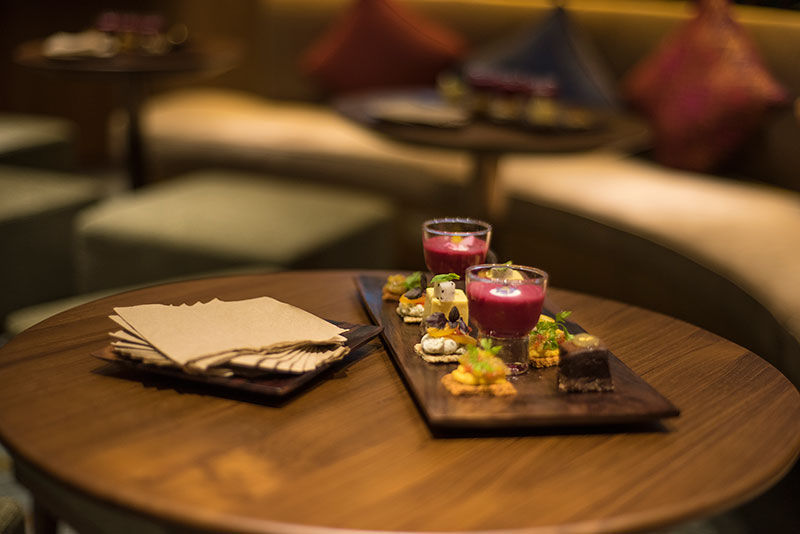 Balinese-inspired wellness haven Fivelements Habitat stays true to its sustainability roots, offering plant-based cuisine from its dining experience, Sakti Elixir. Those familiar with the property's flagship Fivelements Bali will be aware of the brand's gastronomical concept of health-conscious dining. The cuisine is designed to nourish and rejuvenate the mind and body through the use of plant-powered nutrition, sourcing its organic ingredients from local farmers and sustainable agriculture. 
Sakti Elixir, Fivelements Habitat, Level 13A, Tower One, Times Square, 1 Matheson Street, Causeway Bay, Hong Kong, +852 6803 5081
Miss Lee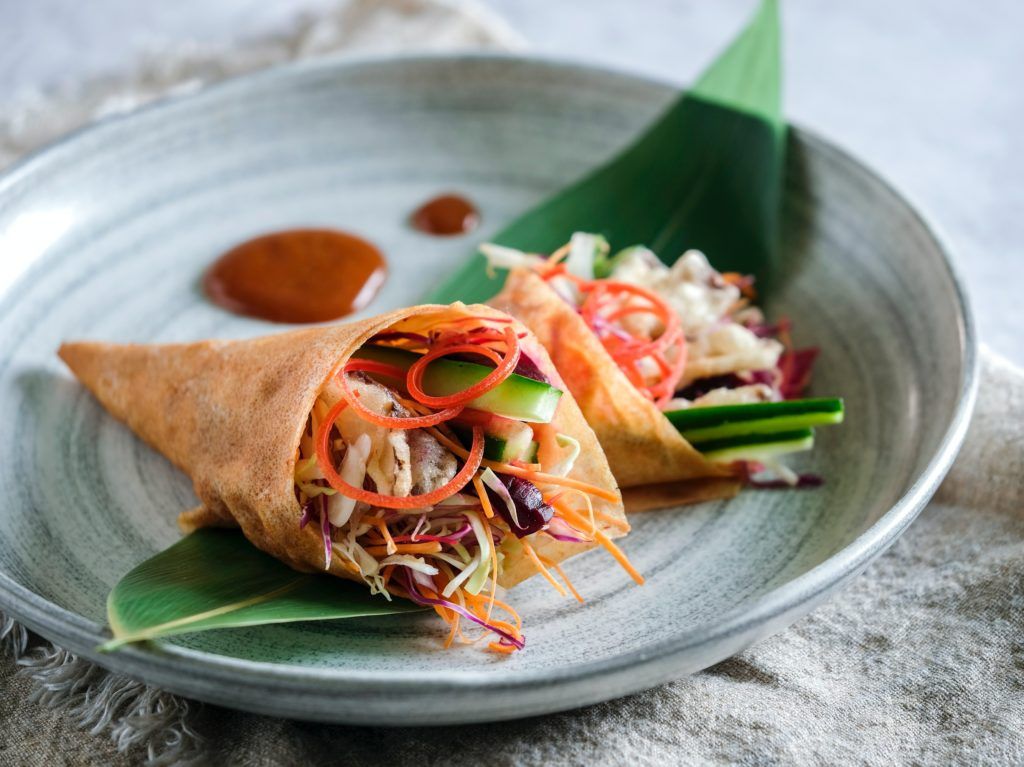 Advocating healthier eating habits, Miss Lee is the latest in reinventing classic Cantonese dishes with only natural vegetarian ingredients — meaning no meat alternatives. Settled on a corner on Wellington Street, the modern eatery seats only 40 covers, making it an intimate dining spot for family and friends. On the menu, expect to see familiar dishes including steamed glutinous rice remade with brown rice, elm fungus and bean curd, and sweet and sour 'pork' recreated with a blend of king oyster and lion's mane mushrooms.
Miss Lee, G/F, The Wellington, 198 Wellington Street, Central, Hong Kong, +852 2881 1811
Avobar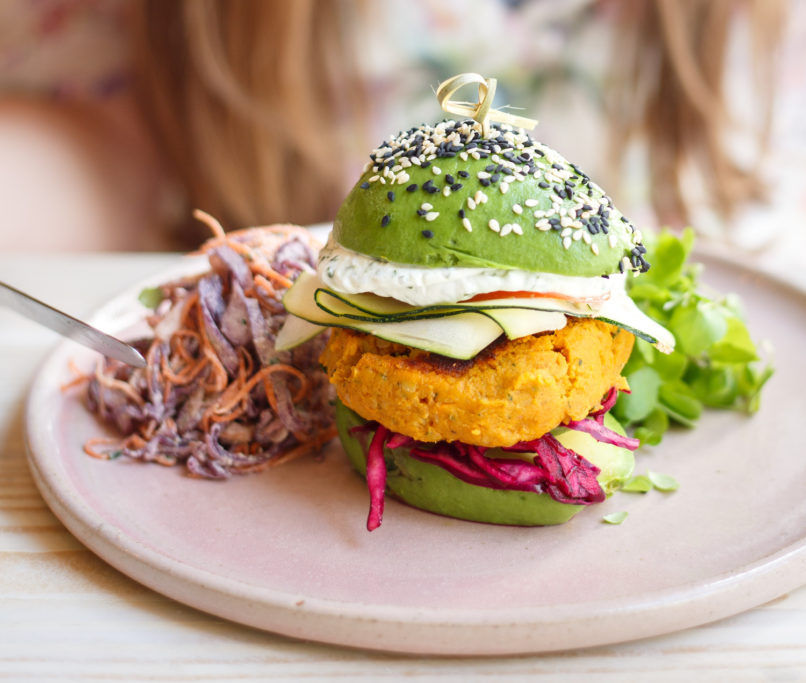 Situated in art mall K11 Musea, Avobar caters to fans of the trendy superfood, serving a nutritious, vegan-friendly menu to promote clean, green eating. Each avocado used is ethically and sustainably sourced from farmers around the world, and is packed with vitamins, minerals and nutrients to suit all consumer lifestyles. The 60-seat setting is home to all-day dining to cater to vegan foodies on the go.
Embrace the benefits of the superfood at this restaurant, with creative hits including Matcha Pancakes, served with homemade "avobutter" and your choice of a sweet or savoury topping, or the famous Avo Bun Burger, made from a sweet potato and red lentil patty sandwiched between two avocados for a tasty plant-based treat. For post-work relaxation, try the quirky Avo Margarita or signature Avocolada for a refreshing green-themed spin on your classic cocktail.
Avobar, Shop B201-4, B2/F, K11 Musea, Victoria Dockside, 18 Salisbury Rd, Tsim Sha Tsui
Chickpea
Neighbourhood-favourite grab-and-go spot, Chickpea, has just opened its doors to a second location in the busy heart of Wan Chai. Needless to say the menu is centred around the delicious and versatile legume, most notably a silky housemade hummus. Available in a varied selection from pita pockets to a hearty Middle Eastern bowl, the healthy bites are a delicious, not to mention healthy, lunchtime option. Well-accompanied sides are also not amiss with the deep fried halloumi balls being crowd favourites.
Chickpea, various locations including, 101 Queen's Road East, Wan Chai, Hong Kong
LockCha Tea House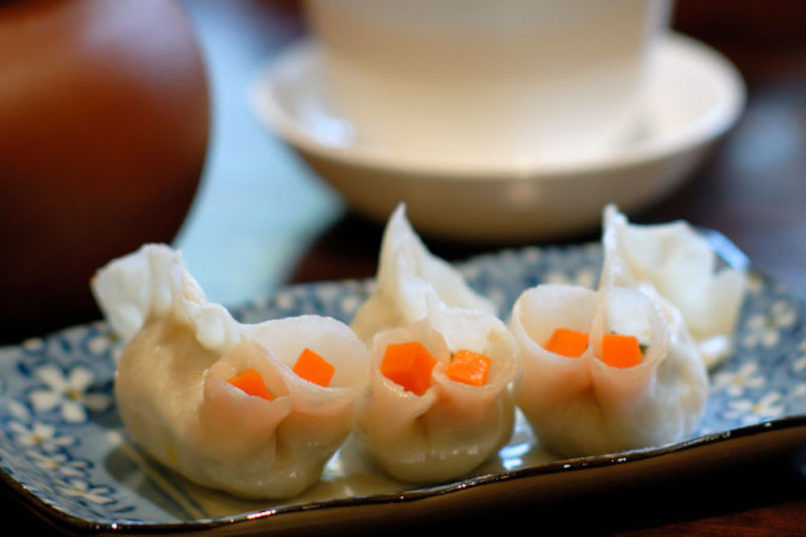 Being vegan no longer means compromising on your favourite cuisine, with many alternative ingredients available these days to sub in classic dishes — and that includes the beloved Hong Kong tradition of dim sum. Lock Cha's two properties (in Tai Kwun and Hong Kong Park) take a vegan and vegetarian approach to the traditional delicacy, prepared using a lighter, less greasy cooking method than what would be typically found in a yum cha joint.
LockCha, various locations including, G06-07, Block 01, Tai Kwun, 10 Hollywood Road, Central, Hong Kong, +852 2276 5777
Veda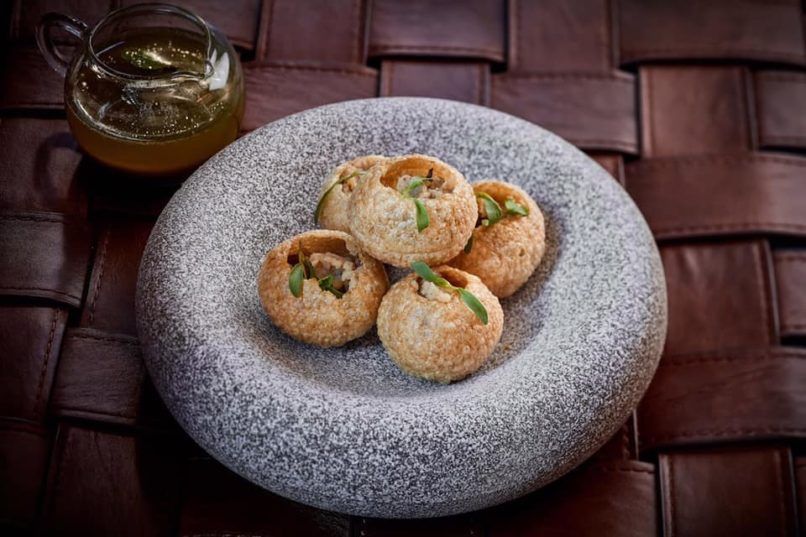 Earning its title as Hong Kong's first completely vegetarian hotel restaurant, Ovolo's Veda celebrates meat-free cuisine with a contemporary East-meets-West menu curated by chef Hetty McKinnon from Brooklyn's Arthur Street Kitchen. Dive into signature dishes including the tasty roasted aloo gobi, four cheese naan pizza, Kathmandu momos, and our personal favourite, the street-side pani puri (pictured here). The all-day restaurant serves wholesome meals from dawn to dusk, from green smoothies and yogurt bowls in the morning to a wild mushroom curry for dinner, catering to the health-conscious round the clock.
Veda, Ovolo Central, 2 Arbuthnot Road, Central, Hong Kong, +852 3755 3067
Kind Kitchen by Green Common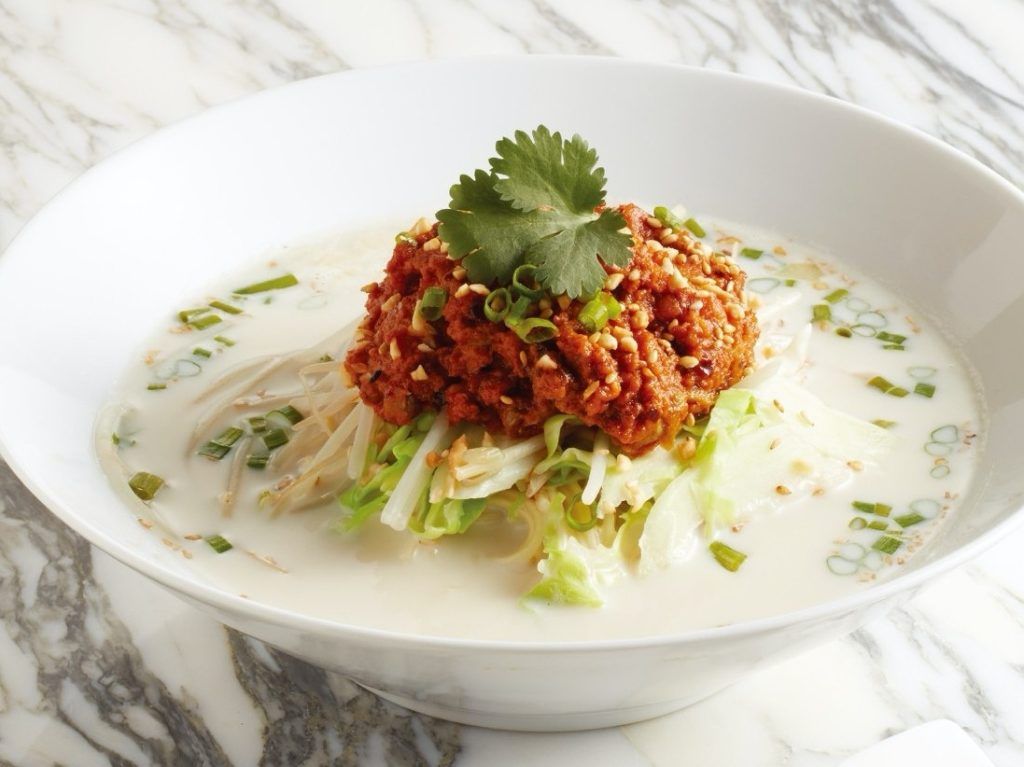 The café concept from green-grocer Green Common, Kind Kitchen is tucked away on the first floor of Sheung Wan's sleek Nan Fung Place. Serving up a selection of plant-based dishes (Omnipork luncheon and Beyond burgers included), the casual 100-seating eatery devises a menu of nourishing favourites that change with the season. The latest menu include timely Chinese New Year specialities including a pumpkin rice cake made with oatmilk, barbecue OmniPork puffs and quinoa-based turnip cake.
Kind Kitchen, Shop 1, 1/F, Nan Fung Place, 173 Des Voeux Road Central, Hong Kong, +852 2110 0055
Years
Next time you're flipping through Sham Shui Po's bank of new café openings, consider Years. While the Japanese-style café only made the switch to being fully vegan last November, it has gained reputation as a popular go-to for its coffee and creative, plant-based twists on comforting classic dishes. Savour a creamy Japanese curry risotto or Chinese-style minced omnipork and eggplant spaghetti should you desire something different; other vegan favourites are the Impossible burger and vegan pancakes.
Years, Shop 1, Fuk Lung Building, 191-199 Fuk Wa Street, Sham Shui Po, Hong Kong, +852 6338 3719
Treehouse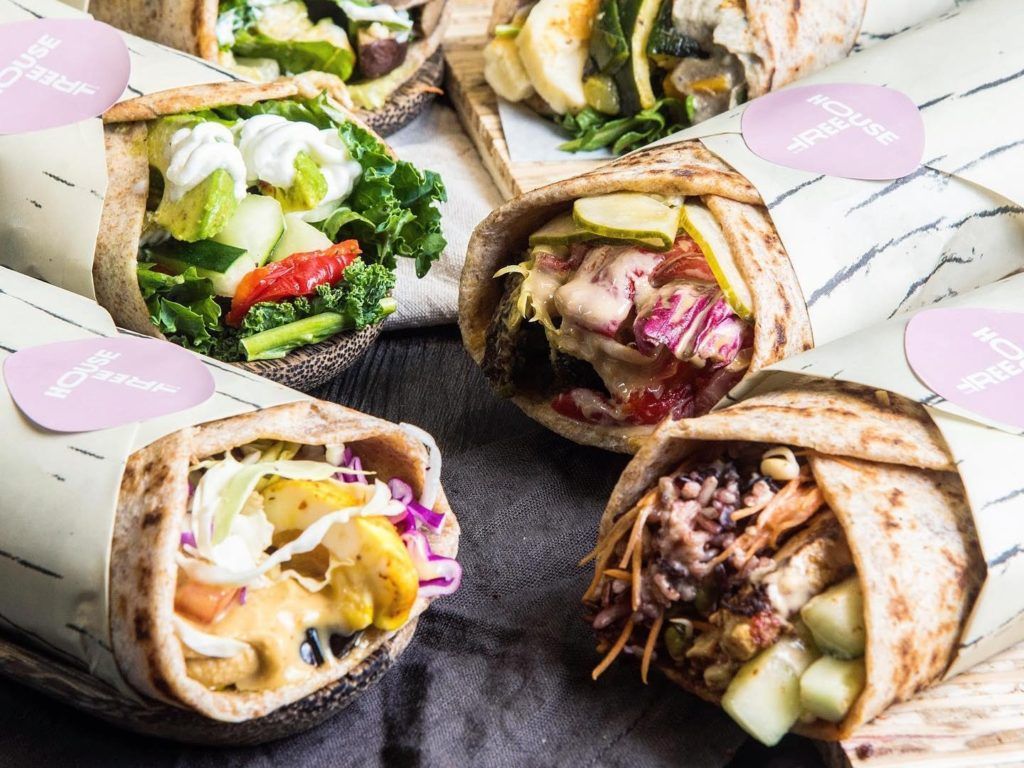 Hidden amongst the slew of SoHo restaurants is Treehouse, a friendly grab-and-go concept by Christian Mongendre who counts popular vegetarian haunt Mana! Fast Slow Food as part of his creations. Those who lamented the closure of Eat to Live will delight in Mongendre's new concept which focuses on healthy dishes and promoting eco-conscious habits. Using all local and organically sourced, grain bowls, sourdough wraps and salads make up the extensive menu alongside a list of nutrient-packed beverages like cold-pressed juices, kombuchas and smoothes.
Treehouse, Shop 1, G/F, H Code, 45 Pottinger Street, Central, Hong Kong, +852 3971 2277
Ma…and the Seeds of Life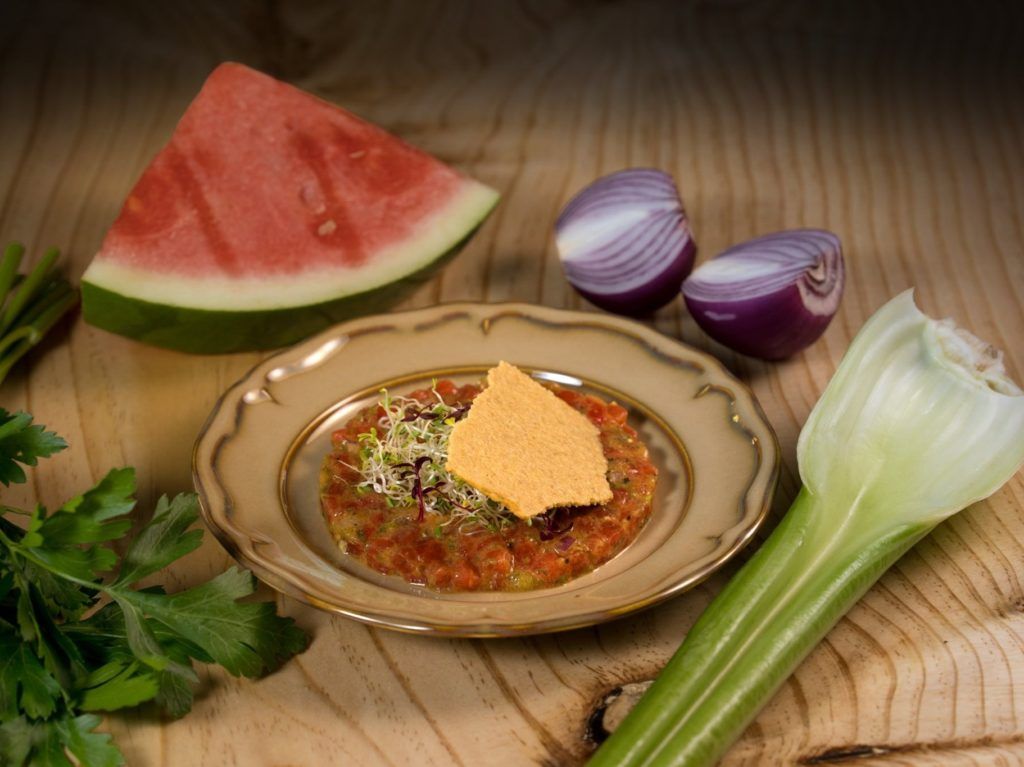 Chef Tina Barrat's latest concept, Ma…and the Seeds of Life takes a bold new step towards greener eating. Located in H18 Conet on Graham Street, the innovative restaurant serves up French raw vegan cuisine in innovative textures and flavours, with each of the carefully crafted plates serving ingredients either fully raw, soaked, sprouted, dehydrated or gently warmed in efforts to retain maximum nutrient density. Each dish is a celebratory showcase of the ingredients most natural flavours; the vegan 'caviar' made with chia seeds and 'scallop' made from grilled king oysters are amongst the dishes to look out for.
Ma… and the Seeds of Life, Shop No.11, 1/F, H18 Conet, 23 Graham Street, Central, Hong Kong, +852 3165 1717
Hero image courtesy of Asaya Kitchen
This article was originally written by Faye Bradley on 13 February 2020 and updated by the Lifestyle Asia Hong Kong team on 19 January 2021.