How do you like your chicken tenders? Covered in breadcrumbs? Crusted in Cheez-Its? Swathed in golden, crunchy batter? In an episode of Last-Minute Meals with Paola, Paola Velez takes an extra crunchy route, using a combination of panko and ground plantain chips, which team up with a buttermilk brine and seasoned flour mixture to create the ultimate tender coating. Velez pairs the resulting crispy tenders with equally crispy air-fried yuca fries, dusted with adobo seasoning for a kick of flavour. As for the dipping sauce? The classic combination of mayo and ketchup, which comes together in seconds.
Want to make the chicken tender recipe? Read on for Velez's method
Prep the yuca
To kick things off, Velez demonstrates how to cut and peel the yuca. You can make an incision in the skin and then use a spoon to slip it off; when cutting, place a kitchen towel on the cutting board to help stabilize things.
Boil, cut, and season
After you've cut the yuca into three- to four-inch pieces, cook it in a pot of boiling water until it's fork-tender, which should take 15 to 20 minutes. Add some kosher salt to the water and let the yuca sit for another two or three minutes. (Velez explains that the yuca will absorb the salt better while in water.) Next, drain the yuca and transfer it to paper towels to further dry out and cool slightly. Then, cut the pieces into fries (half-inch strips), removing the fibre that runs down the centre as you go.
For a burst of flavour, season the yuca fries with adobo seasoning to taste. Now would also be a good time to quickly whisk together the mayo ketchup — cover it and keep it refrigerated until you're ready to serve. If you want a little heat in your dipping sauce, Velez suggests adding jalapeños.
Brine the chicken
Next, gather the ingredients for the chicken brine: buttermilk, fresh orange juice and lime juice, more adobo seasoning, and of course, the chicken strips (cut from boneless skinless chicken breasts). Whisk the liquids and seasoning together in a medium bowl, and then add the chicken. Let the strips marinate for 10 to 20 minutes. Then, remove them from the brine, transfer them to a paper towel-lined plate, and pat them dry. Don't discard the brine after you've taken the chicken out — you'll need it for the breading process. Whisk the egg in so it's ready to go.
Bread and bake
Velez coats the chicken strips in three different mixtures to achieve that ultra-crunchy crust. The first is a flour dredge, made with all-purpose flour, ground black pepper, kosher salt, and granulated garlic. After that, the chicken goes into the buttermilk brine; be sure to gently shake off any excess. But it's the final coating that's the star of the show — a combination of ground plantain chips and panko. Make sure to firmly press the chicken into the crumbs so the coating adheres.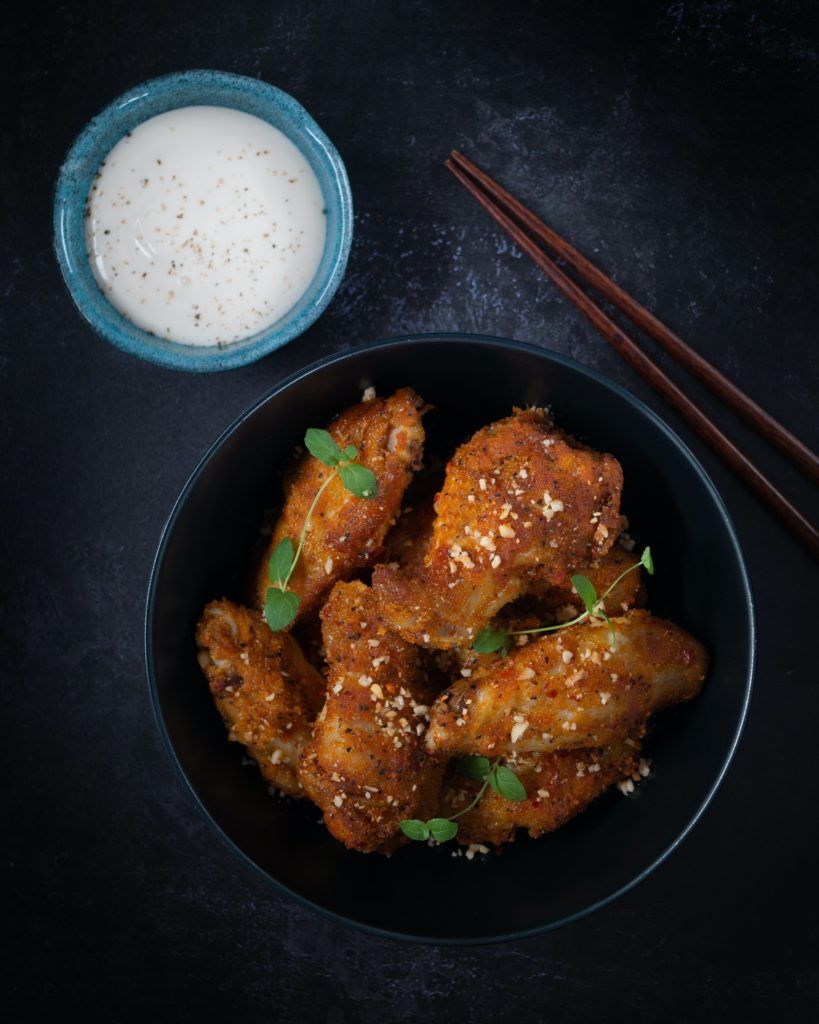 Once breaded, transfer the tenders onto a wire baking rack set within a rimmed baking sheet lined with parchment paper. Spray them lightly with cooking spray — this helps them get extra-crispy — and bake them at 218°C for 18 to 20 minutes. An instant-read thermometer inserted into the centre of the tenders should register 73.8°C.
Meanwhile…
While the tenders bake, you can air-fry your yuca fries. Just like with the chicken, you'll want to spray them with cooking spray for extra crunch (and spray the air fryer basket as well). Work in batches and fry them at 196°C for 13 to 15 minutes, until they turn golden brown.
Serve
Presto! You've got crunchy chicken tenders and yuca fries. Serve them with more adobo, as well as lime wedges and mayo ketchup, if you'd like. Finish 'em off with some chopped parsley and enjoy.
"This is a texture and flavour bomb," Velez says.
This story first appeared on www.foodandwine.com
(Main and Feature Image Credit: PK/Unsplash)
© 2021. TI Inc. Affluent Media Group. All rights reserved.  Licensed from FoodandWine.com and published with permission of Affluent Media Group. Reproduction in any manner in any language in whole or in part without prior written permission is prohibited.
Food & Wine and the Food & Wine Logo are registered trademarks of Affluent Media Group. Used under License.