In case the various social media feeds haven't made it clear: homemade sourdough has become the number one thing since, well, sliced bread.
For those of us who haven't been huddled over our own kitchen counters since lockdown attempting our own homemade loaves, perhaps the rising popularity of artisanal bread will have you searching far and wide for the ultimate fix.
Where better to find this than at Baked Hong Kong? We recently swung through to South African chef-proprietor Zahir Mohamed's bakery and all-day dining venue to sample some of the signature carb-based dishes — incorporating a self-proclaimed 'oldest' sourdough in Hong Kong.
Since 2018, Baked Hong Kong has been serving up some of the city's most talked-about semi-sour loaves — you need only steal a glance on weekends to know just how excitable diners are about Chef Zahir's dynamic mixture of coffee, pastry, and reworked Afrikaner staples (many of which are sourdough-based).
Operating out of a minuscule hole-in-the-wall on Elgin Street alongside neighbourhood haunts such as Fukuro and La Camionetta — it has quickly became an essential part of SoHo's culinary ecosystem. Better still, despite the challenging commercial environment faced by Mohamed along with many of his immediate neighbours, Baked has just recently opened its doors for dinner service — complete with a compact wine list championing classic South African cultivars such as Chenin Blanc and Pinotage.
To get a better idea of what's on offer, we stopped by Baked to reacquaint ourselves with the menu. From brunch plates built using the omnipresent, freshly baked sourdough to a taste of what's on chef Zahir's new evening menu, here are five delectable sourdough-based dishes that we strongly stand behind.
Baked Hong Kong opens from Tue-Sun, 8am-4pm.
1
Chef Zahir's Challah
Whereas the majority of the dishes at Baked pay tribute to Chef Zahir's home country of South Africa, care has also been taken to incorporate allusions to his Egyptian heritage through one or two of the menu's special items. The challah is one such standout: available twice a week, this is a brioche-like staple eaten in a number of Mediterranean countries, notably including Egypt and Israel. Zahir's recipe for challah calls on his famous 50 year old sourdough starter, which is enriched with eggs and olive oil before being baked to order until the bread attains a glorious, golden-brown cast all over.
2
'Flavor Town'
Yet to be aggressively documented all over social media, one of Chef Zahir's first additions to the new dinner menu is an honest-to-God fish curry — made in the punchy, multi-ethnic style of Kaapse Maleiers cooking (the term refers to Muslims of Malay descent, many of whom originally arrived in the Cape of Good Hope via Madagascar and East Africa). The dish signals a widening of Baked's culinary oeuvre, operating on a sweet-and-sour wavelength that'll prove familiar to those acquainted with South African Malaysian cuisine. For pescatarian protein, Zahir favours cobia: a richly flavoured toothsome species of fish that's often compared with Atlantic salmon. In another heartwarming twist, rather than a staple carbohydrate such as potatoes the curry is paired with butter roti — hand-rolled everyday by Zahir in the style of his grandmother.
3
Cinnamon bun with pistachio and cream cheese frosting
A real labour of love that has been embraced by pastry fiends all over Hong Kong, these sourdough brioche treats leave the likes of Cinnabon behind in a fine coating of electrifyingly sugary dust. Multitudinous in both sweetness and texture, the Baked cinnamon bun interlaces a soft, slightly chewy interior with layer upon layer of tangy sugar butter (flavoured with orange zest and pistachios). The citrus works wonderfully as a stabilising agent for what might otherwise be a slightly overrich filling; while the pistachios incorporated throughout caramelise and break down after baking. Limited quantities made daily.
4
'Oh My God'
Jokingly referred to by Chef Zahir as "the only unkillable dish" on the menu, the 'Oh My God' is intended as an evocation of the sorts of expletives you're inclined to mutter when satisfying-looking dishes arrive at your table (and when you bite into it). And trust us, the 'Oh My God' is nothing if not incredibly satisfying. Nominally working within the genre of 'mushrooms on toast', two chunks of freshly grilled sourdough are heaped with sautéed portobellos — themselves cooked in an umami-rich trio of cream, mozzarella and truffle pâté — before being topped with a poached egg. In a word? Lekker.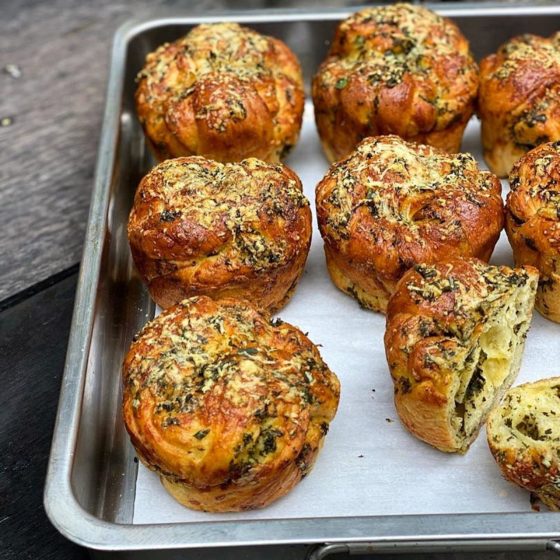 5
Savoury parmesan buns
Developed during the early days of the CoViD-19 crisis as a delectable 'grab and go' option, Chef Zahir's savoury brioche is the Cadillac Eldorado of cheesy scrolls — big, bold, and most definitely indulgent. Made in very limited quantities each day, these buns combine a flaky, golden-brown crust with an unctuous filling of garlic, basil and parmesan. We find that it's best to have these when they're freshly made — a bona fide cure-all for those awful morning commutes to the office.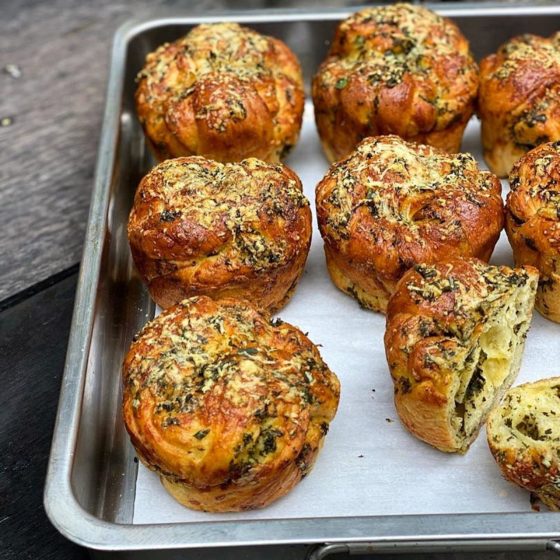 Baked Hong Kong
Address
14D, Elgin Street, Central, Hong Kong