Showcasing chef Antonio Oviedo impressive journey as a chef thus far, Agora is his interpretation of classic Spanish cuisine, redefined.
With a simple once-over across the menu at any Spanish restaurant in Hong Kong, you'll probably recognise the bevy of colourful tapas and sharing-style serves, but not at Agora. Not in the traditional sense, anyway. Antonio Oviedo's latest concept with JIA Group — also behind Wan Chai's lively tapas bar 22 Ships — set in the heart of heritage Tai Kwun serves Spanish cuisine a little differently than usual: elegant, refined and unmistakably fine-dine. Something that's yet to find foothold in the current local dining landscape.
But it's a challenging first step that Oviedo has chosen to embrace.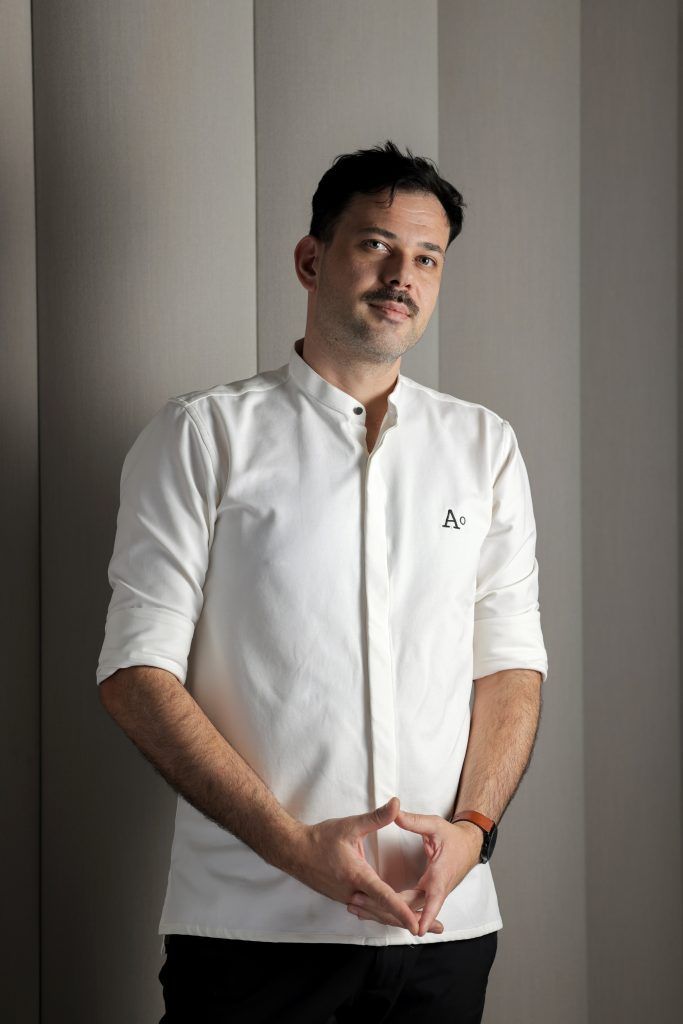 Agora, consciously named to denote two different meanings, first translates to "now" in old Spanish to indicate Oviedo's ever-evolving interpretation of Spanish cuisine. Then, in ancient Latin, open-air central plazas that marked the centre of cities, or "centre of life"; a gathering point for the surrounding community. Both concepts are considerably entwined within the intimate COLLECTIVE Studio-designed space of only 24 seats, decorated in earthy terracotta bricks that match the venue's existing arches amongst gleaming finishes of ruby red and white marble.
This dichotomy between the old and the new, the familiar and the unknowable, is carried into Agora as an overarching theme, but it's one closely applicable to Oviedo as a chef, too. Born and raised in Madrid to a Extremaduran mother and Burgos father, the kitchen at home was an early entry into two contrasting worlds of culinary traditions, where home-cooked Northern fare usually lent a Southern influence. Then, weekend punishments demanded by dad working at local neighbourhood cafeterias encountered precise, old-school techniques from French-trained chefs that added to Oviedo's ever-growing discourse in the culinary scene.
"I was naughty when I was younger, so my dad punished me to work with his friend on the weekend," Oviedo recalls. "When I arrived, I was confused at the beginning but then I enjoyed it, and really started to love being a chef."
"Since then, I started to study at different schools in Madrid and never stopped to work as a chef," he continues. "It's quite amazing, somehow I was upset that my dad controlled me and made me work in kitchens, but in the end I was so happy. It made me grow a lot and to find my right path."
Oviedo made the official move to the big city of sunny Madrid where he dived into an inspiring world of Spanish gastronomic and fine-dining culture. Starting at the fish station in a French kitchen he swayed his way into a commis position within the main cooking line, before finding footing alongside reputed top chefs at just-as reputed Michelin-starred venues — one-Michelin El Chaflan and Oscar Velasco's two-Michelin Santceloni included. "When you're young, you feel like you can do anything. But naturally, you can't, of course," he laughs.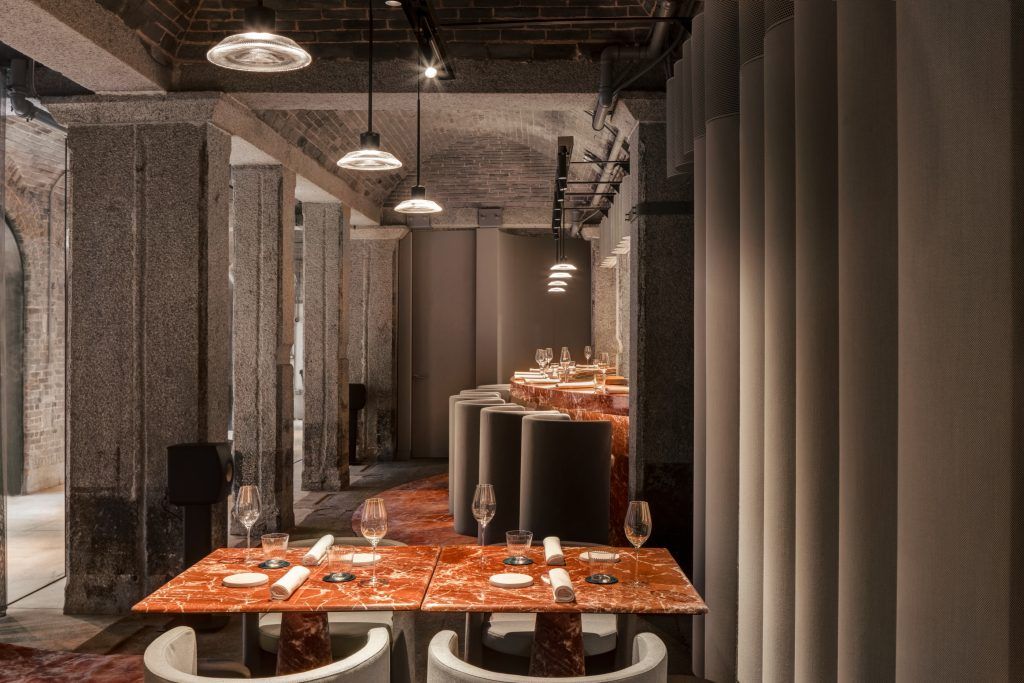 And he's never left the kitchen since. From learning his ways around the main cooking station, Oviedo continued with pastry school in Barcelona to earn an additional skillset in restaurant pastry, to which he casually mentions is not entirely dissimilar to preparing savoury dishes — "The composition is the same. For me there's no barrier." In his time as a pastry chef, Oviedo began with the Roca Brothers, then Fernando Arellano's three-starred Zaranda as head pastry chef, managing stations from bread production to chocolate work.
By now, Oviedo's impressive beginnings as a chef and dedication to serving sophisticated Spanish cuisine is crystal clear. But it's worth noting that before he made his way into the restaurant scene in our fair city — including a brief, also star-studded stint in Singapore — he was a private chef. It's where he discovered his true belonging in the kitchen — specifically, fine-dining kitchens; he didn't cook his first paella in restaurants 'til he landed in Singapore — because while life as a jet-setting private chef was as cushy and glamorous as you can imagine, Oviedo longed for the endless rush of a busy service, in particular the satisfying journey of seeing a menu through from a concept to fully visual courses.
"I felt like something was missing in me," he begins. "Even though it was very tough to work in a restaurant, I missed that. I had worked in the industry for about 20 years by then. It's not the same as cooking in a house, you can enjoy it but [it's different]. In a restaurant, you develop your own concept and that's what I really like and enjoy — even though now I'm working more hours."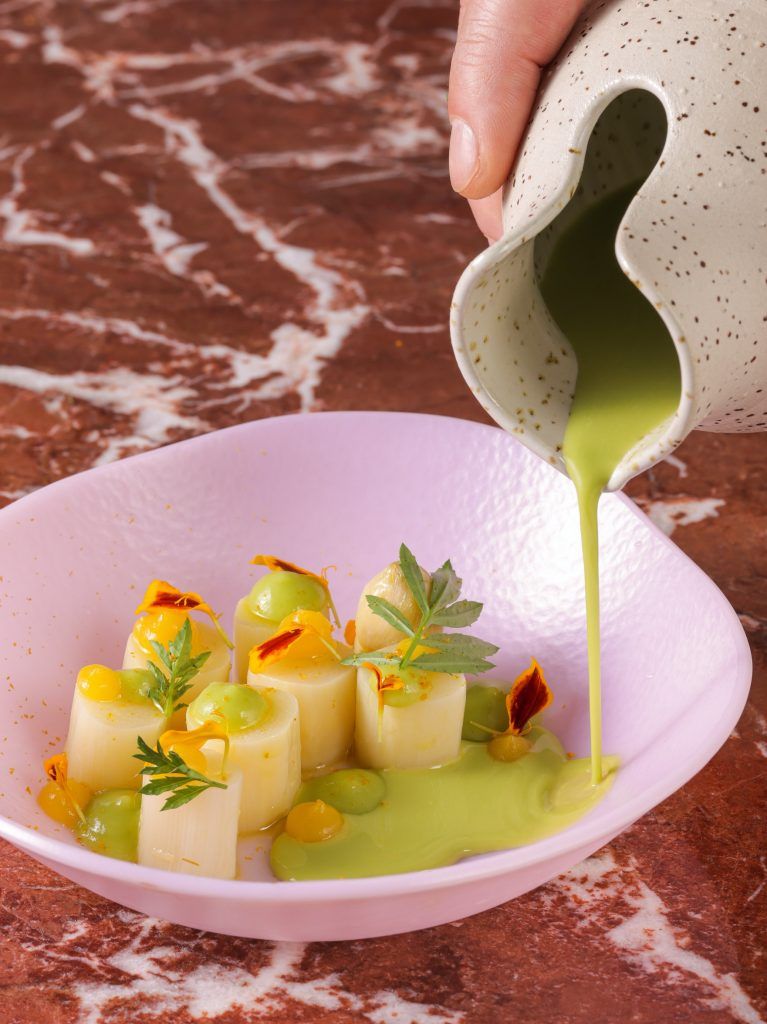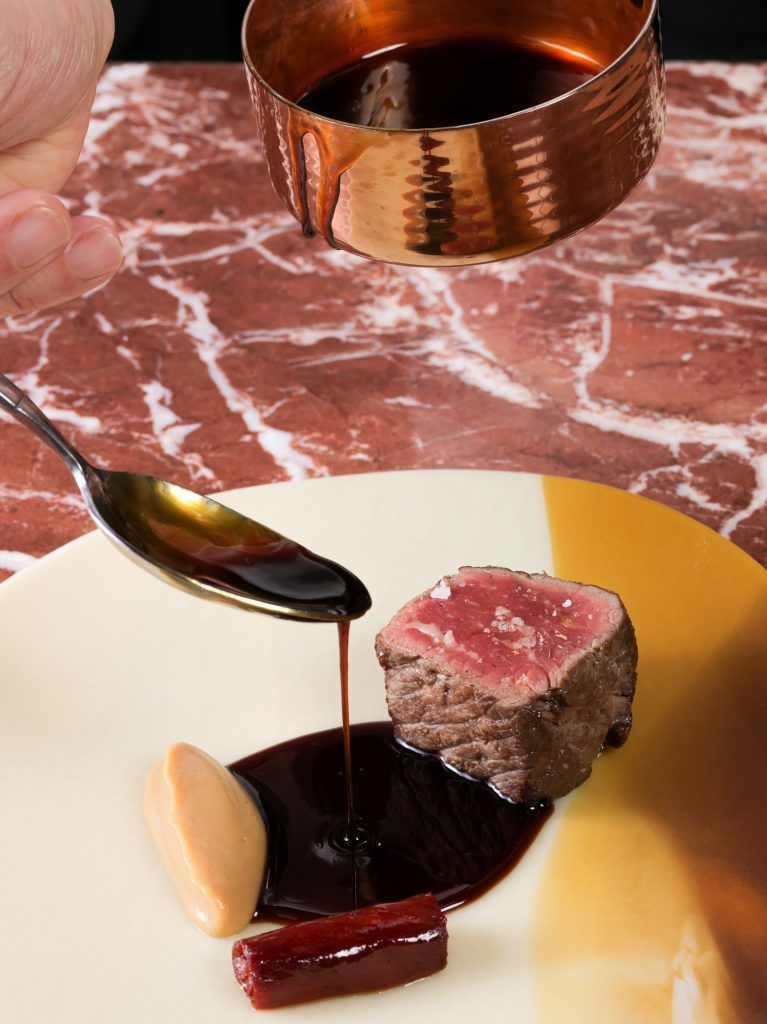 At Agora, while a bounty of premium global ingredients is still easily accessible, Oviedo imports almost exclusively from Spain in an effort to highlight the native produce and flavours of his country. The cooking here is, of course, inherently Spanish, but adopts Oviedo's now-signature contemporary touch with a larger emphasis on Spanish traditions. "Here we do something more personal, more refined. We put more effort into the details and go in-depth with the taste. It's smaller and more intimate," he explains.
A tapas-esque concept is still somewhat present in the sleek dining room — it is, after all, the heart of Spanish cuisine. But rather than the usual rustic presentation of scattered bites stacked upon a sharing dish, they are carefully edited, refined and presented as singular serves for a more elevated experience — "Small dishes on the tasting menu is like small tapas reduced to a single portion. It's still very Spanish to me," Oviedo adds. Yet, Oviedo still manages to keep a homeyness and the comforting character of Spanish cuisine through adding personal touches — his childhood; his travels; his training; his heritage — into the menu, one that he hopes will reflect him as a chef.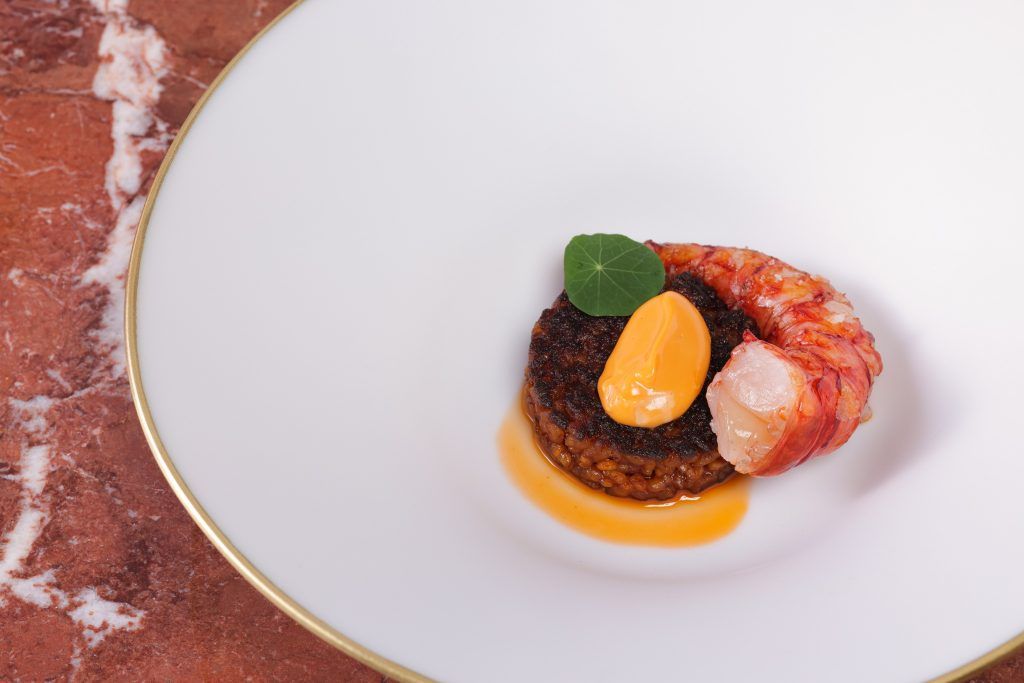 One such dish: "Gazpachuelo", a refreshing deconstructed creation of the usual cool, soupy gazpacho, a Southern region dish that's also coincidentally Oviedo's favourite, renewed with a green olive and mandarin sauce spooned over fresh tomatoes (or asparagus, depending on the season). From Northern influences, Oviedo names "Txuleta", of tender Spanish Rubia Gallega beef served with a rich garlic and red pepper sauce. While each ingredient set upon the beautifully photogenic plates are designed to shine, Oviedo gastronomic techniques shines even brighter — especially to the palate of a discerning diner.
"I'm trying to represent my journey of 20 years in cooking. But here I want to highlight Spanish culture," Oviedo explains. "Our culture is rich and considered a culinary token because we're influenced by so many different Mediterranean cultures and civilisations… the Venetian to the Romans, Greeks and Arabs, that's all in our culture."
Perhaps you won't find a sizzling pan of paella making a dramatic entrance to the table here, but what you will be presented with is something better; something more thoughtful. "Socarrat", for example, dissects the one-pan-dish down to the single unfiltered component that makes it a perennial favourite: the crunchy, crispy ends which sediments at the bottom of a pan. At Agora, Oviedo gels two toasted golden-brown pieces together for a top-to-bottom crackly socarrat sandwich made with Bomba rice, a grain especially harvested in Eastern Spain, served with plump Carabinero prawn and aioli.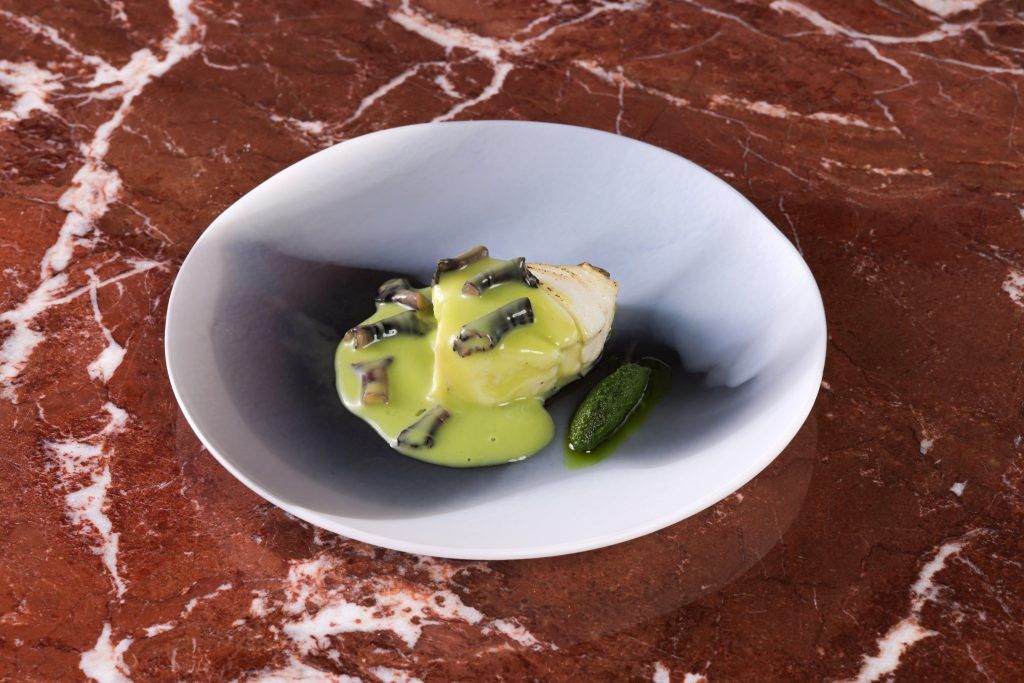 These humble Spanish staples reintroduced in contemporary creative ways is what will welcome diners at Agora, with a few tweaks here and there depending on the season. Not to mention a wine list of over 70 percent of Spanish labels and a curation of tableware and glassware all crafted by Spanish artisans. It's a stage set for Oviedo's fervent love towards his home country and a very promising start for Spanish fine-dining in Hong Kong.
"I feel so proud to create this kind of dining for Spanish cuisine," says Oviedo. "I feel like we created something the city was missing and people was looking for. People in Hong Kong are so well-travelled, they know. When they come in and start relating their travels to Spain to the cooking in my restaurant, I feel so proud. I feel so happy."
I won't end before mentioning the olive oil, which like everything else here at Agora, is unlike your usual. An addition to the menu that Oviedo is so immensely proud of, the Verdial extra virgin olive oil served at the beginning and the end of the tasting menu is made in collaboration with a local Spanish distributor from jumbo-sized Gordal olives of centenary olive trees in Màlaga. Ask about its history in your own time upon your next visit, Oviedo will happily oblige.
---
Agora is open for lunch on Saturdays and Sundays from 12 to 3:30pm; dinner on Wednesdays to Sundays from 6 to 10pm. Reservations can be made here.
Agora
Address
Shop 14, G/F, D Hall, Tai Kwun, 10 Hollywood Road, Central, Hong Kong