Best Bites is a roundup of the outstanding dishes we had within the last month: Those which renewed our love for established venues; caught our attention at a new opening; or freshly impressed upon us the creativity and skill of Hong Kong's talented chefs. From casual street snacks to meticulously prepared tasting menus, these are the best dishes to try in Hong Kong, and the plates we'd recommend you make a special trip for.
Smoke & Barrel
The dish: Cider Glazed Baby Back Ribs (half rack HK$208; full rack HK$368)
If you're a big ribs fan, odds are you've already indulged in Smoke & Barrel's Cider Glazed Baby Back Ribs; but for those yet to book in to this smoke house restaurant, grab your friends (and probably a bib), and tuck in to a half or full rack of melt-in-your-mouth ribs. In all honesty, you can't go wrong with much of the meat on its menu — opt for the 'Feed Me' option if you're looking for a feast — but on Mondays and Tuesdays, you can get unlimited portions of these tangy ribs, as well as free-flow PBR beers for just HK$338. An absolute steal considering a full rack will set you back HK$368. — Lexi Davey, Managing Editor
Smoke & Barrel, 1/F-2/F, Wyndham Mansion, 32 Wyndham Street, Central, Hong Kong, +852 2866 2120
The Daily Tot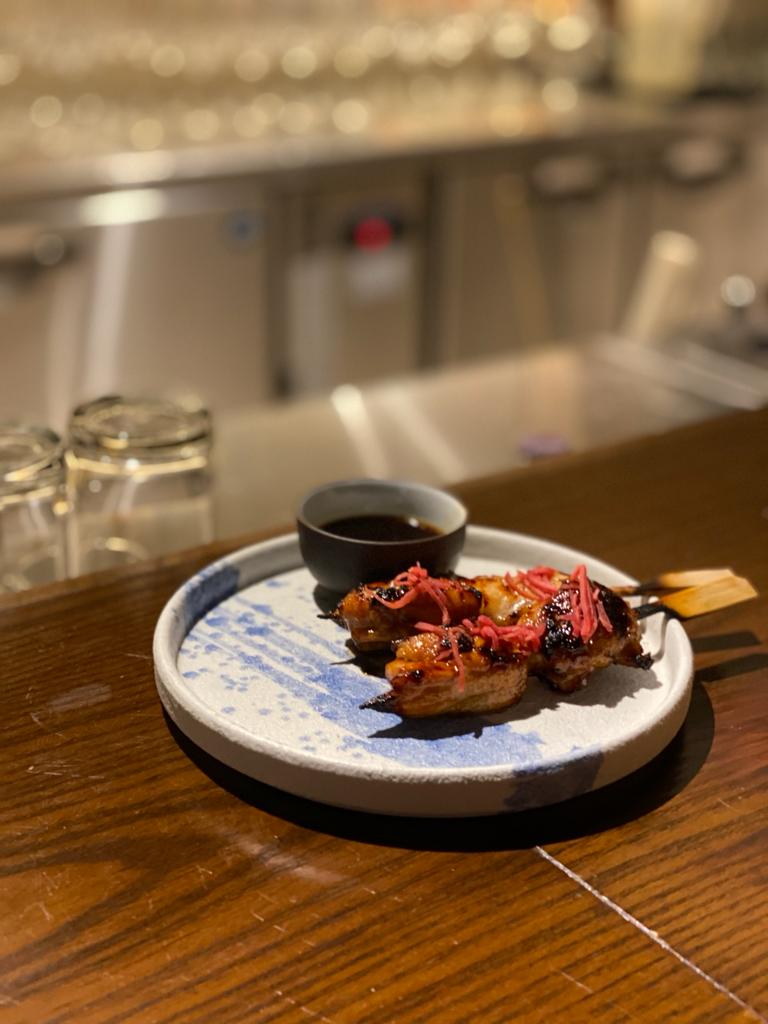 The dish: Chicken skewers (HK$85)
Do not saunter into The Daily Tot expecting ramekins full of age-old peanuts and trail mix and crisps as bar snacks. Instead, stride in there expecting more; like perfectly grilled chicken skewers — topped with julienned gari ginger — worthy of a lauded spot on the menu of an if-you-know-you-know kind of hidden-gem Japanese izakaya. The soft bite, umami chew and a seasoned spot of chipotle sauce pair perfectly with the bar's slick rum rotation. I'm also keen on their cheese croquettes (HK$70). Yum. — Joey Wong, Editor
The Daily Tot, Felicity Building, LG/F, 58 Hollywood Road, Central, Hong Kong, +852 2366 6836
Man Wah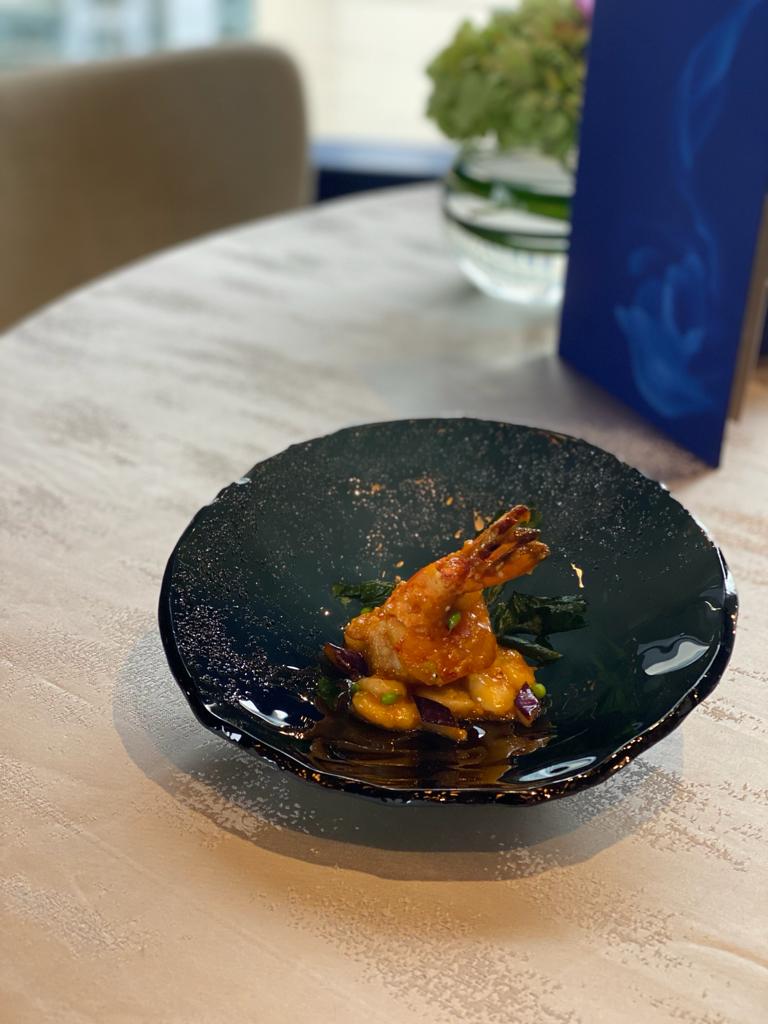 The dish: Deep-fried and braised prawns (HK$188)
Oftentimes in well-respected Cantonese eateries, particularly dignified posts tucked away in time-honoured establishments, menus tend to stick close to tradition. What's known, what's loved, whatever recipes-passed-down-generations requires. While it may seem to be the premise at Mandarin Oriental's longtime Cantonese post, Man Wah, the newly revamped space is in fact accompanied by a new rotation of sure-to-be signature favourites; age-old dishes renewed and perfected by executive Chinese chef Wing Keung Wong.
Case in point: The deep-fried and braised prawns. Vietnamese prawns are sautéed in a savoury mix of salted fish, celery, ginger and spring onions which cling onto the crackly, creviced surface of the deep-fried exterior. Beneath, a soft bed of Korean rice cakes, instead of noodles as traditional usually dictates, first boiled in superior stock and tossed with sharp lozenge-cut eggplants. It's a delectable concoction that nods towards classic Cantonese comforts, yet honours ingredients not limited within a single cuisine. It's light without being overbearing; a sentiment owed to the swapped out carb-heavy base. Best believe, I swept up every last drop of the sticky sauce with the chewy rice cakes. — Lorria Sahmet, Style Editor
Man Wah, 25/F, Mandarin Oriental, Central, Hong Kong, +852 2825 4003
Kinship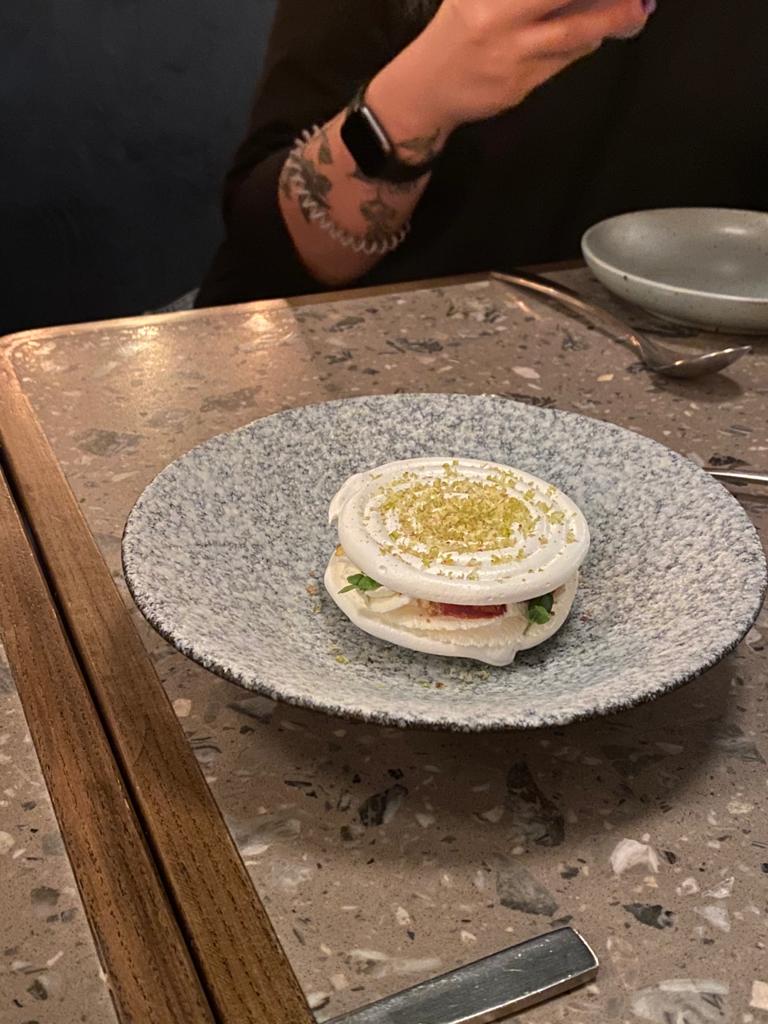 The dish: Strawberry Pavlova (HK$88)
Dessert should never go amiss. No matter how delicious, satisfying or fulfilling the prior meal may have been. In the case of Kinship, chef Nelson Gonzalez's new dishes were, without a doubt, a delight on the palette, especially the ingeniously crispy duck char siu and steak tartare seasoned with Sichuan peppercorn. But whatever food coma I was about to succumb to, my appetite was reawakened with the arrival of the strawberry pavlova, a light and delicate treat so evocative of the springtime. I'd reckon it'll make a popular (and pretty!) garden party treat if you're in search of one. It's not the sickly sweet kind either, but rather an exquisitely refined symphony of flavours and textures. Underneath the crispy coiled exterior, a tang from poached strawberries brightens the soft chewy interior, and a sweet soft pillow of Chantilly cream. It's tempered by the earthy notes from crushed caramelised pistachios sprinkled on top and fresh sprigs basil hidden in between — a dessert I won't mind making room for again and again. — LS
Kinship, 3/F, 2-4 Shelley Street, Central, Hong Kong, +852 2520 0899
Poem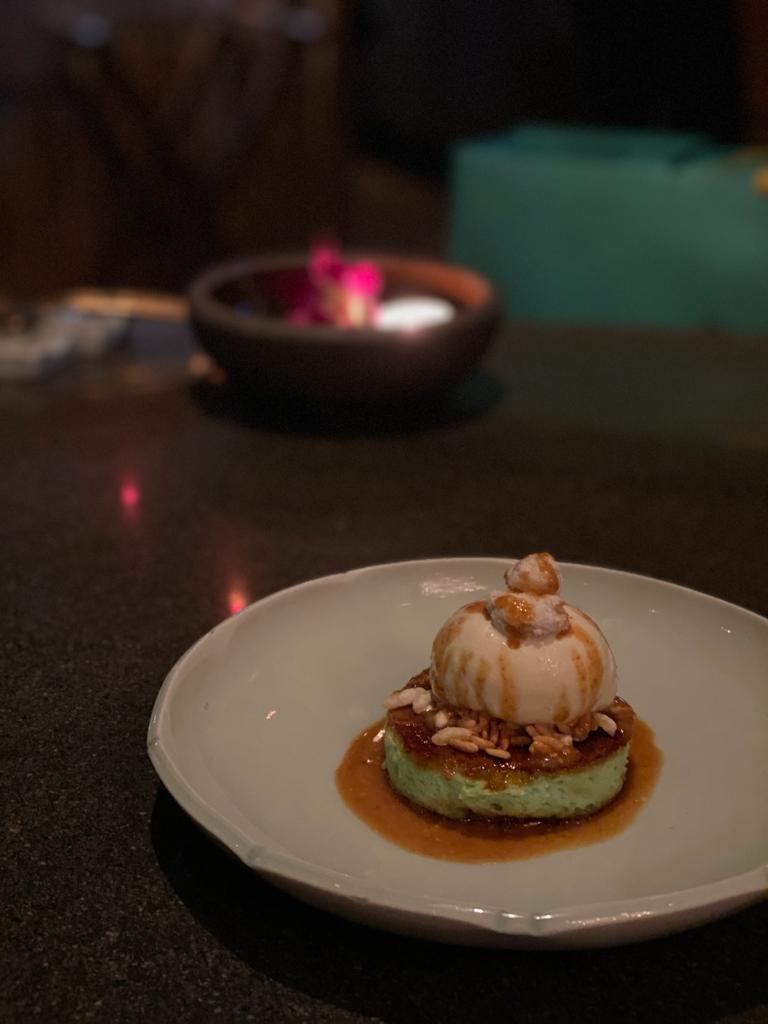 The dish: Pandan pancake (HK$88)
As I've zealously mentioned, I adore anything that will whisk me away to an island holiday, even if its just via imagination and lasts the duration of a weeknight dinner. So, a trip to Balinese-inspired Poem is entirely fitting. The dishes here is indicative of the laid-back island life that the leafy green-filled restaurant hints at: banana leaves that serve as plates and the aromatic smells of charcoal-grilled satays. Delicious. But this pandan pancake is the one that will brings to mind the sunny weather lounging beachside to the meditative track of crashing waves. A nondescript morning breakfast pancake this is not, but rather one of decadence, infused with fragrant pandan, steamed in banana leaf and sealed off with a caramelised crackly crust — crème brûlée-style — in perfect contrast to the chewy, glutinous cake inspired by laklak, a traditional Indonesian dessert. On top, a dollop of refreshing lemongrass ice cream with a sprinkle of puffed Rice Krispies and a candied cashew-nut drizzle. Wonderful fusion. And surprisingly enjoyable. — LS
Poem, 5/F, LKF Tower, 33 Wyndham Street, Central, Hong Kong, +852 2810 6166