Best Bites is a roundup of the outstanding dishes we had within the last month: Those which renewed our love for established venues; caught our attention at a new opening; or freshly impressed upon us the creativity and skill of Hong Kong's talented chefs. From casual street snacks to meticulously prepared tasting menus, these are the plates we'd recommend you make a special trip for.
Osteria Marzia
The dish: Summer terrine (terrina di pomodoro)

'Tis the season of tomatoes, and what better way to capture the flavour of the summer than with a cooling appetiser made with the sweet, zesty heirloom fruit? With a seasonal menu spotlight on tomato and zucchini, Osteria Marzia has crafted a vegetarian-friendly terrine (HK$238), featuring slivers and chunks of the juicy vegetables rather than the usual minced chicken or pork. Layers of green and red are set in a colourful striated, slightly acidic gelatin (so strict vegans need not apply), then adorned with fresh nectarines or peaches (depending on what's ripe), a smattering of dried zucchini flowers and creamy dollops of burrata cheese and basil pesto to tie it all together. For me, it was just the refreshing dish to combat the this heavy typhoon weather and persistent CoViD doldrums. Pair it with a glass of Ayala Brut Majeur — the house sommelier's recommendation — and you've got yourself a healthy(-ish) solution for a bright summer lunch. — Evelyn Lok, Managing Editor
Osteria Marzia, G/F, The Fleming, 41 Fleming Road, Wan Chai, Hong Kong, +852 3607 2253 (re-opens on 6 August 2020)
Brut!
The dish: Brut's bento box

Right now, one of the more abstract challenges restaurants are facing (in the race to retool as 'ghost kitchens') is being able to succinctly convey the essence of their cooking inside a domestic setting. The ability to translate the full extent of the traditional hospitality experience into boxes, hampers or some other form of takeaway container is one hell of a hat trick; and for many restaurants, particularly those leaning on service and ambience, the costs associated with attempting it are simply too high. Fortunately, the team at Brut! has had more success than most.

In the run-up to the Hong Kong government's blinkered dining ban — which lasted, seemingly, for all of 12 minutes — Chef Gavin Chin and co. launched their new Brut! bento (HK$168) earlier last month. The concept basically boils down to a meal box which consists of five individual bites, with upgrades available (i.e. cod, lamb, beef) whenever you're craving mains beyond the default chicken or veggie gyoza. So far, so what? Well, in keeping with my hackneyed magic metaphor, the proverbial rabbit out of thin air is how everything comes together. Miniature morsels like the miso eggplant or satisfyingly yolky egg smoked on wood chips are, if not identical, then at least damn near close to what you'll experience at Brut! proper — making this a surprisingly true-to-life introduction for those who've yet to experience the restaurant in person. Available for delivery or self pick-up all day, Tuesday-Sunday. — Randy Lai, Editor
Brut!, Shop C, G/F, Tung Cheung Building, 11 Second Street, Sai Ying Pun, +852 9584 0204 (orders via WhatsApp)
Hotal Colombo
The dish: Chilli tamarind mud crab

For those who prefer the saucy kind of chili crab compared to Hong Kong's Typhoon Shelter version, it can be hard to get your fix in town. SoHo's cosy Sri Lankan hangout Hotal Colombo has been known to make a mean mud crab, available in an array of sauces for an a la carte price tag of HK$688. But ever the opportunist, I came across the diner's Colombo Crab Club (HK$388 per person for three crabs at the table plus unlimited sides), an offering that had been going on every other Monday until the recent dining restrictions. I booked in with three other crustacean fiends last month for some of that fiery, finger-licking goodness and it did not disappoint. We ordered one of each flavour available, from a hot chili tamarind that can wipe out any sinus block (my personal favourite) to a milder coconut lime curry, to a rich and eggy garlic butter flavour — each still allowing the sweetness of the crab meat to shine through. Those of us masochists with higher spice tolerance even spread the smoky, sweet chili tamarind sauce like jam on the unlimited slices of oven-fresh garlic bread and roti paratha, topped with a chef's kiss-worthy smattering of coconutty pol sambol. Just be sure to avoid filling up on addictive chili potatoes and the sneakily spicy coleslaw before the main event — a rookie mistake that will not only compromise your stomach space, you'll also have to be ready to drink a gallon of yoghurt to withstand the burn. — EL
Hotal Colombo, G/F, 31 Elgin Street, Central, Hong Kong, +852 2488 8863
Shady x Frantzén's Kitchen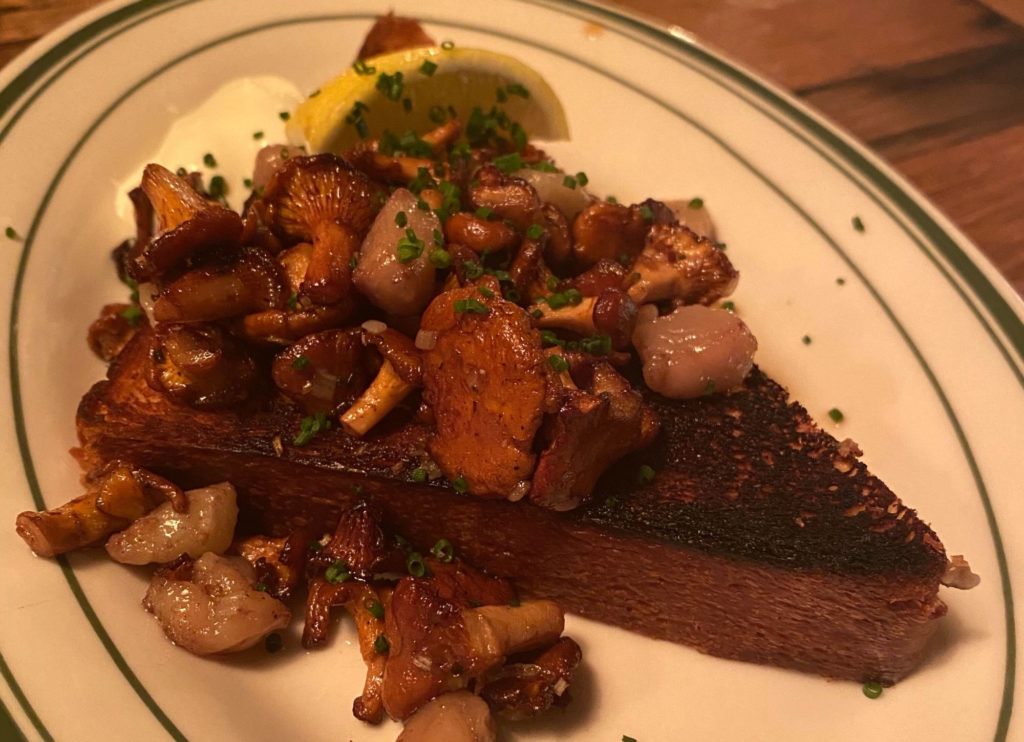 The dish: Open sandwich with girolles, bone marrow, onion & beef jus

Peel Street favourite Shady Acres teamed up with Swedish fine-dine Frantzén's Kitchen last month with a kitchen takeover by chef Jim Löfdahl, with a one-off menu of creative Swedish eats and special cocktails — and not a single meatball in sight. Instead, it was a demonstration in umami, featuring the likes of sweetbreads, bone marrow, 24-month comte, anchovy, and mushrooms — so many mushrooms — on its menu. This handsome open-faced sandwich (HK$95) was one of the highlights, featuring tender girolle mushrooms and little bubbles of bone marrow that burst on your tongue for the ultimate fatty, mouth-coating deliciousness. Drizzled evenly with an onion and beef jus with so much flavour, I could have sworn it was thrown in a fiery wok rather than in Shady's single diminutive commercial griddle. The perfect amount of chives and creme fraiche on the side helped to perfectly balance out the greasiness — meaning I could have had about three more of 'em. — EL
Shady Acres, G/F, 46 Peel Street, Central, Hong Kong
Chop Chop
The dish: Sweet and sour pork

There are a hundred reasons to love Cantonese cookery, but one of the main ones that continues to blow my mind daily has to do with technique. Of all the regional traditions in China's culinary pantheon, the cuisine of the Guangdong diaspora is the one perhaps most concerned, obsessed even, by balance — a quality that's only achievable when you're paying attention to every single detail. I find that the best representation of this difficulty curve is often to be found in simple fare like sweet and sour pork — a stir-fried staple that is as iconic (not to mention fluorescent) as the ubiquitous Hong Kong taxicab.

Almost everybody has their own romantic notions of this dish, but for me, it's hard to go wrong with chef Dai Lung's take at Chop Chop (HK$80). Perfectly proportioned bites of pork — toothsome, fatty, and with just the right coverage of crystalline sauce — are tossed in a roaring hot wok with a trio of peppers, the latter of which is blessedly devoid of excess moisture and the unpleasant astringency that always accompanies under-cooked veg. Served without affectation — at most, next to a bowlful of rice — this is the kind of preparation that encourages me to cut through foodie culture's white noise, and focus instead on the aforementioned 'technique' that resonates in every bite. — RL
Chop Chop, Shop 3, G/F, 18 Wang On Road, North Point, Hong Kong, +852 3618 7718