Best Bites is a roundup of the outstanding dishes we had within the last month: Those which renewed our love for established venues; caught our attention at a new opening; or freshly impressed upon us the creativity and skill of Hong Kong's talented chefs. From casual street snacks to meticulously prepared tasting menus, these are the plates we'd recommend you make a special trip for.
Tommy's Kitchen
The dish: Omi Wagyu ribeye with uni

Over the years, Hong Kong foodie culture has birthed its fair share of culinary cliches, though the cacophony of noise surrounding wagyu & uni must surely rank among the most insufferable. At one time a genuine showcase of uniquely Japanese flavours, in 2020 the act of pairing beef and sea urchin is about as nuanced as an FHM op-ed on gender. Still, as so happens with most faux-pas, there are always exceptions. Early this month — just as Hongkongers were regaining a modicum of freedom to dine out in the evenings — I was reacquainted with the joys of a well-executed wagyu and uni pairing, overseen by Chef Yu Tomiya and Vincent Mui of Test Kitchen.

In response to sustained dine-in bans, Tomiya-san has taken to preparing Omi beef (arguably his favourite strain of domestic market Wagyu) in his regulars' homes these last few months. This particular preparation — laden with fixins' of radish, coarse salt, watercress and ponzu — has proven unsurprisingly popular. Whereas the vast majority of Hong Kong's Wagyu supply can be traced to Kagoshima, this beef is the pride of farmers who've been working out of Shiga Prefecture for over a century. Let me be candid: Omi or no, it's still very much in the vein of premium Japanese protein; meaning a high percentage of marbling, unctuous mouthfeel and relatively low melting temperature. In spite of all that, I'd wager that even those with an avowed disinterest in very fatty beef won't regret giving this a stab. Every bite is loaded with plenty of oleic acid, infusing the ribeye with a light, even verging on clean flavour — far cry from the cloying, palette-dulling fattiness you get while muscling through supermarket Wagyu. — Randy Lai, Editor
The Tommy's Kitchen 'Omi Wagyu and uni' menu is available for a minimum of six guests, priced at HK$2,500 per head. To make a reservation, email vincentmui@testkitchen.com.hk or via WhatsApp at +852 9032 7628.
Ando
The dish: 'Sin Lola'
Ando is chef Agustin Balbi's first solo act after his tenure Haku: a cosy charcoal-hued dining room above Wellington Street that almost feels akin to eating at an incredibly well-heeled friend's home. Chef Balbi's tasting menus (HK$588-HK$1,688 from lunch to dinner) feature show-stopping dishes that give nods to his Japanese culinary training as well as his Italian and Spanish upbringing, not to mention flavours evoking memories from his childhood, developing his passion for food across his grandmother's table.
One pivotal dish is the 'Sin Lola,' or 'Without Lola,' which is an ode to chef's late grandmother, who often made a rendition of this comforting soupy rice for him after school. Yumepirika rice is cooked in a deeply flavourful clam and scallop broth with a sofrito of cured Rubia Gallega beef, garlic and onions. It's topped with espardenyas, or the pale white insides of Spanish sea cucumbers (blanched to offer a satisfying bite and textural contrast), slivers of sweet Hokkaido scallops, and a touch of parsley.
While a thoroughly European dish, I was struck by its seamless parallels with Chinese cooking: With the salty punch of cured Spanish beef in a silky seafood soup mirroring the impact of jinhua ham in Chinese 'superior' broth. Nevertheless, the dish was deeply comforting on a soul level, with the soupy rice aspect universally reminiscent of home, whatever that meant for you as a child growing up. It's quintessentially the dish that at some point, some matriarch in the household would have made for you when you were feeling unwell, and the perfect note to end the main courses on and ground the whole experience; to really drive it all home, so to speak. — Evelyn Lok, Managing Editor
Ando, 1/F, Somptueux Central, 52 Wellington Street, Central, Hong Kong, +852 9161 8697 (WhatsApp)
Crown Super Deluxe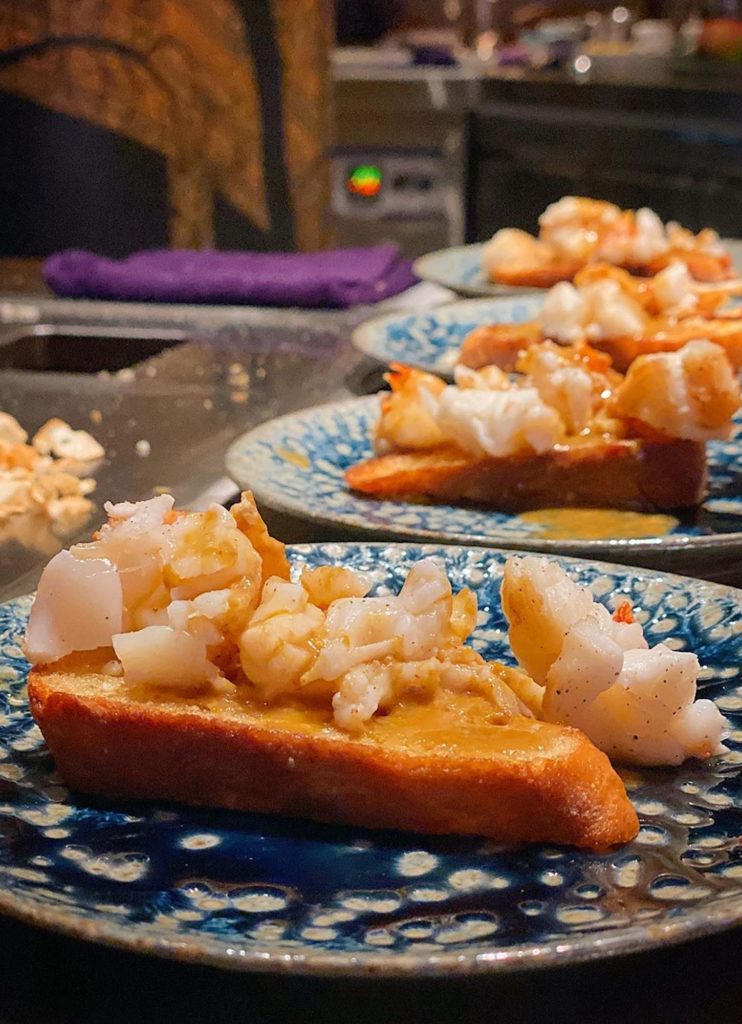 The dish: Teppan spiny lobster in coral butter
The inclusion of not one but two Japanese seafood dishes last month betrays a certain feeling of culinary fatigue — a sensation of which I'm guilty as charged. Don't misunderstand, dear reader: Most days, for an average price of HK$1,000+ per head I think it's only reasonable to expect a menu cooked with a well-defined (perhaps even original) sense of perspective, but sometimes… well, sometimes you just want a piece of lobster toast.

At Crown Super Deluxe — Black Sheep's upscale ode to Benihana, occupying the space formerly inhabited by Bread Street Kitchen — the aforementioned teppan dish is seared in an emulsion of butter and coral — the intensely flavoured, pinkish roe which grows exclusively in female lobsters. Served atop a piece of crisp, buttered toast, the spiny lobster itself is a see-saw of complementary flavours, walking a tightrope between glutamate-rich highs and seaspray-sweet lows. Granted, this is hardly the world's most cerebral dish (the constituent parts can essentially be reduced to shellfish, butter and carbs) yet I'm confident that anything this delicious can be forgiven for its perceived orthodoxy. Served as part of the HK$1,188 (excluding service) dinner menu. —RL
Crown Super Deluxe, Mezzanine, LKF Tower, 33 Wyndham Street, Central, Hong Kong, +852 2111 8434
The Krug Room x VistaJet
The dish: Braised fresh crab claw with glass vermicelli
I never thought I'd say this, but one of the best things I ate this month was part of an in-flight menu. My introduction to crab season this autumn was this gigantic crab claw served over a perfectly wok-tossed nest of glass vermicelli, crafted by chef Wong Wing-keung, executive Chinese chef of Michelin-starred Man Wah. It's part of an in-flight menu created for private jet charter company VistaJet, which is offering a 'Once in a Blue Moon' Mid-Autumn package that includes a staycation at the Mandarin Oriental, Hong Kong, and private flight (which you can take over Hong Kong, or shelve for trips later down the line) where this menu is being served. Or, you can also opt to have it for lunch at the Krug Room instead, like me.
The crab and glass noodles pairing is nothing new, but with a sweet, juicy crab claw — perfectly cooked so it slides easily out of its shell whole — added with bouncy noodles, coated just right with oil and soy seasoning and teeming with the breath of wok hei; it's just yet another example of how even the most ubiquitous and old-fashioned dishes can be executed with finesse. It's a wonder to me how this laborious dish can be translated in an in-flight setting, but if anyone could do it, I'd bet on these guys at MO. — EL
The Krug Room, Mandarin Oriental Hong Kong, 5 Connaught Road Central, Hong Kong, +852 2825 4014
Elephant Grounds
The dish: Banoffee croissant
The words 'banoffee' and 'croissant' are married in exactly the way you would expect with this indulgent creation that debuted at the new Elephant Grounds branch in Sheung Wan. The flaky, buttery croissant, already worthy of praise here, is taken to the next level with its filling of caramel and banana custard, before encrusted in cocoa powder and crushed Oreo cookies (an obvious ode to the zang zang 'dirty' bread trend from the Mainland of late). Genius. Sweet but balanced by a slight salty zing in the butter and filling, it makes for a messy meal for sure, but if you're one for sugary breakfasts or a decadent afternoon snack, treat yourself, it's excellent with coffee — though you'll probably have to run a dozen laps afterward to justify the calories. — EL
Elephant Grounds, G/F, Hollywood Centre, 233 Hollywood Road, Sheung Wan, Hong Kong