Best Bites is a roundup of the outstanding dishes we had within the last month: Those which renewed our love for established venues; caught our attention at a new opening; or freshly impressed upon us the creativity and skill of Hong Kong's talented chefs. From casual street snacks to meticulously prepared tasting menus, these are the plates we'd recommend you make a special trip for.
Café Gray Deluxe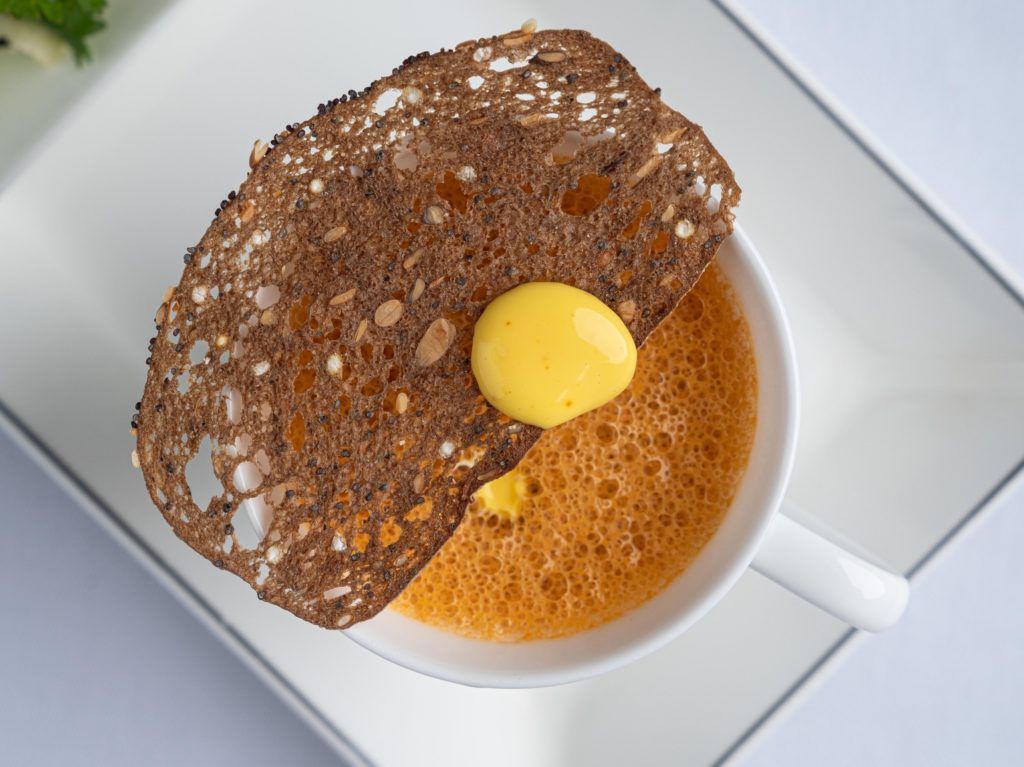 The dish: Tarrago-scented lobster bisque
Following the announcement of its imminent closure on 31 December 2020, it's high time to revisit the Upper House's top floor grand café for some of the late Gray Kunz's most emblematic dishes over its 11-year tenure. The five-course Farewell Menu (HK$1,200 with beverage pairing) features best-loved items such as the tarragon-scented lobster bisque, a smooth, soulful soup that's perfect for chillier weather. For those who haven't had it, it's an archetypal rendition of all things lobster bisque should be: deeply condensed sweetness and flavour that can only be created with an eye-popping amount of shellfish; a luxurious, velvety texture, whipped to cappuccino-like lightness in every spoonful (or if you're like me, sipped straight from the cup); topped with a thin sourdough crisp for dipping with a dab of tarragon-infused cream. It's nicely paired with a light crabmeat salad that helps to offset the richness of the soup. — Evelyn Lok, managing editor.
Café Gray Deluxe, 49/F, The Upper House, Pacific Place, 88 Queensway, Admiralty, Hong Kong, +852 3968 1106
Chachawan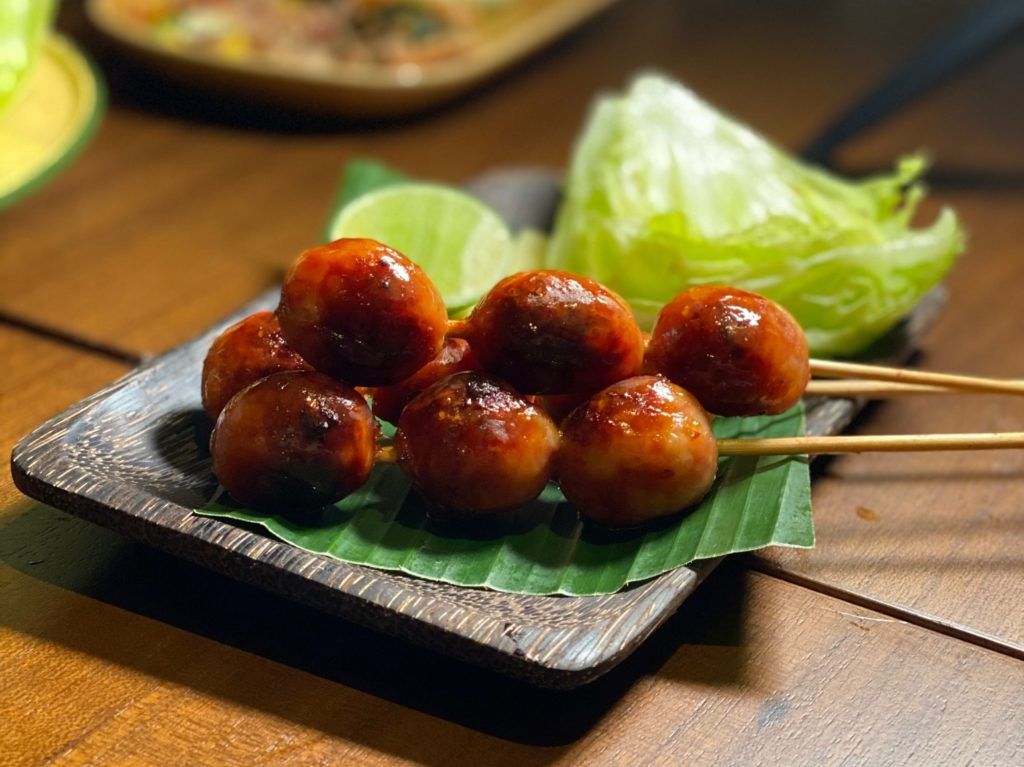 The dish: Sai Krok Isan
Following its recent rehaul, Sheung Wan Isaan-style Thai mainstay Chachawan has re-emerged with brightened interiors and a kickin' new menu. Among new additions include the Sai Krok Isan (HK$98), or traditional Northeastern fermented sausages. The popular street snack is traditionally made with a balanced mix of lean and fatty pork, sticky rice, garlic, salt and pepper and left to ferment in a natural casing — which renders its signature tang. Chachawan's iteration, cooked up by husband-and-wife chef team Chang and Narisara Somboon, is addictive to say the least. Twisted into airtight baubles and served on skewers, the appetiser offers a smack of salty-sour flavour and caramelised char that characterises the moreish roadside snack. Each offering crunchy skin and a burst of juicy filling with just the right amount of heat, they're perfect to pair with beer or one of the house cocktails. — EL
Chachawan, G/F, 206 Hollywood Road, Sheung Wan, Hong Kong, +852 2549 0020
Prohibition Grill House & Cocktail Bar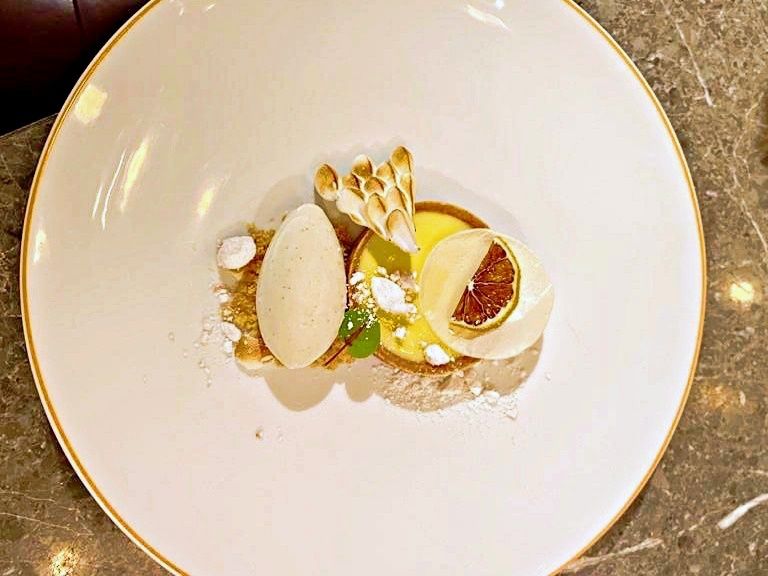 The dish: Lemon tart
Hongkongers are a pretty carnivorous bunch, always eager for the next meaty feed. On one such excursion to Prohibition Grill House & Cocktail Bar, tucked away in the belly of the Ocean Park Marriott, we discovered delicious grilled morsels such as USDA Prime Rib, French free-range yellow chicken with crispy, paper-thin skin. While I am more than happy to gush on about the meaty menu by chef Ivan Chan (arguably one of the city's experts when it comes to beef, having been the first to bring exalted Hanwoo beef to the city) it was, to my surprise, the lemon tart (HK$98) that I found myself dreaming about the next day.
Perhaps it was a bit of clouded judgement from the settling in of food coma at the end of my meal, but the first spoonful of tart lemon curd cradled by a butter-cookie base and sprinkled with dehydrated milk crumbs was heavenly — jolting me awake. The accompanying swirls of vanilla ice cream and a light crunch from the crisp meringue topping added just the right balance of sweetness to the zesty treat — a most refreshing end to the hefty meal. — Lorria Sahmet, Style Editor
Prohibition Grill House & Cocktail Bar, G/F, Club Wing, Ocean Park Marriott Hotel, 180 Wong Chuk Hang Road, Aberdeen, Hong Kong, +852 3555 1900
Arbor (Eric Räty x Christopher Ho Four Hands Menu)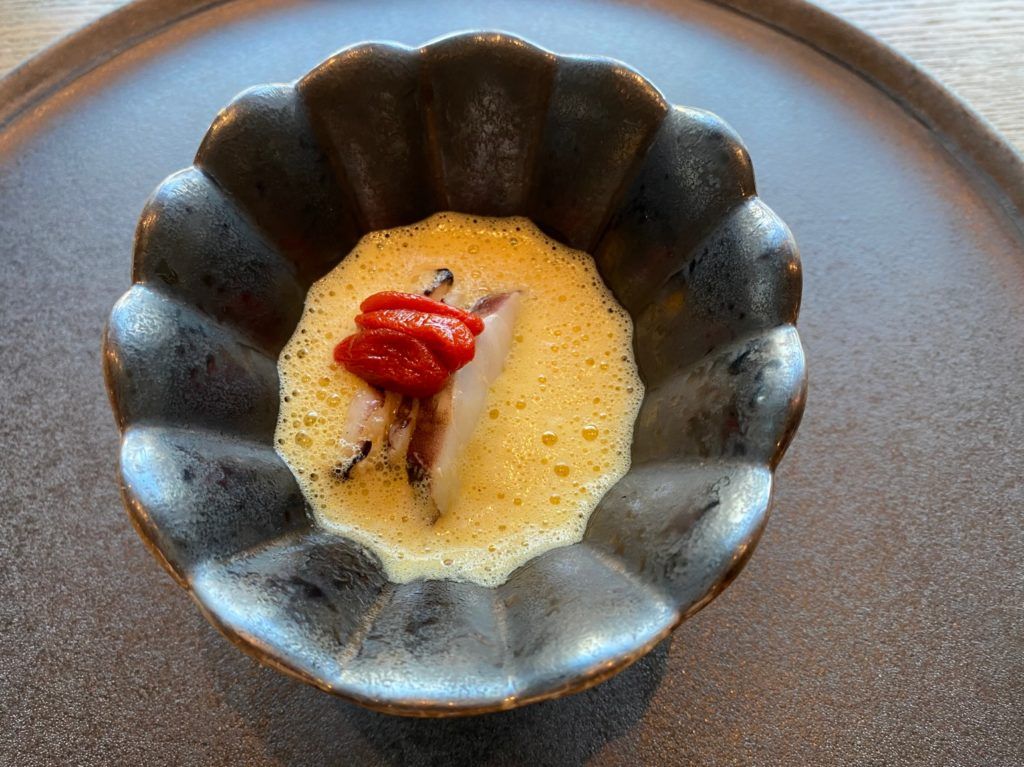 The dish: Mantis shrimp steamed egg, Shaoxing wine, goji berry
In an effort to showcase young local talent, rising star chef Christopher Ho (previously popping up at Test Kitchen and Sevva) and Arbor's Eric Räty have been planning a four hands menu (HK$988 for lunch; HK$2,888 for dinner) as early as the start of this year — originally slated for July but postponed twice as a result of the pandemic, the chefs' collaboration finally came to fruition in November with a winter degustation. All the better, seeing as the final two-day-only lunch and dinner menu was able to benefit from seasonal delicacies — namely hairy crab and white truffle.
Marrying traditional Cantonese cookery and local ingredients with Arbor's well-documented focus on French-Japanese haute cuisine, this four-hands menu moved away from the old format where each chef typically proffered alternating dishes; instead, it was a true collaboration with input from both minds for every single dish. The mantis shrimp steamed egg was a wow-worthy start to the 10-course meal: Imagine the humble home-cooked Cantonese soft steamed egg served with a tender mantis shrimp, poached until just-done. It's then infused with the distinct lingering flavour of hairy crab cream and sweet crab vinegar; topped with a Shaoxing wine foam and sweet, plumped up goji berries that enhance the flavour of the seafood even more. Every spoonful was as complex and delicious as you can imagine (I had to stop myself from slurping it all up too quickly) that instantly brought to mind parallels with home cooking, local seafood restaurant mainstays and elegant pudding-like Japanese chawanmushi. Topped with shavings of aromatic Alba truffle, the dish looked unassuming, but offered a whole eyes-rolled-back experience of utter decadence.
While this was sadly part of a one-off menu, we're can't wait to see more from chef Ho (and if we're lucky, both chefs) in the near future. — EL
Arbor, 25/F, 80 Queen's Road Central, Hong Kong, +852 3185 8388
Flakes & Layers
The dish: Yuzu caramel candy bar
Model-slash-patissier Amanda Strang's all-pink pastry pop-up at the Landmark Atrium is one of a number of 'grammable destinations for show-stopping desserts this festive season. Taking centre stage is of course her spectacular array of 'Ooonuts' — doughnut-shaped pastries that feature flaky, buttery layers lined with an assortment of dreamy fillings (the autumnal poached pear and caramel is a must-try). However, dark chocolate lovers will want to get in on the Yuzu caramel candy bar.
While the decadent Ooonuts are something to be enjoyed sitting down as they can get quite messy to eat, the candy bar is a more portable taste of heaven, reminiscent of schoolyard Twix bars with a luxuriant touch. The treat features an unexpectedly bright yuzu caramel filling on a sablé butter cookie, all coated with dark chocolate and a swoosh of gold. It's a delectable treat that comes in pairs — good for whether you're open to sharing or prefer to gobble it up all by yourself. — EL
Flakes & Layers (Landmark Pop-up), Shop 350, 3/F, Landmark Atrium, 15 Queen's Road Central, Hong Kong, +852 9191 3301
Bibi & Baba
The dish: Penang prawn noodles (Hokkien mee)
Hong Kong's trending (and rather polarising) Nyonya kitchen of the moment Bibi & Baba is steadily garnering a reputation for its deeply flavourful stews that are all a labour of love, as much as a propensity for sensory overload (in case the hot pink hair of its head chefs Tinoq and Dylan and pink tropical interiors didn't already give that away).
On a particularly gut-busting and tastebud-overwhelming recent meal there, the Penang-style prawn noodles, or Hokkien mee, was a surprise hit for me, pairing an incredibly prawny broth made with shells, pork bones and tonnes of aromatics with a noodle base of thick yellow noodles, vermicelli and softened beansprouts. The varied thickness of the noodles help to capture more of the soup in every bite. It's topped with melt-in-your-mouth sliced pork shoulder, tender prawns, soft poached jammy eggs and the all-important crispy fried lard bits that offer just a smidge of delicious guilt in each bite.
Native Malaysians I've spoken to have balked at its lack of heat (the Nyonya laksa will offer more of that with its rich coconut milk and secret sambal base), but I was all for the deep umami of the broth — nothing overshadowed any of the fresh toppings, and it was an excellent soupy main to go with the rest of the rollercoaster of flavours — whether it's in other highlights such as the assam pedas whole fish cooked in a tomato-ey broth; the ayam buah keluak chicken, stewed with what's referred to as "Indonesian black truffle"; or smoky otah, fish mousse grilled in banana leaves. — EL
Bibi & Baba, 1-7 Ship Street, Wan Chai, Hong Kong, +852 2555 0628