Best Bites is a roundup of the outstanding dishes we had within the last month, those which renewed our love for established venues, caught our attention at a new opening, or impressed on us again the creativity and skill of Hong Kong's talented chefs. From casual street bites to meticulously prepared tasting menu dishes, these are the plates we'd recommend you make a special trip for.
Ichu Peru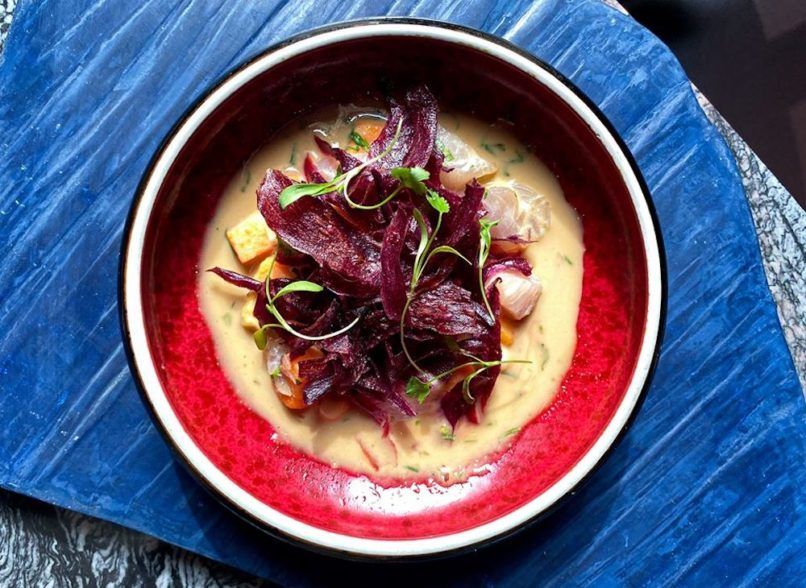 The dish: Ceviche 'Clasico'
I have to say ceviche is one of my all-time favourite dishes, but it's not always easy to find a good version in town that nails the mouth-puckering leche de tigre marinade and various fresh and crispy components without turning the bowl into a mushy mess. Ichu Peru still serves up one of the best ceviches in town, as a recent visit to the restaurant in H Queen's confirmed.
Priced at HK$150, the Ceviche 'Clasico' features a pool of bright, zingy, and ever-so-slightly creamy citrus marinade in which languishes a stunning array of ingredients: buttery, firm-fleshed yellowtail, chewy kernels of Peruvian choclo, Peruvian sweet potato, red onions for a mild bite, and yuzu to add another layer of acidity. Full of textural complexity and packed full of flavour, the best part of this dish is sipping the remainder of the punchy marinade after you've scooped up every last bite. —Leslie Yeh, Dining Editor
Ichu Peru, 3/F, H Queen's, 80 Queen's Road Central, Central, Hong Kong, +852 2477 7717
Fumi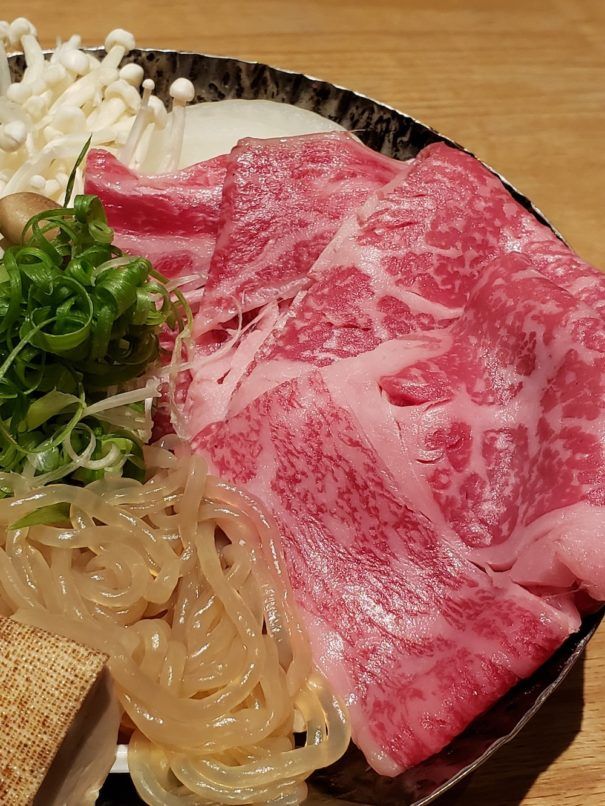 The dish: Miyazaki Beef in Sukiyaki Style
Just the phrase 'Wagyu beef' makes my mouth begin to water. After the melt-in-the-mouth Teppanyaki Miyazaki Beef Ribeye during Fumi's 6-course Miyazaki Beef menu (HK$880), it was hard to imagine enjoying the beef in any other way. Think again: The fifth dish of the evening, and third to feature the award-winning Japanese beef known as the highest-quality wagyu in the world, showcased a brand new side to the A4 Miyazaki Beef.
Soft enoki mushrooms, creamy tofu and crunchy rocket added texture to the sweet and salty soup noodles, which slowly cooked tender, thin strips of silky ribeye in the broth. Winter nights are made for the savoury soy flavours with rich beef fat and chewy noodles. I hadn't expected such a high-powered ingredient to stand out so much in a humble bowl of soup noodles, but I loved every bite. —Rebecca Cairns, Dining Contributor
Fumi, 6/F, California Tower, 30-36 D'Aguilar Street, Central, Hong Kong, +852 2328 3302
Emmer Pizzeria & Café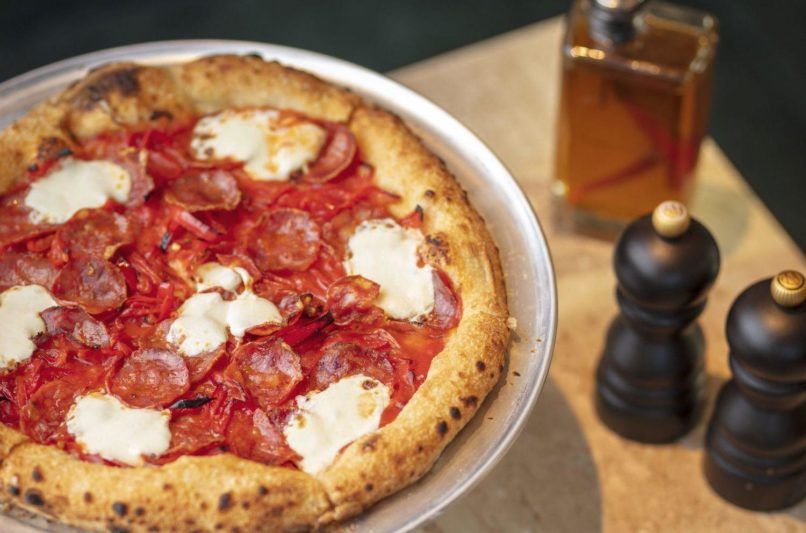 The dish: Pizza Diavola
Now that embattled Genevan export Kytaly — previously home to Franco Pepe's world-famous Neapolitan pies — has shuttered, the jury is once again out as to who crafts Hong Kong's best pizza. Admittedly the game is still afoot, yet I've every confidence that Emmer shall succeed Kytaly in these stakes. Newly opened in Pacific Place, this cafe & pizzeria derives its inspiration from a similarly named organic heritage grain: which just so happens to be the crucial element in pizzaiolo Karla Mendoza's dough. The dough is a combination of rye and Italian flour, allowed to rise and ferment naturally for 48 hours. Following baking, you end up with a pizza base that has just the right amount of crispness versus chew — the by-product of using natural yeast and allowing sufficient time for the development of small, texture-enhancing air bubbles.
Orthodox diners certainly won't be disappointed with any of Chef Mendoza's classic, Neapolitan-inspired toppings, but her use of ancient, healthy(ish) grains really shines alongside slices made with a lighter, contemporary touch. In the case of the Diavola (HK$148) that means dialling back on the sheer amount of preserved animal protein, and speckling the doughy canvas with flavours which vary the sensation of each bite. Who knew roasted red peppers had such star power? –Randy Lai, Watches Editor
Emmer, Shop 407, 4/F, Pacific Place, 88 Queensway, Admiralty, Hong Kong, +852 2780 1110
Silencio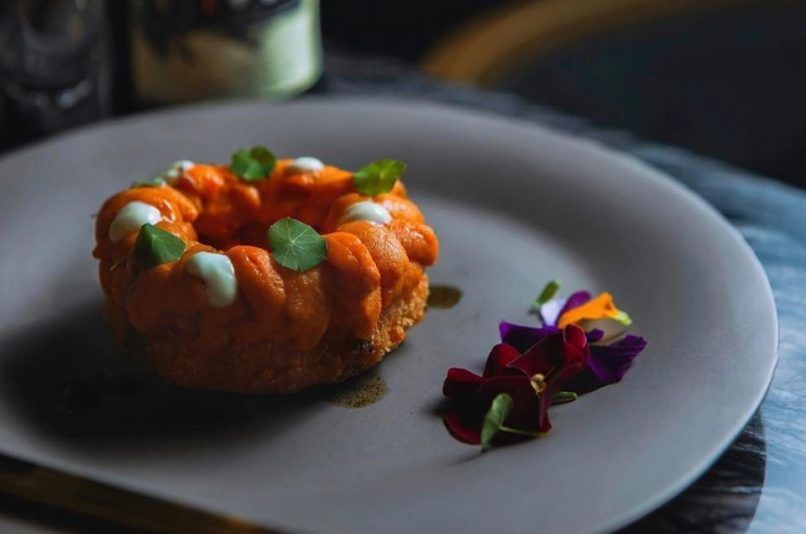 The dish: 'Uni Bomb'
Like most everyone else, I'm a sucker for gloriously fresh, creamy and buttery uni — and while Hong Kong kitchens are quick to deploy the ingredient across their menus, it can feel a bit one-dimensional trying the same uni dishes over and over again (think uni carbonara and uni rice bowls).
Sultry jazz bar Silencio has gone a different route altogether in their signature uni dish: an 'Uni Bomb' that's available as a HK$260 supplement as part of the new Jazzakaya Brunch. An amalgamation of sushi and doughnut, the golden-fried number features breaded rice topped with a wreath of both Hokkaido uni and North Korean uni — the cool, fresh uni against crispy-fried rice resulting in a dizzyingly delicious mouthful that made me fall in love with the prized ocean ingredient all over again. —LY
Silencio, 6/F, LKF Tower, 33 Wyndham Street, Central, Hong Kong, +852 2480 6569
The Diplomat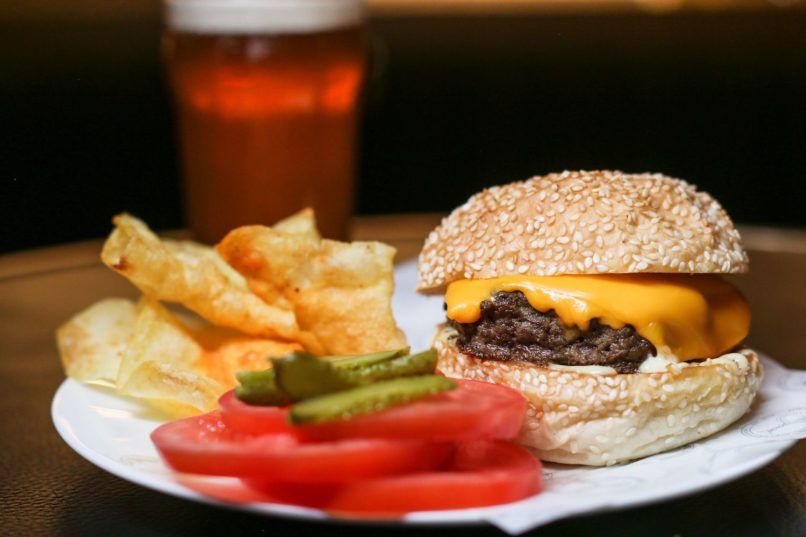 The dish: The Diplomat Burger
Not often can you find a cocktail bar that does equally good pub grub, and we were totally blindsided — and pleasantly surprised — when we were able to get our hands on The Diplomat's glorious burger (HK$180). The simple trifecta of a quarter pounder with cheese atop a toasted, soft sesame bun is the perfect counterpart to an evening spent knocking back several of John Nugent's distinguished cocktails (especially with a few mini Gibsons — oof).
Oozing with back-to-basics goodness, the burger nails it with perfectly grilled, flavourful beef, school snack American cheese, and the perfect bun that holds its own as the ideal vessel (unlike other widely hyped burgers around town, the bun doesn't disintegrate into our hands in a soggy mess). Served simply with pickles, fresh sliced tomatoes and a handful of chips (or crisps, if you're British), there's also the potential to build your ultimate bite with extra toppings at your disposal. —Evelyn Lok, Associate Editor
The Diplomat, LG/F, High Block, H Code, 45 Pottinger Street, Central, Hong Kong, +852 3619-0302

Roganic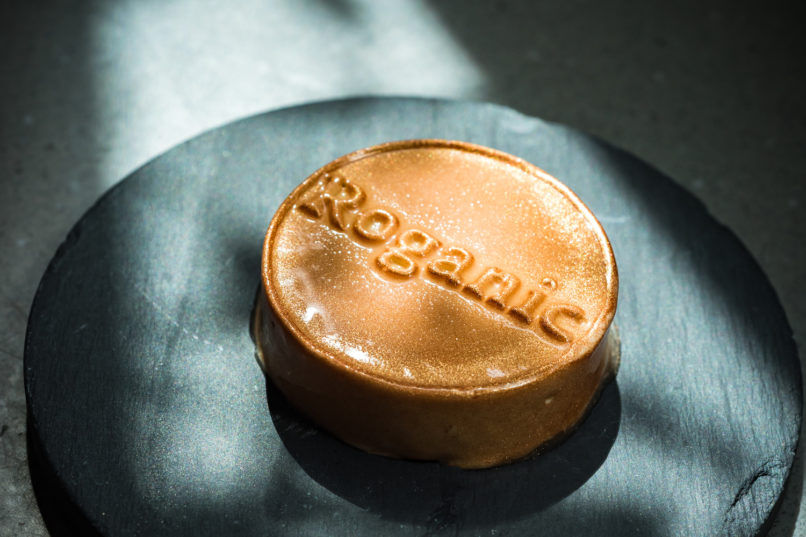 The dish: White caramelised chocolate with pear compote
For my first foray into the world of upscale vegetarian dining, Roganic shone like a beacon on the lush green hill. Experts in the field of fresh produce, the Hong Kong outpost of chef Simon Rogan's Michelin-starred establishments regularly incorporates organic produce from the city's local farms for its tasting menus. In addition, the restaurant's hydroponic garden is a living, breathing oasis that adds to the diner's already-dreamy green ambiance, setting the scene for Roganic's farm-fresh cuisine. 
The picture-perfect bites continue in the multi-course tasting menu (HK$980 for long menu) all the way through to dessert. And what a treat awaits you: the white caramelised chocolate with pear compote is refined and satisfyingly sweet. Glistening pearls of Japanese conference pear pack a syrupy punch. It is Roganic's signature dessert, with the house logo imprinted on the caramelised chocolate top, although the elements are interpreted in slightly different ways across the United Kingdom and Hong Kong. In a world obsessed with logomania, this little dish is perhaps perfect for a chic Instagram moment. —Irene Pyne, Contributor
Roganic, UG/F 08, Sino Plaza, 255 Gloucester Road, Causeway Bay, Hong Kong, +852 2817 8383
Piin Wine Restaurant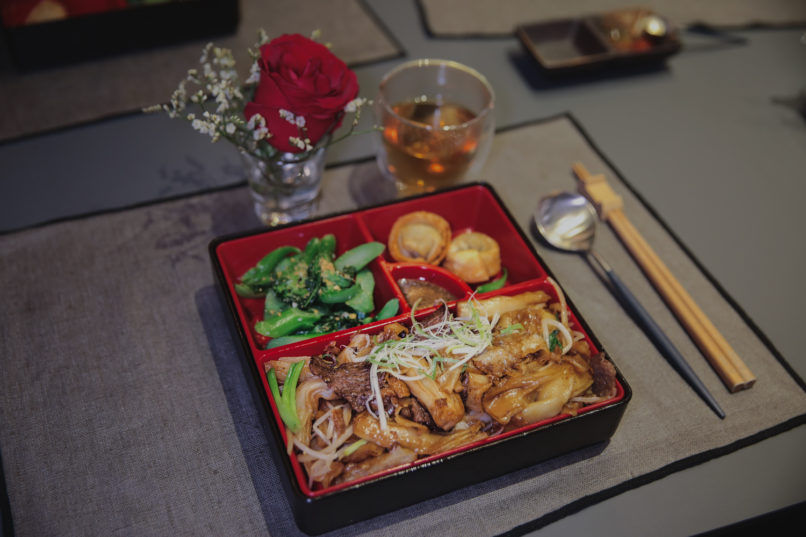 The dish: Wagyu beef braised with flat rice noodles
Michelin-recommended Cantonese wine restaurant Piin has just launched a new lunch service. I'm supposed to be on a low-carb diet in 2020, but that flew out the window once I saw Chef Ming's latest menu. The lunch set starts off with a soup of the day (I had a fragrant double boiled mushroom soup), followed by the Wagyu beef flat rice noodles (HK$218 for the lunch set), which came in an adorable bento-like setup.
A lot of times you get flat noodle dishes that end up tasting way too salty — whether it's due to a heavy hand on the salt or too much soy sauce used in cooking. Luckily for me, Chef Ming managed to make this dish a burst of flavour and umami that wasn't too overpowering on my tastebuds. The simplicity of the dish didn't mean that the flavours were any less complex; combined with ultra tender Wagyu beef and al dente noodles, I couldn't get enough. –Aydee Tie, Head of Marketing
Piin Wine Restaurant, 2/F, The Steps, H Code, 45 Pottinger Street, Central, Hong Kong
The Chinese Library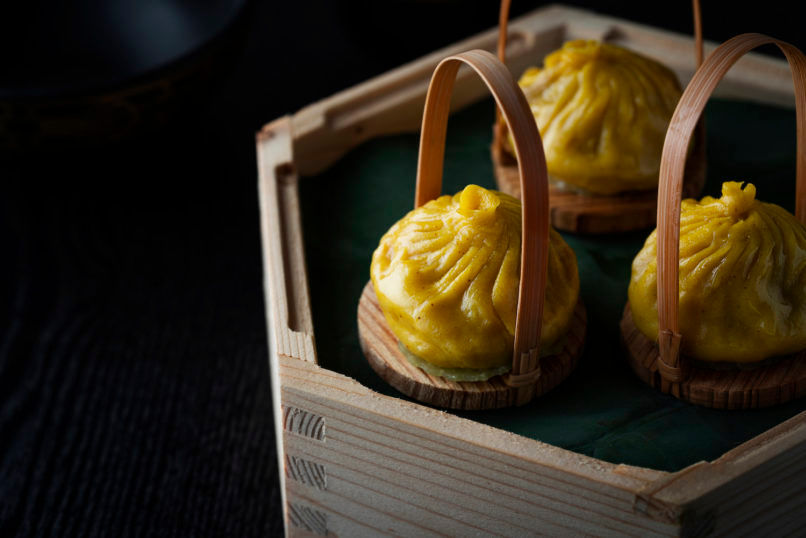 The dish: Laksa xiao long bao
My whole experience at The Chinese Library was memorable, from the decadent, colonial-style interiors to the sumptuous variety of dim sum. What caught my attention the most, however, was the laksa xiao long bao, a genius invention fusing two iconic Asian dishes — Malaysian laksa soup and Chinese soup dumplings — in a combination that works surprisingly well. The laksa soup broth was well-balanced with a hint of spiciness, while the xiao long bao boasted a thin wrapper encasing savoury minced meat. With the ever-growing presence of innovative chefs in our city, cross-cultural dishes like this are popping up more frequently — and making it as exciting as ever to dine out these days. –Faye Bradley, Contributor