Best Bites is a roundup of the outstanding dishes we had within the last month, those which renewed our love for established venues, caught our attention at a new opening, or impressed on us again the creativity and skill of Hong Kong's talented chefs. From casual street bites to meticulously prepared tasting menu dishes, these are the plates we'd recommend you make a special trip for.
Grassroots Pantry The dish: Pickled granita
My recent commitment to joining a personal training gym means I've been forced to give up my usual "see-food" diet to seek out some healthier dining options around town. Grassroots Pantry has long been a go-to for lighter dishes without sacrificing on flavour, but I was always more drawn to their savoury offerings than the sweet ones. Lately, a new pastry chef onboard has resulted in some delightful new dessert offerings, from banana darjeeling ice cream pops to organic tofu creme with chilled honeydew-moringa sauce. The one I'd go back for, however, is the pickled granita (HK$88), where the tart flavours work exceptionally well as a refreshing summer dessert. The colourful plate is jazzed up a bed of crunchy quinoa, a combination of sweet and tart coconut and pineapple gelée, compressed pineapples for a burst of freshness and topped off with sprinkled lime zest. Scooped up with the ginger granita, it's the perfect guilt-free dessert masquerading as a palate-cleanser. —Leslie Yeh, Dining Editor
Grassroots Pantry, Shop D, G/F, 108 Hollywood Road, Central, Hong Kong, +852 2873 3353
Popinjays
The dish: Australian Wagyu tomahawk
Steak wasn't necessarily what I was expecting to eat at Popinjays, the newly opened modern European restaurant atop The Murray — but when one sees a tomahawk on the menu, one must order the tomahawk. This particular tomahawk is amongst the offerings on Popinjays' Birds of a Feather menu (HK$990 per person), a shared prix-fixe meal for at least two people. The steak does require a HK$900 supplement, but to be fair, I found it to be the highlight of the meal — aside from the incredible panoramic views of Hong Kong, of course.
The hefty cut arrives at the table on a carving board, perfectly grilled and sliced into fat slabs. An herb bouquet adds a nice visual touch, but the accoutrements to really get excited about are a head of roasted garlic and a decadent béarnaise sauce, both of which elevate the already toothsome, wonderfully marbled meat to a level of perfection. The steak is also served with roasted potato wedges, mashed potatoes and green beans, making for a very filling, very satisfying main course. Highly recommended. —Michael Alan Connelly, Editor in Chief
Popinjays, Rooftop Level, The Murray, Hong Kong, A Niccolo Hotel, 22 Cotton Tree Drive, Central, Hong Kong, +852 3141 8888
Yan Toh Heen
The dish: Chilled taro pudding with diced purple sweet potato
The InterContinental Hong Kong's two-Michelin-starred Yan Toh Heen is perhaps even more of a dining destination ever since relocating to its new harbour-facing venue adjacent to Harbourside. The entrance itself is a journey of extravagance: You walk through an elegant mint-green corridor, shockingly made of relief-carved jade depicting two sides of Victoria Harbour. The dining room itself is inspired by a jade box of treasures, so there's artwork everywhere you turn, even down to the tiny jade fish holding up your chopsticks.
With this kind of elevated dining experience, it's not hard to be in awe at every course — whether from the delicate softness of the Tieguanyin Supreme we drank, freshly roasted by tea sommelier Kelvin Ng; the nicely executed trio of lobster dim sum; the wok-fried Kagoshima wagyu cubes; or the unusual but enjoyable double-boiled soup with sea whelk and Kagoshima honeydew melon. But nothing could have wrapped up a gorgeous Cantonese fine-dining lunch better than the dessert: a chilled taro pudding with diced purple sweet potato (HK$100). Albeit simple, it's worlds away from many a Hongkonger's childhood favourite of mango pudding. This purple version nailed the delicate sweetness of taro without being overpowering, or overly milky, either. Purple sweet potato cubes offered colour and textural contrast, and drops of tart mango sauce brightened up each spoonful of creamy pudding, while also amping up the nostalgia factor with a taste reminiscent of summertime ube mochi and mango popsicles. —Evelyn Lok, Associate Editor
Yan Toh Heen, Lower Level, InterContinental Hong Kong, 18 Salisbury Road, Tsim Sha Tsui, Hong Kong, +852 2313 2323
Old Bailey The dish: Ma la xiao long bao
While many cultures have their own version of a steamed dumpling, there's a reason that the xiao long bao is put on a pedestal, from the skill required to make the pleats culminating in a perfectly pinched peak, to the versatility of fillings and wrappers, and the sheer ingenuity of adding gelatin to melt instantly into a delicious porky broth as the meat steams. While I tend to avoid unconventional variations in favour of the classic pork recipe, I was tempted to rethink my dumpling decisions at a recent dinner at newly opened Old Bailey. While they do have regular pork dumplings, you'd be remiss not to try the ma la version (HK$88 for four): Encased in a thin, beetroot-tinted wrapper, these perfectly plump pouches tear open to reveal a juicy Iberico pork filling touched with just enough Sichuan peppercorn for a slight buzz on the lips. It's as surprising as it is delightful, and impossible to have just one. —LY
Old Bailey, 2/F, JC Contemporary, Tai Kwun, Old Bailey Street, Central, Hong Kong, +852 2877 8711
Haku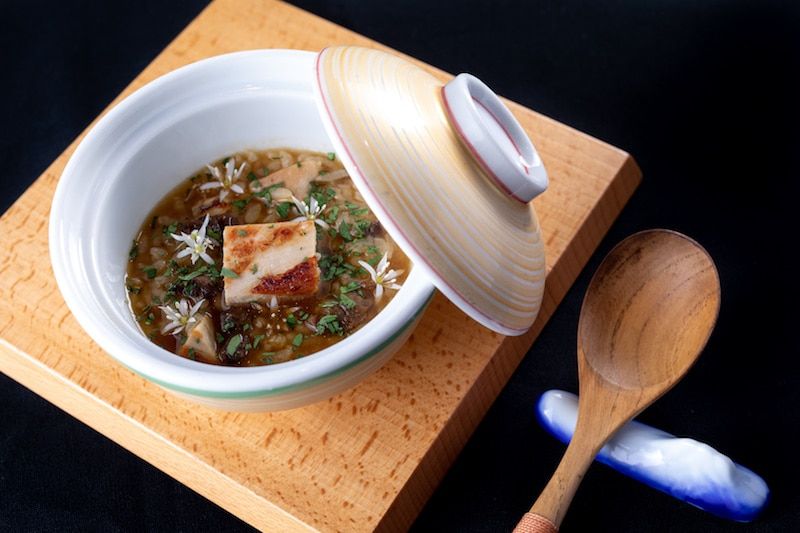 The dish: Chosyu Kurokashiwa
Last November, I wrote about a wonderful dish of king crab and Koshihikari rice at Haku; now, I'm writing about a wonderful dish of chicken and rice at Haku. Featured on the new 8-course summer tasting menu (HK$1,480), chef Agustin Balbi's take on arroz caldoso — a cross between soup and rice porridge commonly found in Spain and South America — is packed with intense umami and hearty chicken flavour, yet it's restrained enough to keep from weighing you down in the summer heat. This being Haku, of course there's a special ingredient involved: In this case, it's Japan's oldest known breed of chicken, which is sourced from Yamaguchi prefecture. Think of it as the best chicken soup you've ever had, because it will be. —MAC
Haku, Shop OT G04B, G/F, Ocean Terminal, Harbour City, Tsim Sha Tsui, Hong Kong, +852 2115 9965
Yat Tung Heen The dish: Crispy chicken wrapped in Chinese pancake
Despite a top-to-bottom rebranding, Eaton HK — previously known to Jordan locals as The Astor — has retained its legacy of fine Cantonese dining with its signature restaurant, Yat Tung Heen. Upon visiting earlier this month, the Michelin-starred venue was in fine form, with a menu emphasising seasonal flavours and creativity expressed through the subtle medium of produce. Case in point: the crispy chicken wrapped in pancake (HK$598, serves 2). While substituting the traditional Peking duck filling for poultry is hardly novel, the attention to detail presented here made for a truly delicious dish. The flavour of crisped chicken skin was allowed to work its magic undisturbed thanks to a gossamer thin pancake and freshly made accoutrements. The end result is a comforting entry into the Peking duck canon, distinguished by a more textural, less unctuous exit off the palate. —Randy Lai, Staff Writer
Yat Tung Heen, B2, Eaton, Hong Kong, 380 Nathan Road, Jordan, Hong Kong, +852 2710 1093
Blue Supreme The dish: Broccoli steak
I've been drooling over Blue Supreme's ridiculously photogenic social media for months now, teasing the internet with perfectly pink-centred beef Wellingtons, creamy scrambled eggs and salads that look like wildflower bouquets. I finally made it for a visit this July, and thankfully, I was not disappointed. Tucked in a corner shop on Cat Street, the gastrobar boasts a great collection of craft beers, particularly wild, Belgian-style lambic beers brewed with additional live yeast; and of course, a refined take on pub fare with seasonal and always-evolving dishes.
To pair with typically sour, puckery beers, saltier and gamier dishes like the lamb poutine or the lamb shank hit the spot. The restaurant's signature duck confit burger was also pure comfort, with unctuous yolk oozing into each bite of tender and flavourful duck. But hey, typically plates that go with beer are all too often stodgy, greasy affairs, and I was surprised to find myself going back for more servings of the hearty broccoli steak (HK$148): plated gorgeously with an artful smear of broccoli and garlic purée, tangy fermented stems with lemon, crunchy toasted broccoli granola, and garnished with a few crisped up broccoli leaves. Nothing from the plant goes to waste, and it made our beer binge (slightly) healthier. Plus, it's always great to see more vegetarian options on menus around town. —EL
Blue Supreme, G/F, 21 Tung Street, Sheung Wan, Hong Kong, +852 2323 3633