From chocolates to coffee pods, these are the treats to gift and offer during Chinese New Year.
Tasty puddings, extravagant menus, luxurious ingredients aside, the final component to well-rounded Chinese New Year celebrations is the much-anticipated candy box. Passed around visiting family and friends filled with sweet bites and luck-imbued treats, tradition details that melon seeds, candied fruits and gold-wrapped coins are amidst the season's must-haves — each symbolic of wealth and wellness in its own means. However, for homes a little more modern and little less customary, the below treats will make your Chinese New Year candy box among the most luxurious of the season, if not also showcase your impeccable taste for a thoughtful gift.
Godiva
Marking a sweet welcome, Belgian-based chocolatier Godiva prepares an exclusive selection of gift boxes and limited-time flavours to celebrate the traditional festival. Along with auspicious packaging primed in red and gold, an illustrative portrait of an ox recreated from a collage of Chinese New Year motifs — lanterns, fireworks and flowers — also nods towards the zodiac year. Along with exclusively created sets and decadent hampers, three new flavours, marked with the same ox motif, are introduced for the holiday: almond mousse dark chocolate, hazelnut praline milk chocolate and a raspberry orange white chocolate. Should cravings arise while scrolling through this tempting list, the seasonal 'Ox' dark chocolate ice bar will be an instant palette pleaser — a smooth ice cream bar coated in a layer of tempered dark chocolate, sprinkled with tangy raspberry crunch and topped with a crescent moon chocolate piece in place of the 'horns' of the ox.
Godiva, various locations including Shop 1029-30, Podium Level 1, ifc mall, 1 Harbour View Street, Central, Hong Kong, +852 2805 0518
Paul Lafayet
A gift that will keep on giving, Paul Lafayet's Golden Ox Gift Box 2021 (HK$688) arrives in three wonderful tiers, specially designed for sharing. At the top, 12 'Cookirons' — a hybrid between a chocolate cookie and the French patisserie's signature macaron, sandwiched together with a generous dollop of Madagascar vanilla cream ganache — are set in place. Below sits a delectable 36-piece selection of Weiss mixed Napolitains, hazelnut milk pralines and pistachio almond nougats. At the base, a bone china porcelain dish, designed by French illustrator Emilie Sarnel with a gilded portrait of a grazing ox among a bed of florals that is also digitally replicated against a rainbow landscape atop the red-and-gold hexagonal packaging.
Paul Lafayet, various locations including Shop 1104B, Podium Level 1, ifc mall, 1 Harbour View Street, Central, Hong Kong, +852 2543 9800
Sugarfina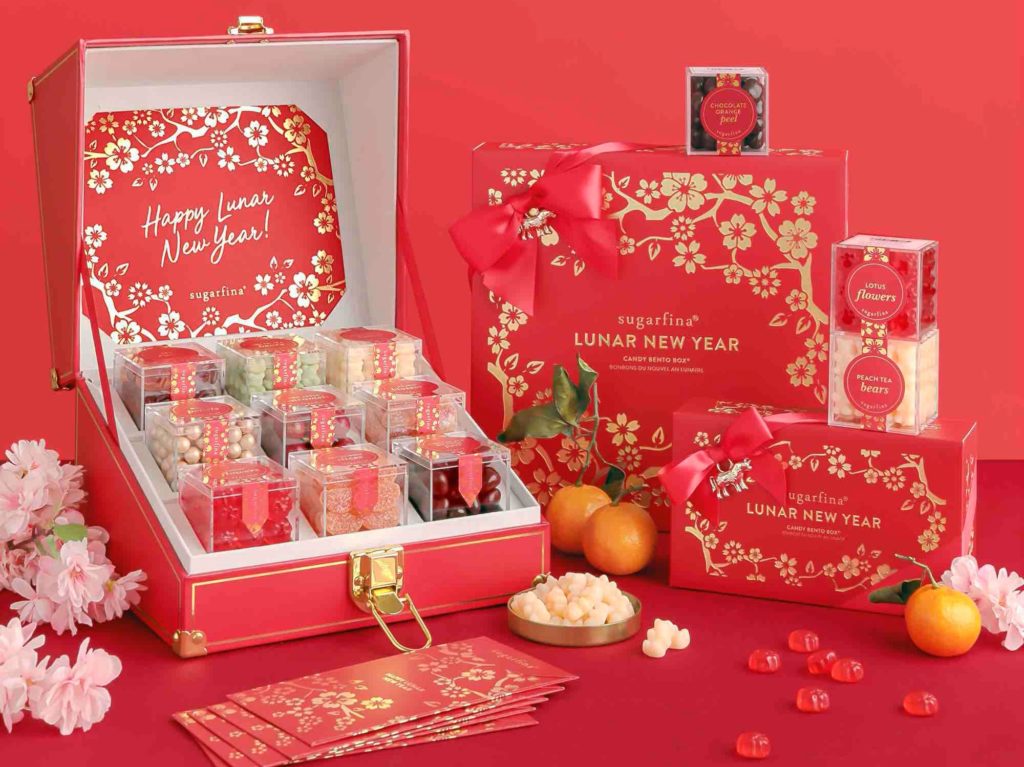 Sugarfina's beautifully packaged candy cubes, endearing shapes and vibrant colours have always been a photogenic delight. Chinese New Year celebrations are no different and feature vibrant red candy trunks (HK$1,088, 9-piece) and bento boxes (HK$688, 8-piece; HK$198, 2-piece) decorated with gilded laser-cut floras and tied with an ox-charm adorned red ribbon. The Beverly Hills-based confectionery boutique also introduces three new seasonal flavours: 'Lotus Flower', a lychee- and lotus flower-infused floral-shaped gummy; 'Peach Tea Bears', a vibrant, peachy gummy bear and 'Chocolate Orange Peel', a dark chocolate coated candied orange peel for a modern take on the dried candied fruits in traditional Chinese New Year candy boxes.
Sugarfina, various locations including Shop 1023, Podium 1, ifc mall, 1 Harbour View Street, Central, Hong Kong, +852 2868 5578
Venchi
A well-rounded gift for all palettes, Venchi's selection of Chinese New Year gift boxes come in all shapes and sizes, from simple sets to extravagant hampers. All beautifully wrapped in red-and-gold, floral-strewn packaging, it houses a sizeable collection of the Italian master chocolatier's sweet, irresistible treats. Within, a flurry of well-loved favourites, including the fruity and milky flavours of the Grandblends selection, cream-filled Chocoviar bites, silky smooth pralines and gianduja-stacked (a sweet spread made of cocoa and Piedmont hazelnuts) layers of the cubed, Cremino pieces. Truly a gift worth celebrating the holiday with.
Venchi, various locations including Shop OT G16A, G/F, Ocean Terminal, Harbour City, Tsim Sha Tsui, Kowloon, Hong Kong, +852 3101 9981
Charbonnel et Walker
Britain's first fine chocolatier, Charbonnel et Walker have roots that date back to 1875. A time-honoured gift for a well-respected festival, the brand curates a Chinese New Year limited-edition gift set, filled with the famed ganache-filled, dark chocolate truffles that come topped with a decadent gold leaf as a sign for good fortune. The handcrafted packaging is also worth noting, and is a simple, minimalistic design with geometric lines that pull from Chinese lattice patterns spotted upon traditional architecture and window frames. In alternating shades of red and gold, this seasonal set is a gift that will not only tempt good luck, but sneaky finger-grabs as well.
Charbonnel et Walker, adjacent to shop 137-138, 1/F, Landmark Prince, 10 Chater Road, Central, Hong Kong, 9303 6782
Cookie Vission
The most favourable time to indulge? A holiday season. A festival. A special occasion. Chinese New Year is one event that encompasses all three. Cookie Vission prepares a celebratory box (HK$300) for the holiday featuring four bestsellers — Vietnamese Coffee, Oatmeal Raisin, Black Sesame, Matcha — along with two newly released flavours to tie together the perfect treat or gift for visiting sweet-tooths. Savour the two seasonal specials: Golden Oolong Tea (HK$50) made with ground tea leaves blended into classic vanilla cookie dough with white chocolate chips, dried apricots and a golden oolong ganache centre; and Grand Marnier Crème Brûlée (HK$50), which whisks dark chocolate cookie dough together with milk chocolate chips and roasted hazelnuts, and breaks open into a molten Grand Marnier liqueur crème brûlée centre sprinkled with dehydrated kumquat peel.
More info on Cookie Vission here
Casa Cacao
For a chocolate-y gift that strays from tradition, Casa Cacao, the newly arrived luxury Spanish chocolatier is a fitting option. As its first foray into Hong Kong, courtesy of the newly opened Cupping Room at Harbour City, the exclusive pop-up is the ideal selection for novel gifts during Chinese New Year. From bijouterie-like bonbon in 32 assorted pieces to beautifully wrapped artisanal chocolate bars, each of Case Cacao's selection pioneers the brand's bean-to-bar philosophy, much similar to the farm-to-table concept, with hand-selected cacao beans from six varying locations are hand sorted, roasted, cracked, winnowed and combined with organic cane sugar and cocoa butter for the final product. The meticulous process allows for individualistic refinement, highlighting the unique notes of the cacao beans of each region. Steer close to tradition and pick the bar made from 70% Venezuelan cacao and flavoured with liquorice and tangerine — a prosperous, wealth-bringing symbol of the festival.
More info on Casa Cacao here
Casa Cacao pop-up, Cupping Room Coffee Roasters, Ocean Centre, L3 309, Harbour City, Tsim Sha Tsui, Hong Kong
Nespresso
Should candy boxes veer towards modernity, Nespresso pods will be a well-received addition, especially for visiting guests in need of a caffeine pick-me-up to get through long festivities. Introducing a new coffee for Chinese New Year, the World Exploration Shanghai Lungo (HK$42) is the first of the 'World Exploration' range that celebrates local coffee tradition and cultures from around the world. The Shanghai Lungo is a dynamic, light-roast blend of Arabicas from Yunan, Kenya and Indonesia with fine berry and wood-spice notes, while the smooth consistency makes for an ideal accompaniment to luxurious truffles. Gift-wise, the Lunar New Year 10-sleeve coffee assortment is a wonderful choice for those friends and family members that can't live without their morning cuppa.
Nespresso, various locations including Shop 1058A, ifc mall, 8 Finance Street, Central, Hong Kong, +852 8101 1007
Roganic
A welcomed feast for all the senses, Roganic is releasing a Chinese New Year chocolate box (HK$780) for festive celebrations. Visually, the chocolate fortune box is sleek and refined — a minimal white ceramic carrier and natural woods at the handle and cover, simply decorated with a luck-imbued fortune knot — to double as home décor long after the holiday. Inside, 32 gleaming pieces of beautifully wrapped truffles, sure to be a treat for taste buds, are neatly arranged in four separate compartment each of a different flavour. Handcrafted and originally flavoured by Roganic's pastry chefs, the soft, creamy ganache filling features winter truffle, woodruff from Cartmel, pecan praline and miso caramel with hazelnut.
Roganic, Shop 8, UG/F, Sina Plaza, 255 Gloucester Road, Causeway Bay, Hong Kong, +852 2817 8383
Peerie Tea
Hong Kong-based tea specialist Peerie Tea taps into Chinese New Year traditions with a limited-edition CNY Longevity tasting set (HK$380) composed of six unique teas carefully chosen to pair with Cantonese cuisine. Herbal blends that will offer prompt soothing and a proper wind-down after frantic festivities, sip and savour the fragrant aromas of each selection: Yunnan Golden Needle, Ancient Baked Heart, Wild Lapsang Souchong, Organic Nantou Green, Organic Red Oolong, Chrysanthemum Ginger Goji.
More info on Peerie Tea here
Header image courtesy of Sugarfina