With the world-famous New York hotel closed for renovations until 2022, and millions of Americans stuck #WorkingFromHome, now feels like the opportune moment to revisit a recipe that's all kinds of old-school satisfying — and simple, to boot.
In the 1950 obituary of Oscar Tschirky, The New York Times wrote of the famed maître d'hôtel that "millions who never visited the Waldorf [Astoria] owe him a debt". They were, of course, making reference to the eponymous Waldorf salad: a dish that somehow exists beyond time and that is (rather ironically) a quintessential piece of Americana, conceived by a Swiss immigrant.
Tschirky first developed the recipe in 1893, serving it as part of the wider menu at a charity gala put on to benefit the St. Mary's Hospital for Children. In the era of convincing fake meat and US$9,000 kitchen appliances, the Waldorf salad's not-so-secret superpower is simplicity: consisting, in its most traditional incarnation, of apples, celery, lettuce and high-quality mayonnaise. The dish's basic premise (fresh fruit and veg, crackling against the richness of an eggy emulsion) has cottoned well to experimentation, meaning that variations over time — involving such things as blue cheese, raisins, and chopped walnuts — were all but assured. Even the gilded kitchens of the Waldorf Astoria New York itself aren't impervious to innovation. In 2011, the hotel's culinary director David Garcelon trialed an extravagant update, adding grape halves into the salad bowl whilst substituting mayonnaise for a blend of créme fraîche, Dijon mustard, truffle oil and champagne vinegar.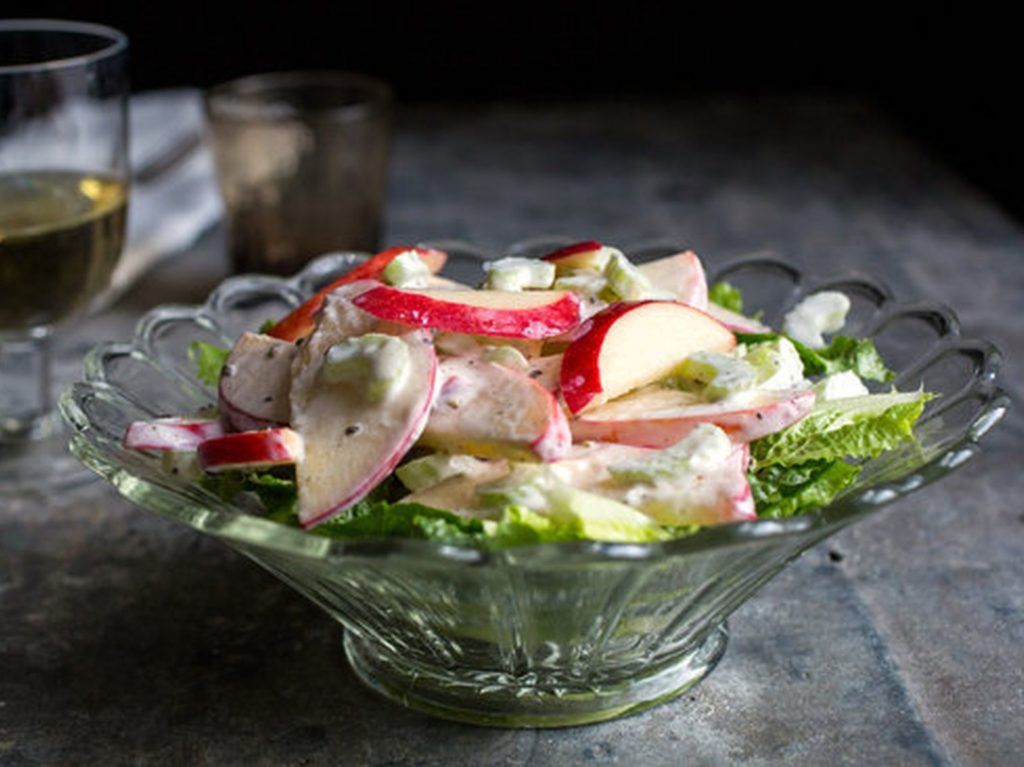 And yet, despite endless riffs over the decades, there's something to be said for the prototypical Waldorf salad — one of the original ingredient-led recipes of the early 20th century, and a crucial reason for the improbable association between salads and the business of luxury hotels. Find the original method and recipe (republished by The New York Times) below.
Ingredients
1 medium-ripe apple
1 stalk of celery, chopped
1 quarter cup of mayonnaise
2 cups of lettuce, torn into bite-size pieces
Salt & pepper (to taste)
Method
Peel apple and cut into halves. After removing the core, slices halves into quarter inch-thick pieces. Reserve four slices, while cutting the remaining into thin strips.
In a medium bowl, mix the chopped celery, mayonnaise and apple strips; and season with salt and pepper to taste. Arrange on lettuce and top with apple slices for added colour.