There are endless ways you can marinate chicken, from covering it in a charred chilli mixture to letting it bathe in buttermilk and pickle juice spiked with hot sauce. Another tasty option? Feta brine. In an episode of Mad Genius, Food & Wine Culinary Director-at-Large Justin Chapple uses feta cheese two ways to take chicken sandwiches to the next level—he marinates the cutlets in feta brine to infuse them with flavour before they're grilled, and also whips the cheese itself into a silky spread for the bread. The grilled cutlets and whipped feta are then combined with fresh toppings like arugula and cucumber to create delicious sandwiches that are total keepers, and perfect for summer.
Want to try out the Feta-Brined Chicken Sandwiches recipe at home?
Marinate
All you need for the chicken marinade is reserved feta brine and some Louisiana-style hot sauce. Mix them together in a large resealable plastic bag, add the chicken cutlets, and seal the bag, turning so the chicken is coated. Transfer the bag to the fridge for 30 minutes so the chicken has enough time to marinate.
Whip
While the chicken sits in the fridge, make the whipped feta, which combines crumbled feta, fresh lemon juice, and extra-virgin olive oil in a food processor to form a smooth, ultra-creamy spread. Season it with salt and pepper and you're good to go. Make sure you don't over-process the spread—Justin notes that over-processing olive oil will make it taste bitter.
Grill
After the chicken is done marinating, remove it from the brine, pat it dry, and brush it with extra-virgin olive oil on both sides. Season it lightly with kosher salt—go easy on salt anytime you brine something, since brine is already salty—and pepper on both sides as well. Then, grill on a preheated grill pan or grill until the cutlets are cooked through.
Meanwhile…
While the chicken is grilling, Justin quickly preps the remaining sandwich toppings. Thinly slice the red onion, slice the cucumber—Justin recommends cutting on an extreme bias, for easy sandwich layering—and have your arugula and seeded piquillo peppers at the ready. Split and toast your ciabatta rolls as well.
Assemble and eat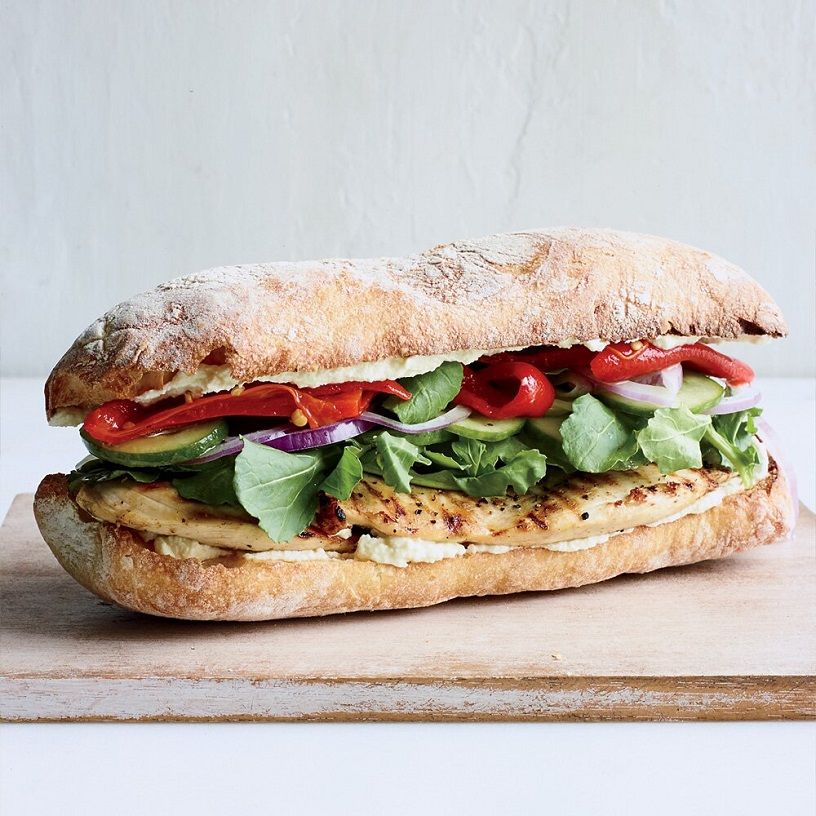 With all the components ready, you can build your feta-brined chicken sandwiches. Start by spreading both halves of a ciabatta roll with the whipped feta, and then pile everything on from there—the chicken should go first, followed by the arugula, cucumber, red onion, and finally, the seeded piquillo peppers. Once all of the toppings are on the sandwich, close it, cut it in half, and take a bite.
"It is so good," Justin says. "That ciabatta bread is perfect for this sandwich because it's nice and chewy. The vegetables are crunchy, we've got those sweet piquillo peppers in there. And that whipped feta is the perfect stand-in for mayonnaise in a sandwich, I've got to say. But it is that chicken that really takes this to the next level. It is juicy and it's subtly tangy, it is so perfect."
This story first appeared on www.foodandwine.com
(Main and Feature Image Credit: Farhad Ibrahimzade/Unsplash)
© 2021. TI Inc. Affluent Media Group. All rights reserved.  Licensed from FoodandWine.com and published with permission of Affluent Media Group. Reproduction in any manner in any language in whole or in part without prior written permission is prohibited.
Food & Wine and the Food & Wine Logo are registered trademarks of Affluent Media Group. Used under License.