Michelin has announced its full selection of restaurants for its newest Michelin guide 2021.
The F&B industry has had a hard run over the past year; with restrictions and lockdowns in place, the industry has taken a hit. Perhaps the importance of these Stars are up for debate in the midst of a pandemic, however, for many the recognition brings hope to eateries across Hong Kong with the unveiling of its 2021 selection.
Crowning 10 new restaurants with Stars and recognising 277 eateries and 54 establishments across Hong Kong and Macau, the 13th edition of the MICHELIN Guide has also implemented a new category — the MICHELIN Green Star — spotlighting those making waves in sustainable gastronomy.
Recently announced via its virtual event held on 27 January, this years guide features two Hong Kong restaurants promoted to Two Stars, seven new One Star restaurants in Hong Kong and one promoted to One Star in Macau, as well as two restaurants awarded the newly esteemed MICHELIN Green Star for their inspiration and commitment to sustainability.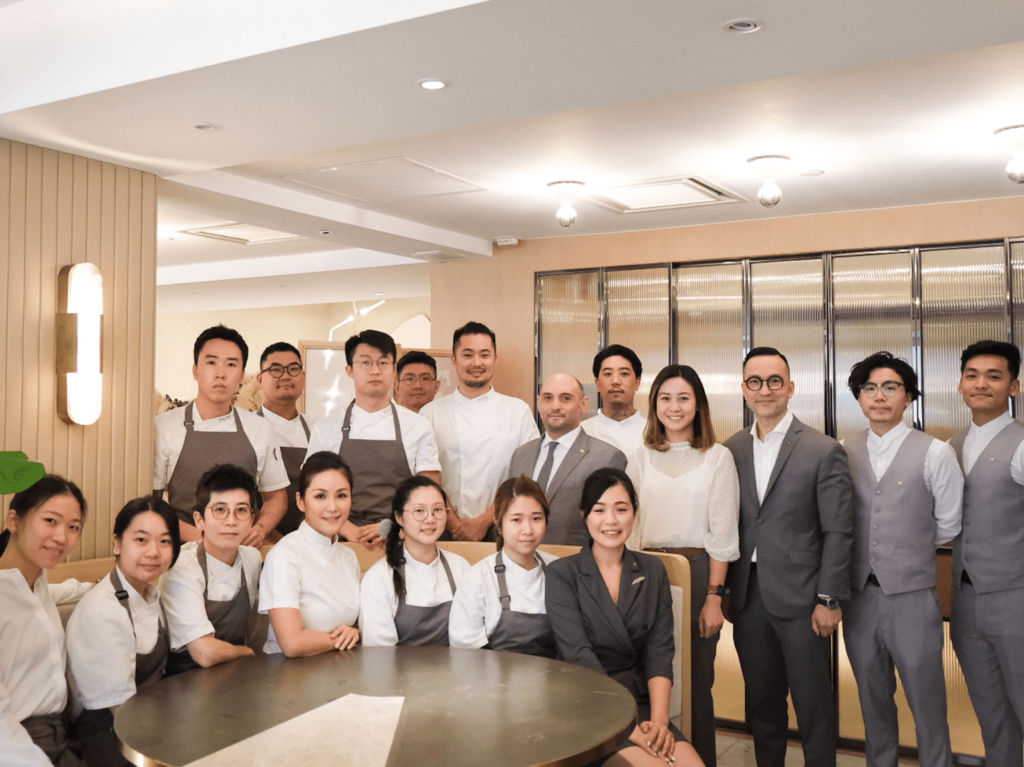 Two Hong Kong restaurants promoted to Two Stars:
Tate
Led by owner and chef, Vicky Lau, Tate has newly entered the Two Star ranking this year. A fusion of exquisite French and Chinese cooking, its passion for avant-garde cuisine and design continues to brings guests on a creative journey of the senses every step of the way.
L'Envol
St. Regis Hong Kong's esteemed L'Envol features chef,Oliver Elzer's innovative gastronomy and flare for French dine dinning. Its professional service and curated menus continue to delight.
Seven new One Star restaurants in Hong Kong and one promoted to One Star in Macau
In Hong Kong, Michelin welcomes seven new restaurants to the ranks; including newly established Argentinian restaurant, Andõ launched July last year. Joining chef-founder Agustin Balbi is K11 Musea's Chinese restaurant Yè Shanghai for its continued standard of excellence in Shanghainese, Jiangsu and Zhejiang dishes, as well as Cantonese cuisine at The Chairman, led by Danny Yip and JW Marriott's, Man Ho.
Japanese flavours continue to delight as chef Mitsuhiro Araki's (who previously helmed Three Stars in Tokyo and London) sushi venture, The Araki prepares fish flown directly from Japan. Kappo-style restaurant, Zuicho and firm favourite amongst Hongkongers, Yardbird also grab their first Star this year.
In Macau, Wing Lei Palace celebrates its first Star, and the work of chef Tam Kwok Fung for the establishment's skillful Cantonese fare.
Two restaurants awarded MICHELIN Green Star
The newest category to grace the guides is the Green Star. A newly launched distinction celebrating the efforts of restaurants paving the way for a greener future, Hong Kong's Roganic and Macau's IFT Educational Restaurant are first to cultivate the award. Continued commitment to locally sourced ingredients, striving for zero-waste and drive to educate make both establishment worthy winners.
Amongst these new additions, MICHELIN Guide has since unveiled its full 2021 list, including 69 restaurants in Hong Kong and 18 in Macau that have received and retain its Michelin Star for 2021. See the full list below: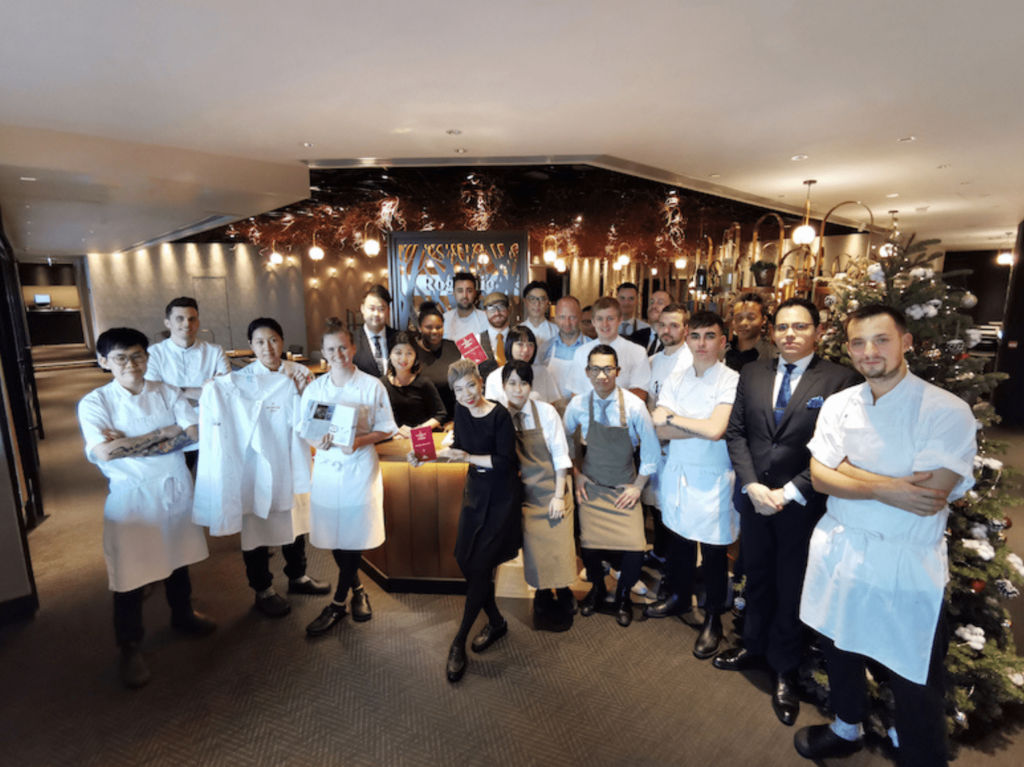 Hong Kong 2021:
Three stars
8½ Otto e Mezzo Bombana
Caprice
Forum
L'Atelier de Joël Robuchon
Lung King Heen
Sushi Shikon
T'ang Court 
Two stars
Amber
Arbor 
Bo Innovation 
Écriture 
Kashiwaya
L'Envol*
Sun Tung Lok
Sushi Saito
Ta Vie
Tate Dining Room*
Tin Lung Heen
Ying Jee Club
One star
Aaharn
Ah Yat Harbour View (TST)
Andō*
Arcane
Beefbar
Celebrity Cuisine
Duddell's
Épure
Fook Lam Moon (Wanchai)
Fu Ho 
Gaddi's 
Guo Fu Lou 
Ho Hung Kee (Causeway Bay)
IM Teppanyaki & Wine
Imperial Treasure Fine Chinese Cuisine (TST)
Jardin de Jade (Wanchai)
Kam's Roast Goose
Lei Garden (Kwun Tong)
Liu Yuan Pavillion
Loaf On
Louise 
Man Ho*
Man Wah
Mandarin Grill + Bar
Ming Court (Mong Kok)
New Punjab Club
Octavium Pang's Kitchen
Petrus
Roganic 
Rùn 
Ryota Kappou Modern 
Shang Palace 
Spring Moon
Summer Palace
Takumi by Daisuke Mori
The Araki*
The Chairman*
Tim Ho Wan (Sham Shui Po)
Tosca di Angelo
VEA
Xin Rong Ji
Yan Toh Heen – down from two stars
Yardbird*
Yat Lok
Yat Tung Heen 
Yè Shanghai* (TST)
Zest By Konishi
Zhejiang Heen
Zuicho*
Michelin Green Star Hong Kong
Roganic*
Macau 2021:
Three Stars
Jade Dragon 
Robuchon au Dôme
The Eight
Two Stars
Alain Ducasse at Morpheus 
Feng Wei Ju
Golden Flower
Mizumi 
Sichuan Moon
Wing Lei 
One Star
Lai Heen
8½ Otto e Mezzo Bombana
Pearl Dragon
The Golden Peacock
The Kitchen
Tim's Kitchen
Wing Lei Palace*
Ying
Zi Yat Heen
Michelin Green Star Macau
IFT Educational Restaurant*
Featured image courtesy of Wesual Click via Unsplash