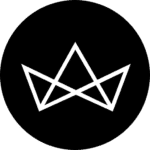 New Eats: Afternoon tea at Arbor x Artisan Lounge, a new medley cake at Butter Cake shop and more restaurant news
As the restaurant industry continues to work out the kinks and navigate the government's newest and confusing-as-ever restaurants requirements in regard to the 'Vaccine Bubble', there is some good news: Possibility of restaurants running past 10pm with larger seating groups, for one, and — with a little more certainty — new menus, for another. A Michelin star-worthy afternoon tea, celebrations for National Barbecue month and delectable confectionaries worthy of impressing mum. All this and more with 'New Eats' below.
Arbor x Artisan Lounge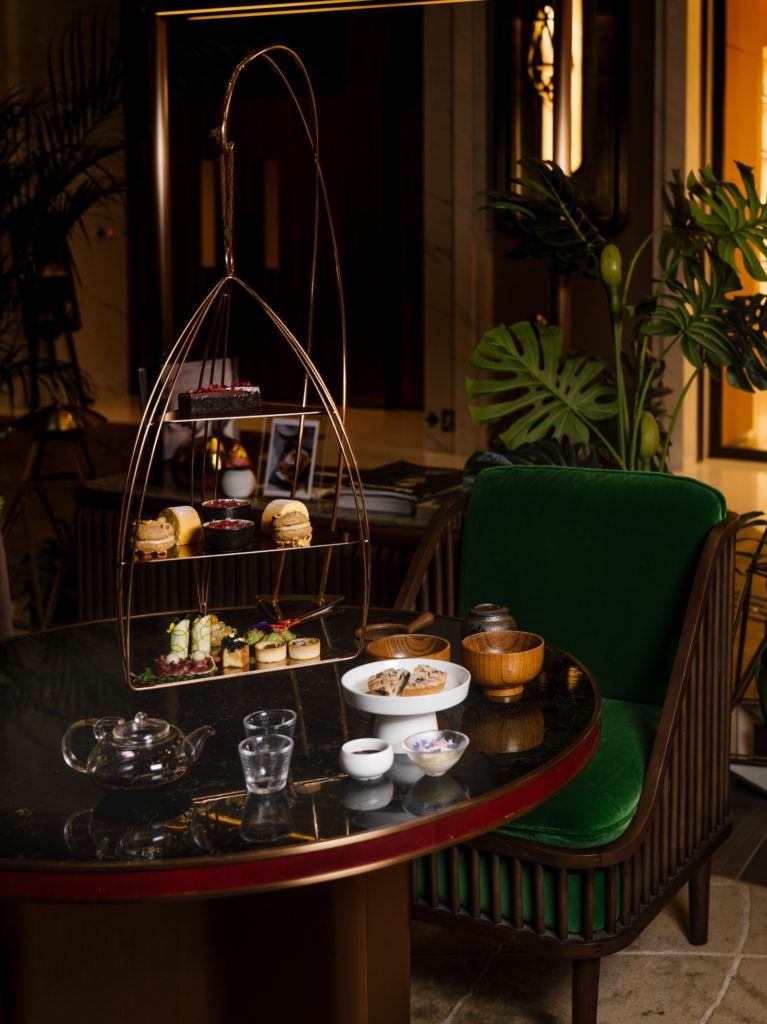 Afternoon teas is a ubiquitous concept in this city. A luxurious, very extravagant one, in fact, from hotel cafés or quaint tea houses. But none, perhaps, like the one from K11 Musea's Artisan Lounge latest collaboration with renowned two-starred establishment, Arbor — a 'Kahvi break' Nordic high tea. A match made in culinary heaven. The limited afternoon tea set (HK$868 for two) — runs only through the weekends of May with only 40 sets available all day — is a spectacular showcase of chef Eric Räty's beginnings as a pastry chef. Along with his wife, chef Can, the couple curates a dreamy selection of sweet bites that fuses the signature Finnish-Japanese palates. A coffee-hazelnut sandwich that borrows from both a macaron and a cookie; a popular Japanese caramel cream pudding, 'purin', remastered with Okinawa brown sugar and a syrup choice of either coffee or hojicha. The savoury side, prepared by Artisan Lounge, is a selection worth raving about, too. The mango prawn and mini porcini pie are among highlights. Phone bookings are recommended for reservations.
Artisan Lounge, 008 & 008A, G/F, K11 Musea, 18 Salisbury Road, Tsim Sha Tsui, Kowloon, Hong Kong, +852 2601 3428
Grand specials at Butter Cake Shop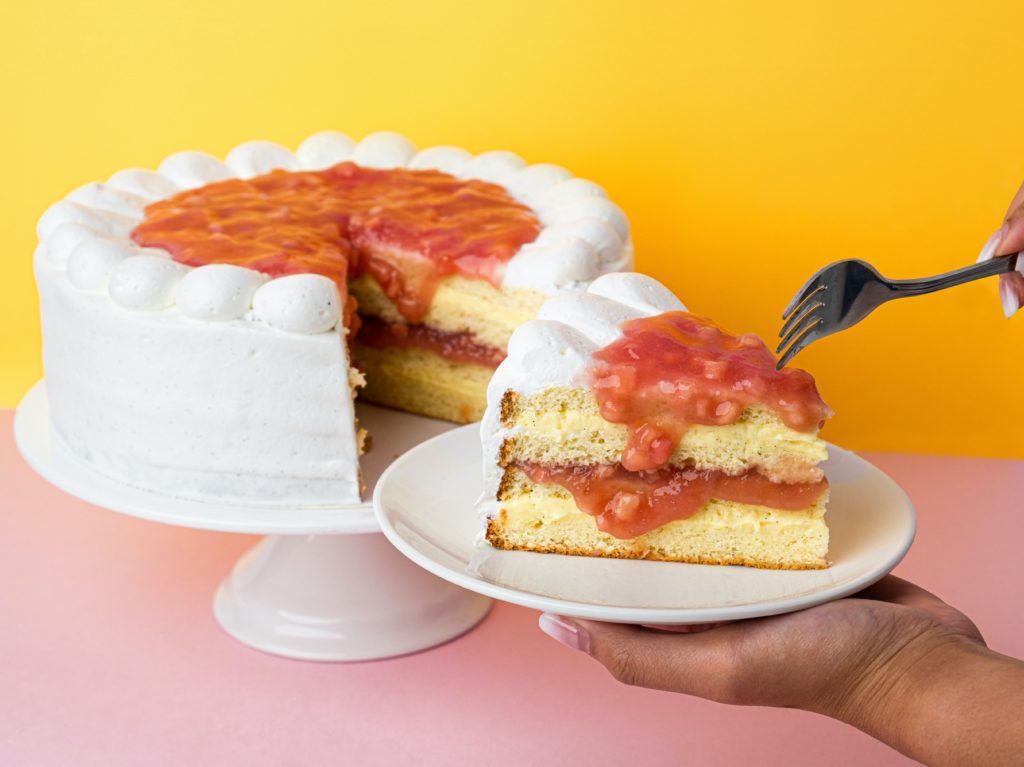 We've all been there; staring wistfully at the pretty cake cabinet, troubled by the thought having to pick just one flavour. To resolve this mighty difficult conundrum once and for all, the beloved cake shop has devised the Medley Cake (HK$600); a wonderful mashup of all the slices you'd ever wanted — but couldn't yet — to try. Mix and match eight different flavours of your choice with the inclusion of fresh fruit pies. We'd know what we're going for: two slices of blueberry crumble, two triple choc and four slices of that glorious glorious carrot cake.
Extra, extra. A sweet special for special mums. For Mother's Day, Butter rolls out Peaches 'n' Cream (HK$550), a refreshing celebration of fresh peach jam, vanilla pastry cream and vanilla whipped cream all sandwiched between pillow-soft layers of almond sponge. On top a generous drizzle of the juicy fruit jam. Available from 5 through 11 May.
Butter Cake Shop, Shop 239, 2/F, Landmark Atrium, 15 Queen's Road Central, Central, Hong Kong, +852 2670 2670
Mother's Day Cakes at Vive Cake Boutique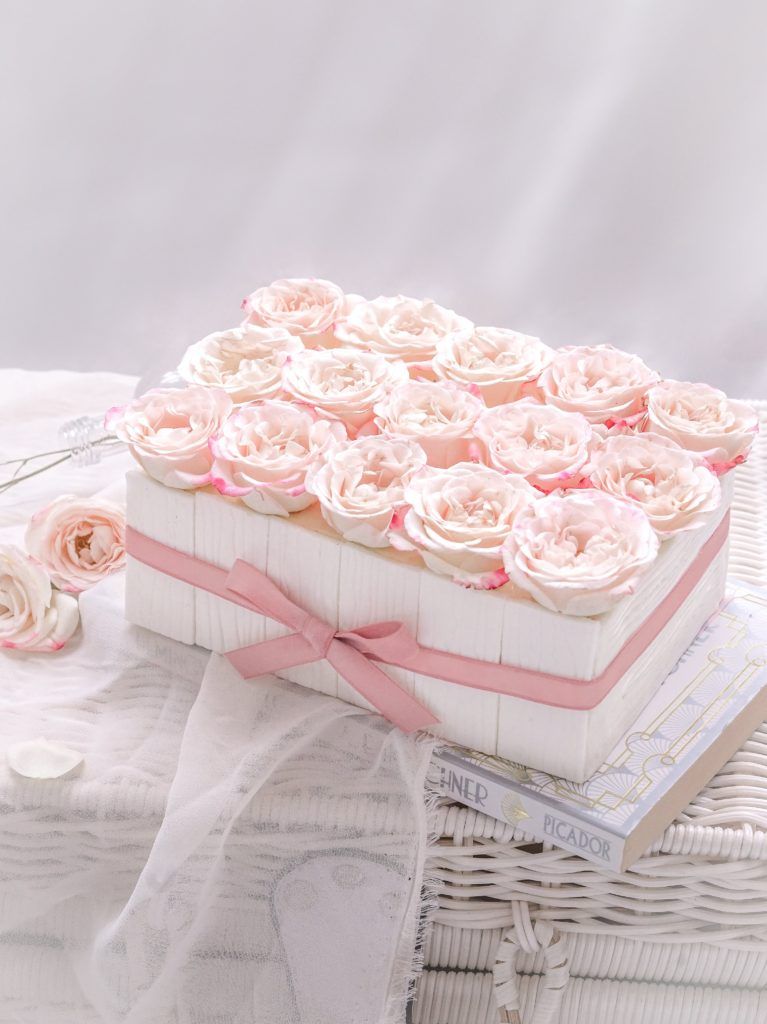 The search for the perfect Mother's Day gift is no doubt a tricky one. But first lock down the basics: florals, cake, a hug and a kiss. Go for some extra special; edible flowers set atop a pretty photogenic cake. At Vive Cake Boutique, the bespoke 'Jardin de Fleur' collection is a delectable range of bouquets that will guarantee smiles all round. There are creations like the 'Queen's Meadow' (HK$1,200 for 1.5lbs), an impressive box of pink sugar roses and 'The British Roses' (HK$730 for 1lbs), a pretty robin-egg blue buttercream creation topped with pink piped rose buds and polka dot. Among classic favourites, both are available in the confectioner's classic flavour combinations that are health-conscious, low-fat and low-sugar. Endless forkfuls of the chocolate on chocolate ganache has never felt this guilt-free.
Vive Cake Boutique, Shop 3, 1/F, H Queen's, 80 Queen's Road Central, Central, Hong Kong, +852 9602 2869
New menu for barbecue month at Smoke & Barrel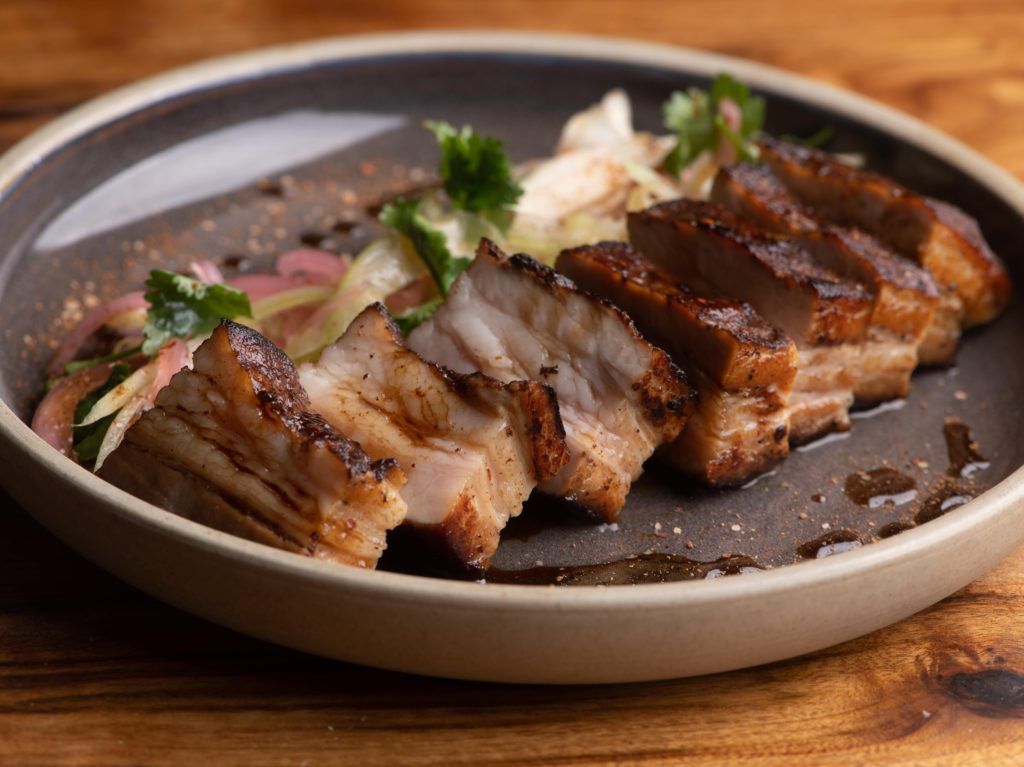 Now that temperatures in Hong Kong has risen up to a comfortable range of mid-twenties, celebrations for National Barbecue Month, traditionally in May, can be enjoyed to the fullest extent. At the American smokehouse, Smoke & Barrel, preparations are in full swing with a new à la carte menu topped with 12 specials. Smoked bone marrow (HK$148), a Cowboy Steak (a dry-aged, bone-in ribeye) and sweet Smoke & S'more (HK$88) served with chocolate bourbon ganache, are among new additions. The famous in-house wood-fired smoker, 'The Beast', will also be firing up for a revamped spare ribs smoked in traditional St. Louis style with fattier belly meat (HK$208 for half; HK$368 for whole) and more uniformed cuts.
Diners visiting during the month of May will a chance of winning a selection of sweet Smoke & Barrel swag, including the homemade barbecue sauce. Just tag #IGotSmokedInMay on socials.
Smoke & Barrel, 1/F & 2/F, 32 Wyndham Street, Central, Hong Kong, +852 2866 2120
Veggie lunch at Honjo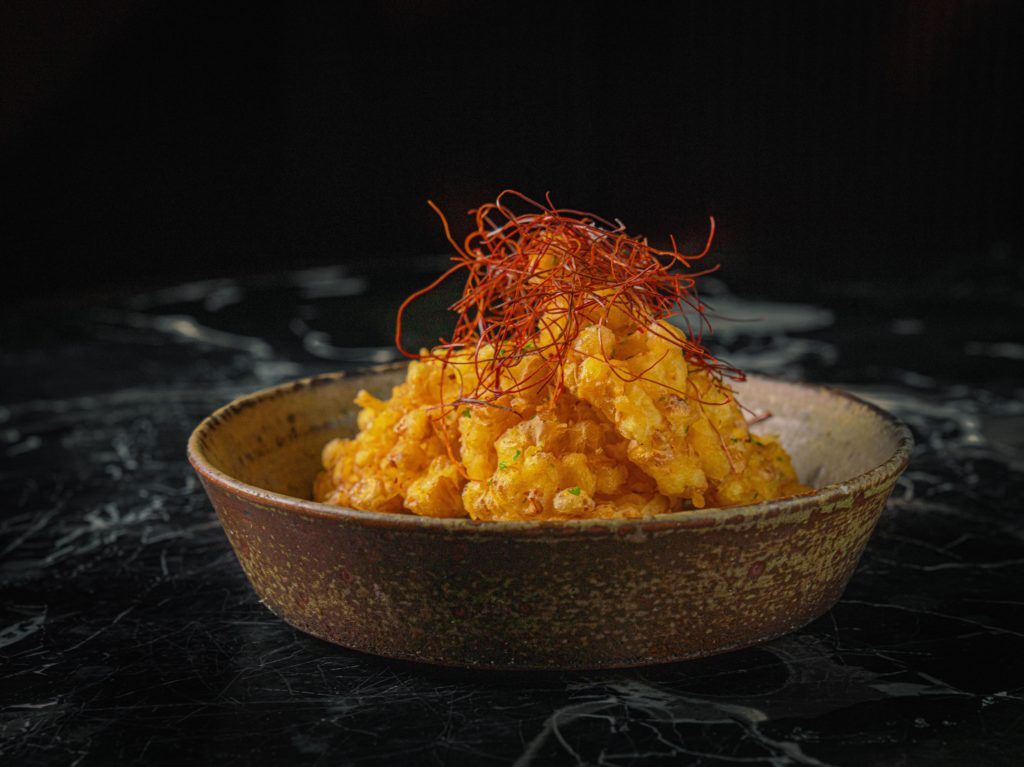 A few exciting news at Sheung Wan's buzzy modern Japanese spot, Honjo. Other than new menu additions like an indulgent camembert tempura or the Kanpai! 90-minute free flow for an easy HK$48 on weekday lunches; a new vegetarian three-course lunch set (HK$268). Move beyond the classic cucumber maki roll and make way for plates like the carrot kinpira dressed with honey and sesame, or the crispy corn tempera served with a wasabi tentsuyu dip. It's a delicious one.
Honjo, 1/F, Hollywood Centre, 77-91 Queen's Road West, Sheung Wan, Hong Kong, +852 2663 3772
London's Aqua Kyoto arrives at Statement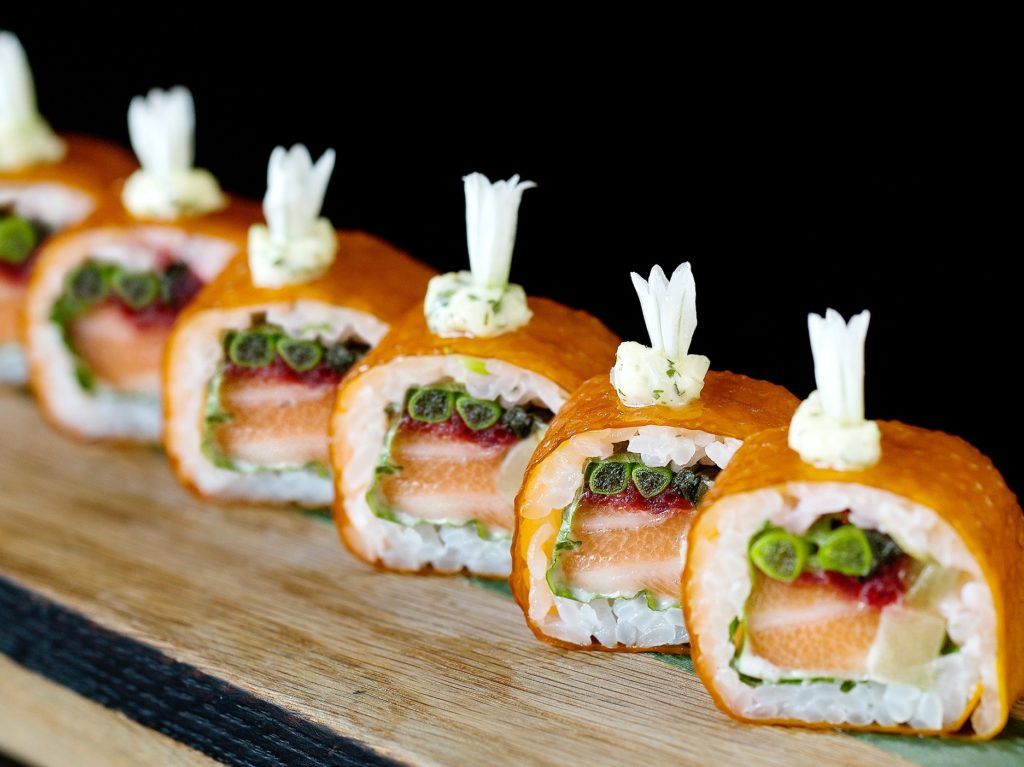 Following Statement's last successful takeover from Spanish restaurant aqua nueva, the modern British establishment is back with a pop-up from another of the group's eatery: aqua kyoto, the popular Japanese spot open at London's West End. Beloved for its innovative, European-centric take on authentic Japanese classics, the pop-up will see the return of many popular favourites, including a miso-cured sea trout (HK$98 for four), doused in miso for 12 hours, then sous-vide and finished with pickled red onion with avocado purée. Other creative creations include colourful range of uramaki (inside-out maki), like the sea buckthorn berry maki (HK$148 for four), which wraps a thin veil of citrusy fruit over salmon, sea vegetables and earthy beetroot. We'd recommend saving room for the Tokyo Banana (HK$78), a fluffy Swissroll-esque sponge with a sweet banana cream centre — an ode to a popular souvenir sweet. It's Japanese with a twist here; a twist you probably won't expect coming.
Statement, Police Headquarters Block 01, Tai Kwun, 10 Hollywood Road, Central, Hong Kong, +852 2848 3000