With the recent public health scare resulting in less Hongkongers dining out, some restaurants are allaying fears by tweaking their menu and offering immune-boosting add-ons. Others are introducing new comfort offerings to bring warmth in trying times. Here are the best new menus to try this week.
A vitamin-packed meal at Hue Hong Kong's newest harbourfront restaurant, Hue is helping diners stay strong and revitalised this month with a plethora of new system-fortifying dishes. In addition to advanced hygiene precautions (the restaurant has removed 20% of tables so diners can sit further apart), the modern Australian restaurant is going the extra mile by offering a complimentary immune-boosting juice shot of fresh beetroot and ginger juice to guests on arrival.
Diners can sip the extensive selection of artisan fruit and herbal tea blends by TeaCha, while sinking their teeth into health-boosting dishes from confit Australia Spanner crab with almond cream, grapes and pickled hibiscus (pictured here); to grilled Spanish octopus with charred and pickled eggplant and fresh mint; and house-made fig leaf ice cream with nutrient-packed rhubarb, fermented strawberry jelly and buckwheat crumble. Finally, a new selection of vegetarian dishes from pan-fried gnocchi to beetroot salad means plant-based diners can also pack away a hearty and fulfilling meal.
Hue, 1/F, Hong Kong Museum of Art, 10 Salisbury Road, Tsim Sha Tsui, Hong Kong, +852 3500 5888
Nove's new dinner menu We're big fans of Nove's fresh, contemporary approach to dim sum making, helmed by experienced masters of the craft. Former head dim sum chef of Island Tang, Wong Yiu Por offers delectable treats from baked abalone tarts to 'crystal' wrapper dumplings, while traditional Chiu Chow-style marinated delicacies are prepared by specialist Poon Kwai Chung. New to the brigade is chef Chan Hing Kei, who's just curated a menu of innovative dinner dishes to complement the hand-crafted dim sum and marinated meats.
Amidst the Chinoiserie-inspired decor underneath swaying red lanterns, guests can now dine on shared plates such as sautéed beef tenderloin with shimeji mushrooms (HK$149), pan-fried prawns with soy sauce, and stir-fried elm fungus with pork jowl (HK$119, pictured above) on a bed of fresh, crisp veggies. For meat lovers, two must-try dishes include the stir-fried sugar snap peas with diced beef (HK$159), and a sizzling clay pot of beef ribs (HK$149) in a sticky sauce splashed with wine, with dried shallot, ginger and garlic.
Nove, 9 Li Yuen Street East, Central, Hong Kong, +852 2180 6799
Rock 'n' rolls at TMK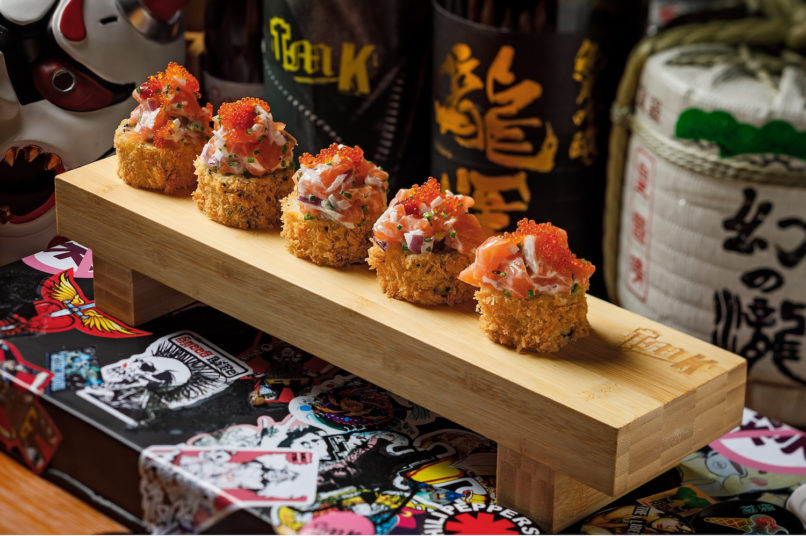 Punk-rock Japanese izakaya TMK kicks off 2020 with a bang with a playful new menu to coincide with the rock 'n' roll interiors and booming music. Sitting cosy at the U-shaped bar inside the tattoo parlour-inspired eatery, diners can now tuck into the Mentaiko udon (HK$128) a riff on the traditional noodle dish glazed with satay sauce and parmesan cheese; and Salmon Tataki (HK$88), where well-seared slices are jazzed up with a classic wasabi ponzu.
New sharing platters include the Sushi x2 (HK$168) and Sashimi x2 (HK$198), an array of fine fish including sustainably sourced tuna; while sushi roll fans will want to go straight for new combinations such as Negi-Toro (HK$88) with buttery tuna, prawn tempura (HK$58), Seared Scallop (HK$78), and the Salmon Crunch (HK$68, pictured above), spilling over with fresh fish and roe. Need a mid-week pick-me up? Stop by on 'Wasabi Wednesdays' for the wasabi-infused margarita (HK$50), guaranteed to perk up weekday doldrums.
TMK, Shops G & H, G/F and M/F, 77-91 Queen's Road West, Sheung Wan, Hong Kong, +852 2662 2269