Though savvy diners will already have blocked out their culinary calendars in anticipation of Mid-Autumn festivities well in advance, there's still a gargantuan number of fresh promos and menus worth considering. From new menus at old staples to updated bar bites at (now re-opened) drinking dens, here's where we'll be scarfing down calories over the coming weeks.
Hansik Goo's week-long Chuseok (Mid-Autumn) menu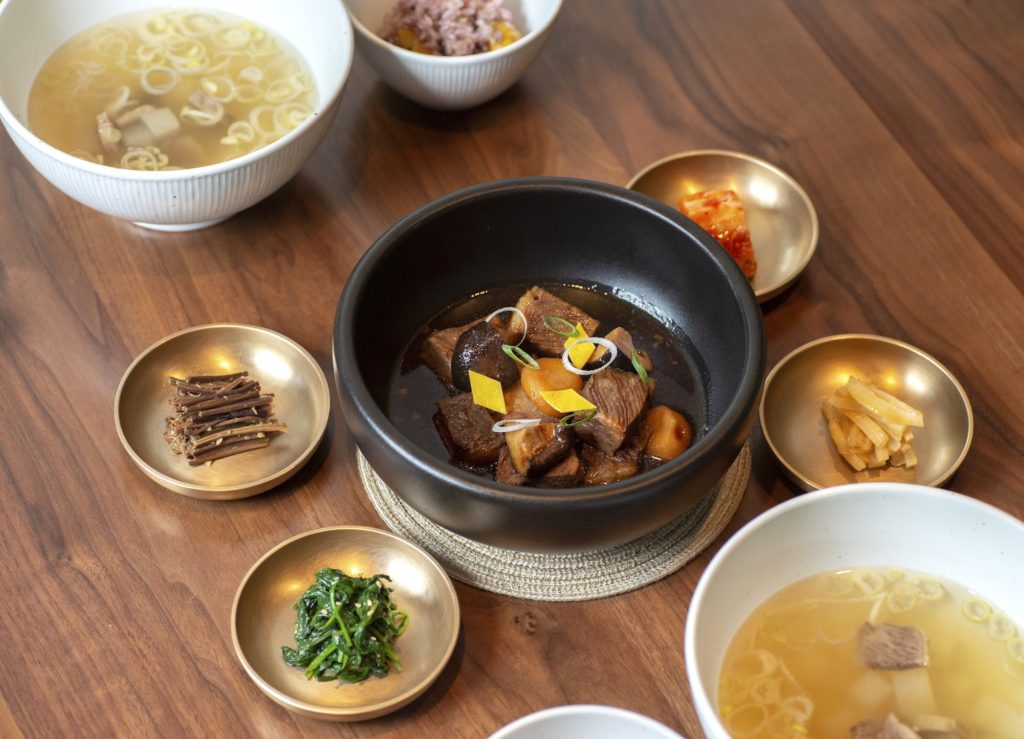 Though the popular perception of Mid-Autumn is that it's a distinctly Chinese holiday, it's an equally important festival for denizens of the Korean Peninsula. Known as Chuseok, the holiday is a time synonymous with family gatherings and the first full moon of autumn. This week at Hansik Goo — Mingoo Kang's enthusiastically attended ode to modern Korean cuisine — the team are cooking up a special Chuseok menu (HK$880): designed to acquaint the city's diners with traditional, nourishing staples eaten during the holiday. Early Hansik Goo stans will recognise Kang's galbi jjim: an effortless comforter of braised short rib, this time complemented by a selection of classic autumnal dishes including namul (wild greens) and five-grain rice. Available until 2 October 2020.
Hansik Goo, 2/F, 8 Lyndhurst Terrace, Central, Hong Kong, +852 2798 8768
Dinners from the Land Down Under at Mamma Always Said
Already steeped in the Antipodean custom of all-day dining, Meraki Group stalwart Mamma Always Said is poised to hold its first 'Aussie Dinner' on 14 October, transporting guests to the promised land of VB and Tim Tams with an assortment of five- (HK$295) or seven-course (HK$370) tasting menus. Evoking the stylings of a classic 'Straya Day barbeque, diners will sit down to a variety of share-friendly plates: including fair dinkum recipes like the 'Iced Vovo' ice cream (inspired by the iconic Arnott's bickie of the same name) and beer can chicken, cooked (of all things) atop a tinnie of the nation's favourite lager — Victoria Bitter.
Mamma Always Said, 42 Peel Street, Central, Hong Kong, +852 2386 2216
Three new 'summer' dinner menus at Petrus
To celebrate the bounty of mid-seasonal fruit and veg that has accompanied the cooling of temperatures, Petrus Executive Chef Uwe Opocensky has just launched a trio of revamped tasting menus — ideal for celebrating with your loved ones this Mid-Autumn. Until mid-October, guests shall be able to choose up to five courses (HK$1,088-1,588) showcasing the best of seasonal European produce alongside vibrant plating techniques. For the ultimate indulgence, the five-course menu is a consummate splurge, enabling you to select two of Chef Uwe's artful main courses such as a foolproof calotte of beef with girolles or the now city-famous donabe of Japanese rice, king crab and kohlrabi.
Petrus, 56/F, Island Shangri-La, Pacific Place, Supreme Court Road, Admiralty, Hong Kong, +852 2820 8590
Tate Dining Room's 'Ode to Hong Kong'

Following in the footsteps of various multi-course explorations of culinary destinations around the globe, Chef Vicky Lau returns her attention this autumn squarely to the +852. Tate Dining Room's latest thematic dinner menu, 'An Ode to Hong Kong' (HK$1,680), sheds new light on the city's myriad traditional cuisines. It begins with whimsical appetisers of century egg mimosa (plumped with caviar and flower crab) before turning to proto-French morsels like whole Australian abalone, seasoned with scallion oil and wrapped pithivier-style in baked puff pastry. Wine pairings (curated to three, six, or eight glasses) are also available.
Tate Dining Room, 210 Hollywood Road, Sheung Wan, Hong Kong, +852 2555 2172. For reservations, email info@tate.com.hk.
Pub grub at The Diplomat
Already widely revered to serve one of the best burgers in town (full disclosure: we're big fans), John Nugent's The Diplomat continues to up the ante with new additions to its already-impressive menu of 'bar' snacks — each calibrated for the richness and complexity of the house's classically inclined cocktails. Make no mistake: this isn't food for those of faint intestinal fortitude, with new additions including delicious, decadent calorie sinkholes like the twice-baked potato (HK$100) and hot fudge sundae (HK$65). Oh, and for those who prefer a protein-rich diet, shelve those fries for one of The Diplomat's new Louisiana-style chicken sandwiches (HK$160) — a tribute to traditional southern comfort, pairing buttermilk fried chicken together with country-style hot sauce. That seems like a better use of calories, no?
The Diplomat, LG/F, H Code, 45 Pottinger Street, Central, Hong Kong, +852 3619 0302