It's a week of new beginnings, as a Michelin-decorated chef introduces an all-new Italian spring menu, an artsy diner gets a head-to-toe makeover, and mushrooms take over at a classy Chinese restaurant across the harbour. Feeling hungry? Dive right in with our list of this week's best new eats.
Mushroom mania at The Chinese Restaurant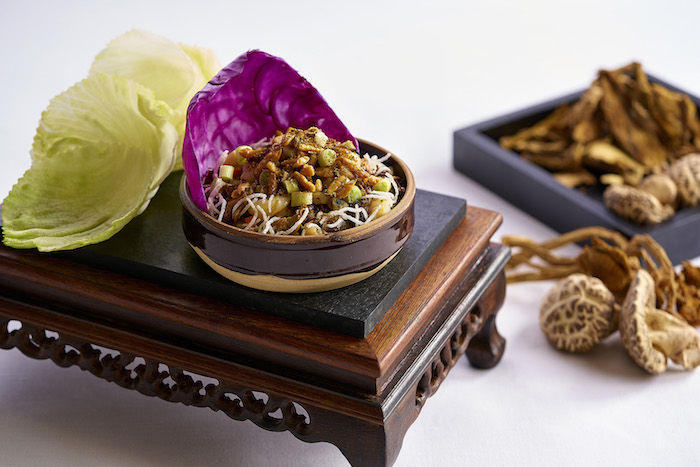 Love them or hate them, mushrooms can be a divisive ingredient for their strong, pungent flavour: If you, like us, fall firmly in the former camp, you'll want to head to The Chinese Restaurant over at the Hyatt Regency, Tsim Sha Tsui, for an all-mushroom menu that heralds earthy flavours. Head chef Kwai-kai Lo has prepared a hearty feast surrounding the humble mushroom, from a healthy tonic of double-boiled conch soup with maitake mushrooms and black garlic, to a refreshing appetiser of chilled shredded sea cucumber with abalone, jellyfish and seasonal mushrooms. The nutrient-packed mushroom also pays a supporting role in dishes such as simmered garoupa fillet with cordycep flowers and chanterelles; and pan-fried Hokkaido scallops with fresh mushroom and plum-flavoured lotus root chips. If you're feeling overindulged this month, Lo's mushroom menu may just be the trick to putting a little spring in your step.
The Chinese Restaurant, 3/F, Hyatt Regency, 18 Hanoi Road, Tsim Sha Tsui, Hong Kong, +852 3721 7788
An Italian stallion returns to Spiga Those craving pizza and pasta will want to make a beeline for Spiga next month, as head chef Enrico Bartolini (the youngest chef to be awarded two Michelin stars in Italy) returns to his Hong Kong flagship from 2–5 May to introduce a brand new spring menu coinciding with the change in seasons. Opened just a little over a year ago, Spiga has become a firm Central favourite for its value-for-money antipasti lunch buffet, and attractive dinner ambience with a spacious outdoor garden and lavish décor.
The new Taste of Italy menu will be exclusively available from 3–17 May, with dishes including Tuscan fish stew, a tasty tradition from the western coastal towns of Tuscany and Liguria; handmade pici pasta with a hearty veal ragout and shavings of fresh black truffle; and tender and juicy suckling pig paired with earthy beetroot puree and Jerusalem artichoke. The meal ends on a savoury note with a winning selection of in-season Tuscan cheese. Those who want to be served personally by the charismatic Bartolini will want to book in for 3 May, where a special wine pairing will accompany the 4-course meal (HK$788 plus 10% surcharge).
Spiga, 3/F, LHT Tower, 31 Queen's Road Central, Central, Hong Kong, +852 2871 0055
A fresh start at Bibo Since opening in May 2014, Bibo has built its reputation on being one of the most art-centric restaurants in town, with a stunning range of contemporary artwork splashed across the walls — spilling onto the visually striking drinks and dishes selection. While taste sometimes played second fiddle to looks (our dinners there have been a hit or miss), Bibo is wiping the slate clean this month and embarking on a fresh start with a total revamp of the food and drinks menu, plus the addition of a familiar face in the local food scene: Nicholas Chew, who transitions out of a four-year stint as head chef of the modern Michelin-starred French fine diner, Serge et le Phoque.
With Chew known for his careful attention paid to terroir, knowledge of sourcing the best seasonal ingredients, and technique-driven creativity in the kitchen, there's no doubt that the young chef is set to breathe new life into Bibo. He'll be debuting dishes such as deep-fried burrata with polenta and Japanese fruit tomato, celeriac risotto with mango and French truffle, and his version of dacquoise with strawberry and ash cream. Along with installing a new collection of artwork to the interiors, Bibo's cocktail programme will be revamped as a new wine bar boasting an extensive collection of wines by the glass (over 140 in total) courtesty of head sommelier Sébastien Chevalier.
Bibo, G/F, 163 Hollywood Road, Sheung Wan, Hong Kong, +852 2956 3188