With the festive season truly upon us, we are doing our best to curb the feasting guilt during this short two-week window between Thanksgiving and Christmas before diving spoon-first into even more indulgent spreads that await. Luckily for us, a helpful handful of plant-based menus have popped up around the city to help satisfy these last-minute healthy cravings.
Komune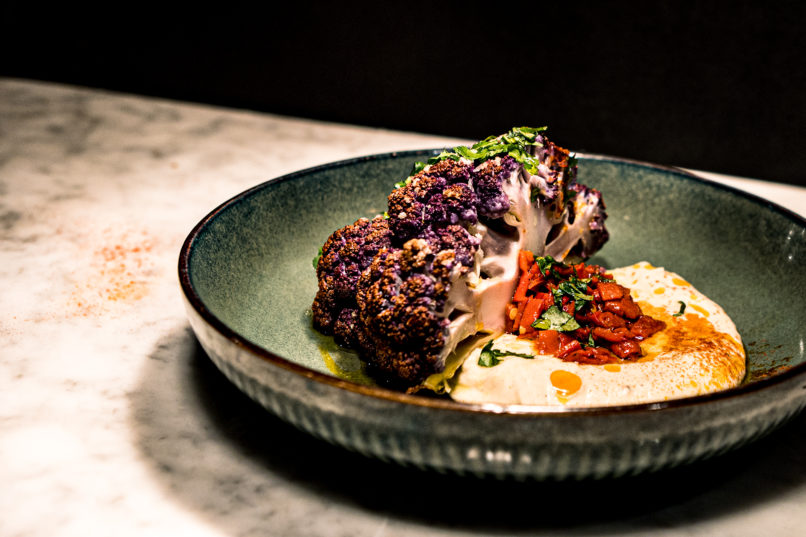 Ovolo Southside's Komune has recently gone fully vegetarian as part of the hotel group's latest sustainability commitment, hailed as the 'Year of the Veg,' which pledges all of its establishments — restaurants, bars, and even room service — to go fully green for a whole year. Helmed by chef Raul Tronco, the all-day dining spot pushes the traditional boundaries of plant-based cooking with Asian, Indian and European flavours. New favourites on the revamped menu include charred guacamole and tomato waffle (HK$88), a twist on a Hong Kong classic with a half-chargrilled avocado atop a tomato egg waffle served with pico de gallo. There's also a hearty green risotto with seasonal wild mushrooms, crunchy asparagus and fresh pumpkin (HK$208); and a beetroot pizza with vegan red pesto sauce, topped with zucchini, onion, black olive and kale (HK$118). 
Kömune, Ovolo Southside, 64 Wong Chuk Hang Road, Aberdeen, Hong Kong +852 3460 8157 
The Tea Academics
Tucked away on the first floor of LHT Tower is The Tea Academics, a new tranquil rest stop from the busy streets of Central. The latest concept from the creative minds of The Coffee Academics, the modern tea café spotlights on speciality teas and plant-based food. Health-conscious small plates include the Omni Pork dan dan noodles (HK$108), topped with mushrooms, numbing Sichuan peppers and shiso, all swirled in a smooth peanut sauce; and Impossible skewers (HK$128), spiced plant-based meat skewers on a bed of green hummus, roasted peppers and served with grilled flatbread. To drink, choose from the selection of loose leaf tea sourced from six different regions or sip on original tea concoctions including the Botanist (HK$68) a iced Phoenix Dancong Oolong tea shaken with longan, jujube and first flush Darjeeling syrup; and the Pu'erh (HK$58) a hot tea latte made with the namesake's dark leaves, dried mandarin peel, and topped with cacao powder and lavish gold foil.
The Tea Academics, 1/F, LHT Tower, 31 Queen's Road Central, Hong Kong, +852 3187 7303
Kind Kitchen by Green Common
The casual vegan eatery from the city's favourite green-grocery spot Green Common continues to bring all-veg meals onto dinner tables. In time with the arrival of cooler weathers, Kind Kitchen has introduced a new menu packed with soul-nourishing dishes. Try the belly-warming Heartwarming spicy noodles (HK$72), a vegan alternative to the soupy hot and sour dish, made with chewy sweet potato noodles and topped with Taiwanese braised OmniPork, Just Egg strips, bean sprouts, black fungus, pickled vegetables and peanuts. Those craving a nourishing fix can try the Chinese herbal soup noodles (HK$82) brewed with rejuvenating dong quai (Chinese angelica), liquorice, shiitake mushroom, black fungus and served with OmniPork strips atop a bed of yam noodles.
Kind Kitchen, Shop 1, 1/F, Nan Fung Place, 173 Des Voeux Road Central, Hong Kong, +852 2110 0055