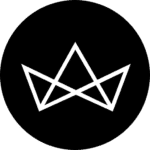 New Eats: Summertime treats from Dang Wen Li by Dominique Ansel, Two Moons Distillery, La Paloma and more
Summers in Hong Kong. The season of weekend junk trips. Endless days at the beach. Ice-chilled drinks and picnics in the sun. Fill up grab-and-go hampers with everything you need for perfect day out, whatever the agenda may be, including buttery pastries from Dang Wen Li by Dominique Ansel, sweet cannolis from a collaboration from Okra and Holy Cannoli, a calamansi-flavoured G&T from Two Moons Distillery and super-sized paellas by La Paloma. Enjoy your time in the sun.
Okra Hong Kong x Holy Cannoli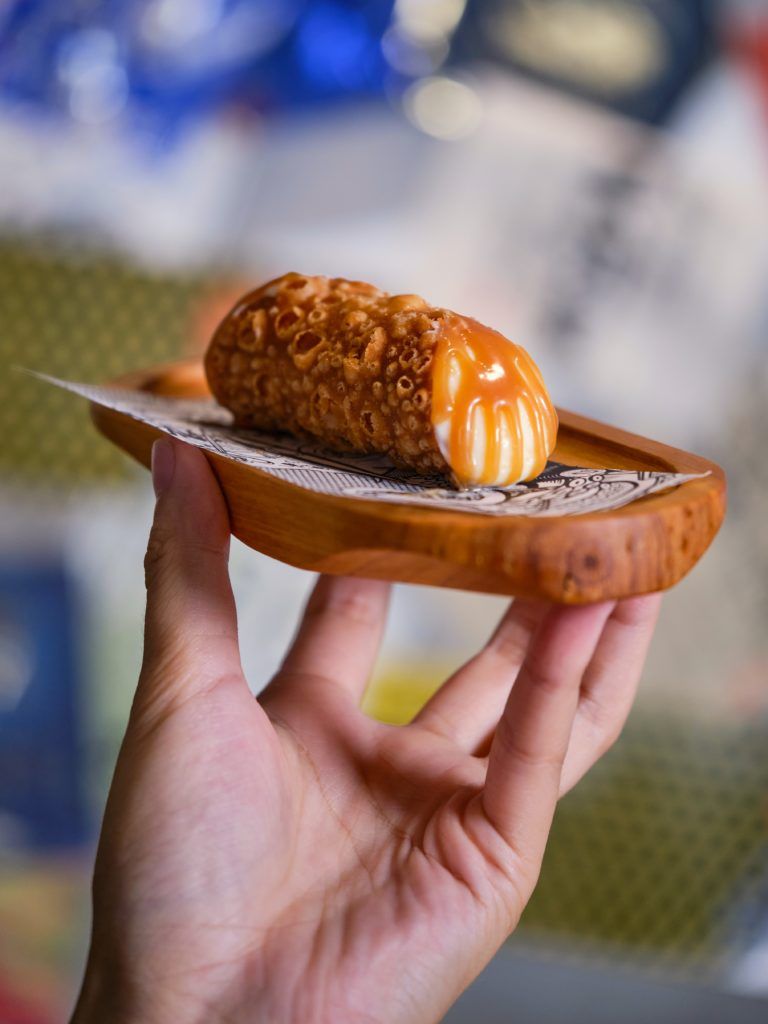 Counting as one of Okra's final hurrah before closing its door on 31 July, the neighbourhood izakaya partners up with Holy Cannoli for an exclusive brunch experience spotlighting the sweet Sicilian pastry. Available for one day only — 19 June — the cannoli is refashioned as both a sweet and savoury one-bite wonder, blending creamy fermented tofu, caramel, ginger and delicate white chocolate filling within a crisp soybean shell. Okra's chef Max Lexy, who happens to also be a sake sommelier, has also curated a special beverage selection to complement this 'Okra-style' cannoli, head-lining with the Fukuoka-famed Wakatakeya Kyoho Umeshu Sake (HK$90 per glass), Hong Kong-collaborated The Bitch Sake (HK$1,500 per bottle) and the light Sherry Shochu Highball (HK$110 per bottle) amongst others.
Be quick with reservations; Okra's last day of operations is on 31 July.
Okra, 110 Queen's Road West, Sai Ying Pun, Hong Kong, +852 2806 1038
Dang Wen Li by Dominique Ansel's latest flagship and 'Croissant Toast'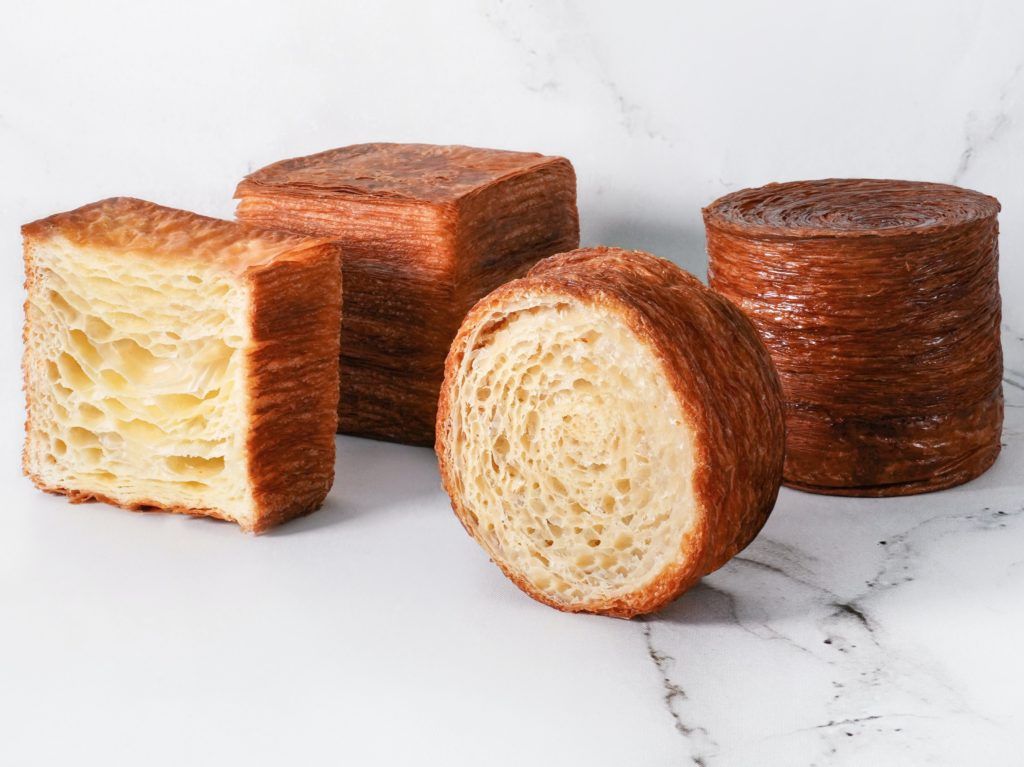 If you haven't had enough of Dang Wen Li by Dominique Ansel's buttery DKA and cronuts, good news, the beloved viennoiserie has just opened shop in the ground level of H Queen's. Even better news, two new pastries are added to the delicious rota: the sea salt croissant toast (HK$45), a classic loaf made better with the delicate flaky layers of a croissant and a sprinkling of British sea salt; and the other, maple croissant toast (HK$48), a cylindrical edition, drizzled with the glistening sheen of maple syrup. Both worthy companions for a morning cup of coffee.
Dang Wen Li by Dominique Ansel, Shop 2, G/F, 80 Queen's Road Central, Central, Hong Kong, +852 3482 7735
Two Moons Distillery launches new gins and new cocktails at Quinary and The Pawn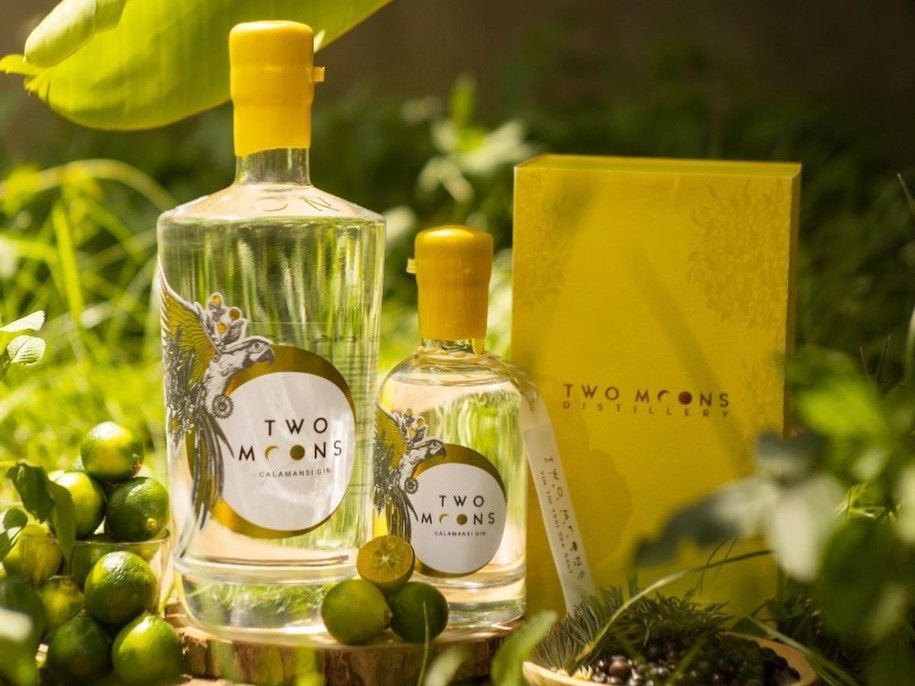 An exciting new alternative to summer G&Ts courtesy of Two Moons Distillery latest launch: calamansi gin. The zesty South East Asian fruit, hand-picked at a local organic farm at Sheung Shui, is distilled with juniper berries and a hint of spruce at the Two Moons craft gin distillery in Chai Wan — the first ever in Hong Kong — for a refreshing new spin on the classic bar-cart spirit. Sample a taste of specially made cocktails spotlighting the calamansi gin firstly at Wan Chai's The Pawn Botanicals Bar with the Crescent Moon Collins (HK$140), shaken up with sencha, mint and lime, then at Central's Quinary where the Asia's 50 Best Bar has been transformed into a summer garden blooming with rare flora and fauna. Three tipples top the limited-time menu here, including 'South Seas' (HK$160), a citrusy Two Moons calamansi gin-based tipple bolstered by more calamansi juice, yuzu juice, elderflower, mint soda and a frothy sea salt foam.
Quinary, G/F, 56-58 Hollywood Road, Central, Hong Kong, +852 2851 3223
The Pawn Botanicals Bar, 62 Johnston Road, Wan Chai, Hong Kong, +852 2866 3444
Zuma's 14th anniversary tasting menu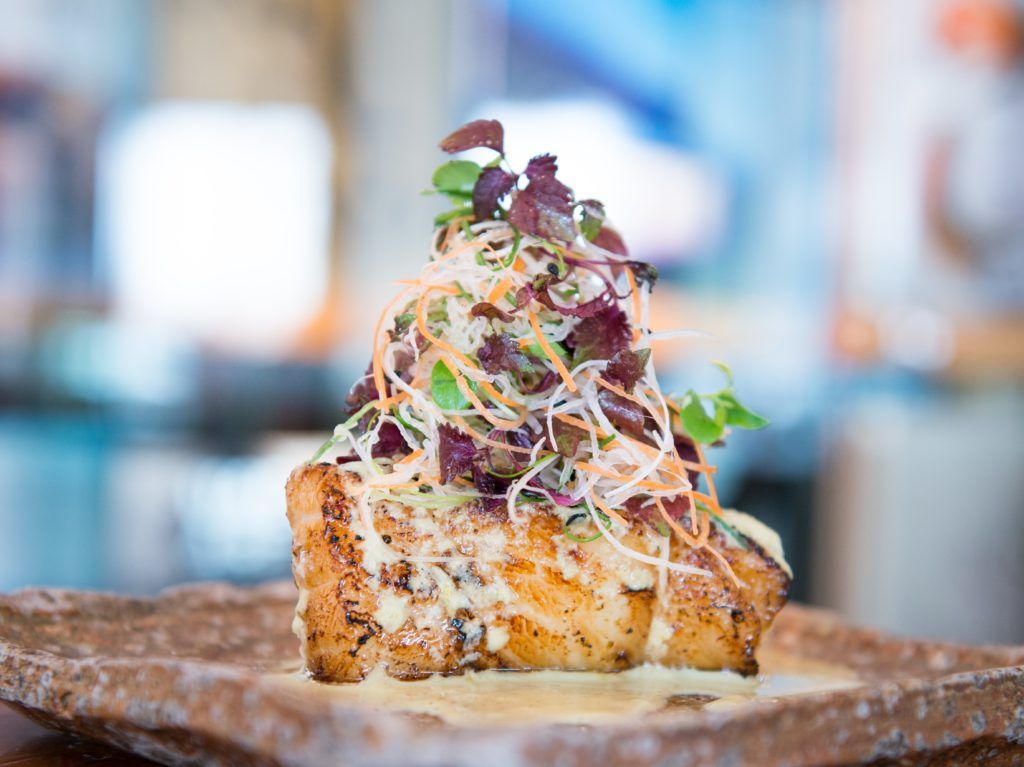 The city's sleekest izakaya, housed atop the moneyed lobbies of Landmark, is turning 14. To celebrate, Zuma launches a limited, one-night-only tasting menu (HK$1,280) featuring some of its most favourite top hits: seared tuna tataki, spicy beef tenderloin and Chilean sea bass with green chilli ginger dressing will be amongst the scrumptious menu. Of course, don't forget the venue's signature free-flow packages. For the special evening, it'll be a beautiful bottle of bubbly that accompanies the meal.
Zuma, Level 5&6, Landmark Atrium, 15 Queen's Road Central, Hong Kong
Giant paellas at La Paloma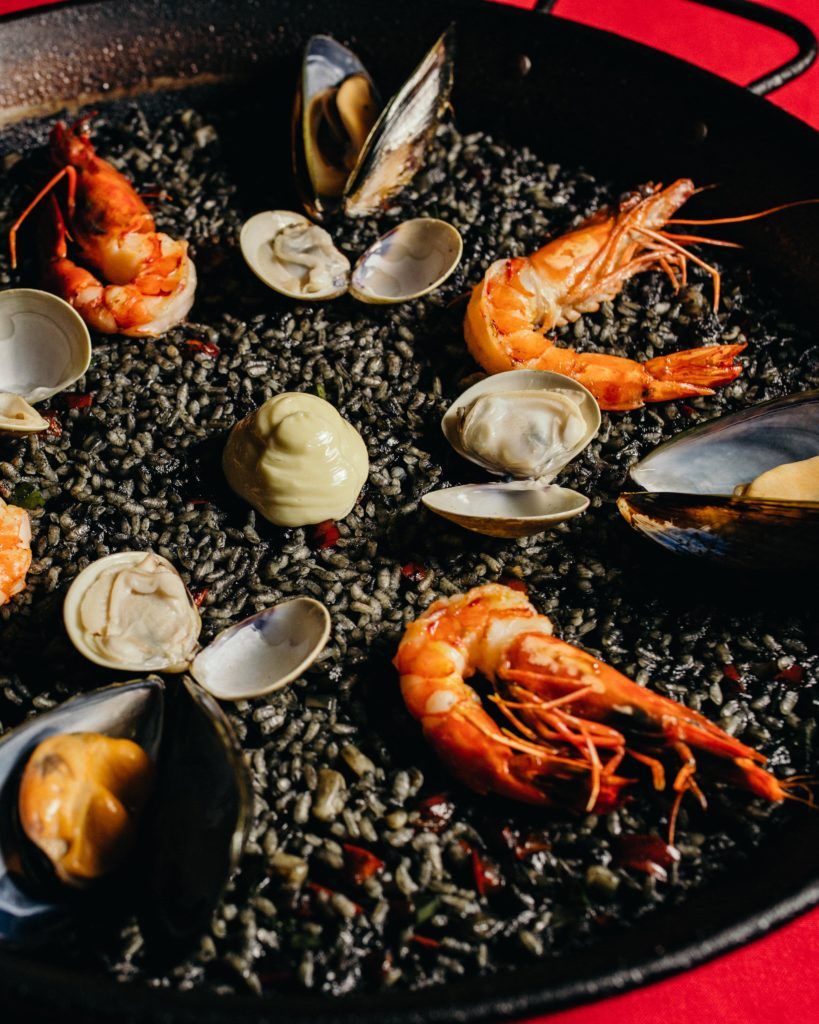 The quintessential dish of any Spanish summers — paellas — return to La Paloma bigger and even better with 'Hot Wednesday' (HK$398), a new series featuring a rotating list of collaborating chefs who joins chef-owner Alex Fargas on reimagining the giant one-pan dish. The 'Hot Wednesday' menu will rotate each fortnight with three matching tapas of the same creative fusion. The event kicks off 9 June with a modern British take by Mr Wolf's chef Jamie and will be followed by chef Satoru from Sushi Kuu on 23 June, chef Manuel of Ichu on 7 July, chef Dang of Nhau on 21 July, before ending with chef Max of Okra on 4 August. Down it all with a refreshing jug of sangria — that's one way to beating the Hong Kong summer heat. Cheers! 
La Paloma, 189 Queen's Road West, Sai Ying Pun, Hong Kong, +852 2291 6161
Ole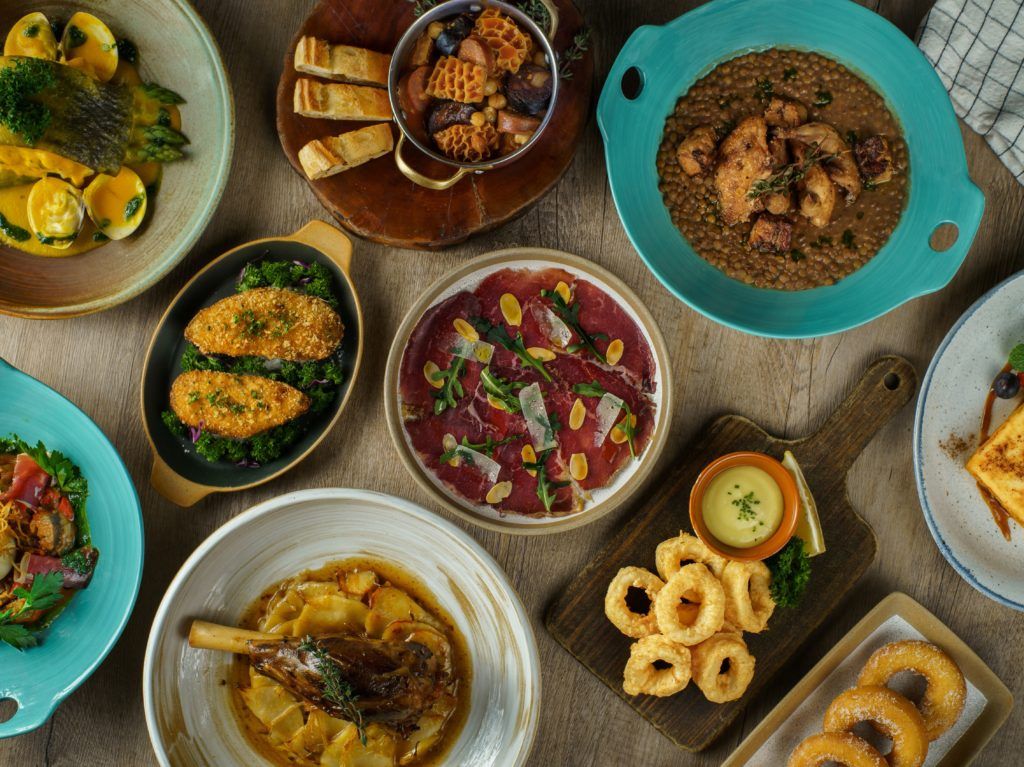 A two-week getaway to sunny Spain is typically what we'd have planned for the summer, but while we remain grounded through the balmy months, a trip to Ole, the long-standing Spanish eatery on Ice House Street, will have to suffice. For now. With a staunch commitment to spotlighting authentic Spanish cuisine (it's last dedication was to Andalusia in southern Spain), Ole rolls out with a limited-time Castilla menu (HK$480) focusing on six signature dishes from the central Spain region, specifically Madrid, Castilla – Y León and Castilla – La Mancha. Sample the likes of callos, a traditional Madrid dish made with beef tripe in a saucy chickpeas and chorizo shew; roasted lamb shake Segovia style and sweet lecha frita. The Casille menu ends 30 June.
Ole, 1/F, Shun Ho Tower, 24-30 Ice House Street, Central, Hong Kong, +852 2523 8624
Header image courtesy of La Paloma.