The return of dinner services and drinks after 6pm is news worth celebrating. Finally, the chance to make up for missed-out birthdays and long-awaited catch-ups with three of your closest friends. Make the moment special with a booking at the city's newest restaurant openings. Check one from the list below.
The Aubrey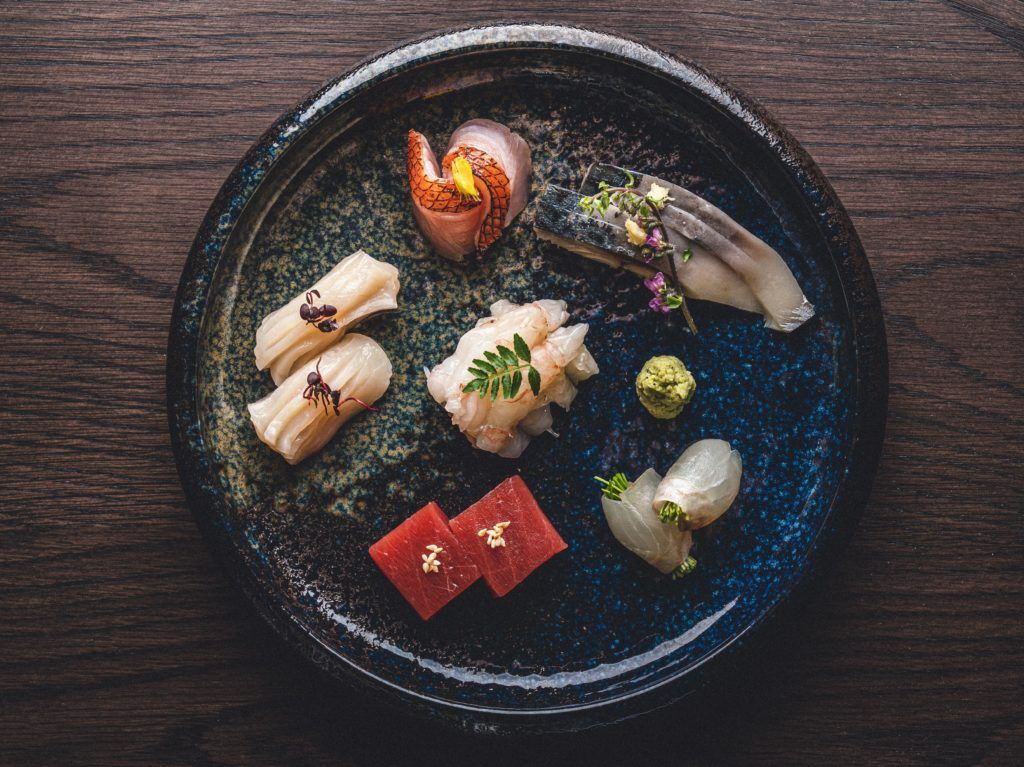 Modern Japanese fare is a cuisine well and truly loved. The Aubrey, opening atop the Mandarin Oriental marks the city's latest addition. An entirely unique one, at that. Ideated by Maximal Concepts, the izakaya-inspired restaurant — cosy, homey, an extension of your living room — is perched atop the 25th floor, taking over the space of previous French fine-dine spot Pierre. If the three different bar experiences impressed, take a gander at the The Aubrey's extensive menu, led by chef Yukihito Tomiyama (previously at the one-Michelin Shinji by Kanaseka in Macau). Expect an honest tribute to traditional izakaya plates — finished with a twist. There's sea-fresh sushi made in chef Tomiyama's traditional Edomae technique, robata grilled on binchotan-grilled and an expert showcase on tempuras. Bento boxes with samplings of the restaurant's signature dishes will be available only at lunch too. May we take this moment to recommend the miso sablefish and the white miso soufflé upon your next visit?
The Aubrey, 25/F, Mandarin Oriental, 5 Connaught Road Central, Central, +852 2825 4001
TMK: Rap and Rolls
It's always good food and great tunes at TMK. Punk was the genre of choice at the first Sheung Wan location, for the second lively temakeria on Wan Chai's star street precinct: pulsating rap beats. Signature temaki rolls dot the menu, with the 'TMK All-Stars' — tuna hotdog, seared scallop and salmon taco — making an appearance. What's new here is not only the renewed 80's hip-hop energy, heavily graffitied walls and bright neon lights, but menu exclusives like the nori bowls. Available in three choices — rice, salad or noodles — with five different variations from salmon and tuna to an all-veggie tofu. But we must take a moment here to highlight the innovative desserts, all new creations you'd never think to have, like the poppin' ice cream: plain ol' vanilla ice cream topped with an unexpected drizzle of olive oil and a sprinkle of nori flakes and popcorn. Don't question it, it's just one of those things you've just got to try to know.
TMK: Rap & Rolls, Shop A, 17A Moon Street, Wan Chai, Kowloon, Hong Kong, +852 2779 9002
The Last Resort
Take no notice of the name, this is not a spot you'd want to miss. The Last Resort is the newest dive bar upon Soho's busyPeel Street. Here, it's all about unapologetically delicious food. It's unassuming, nostalgic and neighbourhood-friendly; there's photos of Canadian memorabilia framed upon the wall, flatscreens with sports channels on loop, tables lit up by neon lamps — a hangout spot you'd love to frequent. The menu, prepared by chef Jowett Yu (formerly of Fukuro, Ho Lee Fook and Le Garcon Saigon), is a short and simple, countable on your fingertips, with the star dish: a "shatteringly crisp" fried chicken seasoned with 12 different spices blend and paired with a delicious sour cream mix sweet chilli dip. Yum. It's brined overnight, double-fried and made with three-yellow chicken from New Territories — one of the more authentic attempt at fried chicken in the city. Come here when you're in need of comfort food (the deep fried scamorza!) or a delicious drink — the cocktail menu is worth visiting on its own. HK$50 drinks, hello? We'll be staying all evening.
The Last Resort, 52B Peel Street, Central, Hong Kong, +852 2442 2440
Cabana Breeze Bar & Grill
As we eagerly await for travel restrictions to lift, a journey out to Lantau island is a welcome alternative. Tung Chung's newest alfresco dining spot Cabana Breeze is the nearest you'll get to a beachside vacation. A getaway we're so longing for! The tiki-inspired restaurant (pet-friendly too!) is the recreation of a laidback lifestyle on island time — all-day cocktails, rattan loungers and a bar trolley rolling from table to table stocked with the restaurant cocktails shaken up with a twist: 'Maui Margarita' remade with pink grapefruit and pineapple juice or the 'Cabana Colada', the delicious coconut-infused white rum made with pineapple nectar, fresh coconut, guava and lime. Drinks for the summer season. Or any time you're in need of a reminder of a sun-drenched resort. Sharing plates are also a reminder with refreshing poke bowls, grilled seafood and easy Neapolitan-style pizza fired up in the woodstone ovens. Legs up and sun-hats on, we're spending long weekend afternoons right here.
Cabana Breeze, Shop G12-G15, T Bay, No 9 Yi Tung Road, Tung Chung, Lantau, Hong Kong +852 2777 8982
Man Wah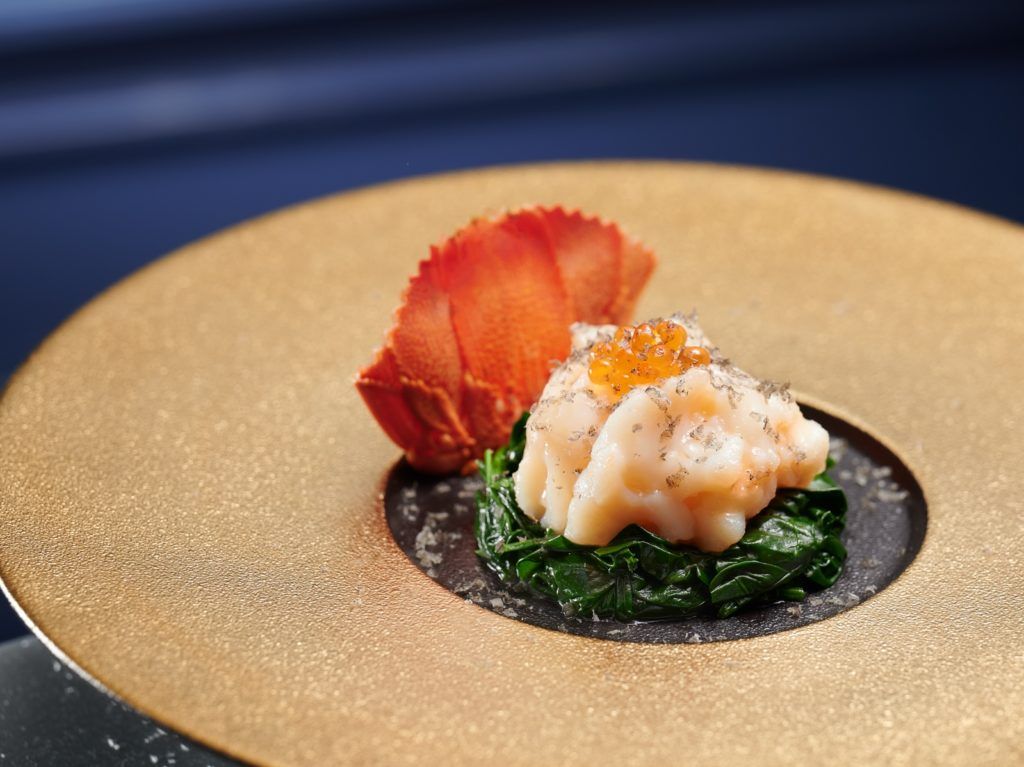 Fans of Mandarin Oriental's Man Wah will be thrilled at the news of the Cantonese restaurant's recent reopening. No better way to celebrate than with a sampling of executive Chinese chef Wing-Keung Wong's refined take on time-honoured classics. New signatures of the Michelin-starred eatery include modernised classics the likes of pan-fried Japanese scallop garnished with soybean crumbs and a dab of garum made with fermented scallop skirts, as inspired by the Nordics; or a baked local lobster in superior fish broth, made from a three-hour boiled stock and topped with briny French caviar remade in a traditional Japanese karasumi technique: dehydrated, rolled and frozen overnight.
Perhaps the most impressive detail on the menu is chef Wong's showcase of forgotten Cantonese culinary gems, like the deep-fried Matsutake mushroom pudding (or guo-ja) with roots that trace back to a Qing Dynasty version made with chicken testicles. And barbecue duck feet roll, a rarer type of siu mei that's no longer widely available . To perfect its creation, chef Wong mastered the tricky technique under the discerning chefs of the older generation. A place to be visit on days that warrant some culinary inspiration perhaps.
Man Wah, 25/F, Mandarin Oriental, Central, Hong Kong, +852 2825 4003
Moon Palace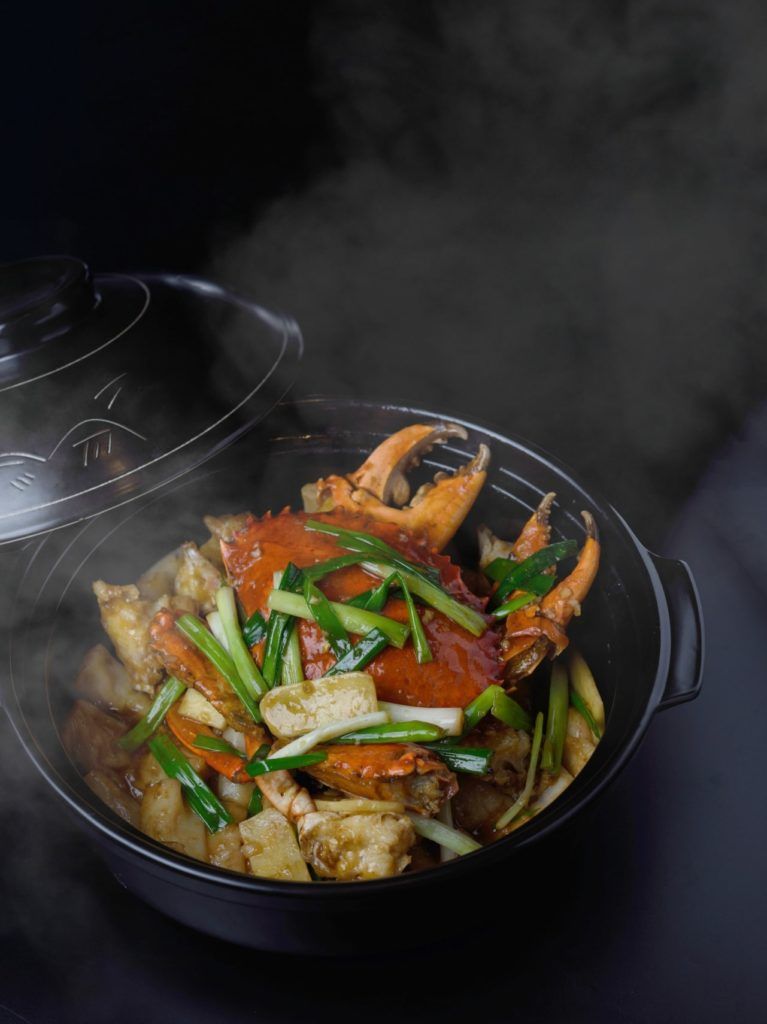 The newly opened Moon Palace may be far from the action, but make no mistake because Cantonese fare is taken very seriously here. Five-star quality even. It's the brainchild of two esteemed chefs: 30-year experienced Chi Kwong Lee of authentic Cantonese dishes and dim sum expert chef Sai Fai Chan. Together, an expert showcase of the traditional cuisine's finest executed with inimitable finesse: deep-fried pigeon wrapped in taro, Chinese yellow wine soaked pork knuckle in casserole, and time-strenuous double boiled chicken soup. For the matters of dim sum in bamboo baskets, expect artisanal takes on the Sunday favourites: the stuffed crab claws and pan-fried bamboo shoot dumplings are amongst chef Lee's staples.
Moon Palace, Shop G25, Festival Walk, 80 Tat Chee Avenue, Kowloon Tong, Kowloon, Hong Kong, +852 2337 8213
Lady Nara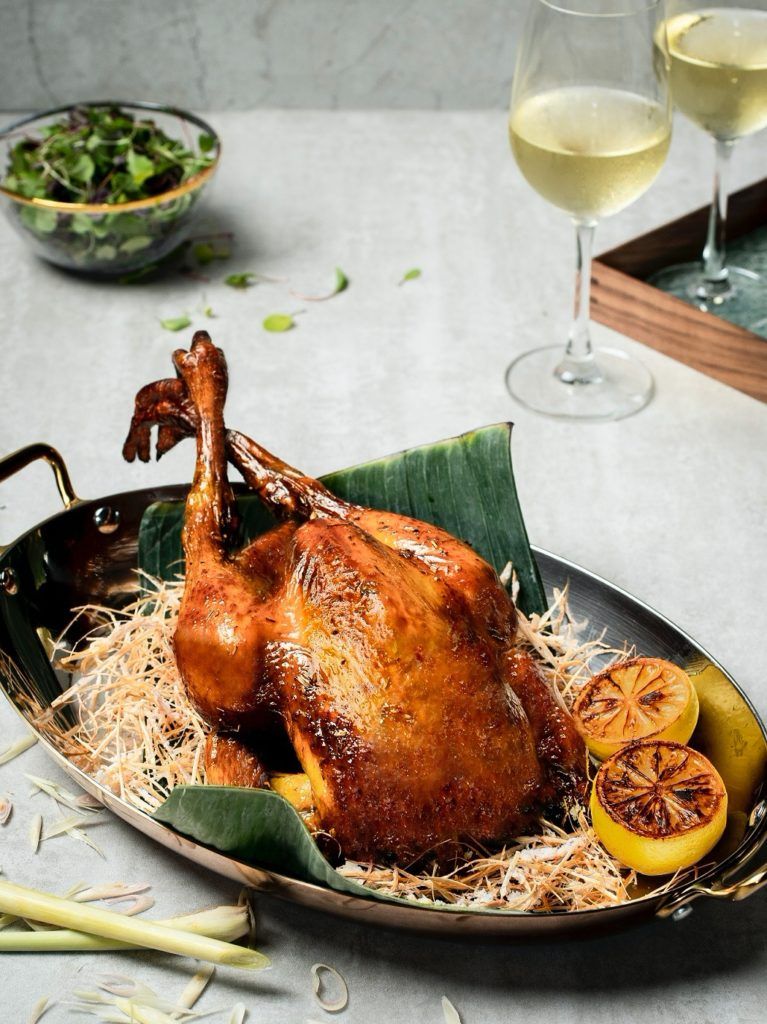 Think Thai fusion and there's probably not a specific dish that comes to mind. With the arrival of the Bangkok-based café, Lady Nara, however, that's about to change. A pastel-pink affair, much like it's original concept, the menu here is a reflection of the delicate interiors — elegant western-inspired plates tweaked with a Thai-inspired twist. There's the classic lobster bisque recreated with typical Tom Yum spices including kaffir lime leaf and lemongrass; a roast chicken brushed in an overnight marinade of fish sauce and lime juice among a variation of 18 spices; and perhaps the most interesting, Lady Nara nachos, remade with Thai soy sauce and basil-infused cheese, blanketed with, Phad Kaprao, a Thai-style pulled pork and served with pineapple salsa seasoned with fish sauce and guacamole made with Thai chilli sauce.
Lady Nara Hong Kong, Shop 3303, 3/F, Gateway Plaza, Harbour City, 3-27 Canton Road, Tsim Sha Tsui, Hong Kong, +852 3153 3730
Toriten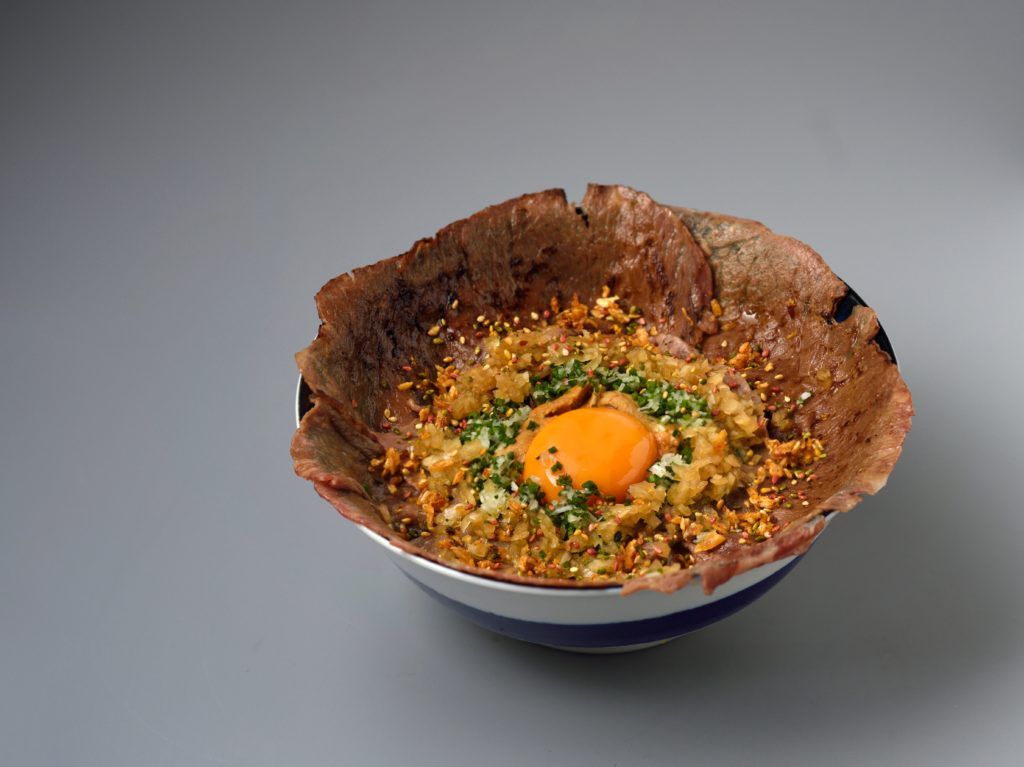 Another new Japanese spot in town! Toriten at Kowloon Tong's Festival Walk offers authentic Japanese that places focus on seasonal ingredients. The menu is a generous range of all-time favourites from off the grill skewers, moreish donburis, inventive ramen borth to even an impressive three version of omakase experiences. A celebration of the cusine's core staples, there's something at Toriten for every kind of diners. We'd especially be making the trip for the flamed wagyu donburi, satsuma chicken skewer glazed with plum and perilla sauce or the prawn in miso soup ramen — made from an aromatic trio of shrimp broth, shrimp miso and shrimp oil tied together with a mysterious, but surely delicious, secret recipe.
Toriten, Shop G25, Festival Walk, 80 Tat Chee Avenue, Kowloon Tong, Kowloon, Hong Kong, +852 2337 8223
Header image courtesy of Lady Nara