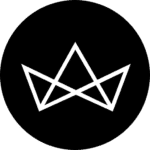 Ordering in? Here are Hong Kong's top delivery and takeaway menus, depending on your cravings
Living in this food-driven city, we're all spoilt for choice when it comes to dinner choices that are available just with a few taps on our phone.
Here, we've done the hard work for you and put together a list of deliveries and takeaways that'll satisfy every type of craving. Check back regularly for updates.
I'm hungry for…
Pizza
Honky Tonks Tavern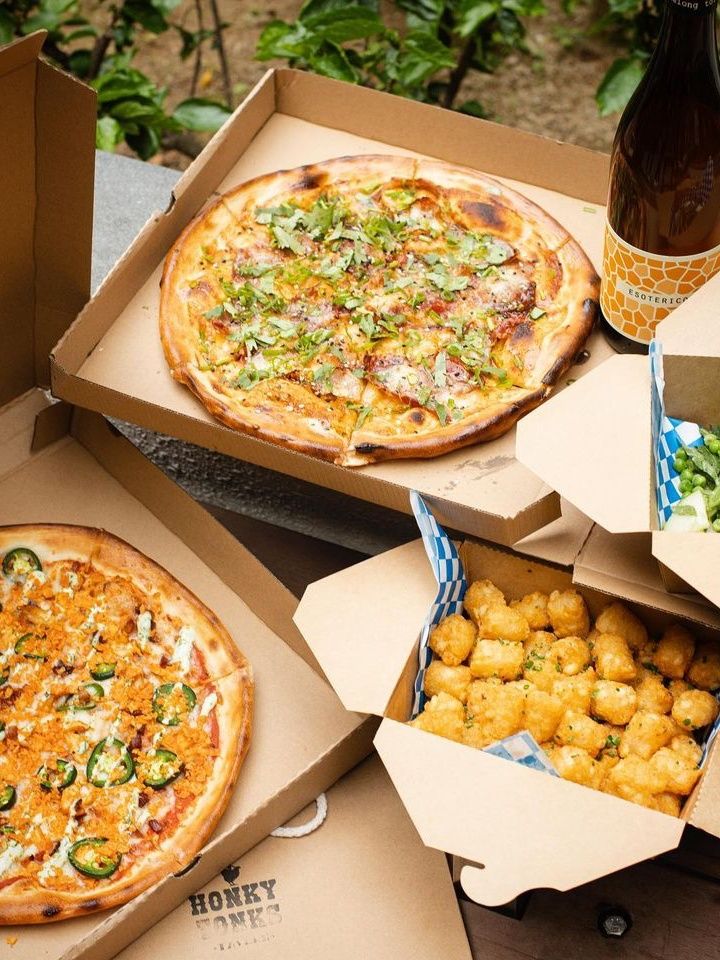 Despite its cheeky name, Honky Tonks Tavern delivers a serious attitude when it comes to food. Shady Acres' playful sister's easygoing, Southern-inspired menu is easily fit for feasts at home. On the list: hot fried chicken (from HK$75), salads (where sneaky garlic butter coated tater tots also sits) and pizzas (HK$110); try the 'White Trash' shredded chicken, bacon, ranch and Dorito dust; or 'Bee Sting,' with pesto, funky gorgonzola, salami and spicy honey. A handful of cocktails and bottles from its Australian natural wine programme are also available for you to take home.
Order details: Takeaway only; Whatsapp through +852 5428 5627.
Honky Tonks Tavern, Man Hing Lane, Central, Hong Kong, +852 5428 5627
Mother of Pizzas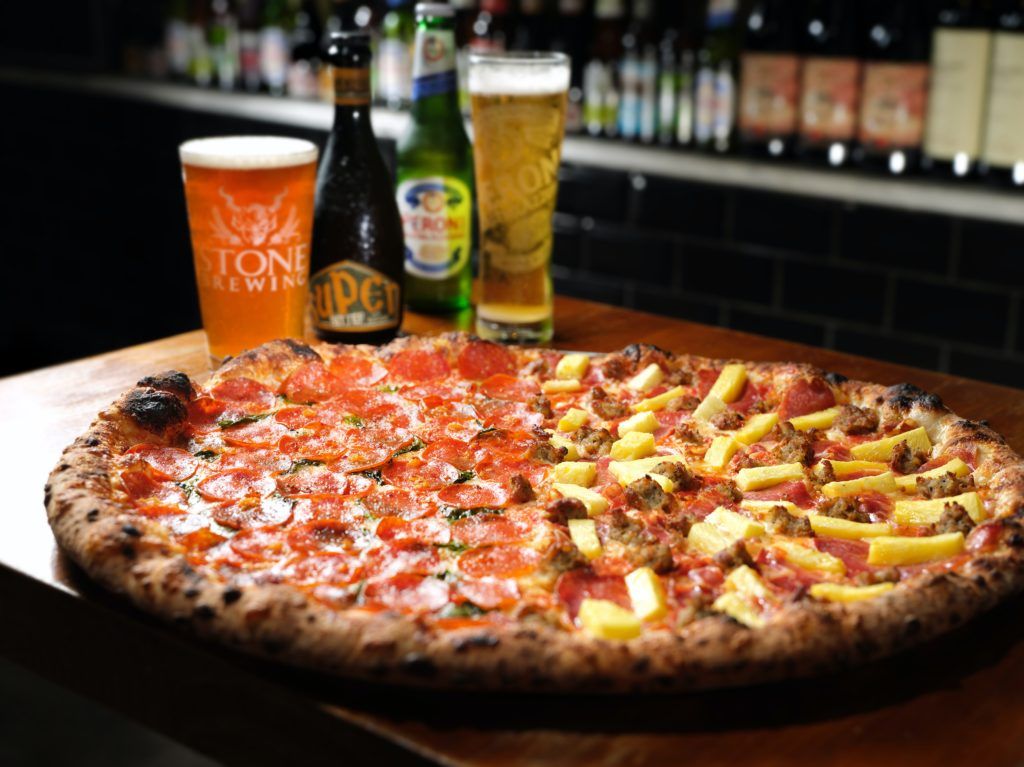 At the end of a day when you just can't even anymore, as the kids say, the ramped up pies from Mother of Pizzas will be a balm to the soul. Blending a Neopolitan base — risen for 48 hours and rapidly fired in a 800 degree oven — with no-holds-barred New York-style toppings, the flavour-packed slices will be a satisfying ingredient to your evening plans. Choose from deliciously (and generously) packed slices including Summer of Love 1967 (HK$228), controversially topped with pineapple and drizzled with chilli-infused honey, Holland Spicy (HK$228), furiously hot slices balanced out by mozzarella and grilled chicken and the photo-worthy Canadian (HK$228), fanned out with thinly sliced and lightly crispy portobello mushrooms.
Order details: Mother of Pizzas is working with FoodPanda as a delivery partner.
Mother of Pizzas, Ground Shop, 13-19 Leighton Road, Causeway Bay, Hong Kong, +852 2891 2221
Italian
Fini's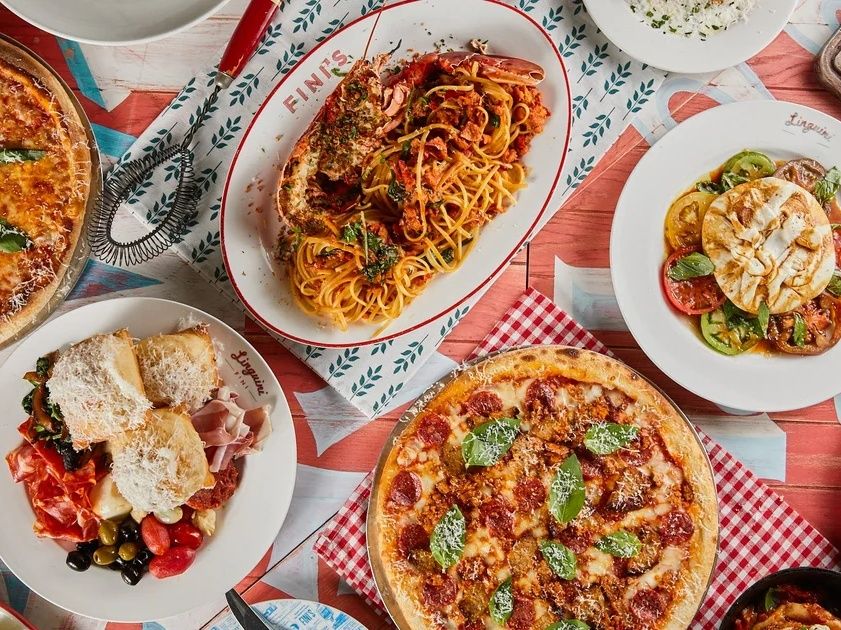 If a hearty and homey plate of carbs is what you're after, the spirited Italian-American eatery is packed with feel-good favourites that hit the right spot especially on a cosy night in. Choose from small plates such as the signature homemade mozzarella, then dig wholeheartedly into the easy and familiar mains. The restaurant also caters portions up to 20 (or for a very hungry few), featuring a combo set of grilled pizza bruschetta, hot wings, meatballs, vodka farfalle and more.
Order details: Delivery for Fini's can be placed via Deliveroo. For sharing combos for 10 people and above, orders must be placed one day in advance.
Fini's, various locations including 49 Elgin Street, Central, Hong Kong, +852 2387 6338
Aria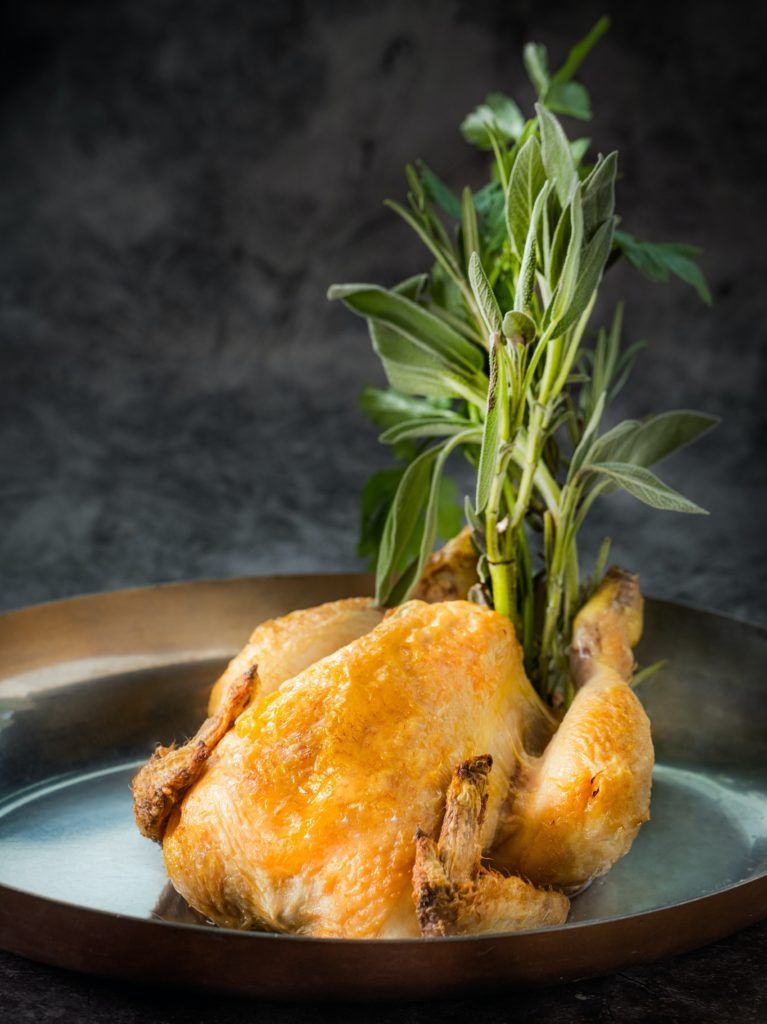 Looking for something a little more discerning for a fancy night in? The sweeping city views at date-night-friendly Aria will undoubtedly be missed when tucking into its exquisite fare at home, but luckily its top quality ingredients and traditional Italian plates remain the same. Fit for two, the December takeaway menu (HK$3,788) showcases executive chef Andrea Zamboni's innovative flair with fresh grilled prawns and scallops, warm spaghetti salad with Royal Cristal caviar and a black truffle stuffed whole spring chicken served with roasted potatoes and chestnuts. As per tradition, a creamy, indulgent tiramisu alla Milanese rounds up the meal.
Order details: The takeaway menu is available from 24–31 December. For self-pickup orders placed via Lan Kwai Fong Delivery Direct, enjoy a 25 percent discount.
Aria, 24/F, California Tower, 30–32 D'Aguilar Street, Central, Hong Kong, +852 2804 1116
Japanese
Homemakase
If the inspiration hits for a front-row seat at an esteemed omakase bar, thankfully there's Homemakase, serving exactly what the portmanteau reads: An omakase experience at home. Simple, uncomplicated, high-quality ingredients dot the extensive menu from premium Bafun uni, sweet and plump shrimps to bluefin toro, all jet-fresh from various regions of Japan. Roll your ownmaki and assemble your favourite nigiri with the accompanying recipe guides and serve your own restaurant-grade sushi at home — it'll sure be a dinner trick worth bragging about later. 
Order details: For deliveries on Tuesdays, Wednesdays and Thursdays, order by Monday 8:30pm. Deliveries for Fridays, Saturdays and Sundays, order by Wednesday 10:30pm. Homemakase menus are designed according to serving sizes, orders can be placed through WhatsApp at +852 6356 1047. More info at Homemakse's Instagram page.
Sushi Saito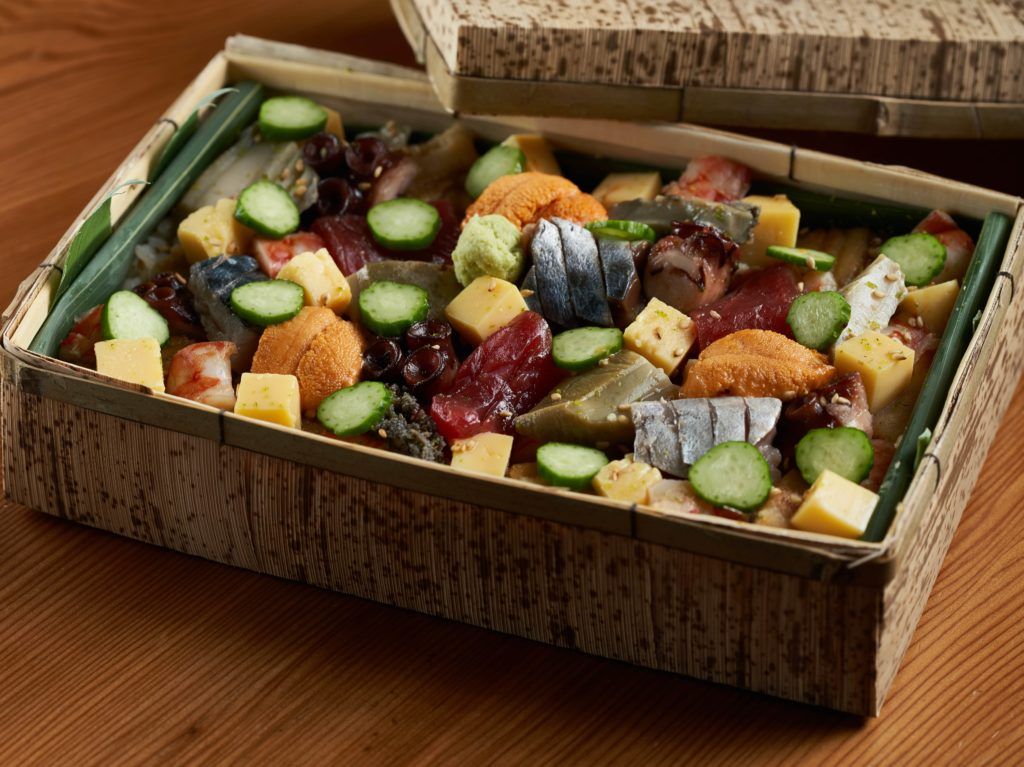 Procuring a seat at the Four Seasons Hong Kong's Sushi Saito is no easy task, but luckily for those who haven't yet experienced chef Kenichi Fujimoto's culinary craft will finally get their moment (and bragging rights) with a not-so-humble bento box from the two-Michelin-starred sushi bar. Like a booking, the elusive bentos come in limited quantities; only 30 are assembled each day and are only available while evening dining restrictions remains. Pick from a choice of two: the Futomaki (HK$680) rolls, filled with an assortment of kanpyo (pickled gourd), tamago, kurumaebi (Japanese tiger prawn), anago (sea eel) and morokyuri (pickled cucumber); or the hefty Barachirashi (HK$980), not your typical sashimi rice bowl with a cubed blanket of akami (lean tuna), tako (octopus), awabi (abalone) and uni atop warm, vinegary rice. The latest addition is a seasonal saba roll (HK$500).
Order details: The Futomaki and Barachirashi are available for pre-order while stock lasts and can be picked up from 12- 6pm daily.
Sushi Saito, 45/F, Four Seasons Hong Kong, 8 Finance Street, Central, Hong Kong, +852 2527 0811
Burgers
Honbo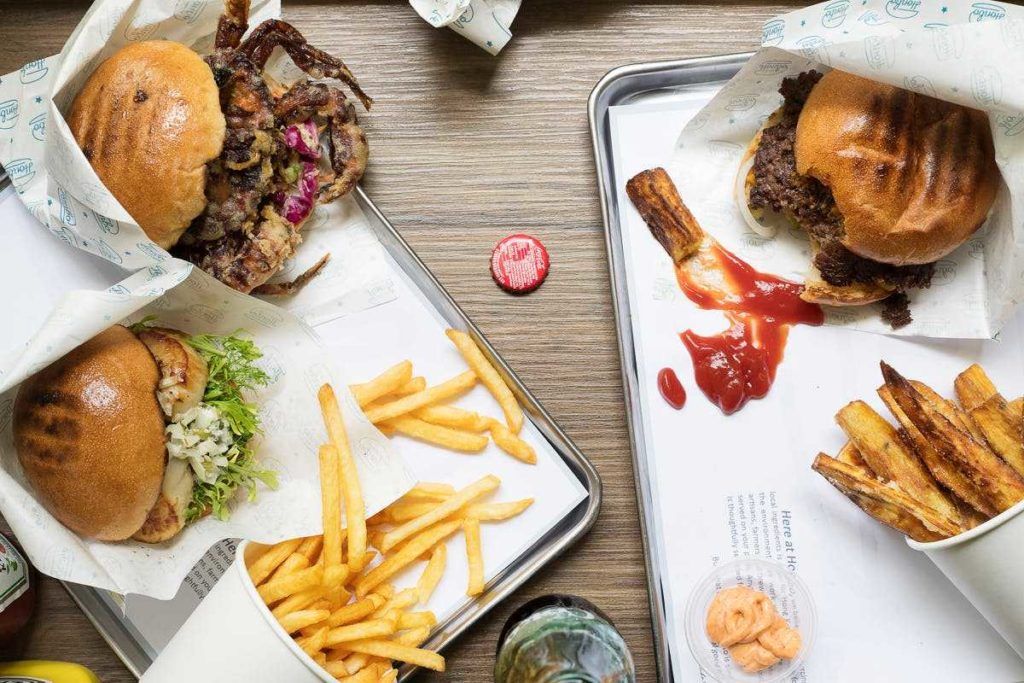 Cheat-day cravings will be fully curbed with Honbo's juicy, cheesy creations delivered to your doorsteps. Reward yourself after a home workout with the burger joint's classic cheese burger (HK$98) with a 4oz Wisconsin beef patty. If you're feeling extra cheeky, go for the Honbo 2.0 (HK$158) — a double-delight stacked with four 2oz patties. Alternatively, being mindful of your last ride at a now-closed gyms, the Impossible burger (HK$118), slathered in homemade XO vegan sauce, offers a greasy, guilt-freeish bite that is just as satisfying.
Order details: Honbo is working with Deliveroo and FoodPanda for delivery services.
Honbo, various locations including G/F, 6-7 Sun Street, Wanchai, +852 2567 8970
Burger Circus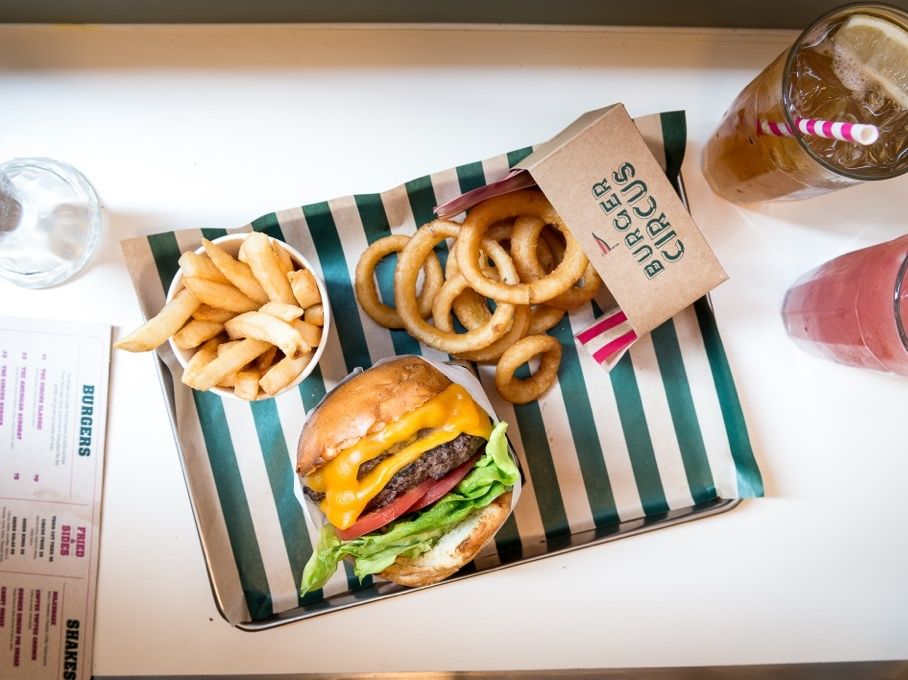 Somedays, an evening of pure no-holding back indulgence is exactly what you need. Indulge in Burger Circus then, which brings its all-American diner grub into homes. Get your hands dirty with a selection of classic winning combos like the American cheeseburger with a 5oz patty and oozy Wisconsin cheddar topped with secret 'Circus Sauce.' Be sure to add on crinkle-cut fries (HK$38), sticky wings (HK$88 for six) and cream-cheese stuffed jalapeño poppers (HK$78) to round out that balanced diet. While you're at it, bag the signature candy shake (HK$78) and a slice of the Pie of the Month: In this case, Milk n' Cookie for December.
Order details: Delivery can be placed via Black Sheep Go.
Burger Circus, 22 Hollywood Road, Central, Hong Kong, +852 2878 7787
Indian
Chaiwala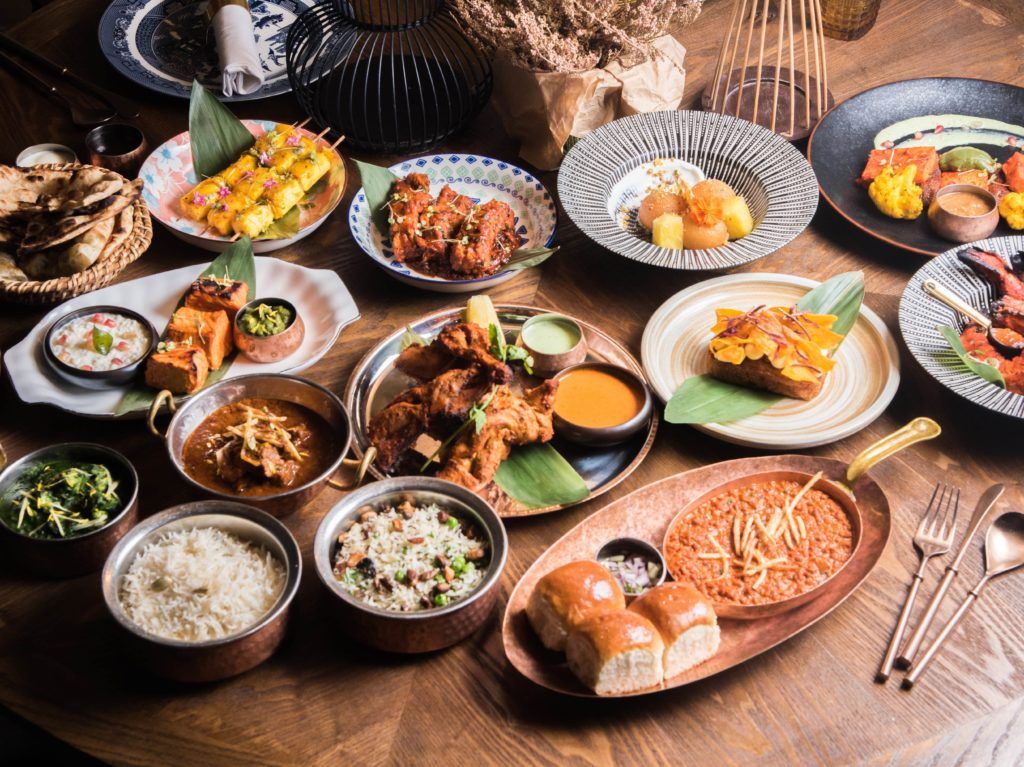 Recreate the lively atmosphere of Pirata Group's popular Indian hangout Chaiwala in your dining rooms with an order of its flavour-packed restaurant favourites: Think perfectly charred naans, creamy curries and sizzling tandoor hot-plates. Specially prepared sets are also available for the indecisive diner, and come with either a curry or tandoor dish, rice and bread for scooping up the sauce afterwards.
Order details: Delivery can be placed via Deliveroo. Any order over HK2,000 has to be placed a day in advance.
Chaiwala, Basement, 43-55 Wyndham Street, Central, Hong Kong, +852 2362 8988
Chaat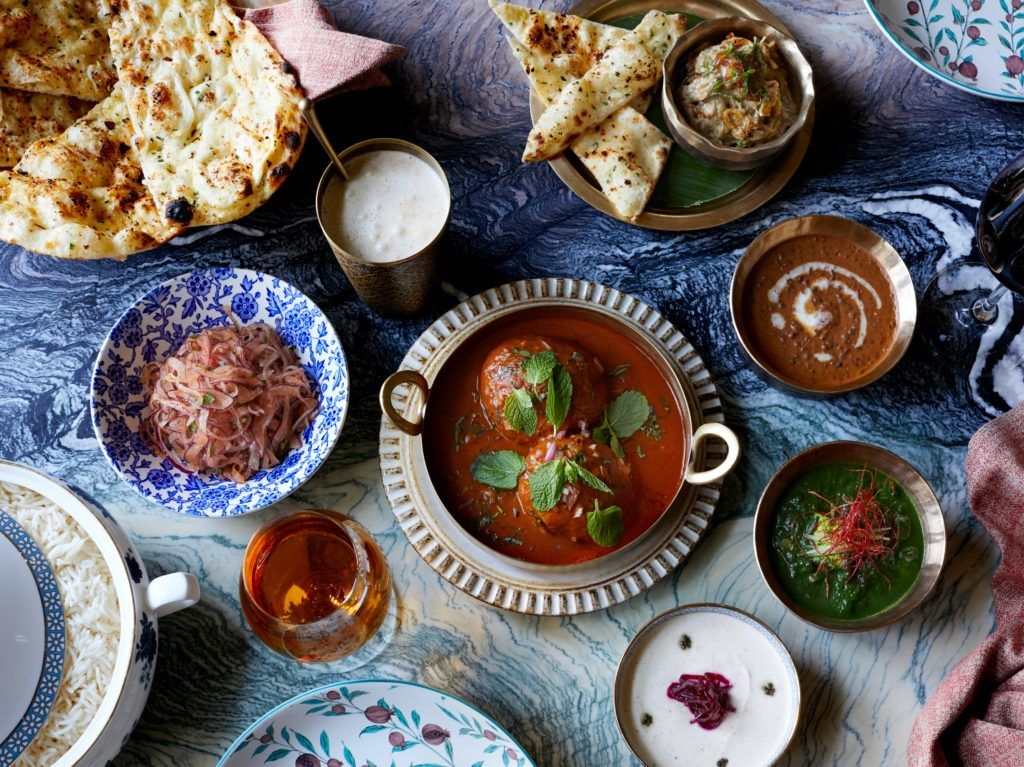 With rich, flavourful Indian fare inspired by the best street recipes found throughout the country, Chaat is sure to jolt the senses after a long day of work. Available under the 'Rosewood on the Move' service via delivery platform Deliveroo, the menu features comforting items ranging from the smooth and creamy Old Delhi butter chicken made with spiced tomato sauce (HK$248) or a fiery heat from the pork cheek vindaloo (HK248). Mains like the burnt chilli chicken tikka (HK$188) and mint chutney lamb chops (HK$398) can't be missed either, while the sweet and densely flavourful mango and coconut lassi (HK$90/each) can help quell some of the residual heat.
Order details: Available via the 'Rosewood on the Move' delivery program with Deliveroo. Cross-harbour deliveries need to be arranged a day in advance. More info here.
Chaat, 5/F, Rosewood Hong Kong, Victoria Dockside, 18 Salisbury Road, Tsim Sha Tsui, Hong Kong, +852 5239 9220
Chinese
Yung's Bistro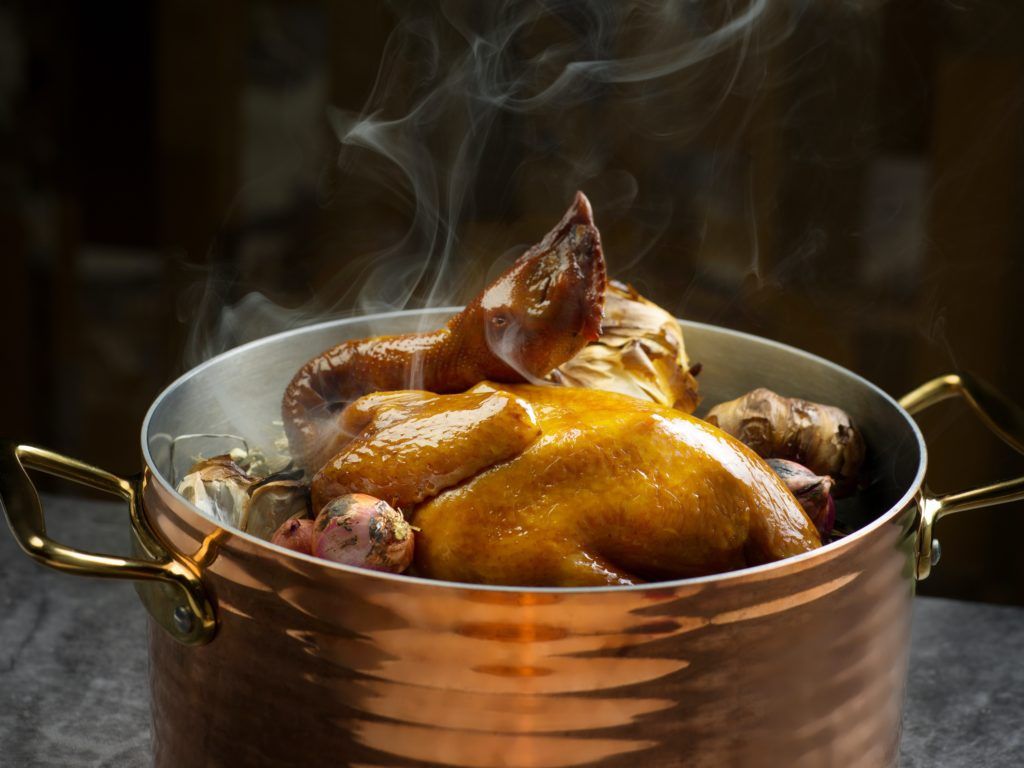 For a taste of comforting Chinese fare that'll impress all ages, check out Yung's Bistro, which gives a modernised twist to the traditional knowhow of its Yung Kee legacy. This month's show-stopping takeaway menu (HK$3,800) is a tantalising preparation of traditional Cantonese favourites. Made to feed a group of six, the some of the menu's highlights include abalone cooked with celtuce and mushroom; smoked baby chicken; fried sticky rice, as well as sautéed broccoli with crabmeat and braised meatball with salted egg yolk. For dessert, the White Rabbit Candy custard is a sweet childhood throwback: a jiggly, bunny-shaped milk pudding, sat upon a bed of rich chocolate crumbs.
Order details: The December takeaway menu is available from now through to 1 January. Orders can be placed at info@yungsbistro.com.hk.
Yung's Bistro, Shop 701, 7/F, K11 Musea, Victoria Dockside, 18 Salisbury Road, Tsim Sha Tsui, Hong Kong, +852 2321 3800
China Tang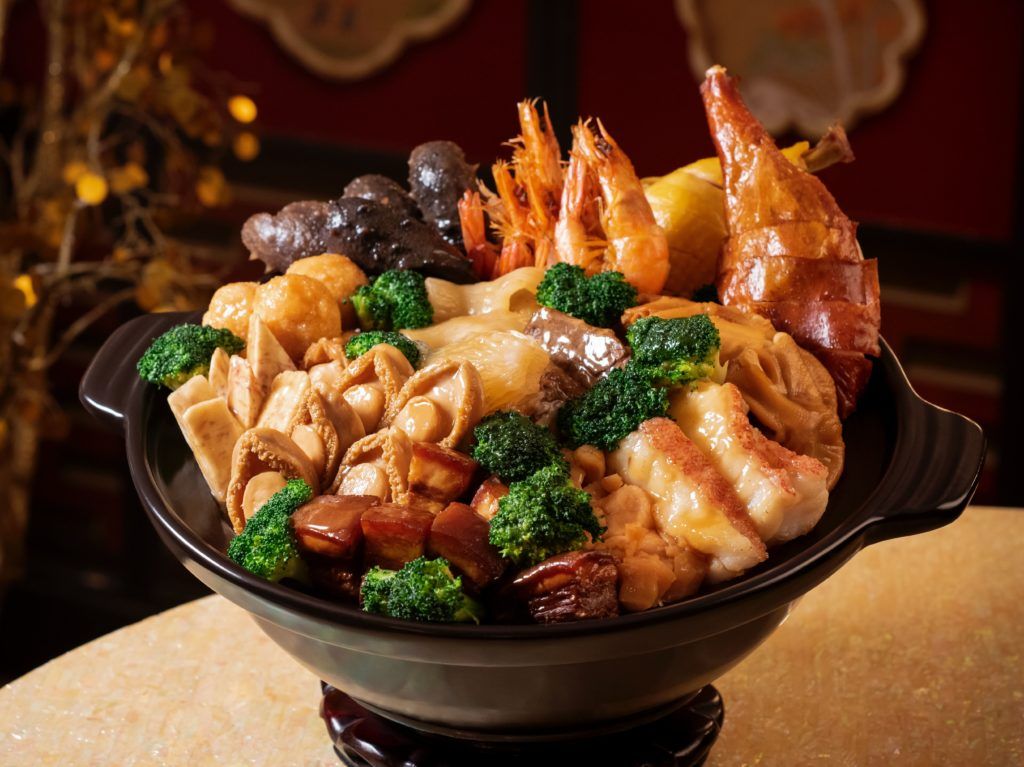 In traditional Chinese cuisine, the cooler months are often marked by nourishing ingredients and heartwarming casseroles; two instances brought together in China Tang Landmark's take on the classic Cantonese Winter Solstice dish: Poon choi (HK$1,988 for four, HK$2,933 for six), or 'pan dish,' designed to bring families together with its convivial way of sharing food (though this year, communal chopsticks are likely at the ready to stay safely distanced). Carefully stacked and layered together with 18 lavish ingredients, the Prosperity Year of the Ox poon choi is brimming with precious dried seafood such as abalone, fish maw and sea cucumber for a truly indulgent meal to spend time with family this winter — all the way through to Chinese New Year.
Order details: Available from now through to 28 February and must be ordered three days in advance.
China Tang Landmark, Shop 411-412, 4/F, Landmark Atrium, 15 Queen's Road Central, Hong Kong, +852 2522 2148
Duddell's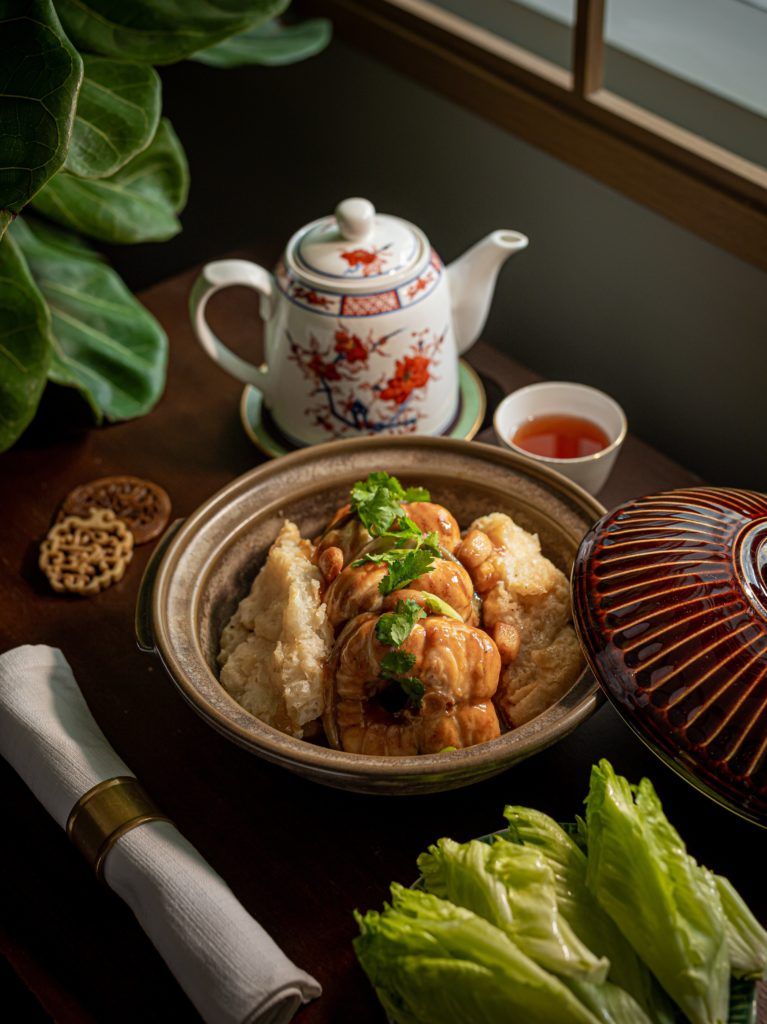 Whether it's the dining restrictions or another excuse to lay in bed longer on Sunday mornings, family dim sum traditions need not be missed, thanks to Duddell's wide array of delivery offerings. Tuck happily into a selection of small, steamed packages like the signature 12-fold shrimp dumpling (HK$88 for three), pork and shrimp siu mai (HK$98 for three) and crispy barbecue pork bun (HK$78 for three). The Michelin-starred restaurant has also prepared takeaway sets for weekend brunches (from HK$1,360) and weekday sharing lunch sets (from HK$880). With dipping temperatures, the cold-weather stalwart, hot and crackly claypot rice, also debuts with a selection of soul-warming toppings — from lamb with bamboo shoots and mushrooms (HK$628) to a giant mottled eel with dried fish maw (HK$888).
Order details: Orders must be placed before 6pm the day before on Jia Everywhere. Self pickup is available from 12pm.
Duddell's, 3/F, Shanghai Tang Mansion, 1 Duddell Street, Central, Hong Kong, +852 2525 9191