From steaming bowls of beef fat-laden tsukemen to the simple joy of a tonkotsu broth well-simmered, it's evident that Hong Kong has all the right ingredients for a world-class ramen destination — and these are the establishments that prove it.
In one of the more iconic scenes from Tampopo (1985) — Japanese director Juzo Itami's comedic, feature-length 'ramen western' — young and earnest lorry driver Gun (played by then-unknown actor Ken Watanabe) accompanies an elderly noodle master on a culinary excursion verging on ecclesiastic worship. For three and a half hilarious minutes, Watanabe's character is taught the finer points of ramen appreciation. Among other things: he's told to "apologise" to his sliced pork and "eye it affectionately" whilst imbibing both soup and carbohydrate — a respectful gesture meant to acknowledge the equal role that every ingredient plays within a balanced ramen. The scene smacks faintly of ridiculousness, but even so, speaks to broader cultural affinity for the classic Japanese noodle dish — introduced to the island nation by 19th century Chinese migrants, now exported around the globe.
In our latest culinary round-up, we search high and low to bring you 8 ramen joints in Hong Kong that elicit a Tampopo-esque degree of contentment; and explore several regional twists on this beloved soupy staple while we're at it.
Kikanbo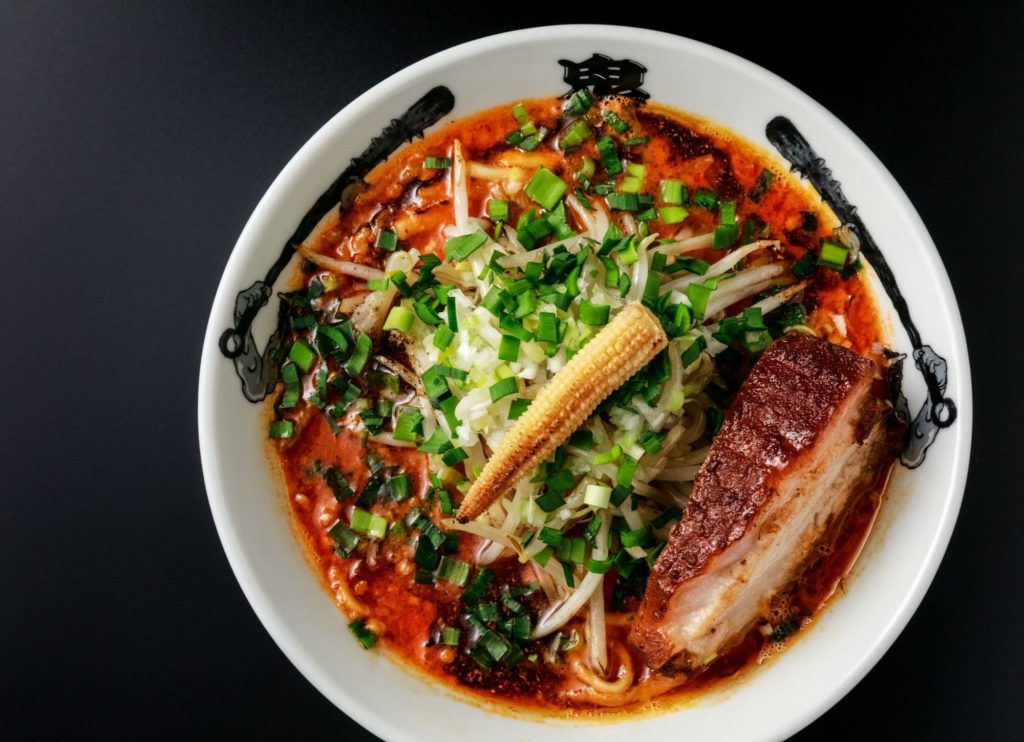 Concept: Famous around Japan for its Karashibi-style miso ramen (consisting of a fiery concoction of chilies and numbing spices), the Japanese mainstay boasts multiple outposts here in Hong Kong. From two locations in Causeway Bay and Tsim Sha Tsui, this destination ramen spot is sure to satisfy anybody's spice craving. At either restaurant, the walls are decorated with eerie oni masks — a suitable portent of the hellishly-coloured red broth to come.
What to order: Relatively speaking, the 'Premium Ramen' (HK$120) is the safest option — topped with generous heapings of bean sprouts, minced garlic, an egg and a massive chunk of melt-in-your-mouth pork belly. Not to be outdone, the 'Ramen with Coriander' (HK$110) is a standout for those who enjoy a refreshing and distinctly herbal taste. And if you fancy yourself the adventurous type, the 'Karashibi Maze Soba' (HK$100) is Kikanbo's take on the dry noodle, accompanied by a pungent spicy sauce that contains soaring notes of curry powder.
Why you'll be back: For many ramen lovers, customisation is key; and Kikanbo takes pride in the flexibility it gives diners to choose their desired level of chilli pepper and sansho powder — the addictive, mouth-numbing agent. The portions are also generous, ensuring you're unlikely to walk away hungry.
Kikanbo, 530 Jaffe Road, Causeway Bay, Hong Kong, +852 2481 3383
Takano Ramen Concept: Although its signature shoyu ramen has won numerous awards over the years, Takano has never forgotten its roots as a modestly sized mom-and-pop operation from the outskirts of Tokyo. The restaurant's Hong Kong branch (in glitzy K11 Musea) represents its first foray overseas; and is a modern reflection of the original shop with similarly easygoing wooden furnishings. Diners are able to witness the rather therapeutic process of hand-making noodles through a large glass window.
What to order: The accolades and Michelin fanfare mostly centre around Takano's 'Soy Sauce Ramen' (HK$128). The broth is delicate yet complex: owing to a mixture of free-range chicken, seafood and pork bones that are used to make this Tokyo-style ramen's base. Welcome accompaniments come in the form of soy-marinated egg and charred pork slices, both of which are simple but effective. Beyond different styles of ramen, we'd also recommend the 'Deep-fried oyster cutlets' (HK$138) — coated in a perfectly-fried lightweight batter, the ocean dwelling mollusc retains its distinctive, salty-sweet taste.
Why you'll be back: The standout element at Takano Ramen is its noodles, which are made on-site daily and carry a distinct buckwheat flavour (something diners more readily associate with soba noodles). This gives the ramen a slighly nutty quality, which works to enhance your enjoyment of the distinctly savoury soups. Provided you need more convincing, seek out the dark flecks of buckwheat on your next visit — they shouldn't be hard to find.
Takano Ramen, K11 Musea,18 Salisbury Road, Tsim Sha Tsui, Hong Kong, +852 2881 8331
Nojo Ramen x Izakaya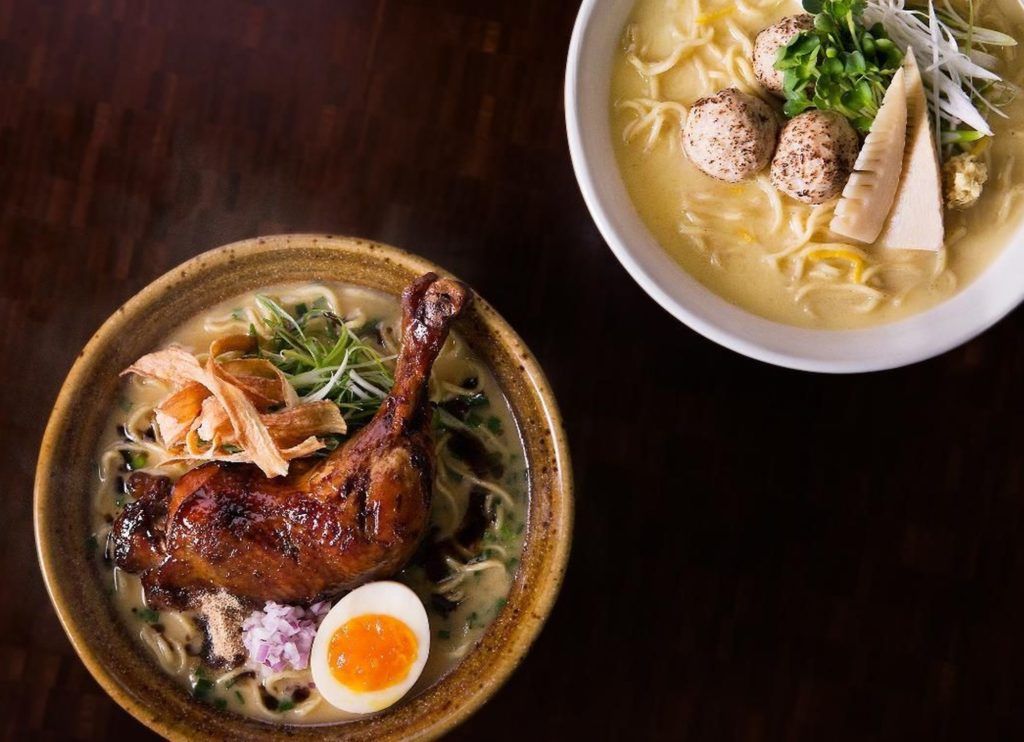 Concept: When picturing the setting for a ramen shop, the decor of this LKF-adjacent izakaya-style den probably isn't what you had in mind. Bar stools and the ubiquitous 'privacy booths' are eschewed in favour of communal tables and plenty of al fresco seating. Even the food itself is slightly unconventional: veering away from typical regional recipes synonymous with well-documented ramen cities such as Sapporo or Tokyo. If you're on the lookout for a bowl of noodles that is slightly different (but familiarly comforting) then you're in the right place.
What to order: Choices here are curated but varied. Take for example the 'Soy Sauce Ramen' (HK$138), which is lean in name but rich in flavour. The broth is made from chicken and, as if to drive the point home, served alongside an extra-generous portion of fall-off-the-bone chicken leg. Much beloved is the 'Spicy minced chicken tossed noodle' (HK$123): the house specialty arrives with a cornucopia of individually diced ingredients and an unctuous raw egg yolk, just the right sort of richness you'd want on a balmy summer evening.
Why you'll be back: In addition to the outstanding food, the location of Nojo is nothing to sniff at. Housed in the swanky H Code lifestyle development, this eatery features both an indoor and outdoor area that's perfect for nursing a post-work beer or cocktail. As an added bonus, Nojo's menu includes a complement of appetisers and entrees that's broader than most. Service is friendly and the atmosphere is almost always vibrant.

Nojo Ramen x Izakaya, 45 Pottinger Street, Central, Hong Kong, +852 2415 1333
Ramen Cubism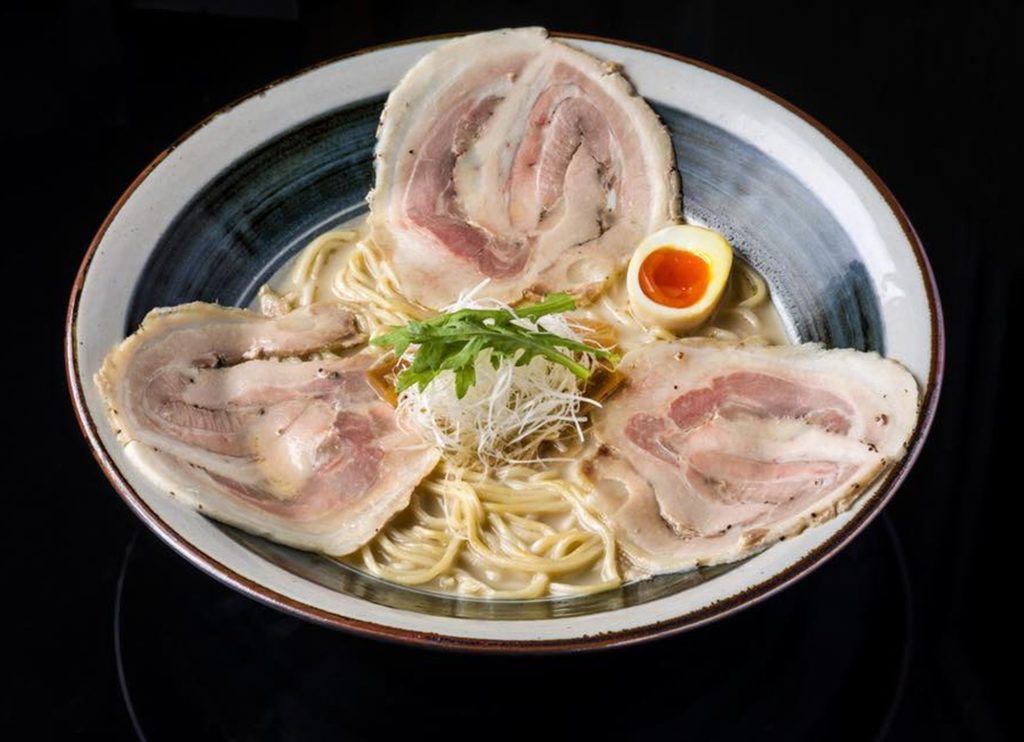 Concept: The notion of queuing for a bowl of ramen in Hong Kong is a settled one, especially if an Osakan celebrity chef (Hayashi Takao) and ramen connoisseur (Matsumara Takahiro) are involved. Needless to say: with great ramen comes great lines. Ramen Cubism's popularity often manifests itself into a string of diners that snakes its way out of a basement alley and into the bustle of Wellington Street. The key takeaway here is that only 200 bowls are served daily — once the Cubism team reach this limit, the restaurant shuts for the day.
What to order: Our go-to move would be the restaurant's pride and joy — better known as the 'Premium Cubism' (HK$118), a creamy white broth which is rich and deep in flavour. Thin pork slices decorate the bowl in a fan-like shape which borders on comical, with the all-important half-cooked egg perched delicately at the centre. For a slightly more subdued option, try the shoyu-style broth called The Sea Bird (HK$88): a combination of bonito and premium Japanese soy sauce, combined to achieve a nuanced umami flavour. Accompanying this is a sizable chunk of slow-cooked pork, all but guaranteed to result in a meat-induced coma shortly following consumption.
Why you'll be back: Setting aside the star power of its partners, the steaming hot bowls of ramen here feel like true nourishment, and act as the perfect way to recharge after a hard day's work. Each broth (whether soy, chicken or pork-based) takes time and dedication to prepare — and it shows. Noodle texture is also top-notch, with just the right amount of springiness and chew.
Ramen Cubism, 27 Wellington Street, Central, Hong Kong, +852 2399 0811
Zagin Soba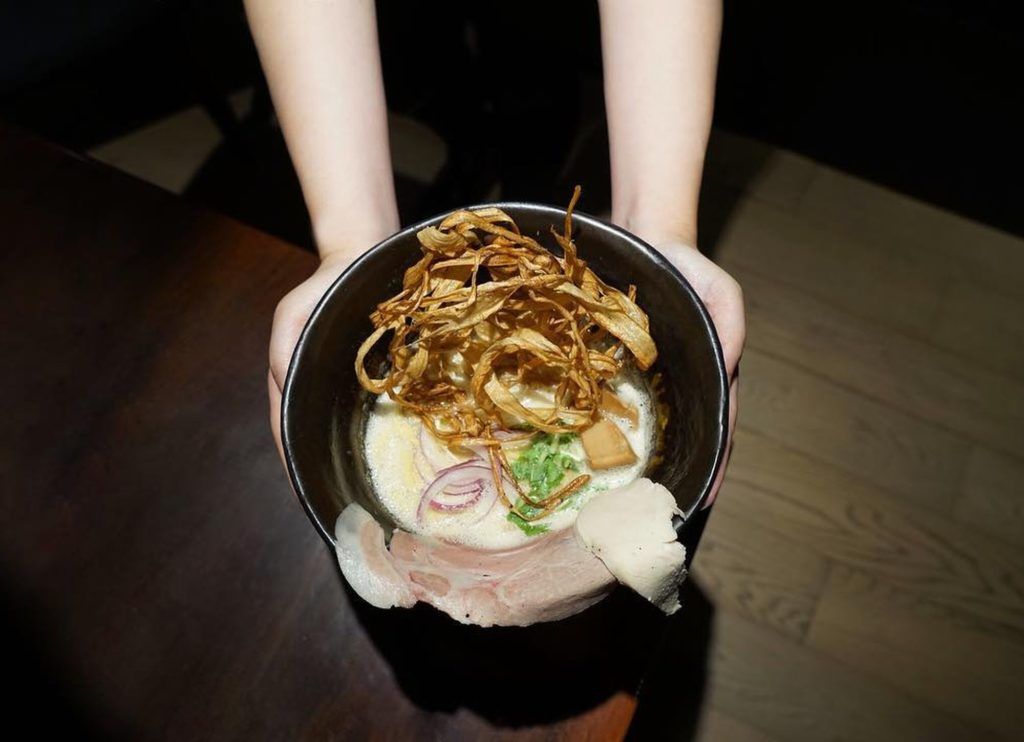 Concept: Widely reputed to serve the best paitan ('white soup') ramen in Hong Kong, Zagin Soba is another Japanese institution which has developed a seemingly insatiable following among local noodle obsessives. The Osakan mainstay operates two locations in Central and Happy Valley: modestly appointed spaces consisting of a mixture of table and countertop seating. Happily, all but the most essential interior elements have been ignored in order to focus on making a premium product — available in three formulations, all based around the aforementioned tori paitan chicken broth.
What to order: First-timers will be steered towards the 'Regular' tori paitan (HK$138) option, which keeps distractions to a minimum thanks to a master stock that is prepared exclusively using poultry. Zagin's paitan is continuously simmered for hours on end: a method that is crucial for rendering out the fat and collagen which imbue this soup with its trademark richness. An electric hand whisk is used to agitate the broth just prior to serving, further boosting its silken, creamy texture whilst projecting a cappuccino-like appearance onto the surface. Noodles are served at a single, uniform 'doneness' and accompanied by a mixture of sous-vide pork loin and chicken chashu.
Why you'll be back: For diners who insist that simplicity is the natural bedfellow of elegance, Zagin Soba will appeal on multiple levels. Because there are only three styles of ramen to choose from (all of which utilise the same garnishes and soup base) a certain clarity is assured: letting you concentrate on each individual ingredient rather than getting bogged down in the esotera of toppings, spice level, and noodle thickness. For an even more visceral pre- and post-dining experience, we suggest visiting during Hong Kong's (admittedly fleeting) winter season.
Zagin Soba, G/F, 7 Gough Street, Central, Hong Kong, +852 2447 1398
Ramen House Konjiki Hototogisu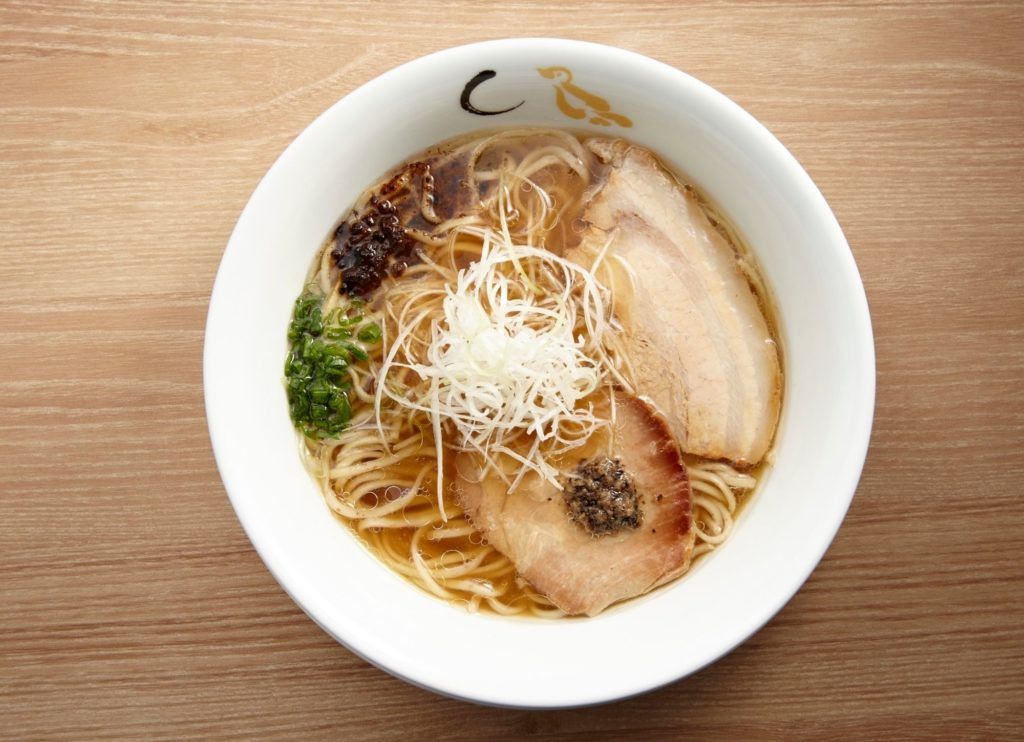 Concept: Founded in Tokyo in 2006, Konjiki Hototogisu is among only a handful of international ramen chains to have been awarded Michelin stars (it landed its first in 2019). Outside of Japan, Konjiki operates branches in a variety of Asian countries — with the local chapter sequestered on the third floor of IFC. We could offer a thoughtful dissection of how the store's elevated bar seating and textured wooden floors echo the decor of the original (in Shinjuku), but let's not kid ourselves — chances are, if you're dining here, you're headed to the airport or got distracted en route to the office.

What to order: Konjiki's vital claim to fame is the 'triple soup' — a layered mixture of pork, fish and (most importantly) Hamaguri clams which impart equal ratios umami, salinity and fat to the ramen-slurping experience. By its very nature, the triple soup runs counter to the purist's conception of shio ramen, so we invariably order the 'Shoyu Hamaguri' (HK$128): the basis of which is enhanced by the addition of porcine fat and seafood. Regardless of which style you order, it's customary at Konjiki to garnish each bowl's surface — in three distinct sectors, no less — with a mixture of duxelles, chopped herbs and bacon chips. In theory, depending on the angle at which you sip your broth, flavours shall vary.
Why you'll be back: In light of its Michelin pedigree, Konjiki is likely to appeal to gourmands and various other species of socially acceptable pedant. From the mineral content of the water used in broth-making to the provenance of glutamates, no detail is too trivial for consideration. Admittedly, the decor isn't anything to write home about — but hats off if you can actually look up from your bowl long enough to parlay that into a criticism.
Ramen House Konjiki Hototogisu, Shop 3020, IFC Mall, 8 Finance Street, Central, Hong Kong, +852 2295 3308
Ebisoba Ichigen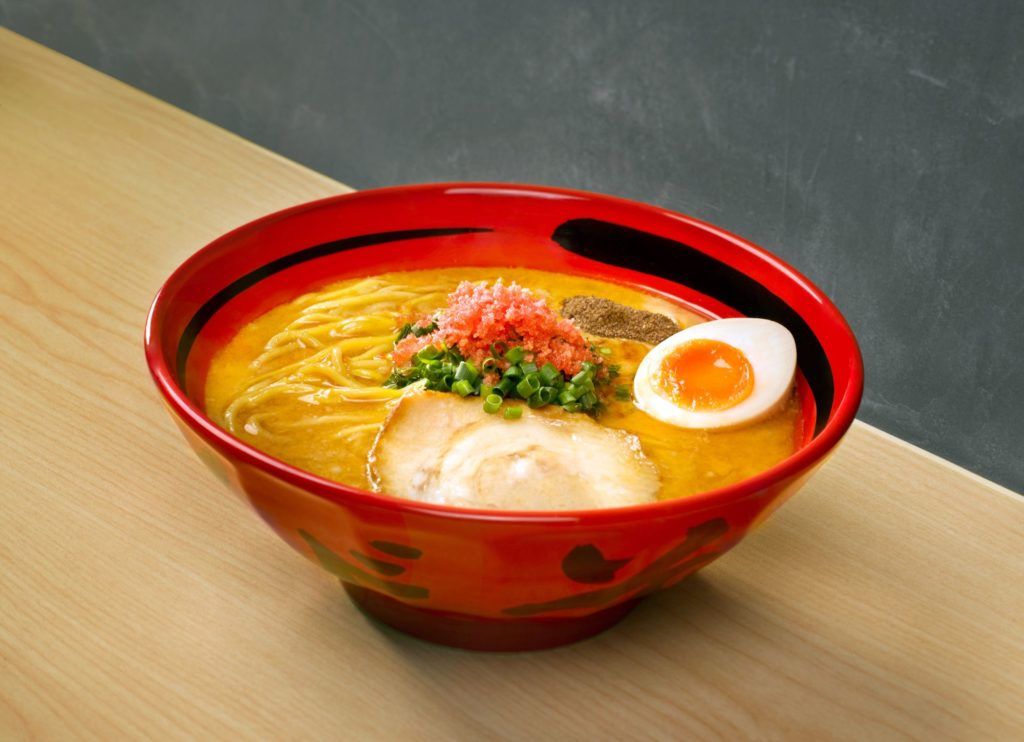 Concept: Hailing from Sapporo, Ebisoba Ichigen has achieved bona fide cult status amongst ramen enthusiasts within Japan's domestic market. The reason for that is simple: a break with tradition that sees the humble shrimp thrust into the driver's seat in every single permutation of Hokkaido-style ramen on offer. (The original shrimp broth has become so popular that it's now available at retail.) Having just opened in Central, Ebisoba has a fairly widespread presence in Hong Kong, along with two other branches in Wanchai and Harbour City. Restaurant interiors are consistent throughout: swathed in a vibrant red which tantalises passing diners whilst reflecting the bold and heady flavour of Ebisoba's star ingredient.
What to order: If your taste for ramen errs toward the conventional, a variety of 'Ichigen' broths cut with the familiar porkiness of tonkotsu are available. However, those with even a passing appetite for shellfish are encouraged to try the 'Ebi Mazesoba' (HK$88). Both a chain-wide first and Hong Kong exclusive, this dish is — for lack of a better descriptor — a dry ramen, consisting of toothsome noodles layered with soy sauce that has been infused with numerous ebi bits dense in oil, brine and umami. To ensure maximum absorption, we recommend ordering the thicker kind of noodle.
Why you'll be back: Whereas tonkotsu and paitan noodle soups are effectively ubiquitous throughout Hong Kong, Ebisoba's take on ramen is decidedly less common. The insanely fragrant and addictive flavour of its prawn-based condiments will appeal to those with a penchant for bold flavours; and even diehard Ebisoba fans are likely to be enticed by the range of branch-exclusive dishes.
Ebisoba Ichigen, Shop OTG59, Ocean Terminal, Harbour City, Tsim Sha Tsui, Hong Kong, +852 3105 1199
Mashi no Mashi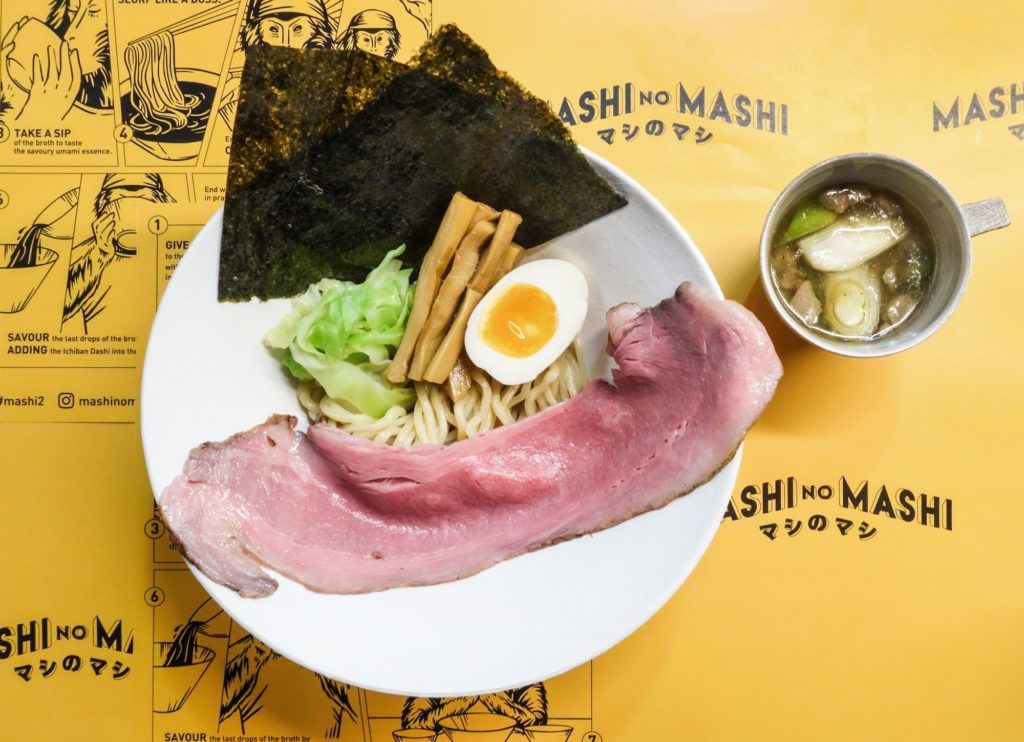 Concept: When the team behind Wagyumafia opened this adjoining casual eatery, the initial media blitz — centering on a certain footballer and the spectacle of cringe-fluencer culture — did little to engender goodwill amongst serious noodle aficionados. Fortunately, time has proved to be on Mashi No Mashi's side; and the consensus now seems to be that this 12-seat counter is the optimal place for a rowdy evening spent pounding awamori and muscling through a preposterously decadent bowl of wagyu dipping noodles.
What to order: Notwithstanding some gyoza and a carotid-hardening beef donburi, there are really only two dishes at Mashi No Mashi to choose from. No points for guessing which one's the star of the show. True to its moniker, the 'Tokusei wagyu' tsukemen (HK$160) is an enormous bowl of thick-cut noodles (somewhere between a soba and udon, texturally speaking), accompanied by the usual medley of bamboo shoots, parboiled cabbage, and soft-boiled egg. Then comes the beef — like an angry red tide, threatening to engulf every other ingredient in sight. As you fine well-informed people already know, the main allure here is the brisket's provenance (sourced from the same Kobe farmer, Muhenaru Ozaki, who supplies Wagyumafia). All of the tsukemen served is paired with the same dipping sauce: a strangely wonderful concoction of wagyu fat, cartilage and (at your discretion) red-hot togarashi pods.
Why you'll be back: Without wanting to sound too twee, what you get out of Mashi No Mashi is largely contingent upon what you bring with you. To put it bluntly: the typical self-serious ramen geek probably won't enjoy the act of spending HK$200 (after service tax) for a bowl of beefy tsukemen. But if you come to the party with an open mind — and make no mistake, with surround sound of this quality, it is a party — you'll be rewarded with raucous service, boatloads of atmosphere and dipping noodles which may well be more satisfying than what you'll find at most fine dining tables.
Mashi No Mashi, Shop 1B, G/F, Guardian House, 32 Oi Kwan Road, Wanchai, Hong Kong, +852 2812 0500