Sugary sweets, spiced buns and all the treats that makes Easter, well, Easter.
There are many things that add up to a holiday, minus the calendar date (Easter falls on 4 April this year). Ask yourself, is it really Easter season without the egg hunt? Or the gold foiled chocolate bunny? Or the buttery smell of freshly baked hot cross buns on the breakfast bars in the morning? If the answer is yes, yes and yes, it's time to get planning on rallying up those familiar and favourite Easter holiday treats. Here is a list to help you get started.
Fortnum and Mason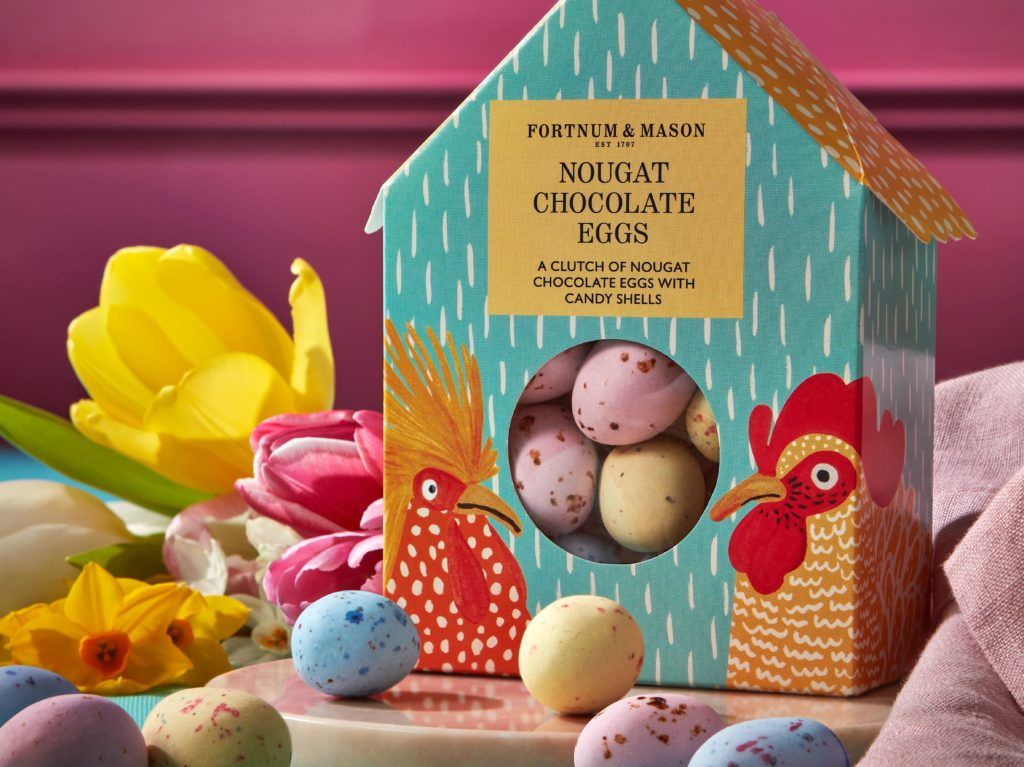 As usual, there's a lot to love at Fortnum & Mason this Easter season. And all types of celebrations too. Ready? Extravagant picnic hampers packed with the British brand's best hits — think: raspberry and rhubarb preserves, clotted cream biscuits and loose leaf caddies, and delicious Easter treats including hot cross buns, classic chocolate egg of all sizes (including one chocolate fondant filled creation in the classic duck egg blue shell), Easter cookies and shortbread and Easter tea — a refreshing fragrant blend of orange blossom and elderflower, the perfect accompaniment all the sweets listed above. It's geared and ready towards a relaxing long weekend and we're enjoying every moment spent with delicious bites of course.
Tempt tastebuds with the entire Easter range here.
Fortnum & Mason, 18 Salisbury Road, Tsim Sha Tsui, Kowloon, Hong Kong, +852 3916 8181
Venchi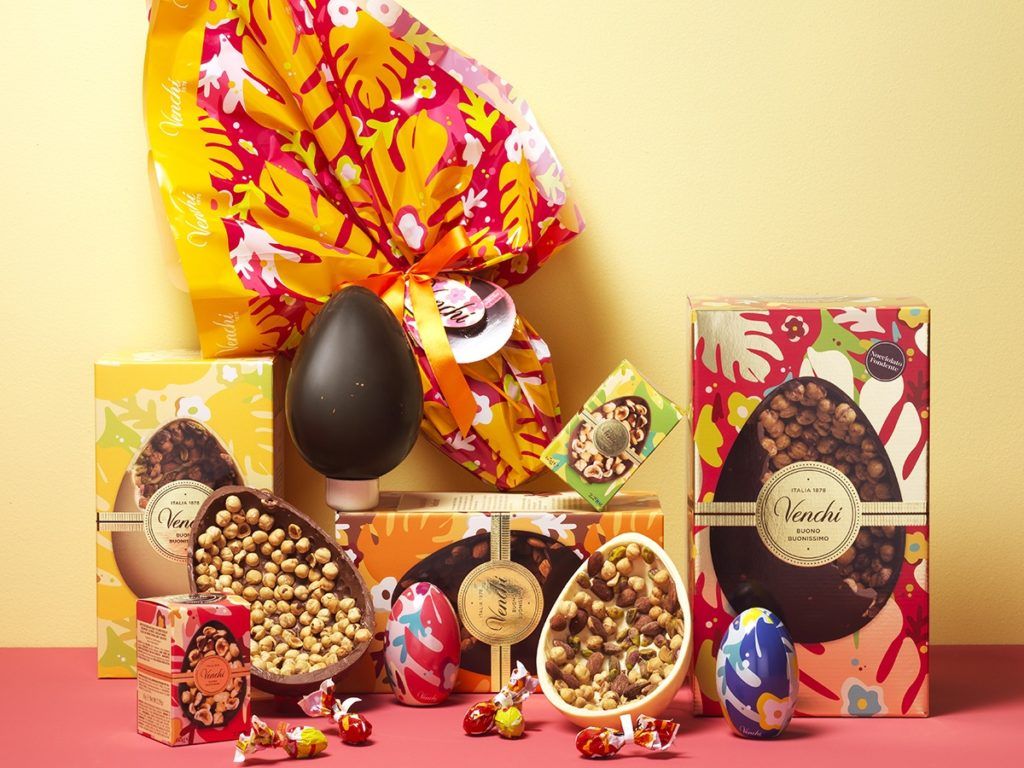 An honest devotion to Easter holiday totems, there are pralines shaped as bunnies and little hens with eggs at Venchi. Adorable they may be, but it is the season's supersized chocolate eggs that take the (chocolate) cake on Easter table-spreads this holiday. Presenting three delicious trio: The signature Chocoviar Gourmet Egg (HK$390) decorated with glistening micro cocoa pearls, the Mediterraneo (HK$350), a white chocolate egg and flavoured with a refreshing springtime duet of pistachio and candied lemon zest, and the delectable dried fruits collection that houses either Piedmont hazelnuts, almonds or salted dried fruits within a creamy white chocolate shell.
Venchi, various locations including Shop G11B, G/F, Lee Garden Two, 28 Yung Ping Road, Causeway Bay, Hong Kong, +852 6366 6815
Feather & Bone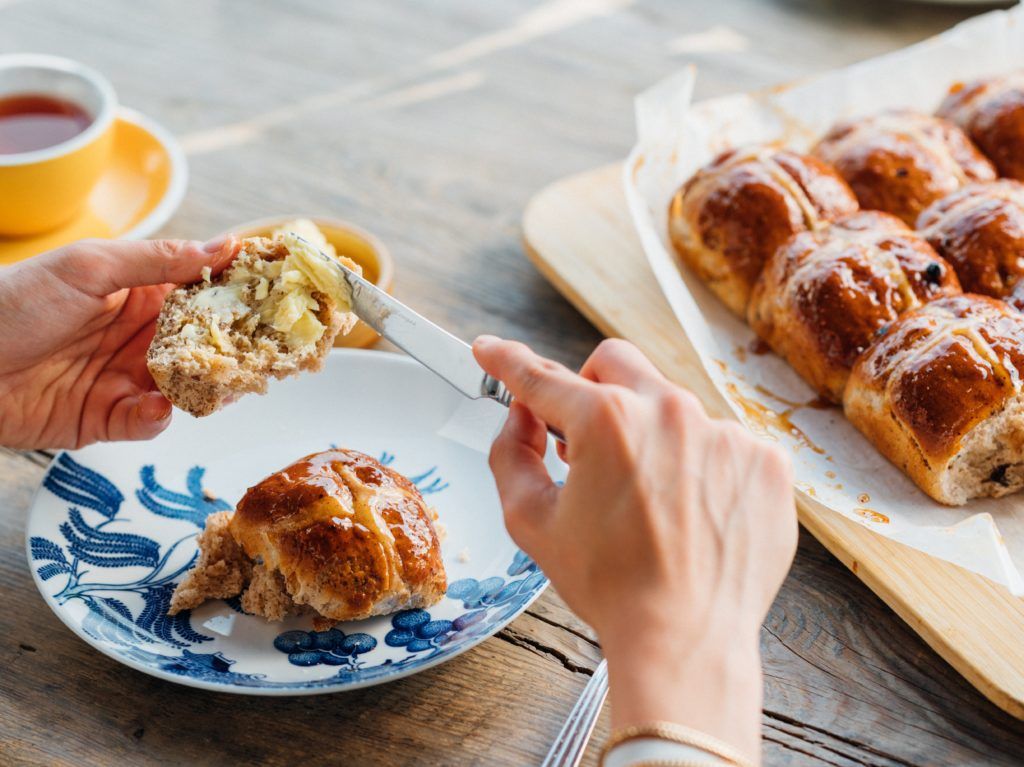 For all and everything to do with Easter sweets, please make a stop at Feather & Bone. The deli-slash-butcher will be preparing freshly baked trays of the spiced hot cross buns from now through to 5 April. Yum. Slater on delicious condiments of your own (we're partial to the Pepe Saya salted butter here!) and serve with a mug of hot tea. That's one way we'll be enjoying Easter weekend. Other Easter treats include the L'Atelier du Chocolat's Easter egg, a 70 percent cocoa chocolate filling with crunch almond hazelnut praline dressed within the shell of a real hen's egg. There's also an Easter bunny hidden somewhere in the grocer's shelves. Spot it to win a little choccy egg of your own. Happy hunting!
Feather & Bone, various locations including G/F, 20 Hollywood Road, Central, +852 2325 8570
Godiva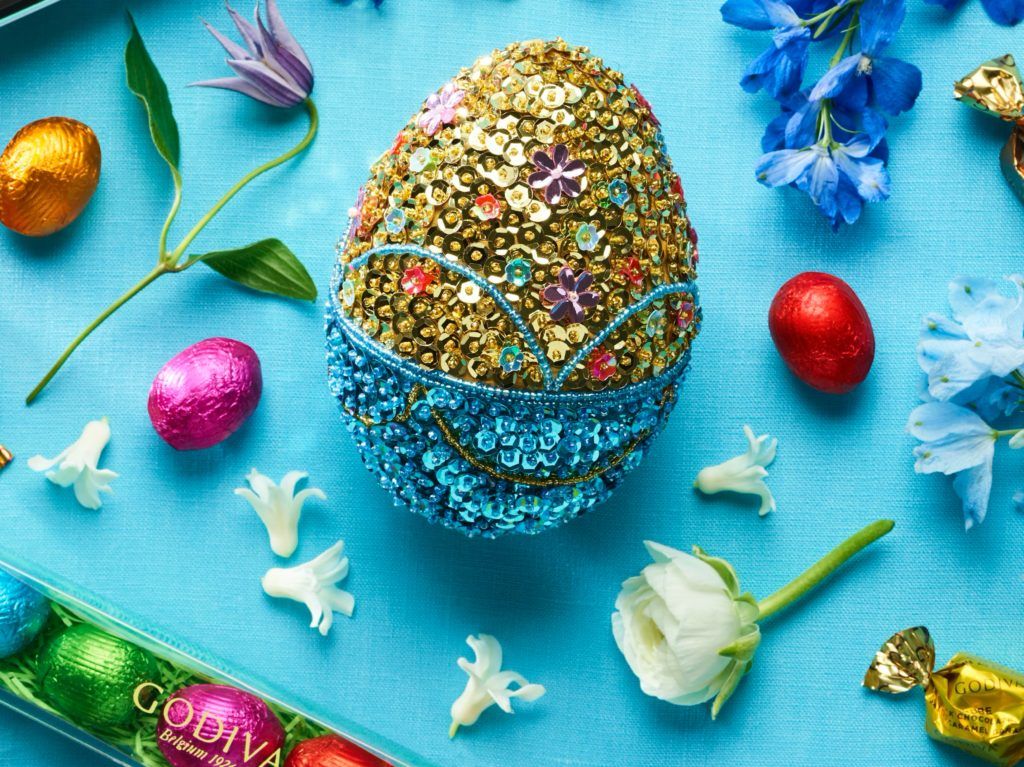 Little words are needed for this Belgium chocolatier. It's a celebrated favourite, not to mention the amazing two-for-one deal on soft serves. Godiva is marking the Easter season with its a range of creamy darks, milks and whites in relatable holiday themes, no less. Snap up a darling chocolate chick (HK$25) — the zingy lemon dark chocolate iteration sounds delicious — and put together a basket of mini easter eggs in various fillings (HK$20) of your own. Need a stunning masterpiece? The spring chocolate egg (HK$568) is your best bet, with 15 various mini eggs pocketed within. It's sequin-spangled and decorated with gleaming floral paillettes. It'll stun and dazzle and make you want to snap pictures for the 'gram. A treat for taste-buds and most definitely sore eyes.
Godiva, various locations including Shop No.1029-30, Level 1, ifc mall, 1 Harbour View Street, Central, Hong Kong, +852 2805 0518
Charbonnel et Walker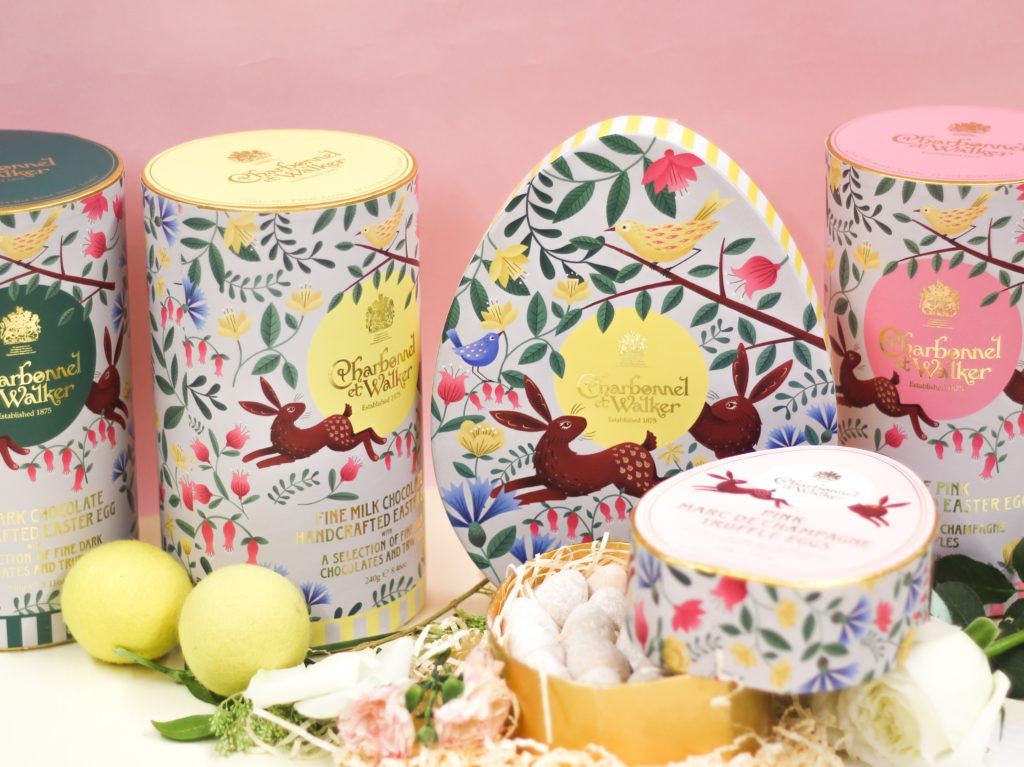 Egg-shaped champagne truffles. An ode to the beloved Peter Rabbit tale. An adorable easter chick filled with colourfully speckled eggs. British chocolatier Charbonnel et Walker presents an Easter collection is perhaps the most dreamy yet. Enjoy the beautiful bijouterie-like bites that includes the signature Pink Marc de Champagne truffles (HK$388), a jewel box-like selection of milk and dark chocolate pralines (HK$588) and hand-moulded Easter eggs all housed within the seasonal illustrative floral packaging that is so very pretty to admire.
Charbonnel et Walker, Adjacent to shops 137-138, 1/F Prince's Building, Central, Hong Kong, +952 9303 6782
Sugarfina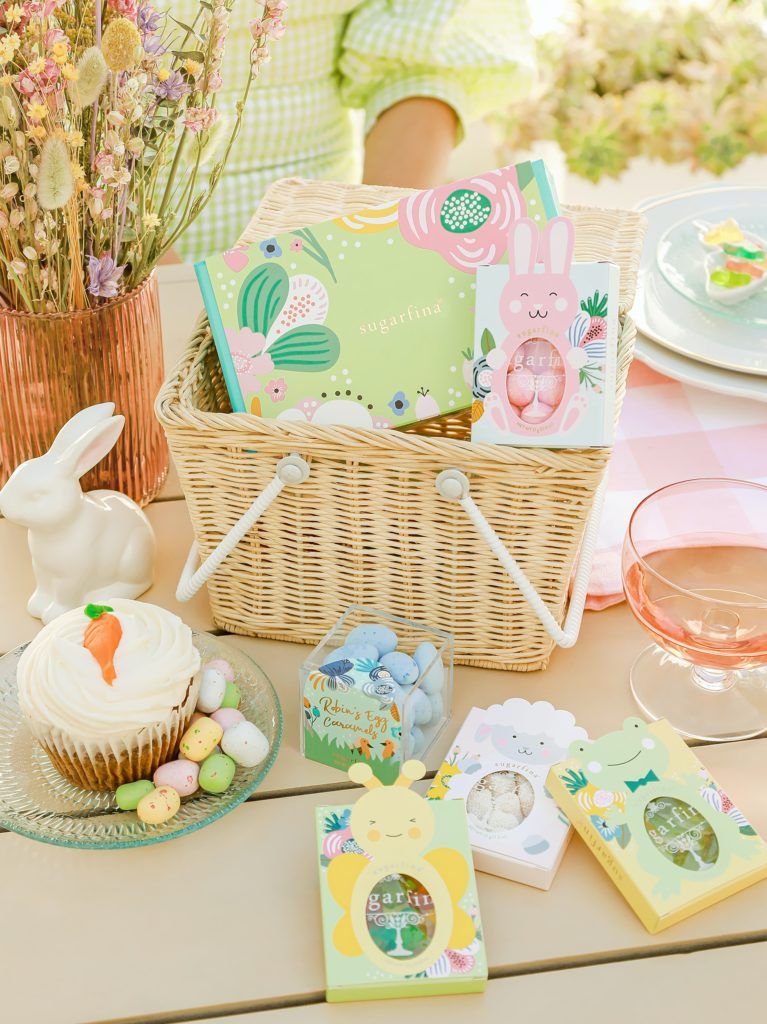 The adorable cast of characters. The succinct pastel palette. A delectable range of so-very-cute jelly sweets. Sugarfina, at any holiday season is a tasty treat, if not a delight to admire; the Beverly Hills-based confectioner is never shy from its range of season-fitting designs. For Easter, Sugarfina unveils the Easter Buddies tasting collection (HK$148) (available in individual packets), a quartet of four endearing creations fit for the spring season: Baby Butterflies in flavours of strawberry, lemon, apple and raspberry; fruity Bunny Tails; Apple Frog gummies paired with vanilla apple foam; and Little Lamb Gumdrops. It is, with a doubt, the true essence of Easter.
Sugarfina, various locations including Shop 1023, Podium 1, ifc mall, 1 Harbour View Street, Central, Hong Kong, +852 2868 5578
Maison Pécou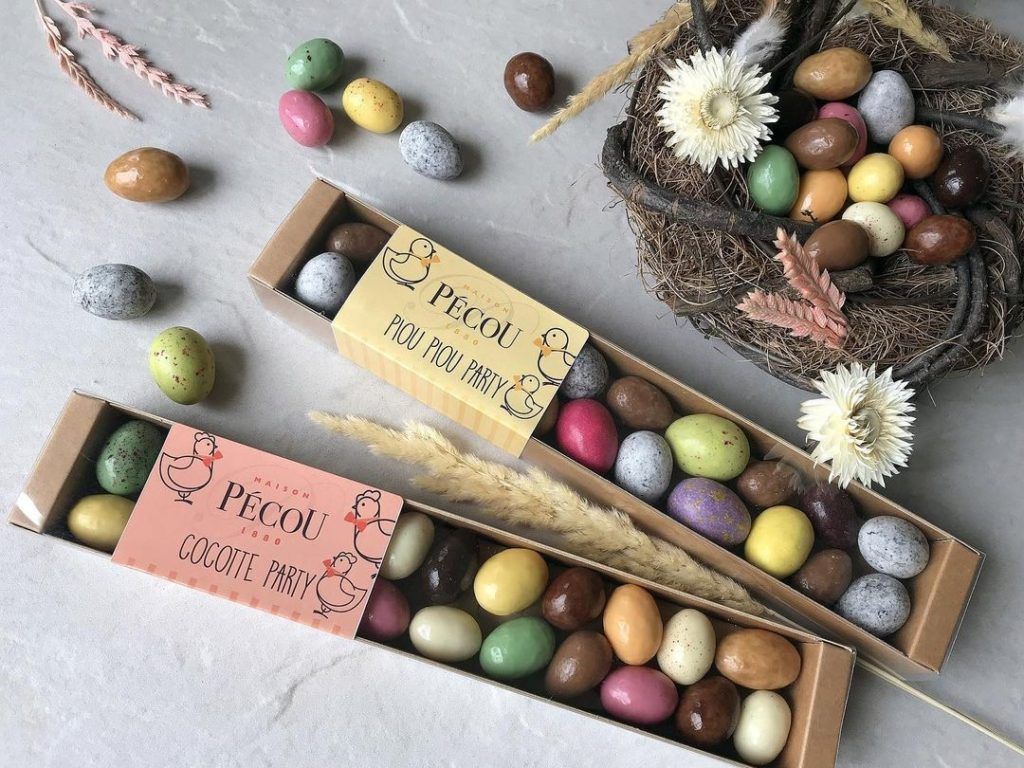 As a chocolate connoisseurs of over 140, you best believe that Maison Pécou is serious when it comes to talking chocolate. The five-generation family brand is a purveyor of sort when it comes to chocolate-coated sugary treats, having ideated the French brand's signature Dragrées Pecou, a candy-coated almond, and the Liquicroc, a dark chocolate bonbon with a sweet, liquid centre. Counting one of its first foray into the city, Maison Pécou unveils two assortments for the Easter holiday: Cocotte Party and Piou Piou Party, both of which features highlights from its archive. There a salted-butter toffee chocolate coated with milk and dark chocolate, the Choc-au-nougat with a roasted almond centre with milk chocolate and nougat cream and a no-fault classic milk chocolate praline. Tempting!
Maison Pécou is available online at my Gourmandises
Bombshell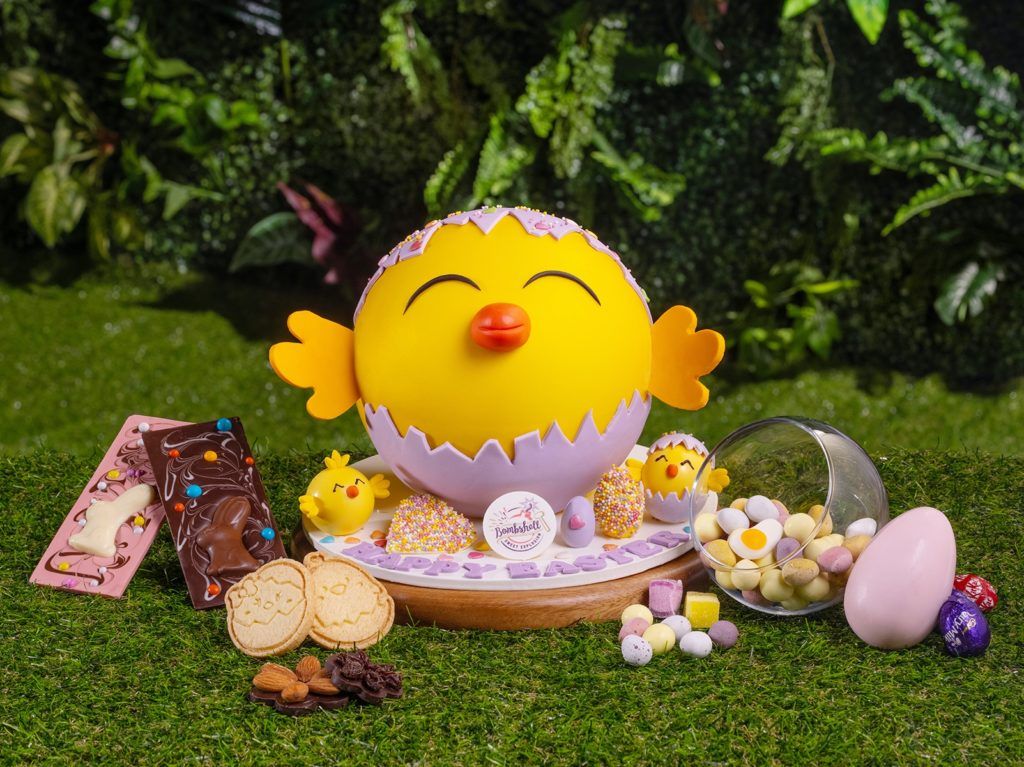 It's never truly a celebration without the fun and drama, qualities which artisanal patisserie Bombshell embraces with the launch of a new Easter Bombs series — the confectioner's signature, three-dimensional sculptures that are carefully moulded into adorable characters by a talented team of pastry artists. Smash open the shell for a piñata-like explosion of sugary treats including marshmallows and butter cookies among shiny foiled Cadbury eggs all housed within. The current cast of choice: A cheery chick from the 'Love Egg-splosion', a candy coated bunny from the 'Ears-ter Bunny' and lastly a spring-blossoming 'Eggs-clusive' Easter egg.
Bombshell is available online here or at +852 6388 5254
Lucullus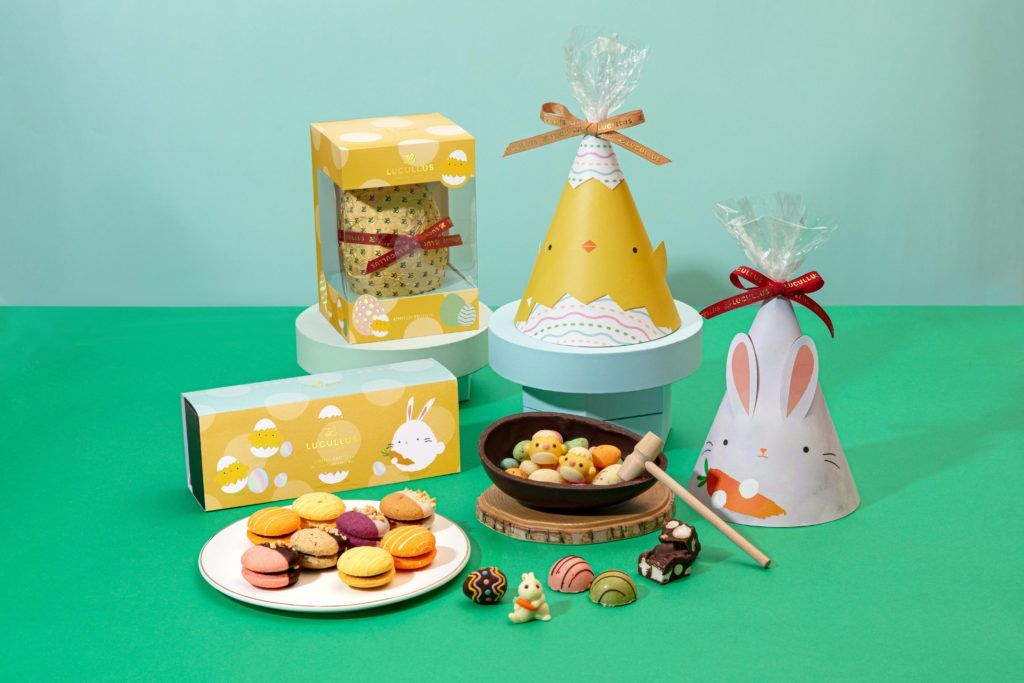 An endless, Willy Wonka stream of chocolate arrives over at Lucullus this Easter, with everything from pretty pastel eggs to chocolate crunches, macarons and rocky road wedges. They're all housed within a whimsical, pastel-painted cone packaging  — Easter Bunny and 'Chubby Chickee' — which are sure leave behind smile. Perfectly suited to those who enjoy celebrating with an easter basket load of irresistible cocoa.
Lucullus, various locations including Unit 33, B210, B2, K11 Musea, Victoria Dockside, 18 Salisbury Road, Tsim Sha Tsui, Kowloon, Hong Kong, +852 2586 9700
Header image courtesy of Fortnum & Mason