If the summer heat's got you down, it's time to cool down with these satisfying desserts.
Temperatures are rising, sunscreen and sunnies are out. With the summer heat now in full force, alongside the mandatory face mask rule in place, it is getting harder than ever to stay cool. Thankfully, Hong Kong always has the best remedies for a scorcher. Enter our top 10 picks of the city's best icy desserts — whether it's shaved ice or homemade gelato, we've got you and your taste buds covered.
Igloo Dessert Bar
Riding the ferry at sweltering temperatures of 30 degrees celsius or above is no easy feat, so it is only necessary for Igloo Dessert Bar to be situated at the Star Ferry Pier 7 in Central. It stands out with its wide array of quirky flavours, ranging from the popular White Rabbit candy gelato to Hong Kong-style toast. Vegans will love a dairy-free version with flavours like dark chocolate chip or coconut water. They have also recently partnered up with Trappist Dairy and have created five new flavours using fresh milk, including Unicorn (strawberry and blue vanilla) and Honey Osmanthus — (available exclusively at Yata Supermarket till 7 August for limited edition promotion).
Igloo Dessert Bar, Shop C, Lower Deck, Pier 7 Star Ferry, Central, Hong Kong, +852 2656 3318
Shari Shari Kakigori House
When it comes to Hong Kong's favourite Japanese shaved ice dessert, Shari Shari is a no-brainer. With ice imported from Japan, it serves up a range of silky kakigoris in an assortment of flavours. Our favourites are the hojicha and matcha versions; but for those with a major sweet tooth, we recommend the Tiramisu flavour, which features a strong espresso aroma and soaked ladyfingers buried within. If you're looking for something tart and refreshing, try the newest offering, a honey lemon yogurt kakigori, paired with cookie crumbs and cream cheese.
Shari Shari Kakigori, various locations including Central and Causeway Bay: G/F, 14 Haven Street, Causeway Bay, Hong Kong, +852 2529 1223
Movenpick x Perfume Trees Gin
Teetotallers might want to sit this one out. Movenpick has just announced a new partnership with Hong Kong's pioneering gin brand, Perfume Trees Gin, to curate three boozy desserts for the season. For a refreshing bubbly drink, try Frozen 75, made from Passion Fruit & Mango sorbet as well as champagne and elderflower. If you're looking for an extra zest, hack your gin and tonic with a scoop of Lemon & Lime Sorbet topped with some tonic water. The Perfume Cotta delivers just the right sweet indulgence by pairing Panna Cotta & Raspberry ice cream with gin and hazelnut cream. Head to Movenpick's pop-up in-store on 22 August for a taste — or bring them home to experiment with your own boozy ice cream floats.
Pop-up details: 22 August 2020, Food Le Parc, Shop 2-3, G/F, Westlands Centre, Taikoo Place, 979 King's Road, Quarry Bay, Hong Kong
Emack & Bolio's
The self-proclaimed "rock stars of the ice cream world" has made waves on Instagram with its aesthetically pleasing ice cream cones filled with sugary nostalgia. Revel in their funky flavours ranging from Space Cake to Grasshopper Pie Ice Creams in cones coated with childhood cereal favourites, from Coco Pops to Fruit Loops. For other icy alternatives, they also serve up a variety of delicious milkshakes and frozen yoghurts. 
Emack & Bolio's, with various locations including Tsim Sha Tsui and Central: G/F, 26 Cochrane Street, Central, Hong Kong, +852 2505 6626
Baekmidang
Established in 2014 in South Korea, Baekmidang offers rich milk ice cream as its signature item, nailing the icy treat with a fresh milky flavour without an overly rich aftertaste that's perfect for summer. Our favourite go-to is the Assam tea milk ice cream, featuring an unapologetic tea flavour that those who prefer less sweet desserts will love. The store has also just launched the fresh Japanese peach milk shaved ice to their peach series this summer, featuring a whole peach served with milky shaved ice.
Baekmidang, with various locations including Causeway Bay and Tsim Sha Tsui: Shop B101A, B1/F, K11 Art Mall, 18 Hanoi Road, Tsim Sha Tsui, Hong Kong, +852 5501 8627
Little Bao
Little Bao's ice cream baos are not only the ultimate comfort food when the sun is out, but they are also the subject of many Instagram shots. Take your pick from a few flavours of ice cream, sandwiched between golden fried buns for the perfect balance of a chilled dessert and a sweet, satisfying crunch. Green tea ice cream paired with condensed milk, salted ice cream drizzled in caramel sauce, or this new 'Woopie Pie' iteration, featuring chocolate ice cream with marshmallow cream.
Little Bao, Shop H1, G/F, 9 Kingston Street, Fashion Walk, Causeway Bay, Hong Kong, +852 2555 0600
Meet Fresh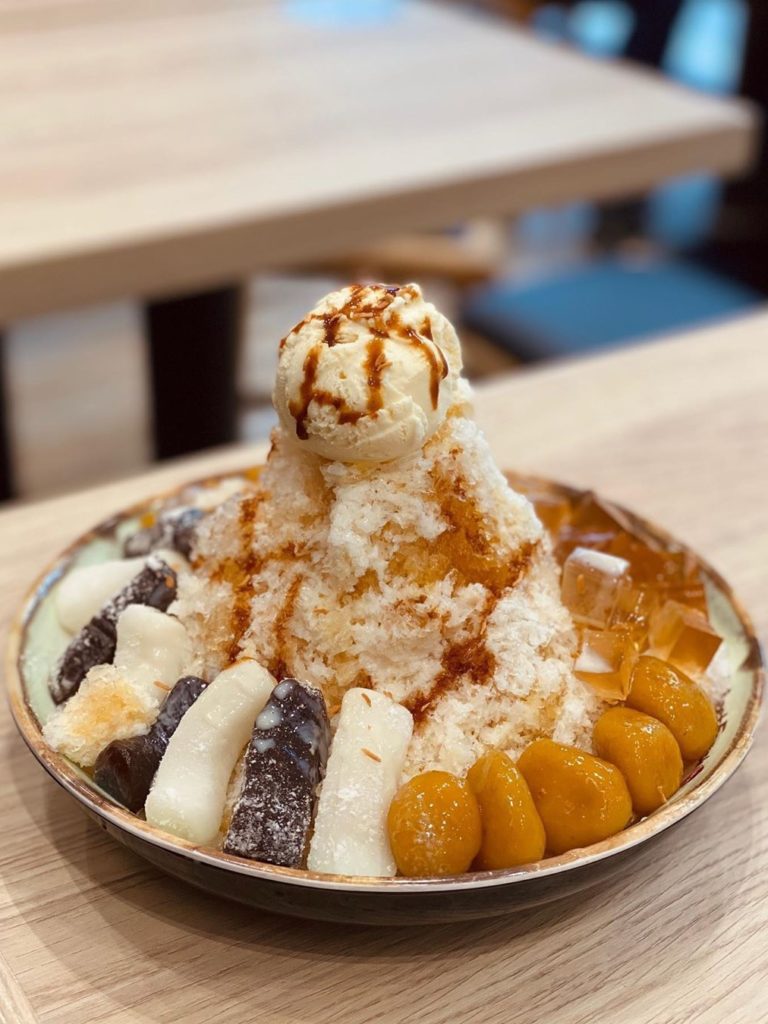 Sourcing fresh and healthy ingredients for its Taiwanese-style desserts, Meet Fresh has made its way into many Hongkongers' hearts with its platters of chewy taro balls and herbal jelly. Our absolute favourite for the summer is their shaved ice series, especially the Q Mochi Shaved Ice. Made from mochi, mini taro balls, jelly noodle and milk shaved ice topped with ice cream, it has just the right amount of flavour and textual contrast incorporated. Head to its shop in Causeway Bay for a hearty dessert to cool off the summer heat. 
Meet Fresh, Shop 1, G/F, V Point, 18 Tang Lung Street, Causeway Bay, Hong Kong, +852 2566 1318
Happy Cow
As its moniker suggests, Happy Cow is all about using plant-based ingredients to serve refreshing ingredients without compromising on flavour. Made with coconut cream and organic coconut sugar, the products do not include cow's milk, eggs, gluten, soy and cholesterol; so all those who are health-conscious or prone to allergies out there can try the brand's frozen dessert guilt- and worry-free. Opt for classic flavours such as Salted Caramel Swirl or Choc Choc Cookie, or stretch your comfort zone and go all in on quirkier flavours such as Golden Pillow Durian and Dragon Berry.
Happy Cow, with various stockists and locations including Centrall: 33 Man Kwong Street, Central, Hong Kong, +852 2252 7773
Dood Bottega Gelateria
Churning out fresh product every day in their own gelato maker, independent gelato maker Dood Bottega Gelateria serves up the very best handmade gelato featuring mostly seasonal flavours. Fans of traditional flavours will want to opt for an Upgraded Pistachio for an authentic tasting of the tree nut. Alternatively, try unique flavours such as Philippine King Mango or Snow White Greek Yoghurt, or stay tuned to all the exciting new flavours they have in store at the brand's Instagram page.
Dood Bottega Gelateria, various locations including: Shop G13, G/F, 160-188 Wan Chai Road, Wan Chai, Hong Kong, +852 9699 6624
So Coco
Another one of our favourite homegrown brands, So Coco has just added brand new vegan ice cream to their signature product line of coconut puddings. Made with no artificial flavourings, colourings and preservatives, you can try the guilt-free coconut milk-based ice creams in six flavours: original coconut, chocolate, matcha, Thai tea, strawberry and passion fruit. For a limited period of time, So Coco is also offering free delivery across Hong Kong.
So Coco, sold in various supermarkets including City'super, B1/F, Times Square, 1 Matheson Street, Causeway Bay, Hong Kong
Venchi
Craving a taste of silky soft Italian gelato? Look to Venchi, which is introducing a new flavour each month over the course of summer. Having already launched cassata (the traditional Sicilian flavour with dried fruit and nuts) in May, mango stracciatella and tiramisu in June, Venchi has edged into July and August with refreshing fruit sorbets in flavours of Mango & Passionfruit and Durian respectively. Want to enjoy it safely at home amidst CoViD-19? It has also introduced its new take-home option, where you can stock up with a maximum of five flavours of gelato in one case. Available to pick up at Venchi stores or by delivery through Deliveroo.
Venchi, available in various locations including Wan Chai, 183 Queen's Road East, Wan Chai, +852 2528 0802