The Home Chef is a series that uncovers closely guarded recipes of the city's most notable chefs, so that you, amateur home-cook, can, too, recreate restaurant-grade meals in the comforts of your own kitchen. Makeshift tea-towel aprons at the ready. A dear friend (or furry pup!) appointed as designated taste-tester. Served with a sweet chef's kiss, naturally. Bon appétit!
With restaurant options galore in this city, every dedicated diner is likely to have a loyal list of go-tos of their own. A no-frills, hideaway spot for authentic Thai. An exquisite establishment for fine French dining. Hearty, comforting dim sum from a time-honoured chef. And for refined takes of classic Latin American cuisine, you'd likely head to Mono, the sleek, intimate 30-seater eater helmed by owner-chef Ricardo Chaneton.
Think beyond the casual, street-side serves typically associated with the cuisine. At Mono, it's all about the combined culinary heritage from the country, mixed in with a distinct French influence that has become a significant puzzle-piece of chef Ricardo's cooking after a seven-year tenure at three-starred Mirazur in Menton. "Everyone thinks Latin American cuisine is from Peru and Mexico, it's partly true because they have a longer history," says chef Ricardo. "Latin America cuisine is not only that, it's also the influence from Europe, which came after the war. And that's the cuisine we need to talk about."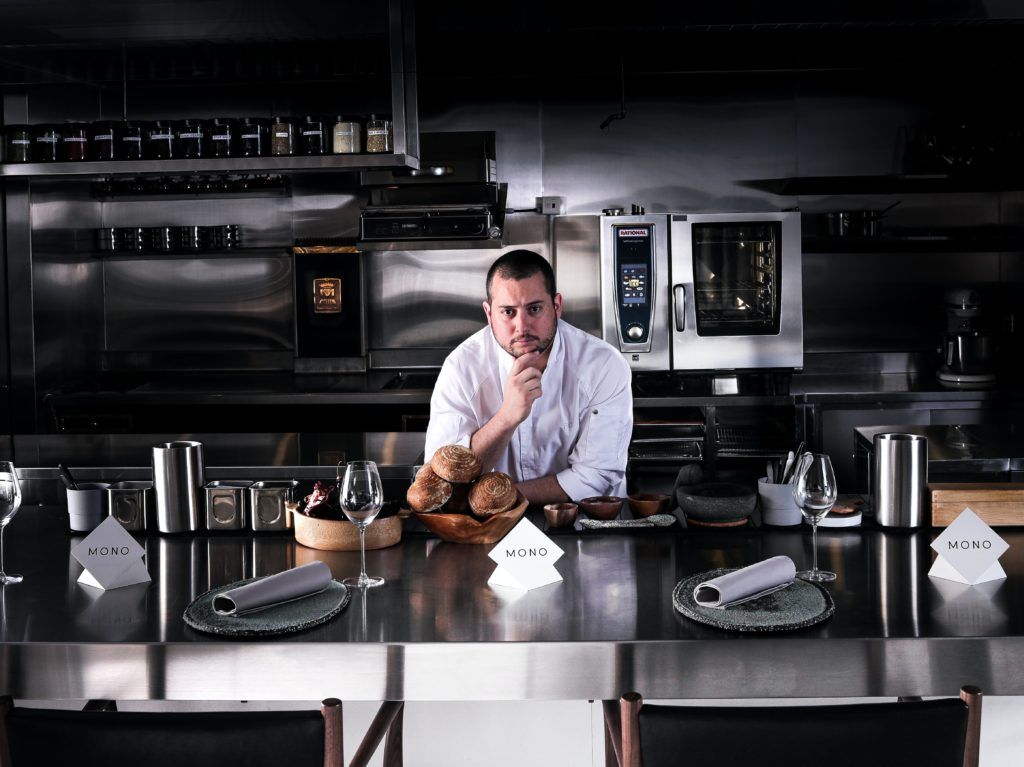 And Mono is a reflection of that. It's the intersecting point for every distinctive cuisine from the region: A smidge of indigenous Indians traditions. A touch of colonial Spanish and Portuguese, with African influences brought along the way. A sprinkling of European touches from the last century. Here, varying techniques, culinary practices and deep-rooted customs are seamlessly woven into the culinary fabric of Mono for one refined, modernised menu. Signature staples — tacos, ceviche, arepas and cachpas — are thoughtfully executed in what chef refers to as the "proper Latin American" way for a rediscovering of inventive, new forms on creature comforts. Evolving, without ever deviating, from tradition; this is what chef Ricardo foresees for the future of Latin American cooking. And it begins with the most fastidious process: ingredients selection.
"When it comes to the fundamentals of preparing Latin American cuisine, seasoning is a very important element. [It's]what we call in South America,'Sazon'. We have a lot of bases for the food. In Venezuelan cuisine, we have the sofrito. Sofrito is the DNA of every dish in Latin America. It is very important to understand the bases of the food and how it starts." Chef Ricardo explains. "The ingredients are very important [too]; they need to be from Latin America."
So what to order for a taste of this renewed perspective on Latin American cuisine? Chef Ricardo lists his top favourites at the sleek Central eatery as the can't-be-faulted ceviche, inspired by the seafood appetiser from the Colombian, Cartagena and Venezuelan regions, combined. It's remade in the Mono kitchen in a myriad of innovative ways: sweet-and-simple avocado or lashings of decadence with Hokkaido uni and razor clams. The accompaniment is seasonal; entirely dependent on whatever produce chef Ricardo sources, or whatever his fancies on the day. A delightful surprise saved for each visit. Another recommendation: the Racan pigeon from Loire Valley. The bird is aged in-house for six days before being stuffed with an archetypal Venezuelan spice mix — capers, olive, annatto seed and sweet chilis — to resemble hallaca (Venezuelan tamale, recipe below!), wrapped in banana leaves, steamed, then grilled over charcoal. A generous drizzle of chimichurri completes the dish.
---
Mono's Venezuelan Tamales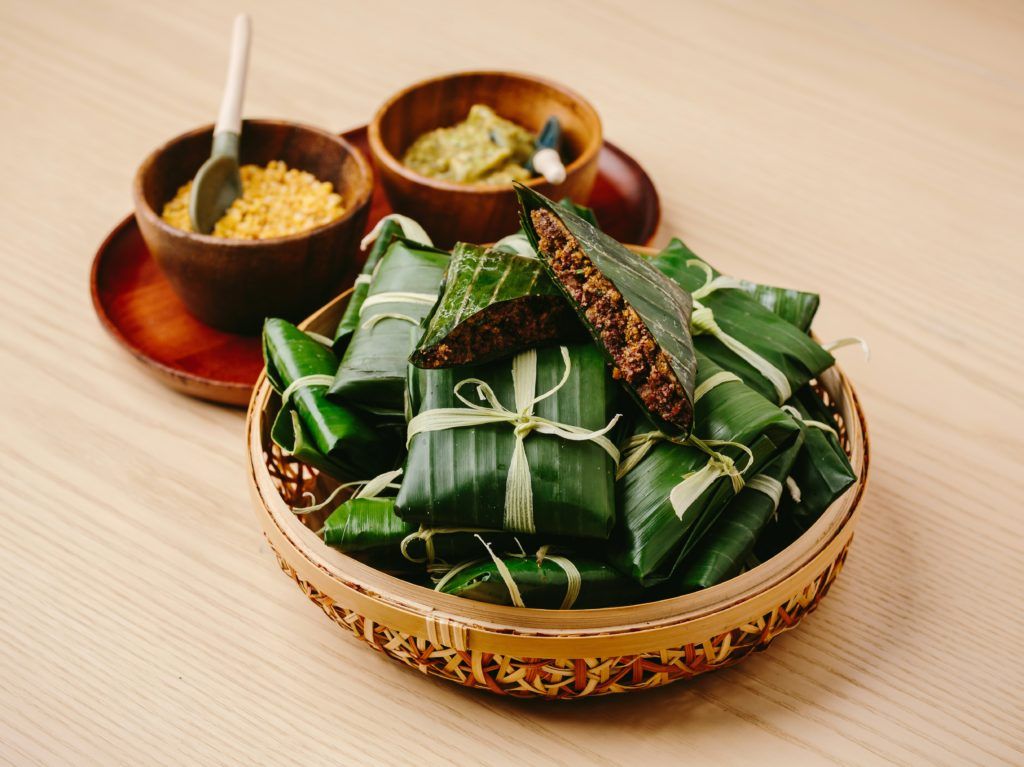 Now, eagle-eyed patrons will probably notice that these banana-leaf packages are not usually on the menu at Mono. They are in fact a rare, off-menu treat that chef Ricardo brings back to tabletops every once-in-a-while for a nostalgic taste of home. Particularly a time of great fun; an extravagant carnival or a neighbourhood fiesta, since tamales are typically reserved for celebrations. A special Latin American staple. Light, tasty and slathered in a delicious sauce (in this case, chef Ricardo's salsa), the corn-based snack wraps up with a variety of fillings, with each region claiming a style and name of its own. In chef Ricardo's Venezuela, they're known as 'Bollo' or 'Hallaca', and in chef's take, chicken serves as the star.
With the grand occasion tamales made for, don't expect it to be a simple, quick meal you whip up in the morning to be readied by noon. Tamales takes time, patience and expert precision, sometimes up to two days to prepare. The process itself is a respected tradition; an experience that's shared — treasured — between family, with recipes passed on for generations. "We would reunite in the kitchen with grandma, each [of us] preparing [one] part of the tamal, and at the same time, we would have some beer or rum, [with] some music, and we [would] all just enjoy." Chef Ricardo reminisced. The journey is only as enjoyable as the destination, as they say.
Roll up your sleeves and show off those speedy knife skills…

---
Ingredients for Venezuelan Tamals (Serves 6)
| | |
| --- | --- |
| 180g | Corn flour |
| 20g | Annatto seeds |
| 6 pieces | Banana leaves (Cut into large squares and quickly passed over an open flame) |
| 1/2 piece | Onion (Thinly sliced) |
| 2 cloves | Garlic (Thinly sliced) |
| 2 pieces | Bell peppers (1 green and 1 red, thinly sliced) |
| 180g | Chicken thigh (Boiled and shredded) |
| 1 teaspoon | Cumin (To taste) |
| 1 teaspoon | Paprika powder (To taste) |
| 250g | Water |
| 200g | Sunflower oil |
Ingredients for Salsa
| | |
| --- | --- |
| 200g | Tomatillo |
| 200g | Avocado |
| 2 pieces | Jalapeño |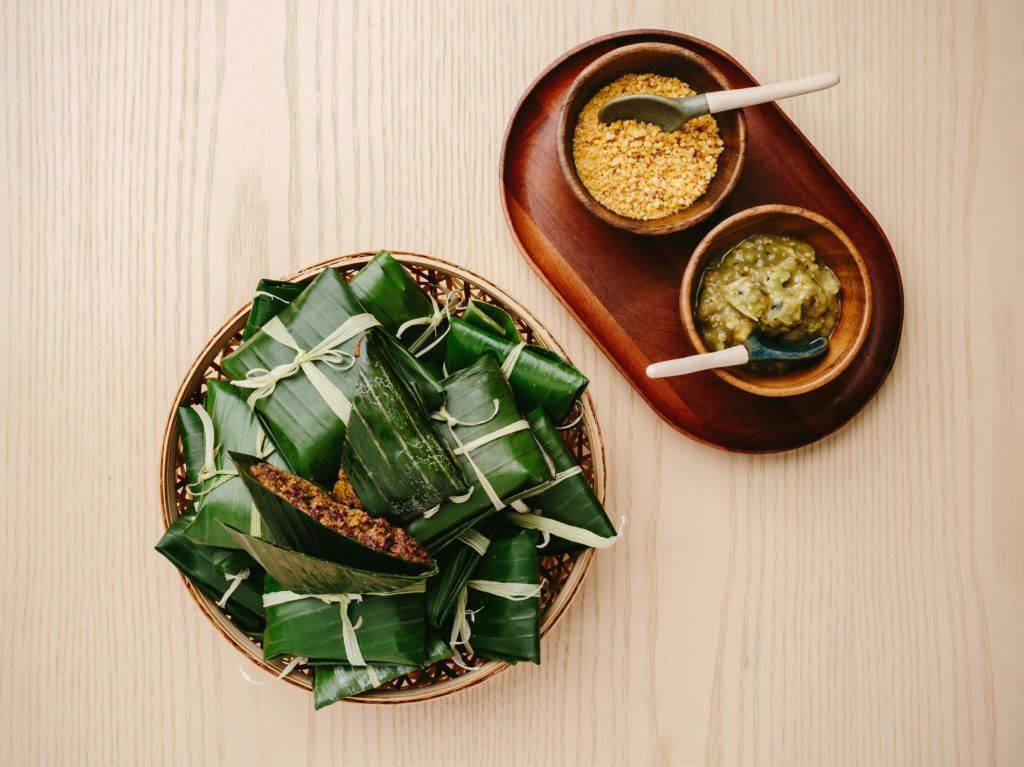 Preparation
To make annatto seed oil: Simmer annatto seeds in sunflower oil for 3 hours, remove from heat and allow the flavours infuse overnight. Set the oil aside for use later.
To make sofrito:

Heat oil in pan over low heat, then add onions.
When onions are translucent, add garlic and stir from time to time.
Once garlic is translucent, add bell peppers and season with cumin and paprika powder to taste.
Cover and allow sofrito to simmer over very low heat for three hours.

In a large bowl, combine corn flour, annatto seed oil (5 tbsp, seeds strained) and water, knead until everything is evenly mixed.
Combine chicken with sofrito and add mixture to the corn dough and knead until mixture is homogenous.
Divide dough mixture into 6 portions.
Pass the banana leaves over an open flame.
Paint the banana leaf with annatto seed oil and wrap each portion of dough mixture. Secure each packet with kitchen twine.
Steam the packets for 7 minutes.
To make salsa:

Burn and peel tomatillos.
Chop tomatillos, avocado and jalapenos roughly with a knife to achieve a slightly chunky texture.
Mix with a bit of olive oil and serve with Venezuelan Tamals.
Chef Ricardo's Venezuelan tamales is available for order at Mono seasonally. Please enquire before visiting.
Mono
Address
5/F, 18 On Lan Street, Central, Hong Kong
Phone
+852 9726 9301 (WhatsApp only)